Buffalo Wild Wings (BWLD) will announce earnings after the markets close next Tuesday, February 12th. Twice in the last year results have fallen short of expectations and the stock has tumbled more than 10% on the news. Is that scenario likely to repeat itself next week? That is the question I would like to address today.
BWLD is a fast-growing restaurant chain that features chicken wings and beer served mostly in a sports bar setting. Now that the Super Bowl has been played and the football season over until next year, sales may taper off a bit. However, except for Starbucks (NASDAQ:SBUX), BWLD's recent growth has bested its competitors - McDonald's (NYSE:MCD), Yum (NYSE:YUM), Jack In The Box (NASDAQ:JACK), Chipotle (NYSE:CMG), Bloomin' Brands (NASDAQ:BLMN) and Panera (NASDAQ:PNRA).
BWLD is tiny compared to MCD, with only 900 restaurants compared to MCD's 14,000. Management seems to be more creative than the larger competition, something that you would expect from a smaller, more nimble company. Recent changes in menu offerings and local promotions seemed to have goosed sales when other restaurant sales languished.
Check out the last year price performance: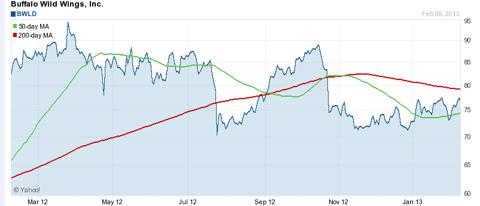 Over the last twelve months, the stock has fallen about 10%, while the market (S&P 500) has moved 12% higher. It is selling above its 50-day moving average but below the 200-day average. RSI is neutral (55). These technical indicators do not make a strong argument for the stock being headed in either direction in the near future.
There are several reasons why the stock may be headed higher next week:
The company has missed expectations twice in the last year, and both times the stock fell over 10% shortly after the announcement. It seems unlikely (at least to me) that this will happen once again. Management is likely to have issued conservative guidance after these big misses. Others would see a pattern of management's missing and bet on it going down once more, however.
Short interest is almost at an all-time high, with 3.62 million shares sold out of 18.6 million outstanding (22.4% of total). If earnings manage to exceed expectations, there may be pressure for the short sellers to cover themselves, and that would give a boost to the stock.
The stock has fallen by 10% in the last year while revenues have likely grown by 15% - 20%.
There are several reasons why the stock may be headed lower next week:
The trailing P/E of 21.49 seems a little high unless future sales are growing close to the 5-year average of 23%. It appears that growth might be slowing down. The company plans on 105 new stores in 2013 which would represent an increase of 11% on its current base of 900 stores. Same-store sales grew only 4.7% for the latest reported quarter, and if this number continues into the future, an approximate growth rate of 16% seems to be likely. I like to buy companies whose growth rate exceeds the P/E ratio, and by this measure, BWLD seems overvalued.
Chicken prices have risen recently, and about 20% of cost of goods sold is made up of the chicken costs.
There is some evidence that big option players are buying puts in anticipation of a drop in the stock price after the announcement.
Jim Cramer recently made a bearish call on the company. (I'm not certain this should really be considered a reason, however.)

McDonald's

may become a serious competitor as it moves into the wings market with a test in 500 Chicago-area stores. This development might actually be considered a positive thing for BWLD because the elephant in the industry has recognized the growing popularity of wings (even though it already offers its chicken nuggets product).
On balance, it does not look like next week's announcement will result in an appreciably higher stock price, and it may very well trade lower. Given this assessment, I will place two diagonal spreads to take advantage of the extremely high February option prices (implied volatility = 80) compared to an IV of 36 for the March options.
Risking about $4500, with BWLD trading about $77, I will buy 3 Jun-13 70 puts and sell 3 Feb-13 75 puts (approximate cost $100 per spread) and buy 4 Jun-13 85 calls and sell 4 Feb-13 80 calls (for a debit of about $140 per spread). There will be a maintenance requirement of $500 for each of these 7 spreads although the real risk is considerably lower because all of the long options have 4 more months of remaining life than the short options and will have real value.
Here is the risk profile graph for these positions:

The graph shows the expected losses or gains to the positions at the close of the February options next Friday. As long as the stock does not move more than 8% higher or more than 11% lower, a gain should result. I don't expect a big implosion of IV values for the June options because they are currently at 36 and in "normal" non-pre-announcement times, IV is usually about 35.
The greatest potential gain comes if the stock were to fall slightly, a scenario which fits best with my expectations for BWLD. Last week, I expected Green Mountain Coffee Roasters (NASDAQ:GMCR) to soar after earnings and I was totally wrong (it fell nearly 5%), but my option spreads similar to the above made nice gains (about 30% of the amount at risk). I am hoping history repeats itself in the end result (although it would be even nicer if my thoughts on the stock itself were closer to what occurs after the announcement).
Disclosure: I am short BWLD. I wrote this article myself, and it expresses my own opinions. I am not receiving compensation for it (other than from Seeking Alpha). I have no business relationship with any company whose stock is mentioned in this article.
Additional disclosure: I own and am short both puts and calls on BWLD and my net position is slightly bearish.