The best time of the year to buy negative momentum has passed, and late 2012 offered up many fantastic opportunities. The beginning of the year, with what is likely the most important earnings season as many companies are sharing their initial outlooks for the calendar year, is tricky. While often there is some profit-taking that kicks in right after the year starts or when the numbers aren't so compelling that hanging onto last year's winner makes so much sense, other times its bad companies sharing bad outlooks. With the goal of identifying some of the former and avoiding the latter, I set up the following screen: Find all stocks in the Russell 1000 that are trading more than 10% below their 50dma.
We are obviously in a bull market, as only 12 stocks made the cut. It's somewhat extreme in my view that almost 99% of the 1000 largest stocks are trading better than 90% of their 50dma. The R1000 itself is trading only 4.4% above its 50dma and 8.8% above its 200dma. So, it looks to me like there is generally a willingness to own underperformers, which isn't too surprising given the strong market and that we are still early in the year. Perhaps there are some opportunities among the few unfortunate disasters. Here are the 12 stocks, along with additional data (from Baseline):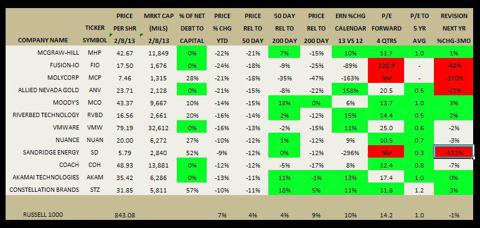 The list is sorted by price relative to the 50-day average, from worst to least bad. I have used some color coding to help highlight a few points. The companies with more cash than debt are shaded in green. Similarly, the stocks with the 50dma > 200dma (so consolidating potentially as opposed to in a downtrend) are shaded in green too. Three stocks that are at/above their 200dma are shaded too. I also shaded the companies that are growing EPS faster than the R1000 in 2013 as well as those with below-market PE. I shaded in read those companies that are barely profitable or unprofitable. Most of the stocks, shaded in green, trade below their 5-year average PE. Finally, stocks with positive earnings revisions are in green, while those with big declines are shaded in red.
McGraw-Hill (MHP) was doing fine until the DOJ decided to sue S&P. It seems odd that the government is going after them and not Moody's (NYSE:MCO), but, then again, Moody's hasn't downgraded U.S. debt! It would seem like this is an opportunity, but, then again, how is your Arthur Andersen accountant doing these days? There is no net debt as of Q3 and maybe a little after its special dividend of $2.50 per share in December, but the government was supposedly seeking more than $1 billion before negotiations broke down. I see no urgency here.
Fusion-IO (NYSE:FIO) reported in late January. This one is heavily shorted, yet it got hammered after the flash data storage products maker sharing 2013 guidance of $420-440mm relative to a prior consensus of $530mm. It's Q2 saw sales in line with expectations and EPS slightly ahead. There has also been a report of Seagate (NASDAQ:STX) making an investment in competitor Vident. This June 2011 IPO at 19 is clearly busted and, while oversold, needs to base.
Molycorp (MCP) continues a long slide, issuing convertible debt in late January. It too has a very large short-interest. The company has been hit by falling rare earth prices, and its CEO was terminated recently. It has had production challenges as well. Positively, the lows of November have held. This one is very volatile, and there seem to be frequent rumors of potential acquisition. For the very most speculative investors, this one might make sense, but it's not something I think looks timely yet.
Allied Nevada Gold (NYSEMKT:ANV) is so cheap that even guys who don't like gold like the stock. I called this one out at year-end as I discussed rapidly growing stocks "getting no respect":
Last is Allied Nevada Gold (ANV), which is engaged primarily in mining gold and silver from the Hycroft mine. The entire gold miner sector has been under pressure all year - this is one of the better performers. CapEx YTD of $123mm is a multiple of the $32mm net income. The company has plenty of cash after a large issuance in Q2. While I like the gold miners (I have a 10% allocation in my Sector Selector ETF model portfolio), I don't know this one well enough to judge it against its peers. The expansion project, if successful, will allow gold production to increase 4X per year beginning in 2015.
I have been wrong about the miners in general, which have fallen by 9%, but this one has been leading the way down. I think that this one deserves some focus. It's bouncing off of very oversold levels after making a 28-month low in January. I think that this one is being hurt by the sector. Over the past two years, it has declined 18%, while the Market Vectors Gold (NYSEARCA:GDX) has dropped 25%. Over the past 5 years, it has rallied by 384% compared to a 17% decline for GDX.
I mentioned previously that MCO wasn't sued like its rival, but it has fallen in sympathy. It seems like a cloud will be hanging over the stock as long as MHP and the DOJ are doing battle.
Riverbed (NASDAQ:RVBD) looks appealing to me. The stock hit a 52-week low in July but ended up almost doubling over the next three months after a reporting Q2. After plunging again in late October, the stock was recovering until reporting q4. This networking equipment company has some powerful alliances and strong technology. The company, though, is apparently struggling with integrating the OPNET acquisition. Additionally, the CTO, who was also a director, resigned last week. Lots of bad news and concerns, but the chart is holding and the valuation is low.
VMware (NYSE:VMW) is another one that I think looks appealing. This one, which is controlled by EMC (EMC), traded to its all-time high after the spin out in 2007 near 125 and got pretty close to it again when it peaked briefly last April near 119. The company is linked to data center growth. When it reported in late January, it shared cautious guidance for 2013 that equated to 3-5% below expectations. Still, it expects new license growth of 8-11%. Perhaps investors were spooked by a $100mm restructuring program that will cut 900 jobs and exit some non-core products. Lots of cash here, and it hasn't trade this cheaply since late 2008.
Nuance (NASDAQ:NUAN) is one I have never cared to look at more closely. They have done a lot of acquisitions, leaving them with a lot of debt which masks a rich valuation of 20X EV/EBITDA. Earlier this month, they guided sales for 2013 below the consensus and indicated the year would be back-end loaded. EPS was guided 1.76-1.87 compared to a consensus of about 1.89 and previous guidance from November of 1.84-1.94.
Sandridge Energy (NYSE:SD) is another company buried in debt, though that could change assuming its deal to sell some assets closes. Short-interest is high here. A 6.7% owner, TGP-Axon, is in battle with the CEO, accusing him of undisclosed related party transactions. Perhaps Tom Ward's destiny will be similar to his former boss, Aubrey McClendon. Tangible book value isn't a metric that necessarily works, but I would share that SD trades at just 1.2X, though I haven't checked to see how their Permian assets sale to Sheridan impacts the most recent TBV. The company doesn't report Q4 until 3/1. In November, Mount Kellett, which owns about 4% and has been attacking management as well, suggested that the stock is worth $20.
Coach (COH) is one most of us probably recognize. The stock was hammered when it reported in late January. It missed the sales and earnings consensus for its Q2 as constant-currency sales increased just 5%. Japan fell 7%, with about 5% due to currency changes, while China was very strong at +40%. This and Men's are growth drivers. Guidance for H2 was cautious at high single digit, with North American comparable sales flat. 12.4 PE is about as low as it gets - a year ago it traded at 20. The median for the past 5 years is above 15. Only during the worst of the bear market in 2009 did it trade below here. Technically, the stock tested the lows of a huge gap down in late July near 48, when the company reported its Q4 and gave muted guidance for FY13. I am finding Consumer names that look more appealing, but this one has merit too.
Akamai (NASDAQ:AKAM) had a nice Q4, but its sales guidance for Q1 is impacted by some low-margin account attrition. The company guided 352-362mm, which was below the 370mm consensus. The EPS outlook was better than expected, but the company changed its depreciation period, which is not the way investors want to see margins improve. This one is on my watchlist (the only one on this list), and I think that the stock looks good here and would be a nice entry at 32, which is about 16X projected 2013 earnings. There is a recent CEO transition here, but this is an exceptional team and I don't expect any problems as a result.
Constellation Brands (NYSE:STZ) is caught up in a DOJ anti-trust action regarding Grupo Modelo's potential acquisition by AB InBev (NYSE:BUD). I don't really know this company and will defer from further comment.
So, several of these poor performers don't look so great to me, but most of the technology companies and ANV and COH sure merit attention. Again, AKAM is the only stock on my watchlist, and I have a target of 50 based on 20PE plus cash a year out. A year ago, I thought the stock was ahead of itself here and sold it out of my Top 20 Model Portfolio, which I shared here in early January. If it drops to 32, I will likely add it again.
Disclosure: I have no positions in any stocks mentioned, and no plans to initiate any positions within the next 72 hours. I wrote this article myself, and it expresses my own opinions. I am not receiving compensation for it (other than from Seeking Alpha). I have no business relationship with any company whose stock is mentioned in this article.