After a disastrous performance by equity markets in 2008, the general consensus is that equity markets could do better in 2009. Performance estimates by some bullish prognosticators range from 10-30% which would be welcome but are nowhere near enough to make up for the losses suffered since October 2007. For broadly diversified long-only investors, it could take many years to reach portfolio values achieved in October 2007. Nonetheless, there are some opportunities to construct some defensive long/short portfolios and also engage in some broader macro themes for individual and institutional investors.
Are US Equity Markets Cheap?
Some market analysts expect S&P 500 2009 earnings to be $40-$60 per share. With the index at roughly 900, this equates to 15.0x the top end of 2009 estimated earnings and is not cheap despite the massive percentage drop in equity indices. From a psychological perspective, investors may believe that since markets have fallen as much as they have since October 2007, they must be ready for a rally. A short-term rally is certainly possible given the reaction to a new administration and the anticipation of a very large stimulus that now includes the prospects for increased tax cuts. The problem is that Keynesian, or supply-induced stimulus, may not work as well in the current economic environment.
This is simply due to the fact that the multi-year credit boom fueled a massive glut across residential and commercial real estate and just about everything tied to that boom. There was significant second-order demand tied to the construction boom such as capacity expansion of industrial equipment, appliances, and other equipment and goods. But how does this tie to a cheap or expensive market? In many cases, industrial companies, retailers, and other participants in the credit-induced construction boom expanded operations in 2007 and even in the first half of 2008. This means that the overhead costs across these companies is larger relative to years prior to 2007 and it also means that these companies need firm pricing power for their end goods and steady demand to leverage the new and larger cost base to drive earnings growth.
This probably won't happen. It's more likely that 2009 demand will decline, which will pressure capacity utilization and ultimately earnings. This is starting to be evident with companies like Caterpillar (NYSE:CAT), which recently reported a much larger drop in profits than expected, despite sales that were not as severely impaired. Even worse, prices for certain goods are likely to come under pressure - meaning even if demand stabilizes, excess capacity will pressure earnings. Earnings growth is what drives equity markets so it's very difficult to justify a 15.0x EPS multiple for 2009 earnings.
In addition, with consumers experiencing significant strain, it's difficult to see them using any additional stimulus for anything except deleveraging personal balance sheets. This is the right thing to do but won't do much for jumpstarting earnings growth. With a surplus of goods available, prices will continue to fall across a variety of products and goods. This is deflationary and throwing money at the consumer in the hopes that they will buy more stuff that they don't need will likely not work. Given this economic backdrop, it's easier to make the case that 2009 earnings could be under strain and justify earnings multiples compression that is more typical with bear markets which would equate to roughly 500-700 for the S&P 500.
Focus on Expense Tailwinds and Headwinds
Despite the rather grim overview of where equity markets could be in 2009, there will be specific themes that investors can capitalize on. In normal economic periods, sales growth is leveraged through a company's corporate structure and drives earnings. Since significant sales growth for many industries will be very hard to come by, earnings growth will be largely predicated by improvements in expenses, so analysts who can get a sense of what expense tailwinds or headwinds are present, will be able to implement successful long/short strategies.
One area that can provide a significant tailwind is the deflation of commodity prices. For example, a company like Hanesbrands (NYSE:HBI) is reliant on the cost of cotton for production of its apparel. Cotton prices were in the $0.70+ per pound range earlier in 2008 and averaged in the mid $0.50 per pound range in 2007. However, in the second half of 2008, cotton prices were below $0.50 per pound and cotton forecasters would not be surprised to see cotton prices under pressure through the first half of 2009. HBI was also able to pass through price increases to its retailers so it firmed up its pricing power for 2009 - meaning that sales volume for HBI could decline in 2009 but earnings growth could still be achievable because the cost savings in cotton could offset a certain level of declines in sales volume.
The same analysis can be applied to companies facing other commodity cost inputs where those costs have dropped off considerably but end pricing power has been maintained. Dairy costs, for example, have declined considerably and companies that rely on dairy for a significant portion of cost inputs that raised their selling prices in recent years could also stand to benefit from some potential earnings surprises. Commodity cost tailwinds are one area long investors can explore while foreign exchange (FX) and pension headwinds are two items that could present attractive short sell opportunities. FX has been a significant earnings driver for many companies that have significant operations overseas in recent years through FX translation gains. The weakening of the US Dollar (USD) relative to the British Pound (GBP) and Euro (EUR) resulted in some extra "juice" in terms of earnings for companies across industries, ranging from Priceline.com (NASDAQ:PCLN) and Mastercard (NYSE:MA) to McDonalds (NYSE:MCD).
FX translation gains are "no cost" components and this, along with high capacity utilization, led to abnormally high levels of profit margins in recent years. This means that a company could have looked "cheap" because it was trading at 12.0x earnings in 2008 but could very well be trading at 18.0x earnings when factoring in reduced capacity utilization and lack of FX translation benefits. Simply stated, some of the "cheapness" of those historical earnings was illusory.
If the USD does not weaken by the double digit percentage levels it did in recent years against currencies like the EUR, FX will add far less of an earnings boost to many companies than in recent years. If one expects the USD to further strengthen against global currencies, then FX exposure for many companies could result in translation losses that further eat into any earnings growth. FX translation losses will reduce earnings, thus making these equities more expensive relative to current valuation ratios.
Another area of concern could be the likelihood for greater pension contributions for companies that maintain defined benefit plans. Some of these companies have assumed expected returns of 7-8% and have composed portfolios that have 70+% exposure to equities. Given the performance of equity markets since late 2007, many of these plans will have a significant gap between the fair value of plans and the pension benefit obligations (PBOs). This means that companies may, at the minimum, increase contributions to bridge the gap and possibly adjust their assumptions going forward, whereby future pension expense will be higher. Assuming a lower future rate of return will generally result in a higher pension expense in future years, these expenses will be coming during a time when top line demand is slackening but has been largely ignored by the Street. These types of situations are more likely to be found with industrial companies that maintain benefit plans and also must deal with reduced capacity utilization.
Financial Markets Will Stabilize But…
The credit crisis and recession have been front page news but credit conditions have been improving. Three-month LIBOR, which was at 4.29% in October, declined to 2.19% in December and is now at 1.41% in early January. Initially it was feared that the Fed's actions were not impacting LIBOR as Fed Funds were declining due to easing policies by the Fed, but LIBOR was diverging, increasing in October when the crisis was peaking. Another indicator of progress is the reduction in the TED Spread, shown in Chart I. The TED Spread is an indicator of credit risk and is the difference between Treasury Bills (T-Bills) and LIBOR. Since T-Bills are risk free, the higher the spread between LIBOR and T-Bills means that market participants are pricing in expectations of higher credit risk.
CHART I: TED SPREAD (source: Bloomberg) []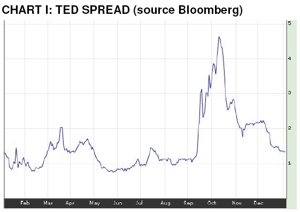 We've discussed that Keynesian policies may not help much in terms of consumption, as consumers will more likely use additional liquidity to delever their personal balance sheets. Lending relief may not help all equities but it could present opportunities with companies that have significant debt loads and stable cash flows. These companies could perform well as credit conditions continue to ease, as the "penalty" for owning some of these companies compresses with equity valuations improving for highly levered companies as the risk of not being able to refinance near-term debt is reduced. As credit markets ease, highly levered but cash-flow stable companies could stand to benefit.

Another asset class that could experience positive returns is corporate debt. As with equities, investors will have to be fairly picky in what they select in 2009. Credit analysis will be paramount as analysts will have to run sensitivity analyzes across the board to test leverage covenants and then determine if the discount on a specific piece of debt presents an attractive risk/reward prospect. Nonetheless, the BBB rated areas of corporate debt could provide a lot of attractive opportunities. James Grant of Grant's Interest Rate Observer highlighted an example of attractive corporate debt in a Financial Times editorial on December 4, 2008, entitled "Return-free risk" (emphasis mine):
Few buyers are presenting themselves, however, though extraordinary bargains keep popping up. Thus, at the end of October, a Medtronic (NYSE:MDT) convertible bond with a 1.5 per cent coupon with the debt maturing in April 2011 briefly traded at 80.75. This was a price to yield 10.6 per cent, an adjusted spread of 1,600 basis points over the Treasury curve (adjusted, that is, for the value of the options embedded in the convert, notably the option to exchange it for common stock at the stipulated rate). Contrary to what such a yield might imply, A1/AA minus rated Medtronic, the world's top manufacturer of medical devices for the treatment of heart disease, spinal injuries and diabetes, is no early candidate for insolvency.
These opportunities are not likely to be frequent occurrences if one assumes the credit crisis is in its 7th inning. Nonetheless, the BBB rated areas which are somewhat "hairier" and require a bit more work at the analysis level could unearth some promising opportunities. Another segment that could reward investors is mortgage-backed securities (MBS), which caused significant problems for many funds and banks. These could actually be priced to perform well in 2009. The Fed started a program whereby it would buy Fannie Mae (FNM) and Freddie Mac (FRE) MBS, essentially placing a floor in the value of MBS. However, buying pools of MBS will require significant legwork by analysts as the initial broad bump in MBS values was due to the compression of spreads.