Those who have been patient with 3M (NYSE:MMM) got a reason to cheer last week as the board of directors approved a dividend hike to 63.5 cents per share each quarter, up from 59 cents last year. This coupled with favorable earnings guidance between six and ten percent for 2013 has given its stock a catalyst to move upward and hit all-time highs.
In my previous article about 3M, I predicted we would see continued dividend growth of at least six percent. Also, I cited some of 3M's superior profitability metrics in relation to other industrial conglomerates which made 3M best of breed. In this article, I will provide an update to some of this data as well as a breakdown of 3M's performance and prospects by business segment and geography. Finally, I will take a look at valuations.
Dividend Is Re-Accelerating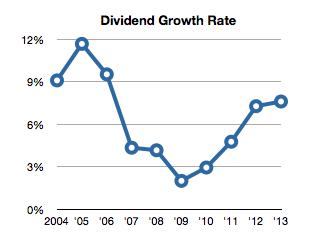 3M has always been serious about its dividend and has a very long history of increasing it. Those who have held on to 3M as a dividend growth story are now being rewarded for their patience as the dividend has grown by over 7% for the previous two years.
| | | |
| --- | --- | --- |
| | Dividend | Annual YOY Dividend Growth Rate |
| 2003 | 1.32 | 6.45% |
| 2004 | 1.44 | 9.09% |
| 2005 | 1.68 | 11.67% |
| 2006 | 1.84 | 9.52% |
| 2007 | 1.92 | 4.32% |
| 2008 | 2.00 | 4.16% |
| 2009 | 2.04 | 2% |
| 2010 | 2.10 | 2.94% |
| 2011 | 2.20 | 4.76% |
| 2012 | 2.36 | 7.27% |
| 2013 | 2.54 | 7.60% |
The re-acceleration of this dividend is a good sign for the future. Investors these days see the dividend as very important and management understands that. 3M has exceeded my dividend expectation this year. Going forward we can continue to expect the dividend to be roughly in line with earnings per share growth.
2012 Results
The company's 2012 results can be summed up in the following points:
Return on Invested Capital [ROIC] of 20%
Operating Margins up slightly to 21.7%
Earnings Per Share up 6.0%
Operating Income up 4.9%, but
Organic local currency sales growth of only 2.6%
Source: 4Q 2012 Earnings Presentation
From the last two bullet points we can see that significant operating earnings growth has come from cost management. In fact, it only tells part of the story. When we factor in the net negative foreign exchange [FX] impact on sales, we have sales growth of only 1%. So, for 2012, nearly 80% of operating income has come from productivity improvement and cost cutting.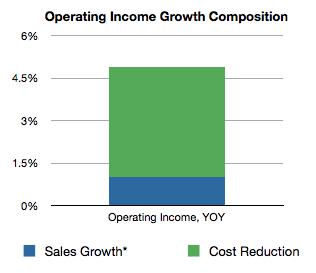 * Includes FX impact of -2.4% as well as acquisitions impact of +0.8%.
Chart by author, data from 4Q 2012 Earnings Presentation.
If guidance is any indication, 2013's growth should be more balanced as management predicts currency effects this year to be neutral. Organic local currency sales growth and growth from acquisitions should add about half of earnings growth next year. Things should be more balanced going forward.

Chart by author, data from 4Q 2012 Earnings Presentation.
Looking at Operating Income by division, Corporate and Office are leading the company at +10.8% growth on strong Scotch tape sales as well as new water filtration products and clear hooks. Their GPI acquisition also outperformed this year.
Health Care was close behind, growing by 10.6%. All businesses showed increased sales with the strongest in food safety, wound care and health information systems.
Industrial and Transportation, the heart of the conglomerate, jumped up 9.8%. Growth was driven by aerospace, liquid filtration, adhesives and tapes, abrasives and automotive equipment. The Ceradyne acquisition will give 3M a ceramics division serving the oil and gas industry going forward.
Safety, Security and Protection Services income grew by 4.1% despite a slight decrease in sales. Infrastructure protection and personal safety were strongest while security system sales declined. Recently, 3M won a contract for fire protection on a major construction project by Saudi Aramco.
Electro and Communications saw -2.8% income growth with consumer electronics-related businesses leading the decline. Sales growth in the latest quarter came from electrical markets and telecom. This year, Novec fire protection fluids for IT data centers gained share.
Finally, Display and Graphics continued to shrink, with income dropping -12.1%. The drop was comprehensive, with less sales as well as narrower margins. Declines continue to be led by lower LCD TV sales.

Chart by author, data from 4Q 2012 Earnings Presentation.
Surprisingly, Asia Pacific [APAC] came in flat for 2012. However, in Q4 the APAC region saw 5.8% local currency sales growth. Europe faltered on economic weakness.
Key Metrics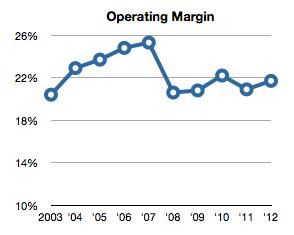 Margins expanded in 2012, reversing some of the 2010-2011 decline. Though margins still aren't what they were before 2008, they have stabilized at a good level.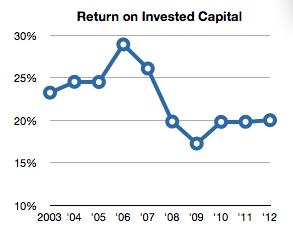 Return on Invested Capital [ROIC] has been maintained as well. This year it hovered around 20%. Like Operating Margin, it hasn't recovered from its pre "Great Recession" levels, but it's still very good and likely to be ahead of its conglomerate peers.
Big Picture, Guidance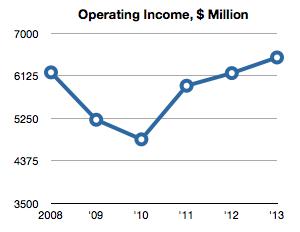 Above charts by author, data by Morningstar.
Overall, we can see that Operating Income has rebounded and is set to suprass 2008 levels. For 2013, 3M has given us guidance of:
+6-10% EPS
Organic, local-currency growth of +2% to +5% and of that
Acquisitions will add 1.5%
Strategy
In my previous article I advocated investors be patient and wait for a better time to buy 3M. My favored way of valuing 3M is to look at its dividend yield to historic prices. In the five-year chart below, the blue line represents price and orange represents dividend yield. Please note that the recent dividend hike has not yet been calculated in.
From a fundamentals and valuation standpoint, this all-time high is clearly not a great time to get in. Caution is needed anytime a blue chip company has run up this much. However, this recent dividend hike has brought the yield to 2.48%. This puts a higher floor under the stock. For those who would like to get in to 3M, wait for a pullback to the $91-92 range, where the stock will yield 2.75%. That would put the yield slightly above the average for the last three years and give the investor at least some margin of safety.
Stay Tuned
Later this year I will make one more article comparing 3M to its industrial conglomerate peers by return metrics, growth forecasts and others. 3M is a stock I intend to continue following and providing updates on when appropriate.
Disclosure: I am long MMM. I wrote this article myself, and it expresses my own opinions. I am not receiving compensation for it (other than from Seeking Alpha). I have no business relationship with any company whose stock is mentioned in this article.