On February 7th, the Federal Reserve Bank of St. Louis released a new batch of FRED data on the auto sector. Nearly all of the data suggests the environment for auto stocks is getting better - and has a long runway to continue to improve. I believe this data is particularly bullish for Ford (NYSE:F), which is arguably the best run domestic producer.
Here are three sets of data in particular that illustrate the recent improvement - and how much potential there is for Ford to continue delivering for shareholders.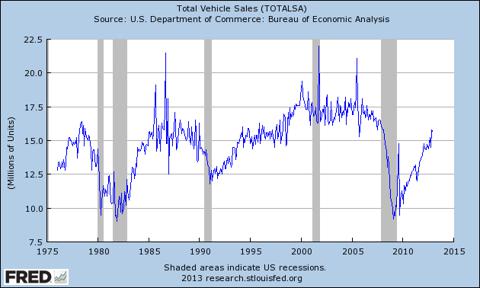 Total vehicle sales have rebounded sharply from the 2009/2010 lows of below 10 million units sold per year. The recent estimate is 15.7 million sales per year. From the chart, this is still over 1 million vehicles per year below the average from the late 90s through 2007. If the auto market returns to those levels, the vehicle unit sales growth would increase by 7%.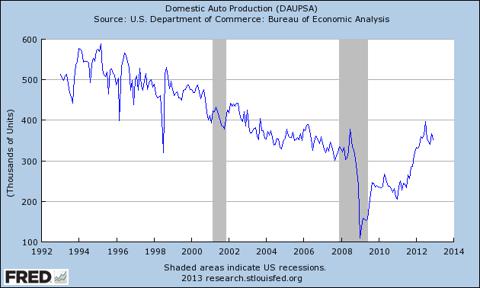 The recent trend is illustrated more positively when you look at domestic auto production. This has been in a downtrend the entire time FRED has been tracking this data. This is partially due to strong import auto offerings by foreign companies and weak product offerings by the domestic producers. In the past several years, the domestic producers have made a strong rebound in production rates and sales due to recent highly reviewed product offerings and better value propositions to the public.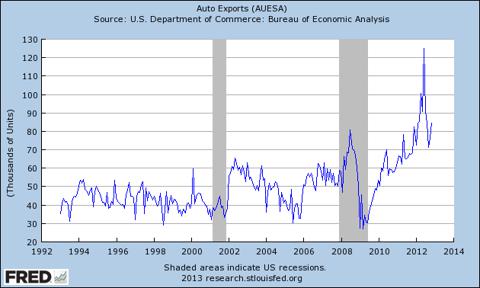 This is the first dataset that has recently eclipsed pre-2008 levels, showing a boom in auto exports from the US, again led by strong product offerings. This shows that domestic producers are less and less reliant on the US auto market alone to generate profits. Also, this is a positive sign for company competitiveness in other markets outside of the home market.
Lastly, the average age of vehicles on the road is continuing to increase. Recent data sets the average age of passenger cars in the US at 11.1 years old, a significant increase in average age from the 90s when vehicles were 8.4 years old on average. Therefore, people are still delaying car purchases despite the slowly improving economy and trends highlighted above. How well cars are built in the era is partially responsible for this - meaning the average vehicle age will probably never drop to the mid-90s numbers. With that being said, as the economy improves further, the average age of cars on the road should begin to decrease as people finally do buy new cars.
The data highlights strong long term trends working in Ford's favor, but it has work to do as well. Ford's biggest problem is its European division, which will continue to be a problem for the next several years. During the earnings release, the company reported that the environment there was continuing to get worse, so they lowered their sales expectations for the region, which they set in October of last year. The company expects to lose around $2 billion in Europe in 2013, worse than current analyst expectations.
Ford has kept its incentive spending in check in the US and will need to continue to do so to keep profit margins high on vehicle sales. Ford recently doubled dividend to 10 cents, yielding 3% now, and has a PEG ratio of 0.89. The trends highlighted above illustrate that the company still has plenty of room for sales growth, both domestically and through internationally.
From a technical prospective, Ford's chart looks very good. Ford is just above its 50 day moving average [DMA], which is rising. Also, the 50 DMA is above the 100 DMA which is above the 200 DMA. This is a sign that the stock is in a well-defined uptrend.
For purchases of the stock, I suggest trying to buy when the yield is 4%. The stock has yielded 4% at least 4 different times in the past 3 years. Each time has proven to be a good buying opportunity.
Disclosure: I am long F. I wrote this article myself, and it expresses my own opinions. I am not receiving compensation for it (other than from Seeking Alpha). I have no business relationship with any company whose stock is mentioned in this article.