MLPs began 2013 with their most spectacular rise in history. From December 28, the Alerian MLP Index went essentially straight up to 431 through February 1. Then profit taking pulled the index back to 424. January was its greatest month in more than then 17 year history for the index.
Alerian MLP Index --- 10 years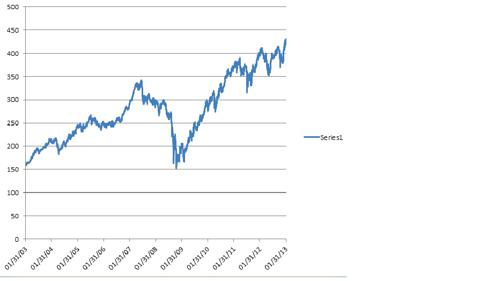 MLPs have had an outstanding record of growth, even though they are primarily thought of as yield securities. The Alerian MLP Index has quadrupled in 17 years, but rising values have cut the yield to around 6%. MLPs' energy businesses invest primarily in gas and oil, and the future is very bright for additional projects in pipelines, terminals, etc. New technology allows energy to be extracted from old formations that could not supply energy in the past, and demand for more oil and gas infrastructure is virtually unlimited. Growth in this industry can make the US energy independent in 10-20 years.
In the last 10 years, Linn Energy (LINE) has become one of the top 10 MLPs in the rapidly growing energy industry. It is an upstream natural gas and crude oil producer that consolidates mature fields of energy products, focusing on development and acquisition of long-life, low risk properties in producing basins. It has 15,000 gas and oil wells in 6 core operating areas primarily in the Mid-Continent, Granite Wash, Permian Basin, Hugoton Basin, Rockies, Michigan, California and East Texas. LINE has over 5 Tcfe (Trillion Cubic Feet Equivalent) of proved reserves and is expected to deliver 20% organic growth in 2012. The report for 2012 and guidance for 2013 will be announced on February 21. In 10 years, it has invested about $10 billion (almost $3 billion last year) in acquisitions and there will be more acquisitions in the future. Virtually all oil production is hedged for 4-6 years.
LinnCo (LNCO), a corporation, was created to enhance LINE's ability for raising additional equity capital to acquire more growth properties. Last October, the IPO raised about $1.2 billion. Its only asset is ownership of LINE units
There are only a few such companion corporations for MLPs (limited partnerships with ownership measured in units). This one is different than others, because it pays dividends with money rather than stock, so it will appeal to investors interested in current income. The dividend is based on distributions paid, and the stock price tracks price movements of a unit. 1099s, rather than complex K-1 forms, are issued at tax time. LINE units at $37.23 yield is 7.8% based on the $2.90 distribution. At $38.25, LNCO yields 7.4% from the $2.84 dividend. The 2012 tax table for LNCO was just published, showing that 13% is taxable as qualified dividends and the remainder is not taxable.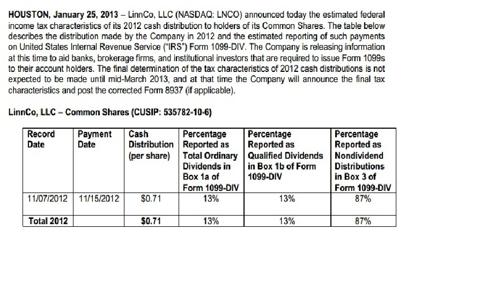 The annual distribution for LINE increased from $2.18 in 2007 to $2.90 in 2012. During the credit crisis in 2008-2009, the distribution was kept flat, while 16 of 74 MLPs had to reduce or eliminate their distributions. LINE has not had any distribution cuts. Going forward, tax treatment for future dividends is expected to be similar to the schedule for the 2012 dividend. In qualified plans, such as IRAs, shares of LNCO do not have tax hassle (which can be a problem with units in MLPs).
Many investors are looking for high yields. Both the units and shares have attractive yields with tax advantages. While most of the MLP distributions are not taxed currently, there is a fair amount of tax hassle along with the need to keep track of additional financial information over the years. Most importantly, taxes on dividends/distributions are modest (some call that tax efficiency). Best of all, the company is busy acquiring energy projects for which there is unlimited demand and. Growth brings increased distributions and dividends.
LINN Energy 2006 - 2013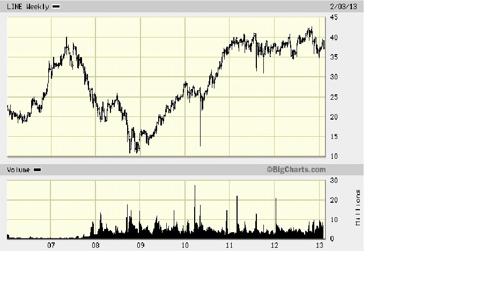 Disclosure: I have no positions in any stocks mentioned, and no plans to initiate any positions within the next 72 hours. I wrote this article myself, and it expresses my own opinions. I am not receiving compensation for it (other than from Seeking Alpha). I have no business relationship with any company whose stock is mentioned in this article.