Oil Services stocks are off to a strong start in 2013. The sector has provided roughly double the return of S&P over the last month (See Chart). Given the sector has still underperformed the overall market by some 10% over the last year and the continuing expansion of domestic energy production as well as new finds overseas; the outlook for the sector looks good over the long term. Here are two companies in the industry that received upgrades and/or price target upward revisions last week. Both look cheap based on their growth prospects.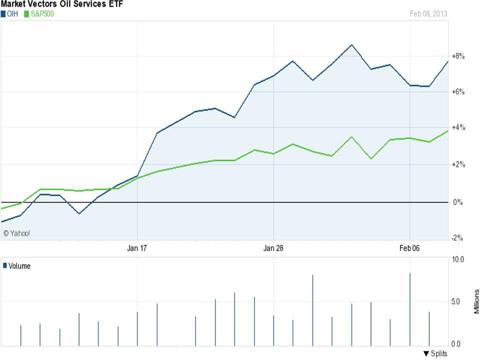 Hornbeck Offshore Services (NYSE:HOS) provides marine transportation services to exploration and production, oilfield service, offshore construction, and the United States military customers. The company operates in two segments, Upstream and Downstream.
4 reasons HOS is a good growth play at under $44 a share:
Both Williams Financial and ISI Group reiterated their "Buy" and "Strong Buy" ratings on HOS last week. Both firms also raised their price targets to $52 a share from the mid-40's prior as well.
The company is projected to grow revenues at just under 15% in FY2013 and over 35% in FY2014. The stock trades for a five year projected PEG of under 1 (.85).
Given the company's growth prospects, the stock is attractive at just over 11x 2014's projected EPS.
The company is well positioned to benefit from the expansion in the Eagle Ford shale region and increased drilling activity in the Gulf of Mexico.
Tetra Technologies (NYSE:TTI) operates as a diversified oil and gas services company. The company operates in three divisions: Fluids, Production Enhancement, and Offshore.
Four reasons TTI can go higher from $9 a share:
Stern Agee just lifted their rating from "Neutral" to "Buy" and upped its price target to $12 a share.
Revenue growth is projected to triple over 2012 to 12% in FY2013. The stock has a small five year projected PEG (.54)
Several insiders bought over a $1mm in new shares in November. I made a small purchase in late November on the back of this insider buying.
Tetra sells for less than 12x forward earnings. The median price target by the 8 analysts that cover the shares is $12 a share, some 30% above the stock's current price.
Disclosure: I am long TTI. I wrote this article myself, and it expresses my own opinions. I am not receiving compensation for it (other than from Seeking Alpha). I have no business relationship with any company whose stock is mentioned in this article.