Highest Positive Spread: BlackRock Floating Rate Income
Focus Stock: Cohen & Steers Total Return Realty Fund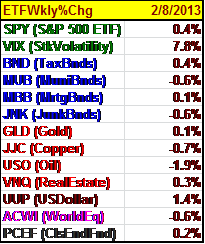 General Equity & Special Equity on the Rise: The Dow Jones will have some 100 point days this spring with the sequestration and Mario's taking on the euro, Bank of Japan lowering its currency, euro-zone in the doghouse. While there is calm in the market, those are events that will roil the markets.
CEF Weekly Fund Type Performance: GenEqFnds are up 0.5% from the previous week with SpecEqFnds up 0.4%. Thirdly, PrefStkFnds is up 0.3%. USMrtgBndFnds and InvGrdBndFnds were up -1.0% and -0.8% at the opposite end of the scale. The equity funds (GenEqFnds and SpecEqFnds) were all up on prices exceeding their negative NAV for the week. PrefStkFnds shares were up 0.6% on the PrcNAVSprd. USMrtgBndFnds and InvGrdBndFnds prices were lower and the PrcNAVSprds were extremely low at 0.9%.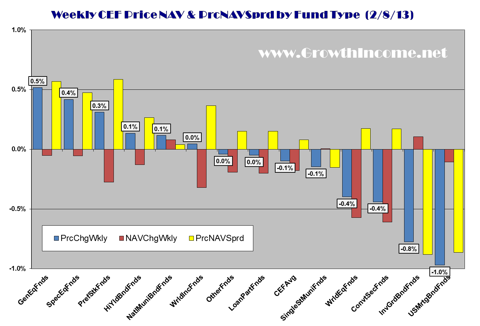 Highest Focus Stock for the Week: BlackRock Floating Rate Income (NYSE:BGT) was ahead by a price increase of +3.8% and NAV per share was flat. The PrcNAVSprd was +3.8% (a positive number may be a decline for CEFs). The premium (NAV of Price) was 10.3% and is approaching 10.5% of the previous year.
The stock had a volume of 163,600 on Thursday which is 106% of the average volume for 3 months. The annual distribution on a monthly basis is 5.7%. It has total net assets of $495 million with $146 million in leverage (30%).
Lowest Spread and Focus Stock for the Week: Cohen & Steers Total Return Realty Fund (NYSE:RFI) share price declined -6.9% and its price was a positive +0.6% from its NAV per share. Its PrcNAVSprd decline was -7.2%.
Its premiums of 15.5% for December and January came crashing down to 0.37% as of today.
While the distribution was 6.4% on an annual basis, the special distribution of $0.532 of 12/19/12 (ex-date) was an annual distribution of 10.4%
Disclosure: I am long RFI.