Google (NASDAQ:GOOG) is not just another flash in the pan story; what's more important to remember is that the company is still a growth story. Investors should anticipate Google to generate profits from its recently acquired Motorola division while further expanding its search presence in overseas markets.
Qualitative Analysis
Source: Information pertaining to Google came from the shareholder annual report, with additional information from the Google quarterly report, YCharts, International Telecommunication Union.
Investors have been scrutinizing Google's recent buyout of Motorola for the past 6-months as being a bad investment; however I think just the opposite. I think that if Google is able to generate a profit from its operations, even just a dollar in profit, the company could drastically surprise analysts and the stock could have some significant upside. In the absolute worst case scenario, Google accumulates a large portfolio of patents and phases off the mobility division. In the most optimistic case scenario, Google generates a substantial amount of profit from Motorola Mobility.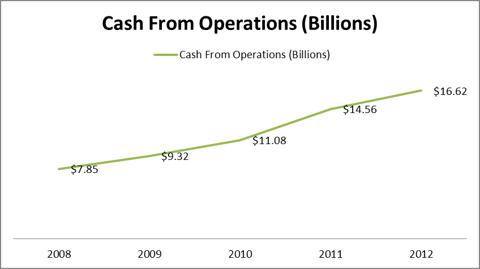 Google has been able to sustain the cash generated from operations, even though expenses on a Quarterly over Quarterly basis have been increasing. This can be explained by the fact that Motorola Mobility came with a lot of physical and intangible assets that are depreciating rapidly.

Between 2011 and 2012, the Depreciation and Amortization of intangible/tangible assets increased from $1.85 billion to $2.96 billion, which can explain the sudden increase in expense, and decline in profitability. The Motorola Mobility division will generate positive cash flow, but also comes with the disadvantage of rising depreciation expenses. Depreciation expenses are realized on the income statement, but do not result in a change in the amount of cash a company has or generates (Google has plenty of cash anyway).
According to comScore, Motorola's market share decreased from 11.2% to 10.4% over the past 3-months. The business does not represent a substantial amount of Google's revenue, and I'm not completely sold that Motorola is a dying handset manufacturer. One of Google's most prized assets is its ability to advertise through its network of media and internet based services (YouTube, Google+, and Google Search). Google will most likely leverage its advertising network in order to push its Motorola product offerings. As is, smartphones are a highly contested space, and one blockbuster product launch could drastically alter the sentiment around Google's mobility offerings. Google's hardware business could generate substantial returns based on Google's ability to advertise its products using the Google network. Furthermore, Google has some of the most talented employees in the world and has a substantial amount of money when compared to other companies in the technology space. Google's research and development spending has increased quite drastically over the past year based on the chart below.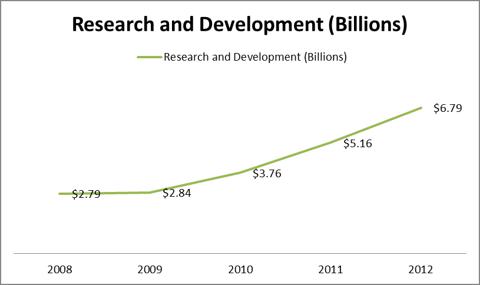 Now traditional accounting theory would dictate that higher expenses equates into less profit. But on the flip-side, let's think about this rationally. Google's management nearly doubled R&D spending in the past two years. Let's re-examine the situation. Now, what if Google honestly had a plan to succeed? I highly doubt Google's management team would burn through cash just because they can. I believe that Google's management is investing into its future because they believe that by investing in it, they could create a product or service that's disruptive in nature, or regain market share that Motorola lost to Samsung (OTC:SSNLF) and Apple (NASDAQ:AAPL).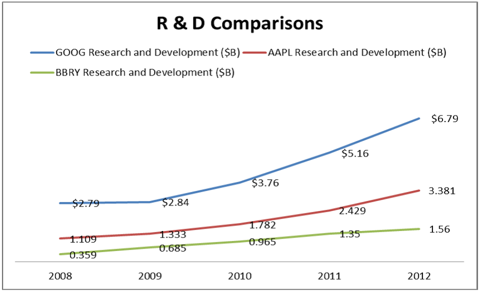 When compared to Apple, and BlackBerry (NASDAQ:BBRY), Google leads in both research and development, and advertising capability. This means that Google's mobility division has the funding, talent, and capability of succeeding in the mobility space. Apple could run into some trouble further down the road when competing with Google. Furthermore Apple's product release schedule has fallen further and further behind the competition. Each new Apple iPhone reiteration becomes increasingly uncreative, and investors are beginning to question Tim Cook's ability to create breath-taking product launches that are defined by the merits of the product, and not by the sales generated by them. Apple is a typical story where the leadership leads through management rather than creating products that could have the potential to change the world. In contrast, that spirit still resides in Google, which means that Google could remain the technology story of the 21st century. Leadership is extremely important, and I believe Google's top-level management has a better idea of what works in technology than an ivy-league business grad.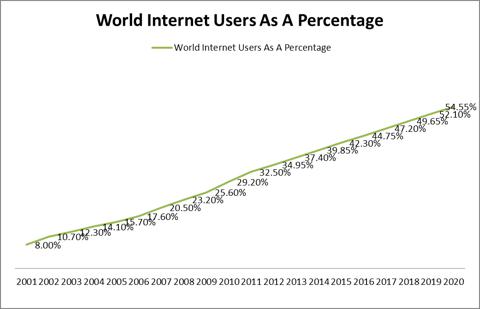 Source: Data from International Telecommunication Union with the data from 2012-2020 forecasted by Alex Cho
I forecast that by 2020, the total number of people using the internet is going to increase to 54.55% of the world population. This means that the number of people using internet across the globe is likely to be greater than 3.5 billion people. My forecast is relatively conservative, and realistic. To further back this claim Network World stated that:
By 2020 the National Science Foundation predicts that the Internet will have nearly 5 billion users.
Google's core search business will grow due to the growth in the number of internet users internationally. Google's search business is expanding into foreign markets, and international expansion remains a key growth component of the stock. Even if Google's mobility division fails to grow, one thing is for certain, Google as a whole will continue to grow.
Technical Analysis
Google has been on a continuous up-trend since January of 2011. I anticipate this positive momentum to continue.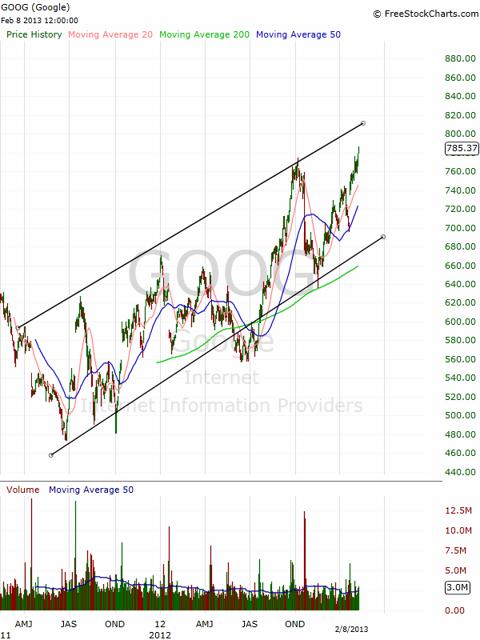 Source: Chart from freestockcharts.com
The stock is trading above the 20-, 50-, and 200-Day Moving Average. The stock is in a confirmed uptrend (higher highs and higher lows), the up-trend further supports my buy-thesis. Notable support is $600.00, $660.00, and $720.00 per share. Notable resistance is $800.00, $900.00, and $989.00 per share.
Street Assessment
Analysts on a consensus basis have reasonable expectations for the company going forward.
| | | | | |
| --- | --- | --- | --- | --- |
| Growth Est | GOOG | Industry | Sector | S&P 500 |
| Current Qtr. | 5.30% | 16.60% | N/A | 10.40% |
| Next Qtr. | 7.40% | 45.60% | 1459.30% | 17.00% |
| This Year | 14.30% | 23.50% | 41.50% | 8.90% |
| Next Year | 17.30% | 27.20% | 20.90% | 12.30% |
| Past 5 Years (per annum) | 20.59% | N/A | N/A | N/A |
| Next 5 Years (per annum) | 13.75% | 19.17% | 17.47% | 8.58% |
| Price/Earnings (avg. for comparison categories) | 17.25 | 21.53 | 19.11 | 15.09 |
| PEG Ratio (avg. for comparison categories) | 1.25 | 2.28 | 1.9 | 1.99 |
Source: Table and data from Yahoo Finance
Analysts on a consensus basis have a 5-year average growth rate forecast of 13.75% (based on the above table).
| | | | | |
| --- | --- | --- | --- | --- |
| Earnings History | 12-Mar | 12-Jun | 12-Sep | 12-Dec |
| EPS Est | 9.65 | 10.04 | 10.65 | 10.42 |
| EPS Actual | 10.08 | 10.12 | 9.03 | 10.59 |
| Difference | 0.43 | 0.08 | -1.62 | 0.17 |
| Surprise % | 4.50% | 0.80% | -15.20% | 1.60% |
Source: Table and data from Yahoo Finance
The average surprise percentage is - 2% analyst forecasted earnings over the past four quarters (based on the above table).
Forecast and History
| | | |
| --- | --- | --- |
| Year | Basic EPS | P/E Multiple |
| 2004 | $ 2.07 | 93.14 |
| 2005 | $ 5.31 | 78.13 |
| 2006 | $ 10.21 | 45.10 |
| 2007 | $ 13.53 | 51.11 |
| 2008 | $ 13.46 | 22.86 |
| 2009 | $ 20.62 | 30.07 |
| 2010 | $ 26.69 | 22.25 |
| 2011 | $ 30.17 | 21.41 |
| 2012 | $ 32.81 | 21.56 |
Source: Table created by Alex Cho, data from YCharts, and price history is from Yahoo Finance.
The EPS figure shows that throughout the 2003-2012 period, the company was able to grow earnings.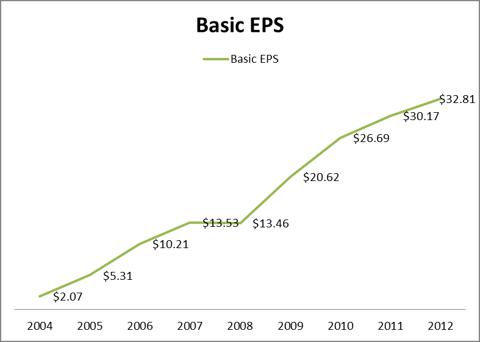 Source: Table created by Alex Cho, data from YCharts.
By observing the chart, we can conclude that the business has a unique business model, because it is able to grow earnings even through economic recessions. I also believe that so as long as the World Wide Web continues to grow, the company will generate reasonable returns over a 5-year time span based on the forecast below.

Source: Forecast and table by Alex Cho.
By 2018, I anticipate the company to generate $90.32 in earnings per share. This is because of cost management, growth in foreign markets, improving economic outlook, and its unique product offering.
The forecast is proprietary, and below is a non-linear chart indicating the price of the stock over the next 5-years.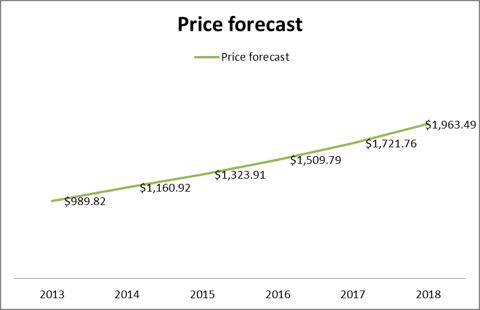 Source: Forecast and chart by Alex Cho.
Below is a price chart incorporating the past 9 years and the next 6 years. Detailing 15 years in pricing based on my forecast and price history on December 31st of each year.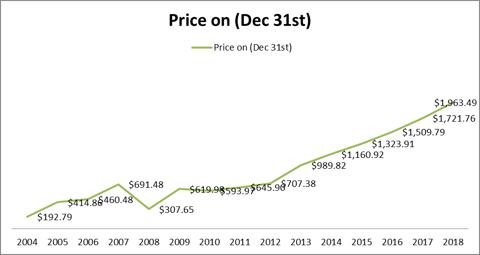 Source: Forecast and chart created by Alex Cho, data from YCharts, and price history is from Yahoo Finance.
Investment Strategy
GOOG currently trades at $785.37. I have a price forecast of $989.82 for December 31st 2013. I believe that the stock is slightly undervalued over the short term. Therefore, investors should anticipate sudden surges in valuation.
Short Term
Over the next twenty-four months, the stock is likely to appreciate from $785.37 to $989.82 per share. This implies 26% upside from current levels. The stock is in an up-trend, which further supports my investment thesis. Investors should buy Google at $785.37 and sell at $989.82 in order to pocket short-term gains of 26% between 2013 and 2014.
Long Term
The company is a decent investment for the long term. I anticipate GOOG to deliver upon the price and earnings forecast despite the risk factors (competition, economic environment, balance sheet factors). GOOG's primary upside catalyst is improving economics, international growth, and Motorola Mobility. I anticipate the company to deliver upon my forecasted price target of $1,963.49 by 2018. This implies a return of 150% by 2018. This is an exceptional return on investment for a internet services company.
A higher yielding investment opportunity albeit having higher risk is to buy the Jan 17, 2015 calls at the $800.00 strike. The call premiums trade at $98.60. The price forecast for the end of 2014 is $1,160.92. The rate of return if the calls expire at $1,160.92 is 266%, the option will break-even when the stock trades at $898.60.
The risk to reward ratio on the option strategy remains high. The high-returns come with moderate risk (5-year beta of 1.0).
Google has a market capitalization of $258.9 billion; the added liquidity makes this an investment opportunity appropriate for larger institutions that require added liquidity.
Conclusion
Google's product platform continues to grow more diverse, more powerful, and increasingly lucrative. The magic continues to happen at Mountain View California.
The conclusion remains simple: buy Google.
Disclosure: I have no positions in any stocks mentioned, and no plans to initiate any positions within the next 72 hours. I wrote this article myself, and it expresses my own opinions. I am not receiving compensation for it (other than from Seeking Alpha). I have no business relationship with any company whose stock is mentioned in this article.