Tepid Earnings Season, Yet Stocks Rally - Weekly Market Outlook
It may have been microscopic, but even the market's microscopic 0.3% gain last week was enough to lead stocks to their sixth straight positive week. Even more impressive - stocks ended last week at multi-year highs, and in some cases, within sight of all-time highs. The Dow Jones Industrial Average (DJIA) (NYSEARCA:DIA), for example, closed at 13,993 last week versus its peak of 14,198 from October of 2007. The S&P 500 (SPX) (NYSEARCA:SPY) ended last week at 1518, compared to its all-time high 1576, also from 2007.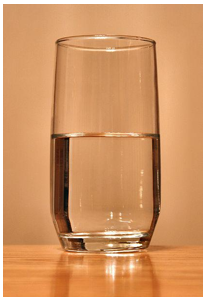 That's only about a couple of percentage points - on average - beneath these indices' peak prices, which in itself could be alarming. Is it possible all the buyers supporting the current rally have already decided they're simply going to use the prior peak as the place/reason to start taking profits? It wouldn't be the first time it's happened.
We'll explore that possibility (and others) in a moment, right after we take a look at the market's key economic numbers.
Economic Calendar
There wasn't much in terms of economic data last week. The only biggies were factory orders and unemployment claims. Factory orders were up 1.8% for December, and unemployment claims (new as well as ongoing) continued to slide towards multi-year lows.
Consumer credit levels grew by $14.6 billion in December, versus estimates of $11.9 billion. As we noted last week though, the bulk of that growth is coming from student loans, and then auto loans.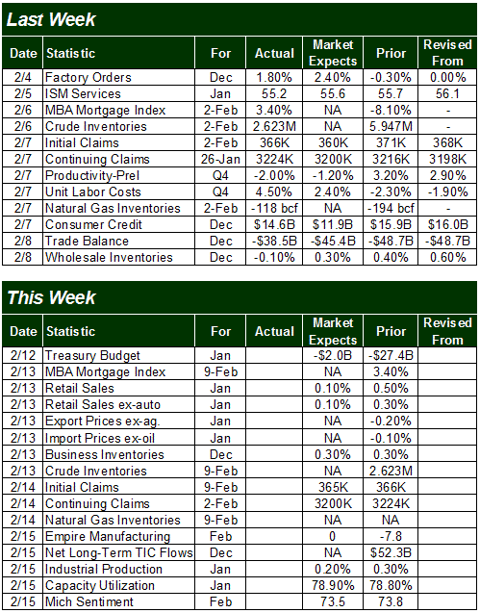 The coming week will be a little busier, although the fireworks don't really start until Tuesday's retail sales totals for January. Economists are expecting a 0.1% increase (y.o.y.), with and without automobiles.
We don't get anything critical again until Thursday, with the next round of unemployment data. Initial and continuing claims are both expected to continue their modest downward drift.
It's Friday's industrial productivity and capacity utilization news that should make the most waves.
As we've noted before, these two data sets show more correlation with the long-term market than any other data set. While both started to taper off heading into last year's Q4, they perked up again in December, suggesting we may not fall off the proverbial cliff after all. The pros are looking for very modest increases from both with January's numbers. Either way, Friday's data has the potential to move stocks, higher or lower, depending on these two numbers.
Stock Market
Had it not been for Friday's 8.54 point/0.56% advance, the S&P 500 would have posted its first weekly loss in the last six weeks. But, Friday happened, putting a bullish finishing touch on an otherwise lethargic week. Another curveball: While Friday's volume wasn't massive, it wasn't exactly weak either...especially for a Friday.
So the question is, do you trust the bullish clues (still) being dropped by stocks, or do we (still) acknowledge that this rally is running on borrowed time, and overdue for a corrective move? Great question.
To give credit where it's due, the S&P 500 has moved past that ceiling at 1515 that had developed over the course of last week, moving to a new multi-year high close of 1517.93. And, though it's now up 8.2% since late-December's low and up a whopping 12.1% since the major bottom from mid-November, it's not like the index hasn't made bigger uninterrupted gains than that before. Indeed, the SPX isn't even testing the upper 20-day and 50-day Bollinger bands, suggesting there's at least a little more room for upside.
S&P 500 & VIX - Daily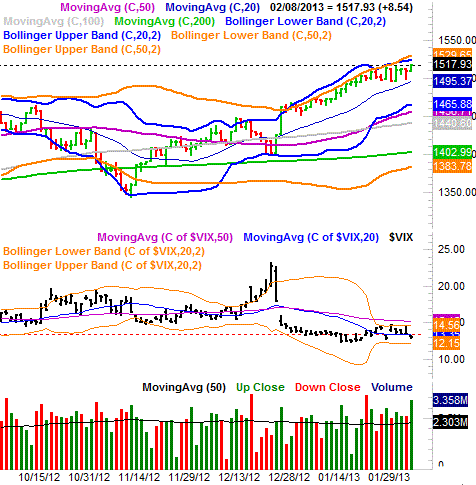 On the bearish side of the table, just because the market's capable of putting up gains bigger than 12% doesn't mean it's going to be able to this time around. The CBOE Volatility Index (VIX) (NYSEARCA:VXX) VIX is still obnoxiously low, and IS overdue for a move higher. Trouble is, for the VIX to move higher, it generally means selling pressure is going to be applied to the market.
That's not the best bearish argument right now, however. No, the best case the bears can make right now has to do with where the index is now, and where it's been in its distant past.
It may not be logical or rational, but investors tend to use past peaks from indices like the S&P 500 (or the Dow, or the NASDAQ or the Russell 2000) (NDX) (NASDAQ:QQQ) (RUT) (NYSEARCA:IWM) as milestones.... and pivot points. It's entirely possible - and perhaps even likely - that all these buyers are getting ready to sell once the S&P 500 re-reaches the October-2007 peak of 1576; that's only 3.8% above where the market closed on Friday.
That's a tough idea for traders to wrap their arms around, though, since it's so philosophical and so very unscientific. Indeed, it's in complete contrast to disciplined trading rules, which simply say the trend is your friend (until it clearly isn't).
Or, you can at least see on the weekly chart that the SPX is also bumping into a long-term rising resistance line (dashed) right now, which has been a major pullback catalyst in recent history.
S&P 500 & VIX - Weekly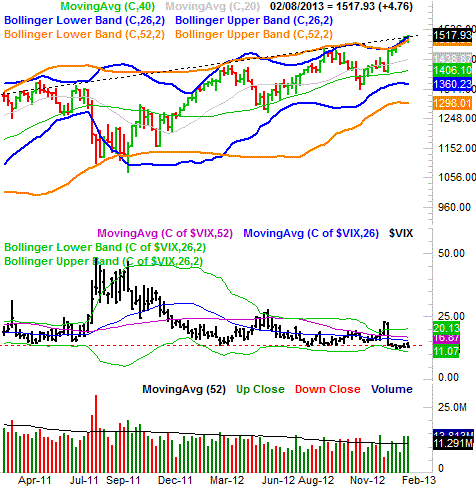 If you're torn, you're not the only one. This is one of those times where the smart move is to simply wait and let one side or the other tip their hand, or flinch. And, if the market would ever actually digest the fact that Q4 earnings season has been bad, investors might actually dole out such punishment rather than rewarding tepid results. Keep reading.
Earnings Season
We didn't get a chance to update things last week, but we want to make a point of dissecting Q4's earnings result this week.
As of last Wednesday - with 343 of the S&P 500's constituents having reported Q4 numbers - the S&P 500 is on pace to earn $23.53. That's 0.8% WORSE than Q4-2011's $23.73, not to mention worse than the $23.80 the pros were expecting just a few weeks ago. That's certainly not as bad Q3's 5.1% dip in year-over-year earnings, but after two losing quarters in a row, should investors actually be excited about getting long in front of the next one?
Even more amazing is that some investors actually think the S&P 500 is going to pull off that currently-projected 18% year-over-year earnings increase in the fourth quarter of this year.
As of right now, the S&P 500 is trading at a trailing P/E of 15.62, and a forward-looking P/E of 13.6.
S&P 500 Vs. Earnings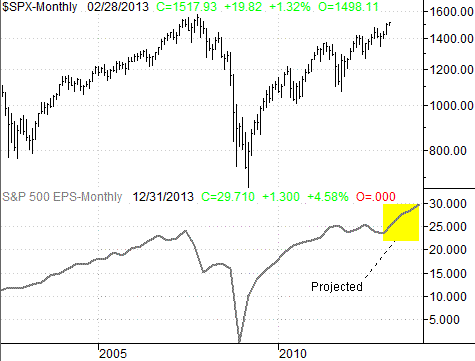 Disclosure: I have no positions in any stocks mentioned, and no plans to initiate any positions within the next 72 hours. I wrote this article myself, and it expresses my own opinions. I am not receiving compensation for it. I have no business relationship with any company whose stock is mentioned in this article.
Additional disclosure: BigTrends Rapid Options Income subscribers have an open SPY options position.