If the past four years have taught us anything, it's that while central banks can buy assets (and by extension boost a whole host of asset prices), they cannot buy economic growth and they cannot generally fix structural problems. While the esteemed Chairman of the U.S. Federal Reserve would no doubt point to his June 7 2012 comments on Capitol Hill ("monetary policy is no panacea") as evidence that he understands the limits of a proactive central bank, the FOMC's targeting of specific economic outcomes other than price stability suggests otherwise. Despite Senatorial calls for Bernanke to "show some humility," the Fed has plowed ahead with its grand experiment. Indeed Goldman Sachs recently suggested that in addition to the Fed's overt targeting of a 6.5% unemployment rate, current Fed policy suggests an implicit nominal GDP target as well.
Considering that the heads of both the U.S. and European central banks hail from the same PhD program (M.I.T), it isn't any wonder that Mario Draghi seems to share Ben Bernanke's unspoken faith in monetary policy's ability to combat the full spectrum of economic and market disruptions. There is perhaps no better example of this than the ECB's celebrated OMT program announced last September. While the stated purpose was of course to keep so-called "speculators" from robbing the periphery of its access to debt markets, it certainly seems reasonable to say that Mario Draghi's true intentions were far more grandiose. The consensus seems to have been that due to the potential scope of the program (unlimited bond purchases) the OMT could somehow function as an economic, financial, and political cure-all.
Of course, most serious commentators knew it was only a matter of time before the ECB's bluff would be called. The central bank's inability to address structural issues was destined to create a scenario wherein investors eventually snapped out of the OMT spell and realized that nothing was fixed. Thereafter, periphery spreads would once again blow wider. Similarly, the Greek bond buyback was presented as an important step in setting the country on the path to debt sustainability. The reality of the situation however, is that until the country's economy begins to heal, manipulating the numerator in the debt to GDP ratio will largely be an exercise in futility.
The point is that central banks' bond market interventions -- both those that have been effectuated and those which, for the time being, remain merely theoretical -- are no substitute for structural and political reform. As such, any respite these interventions offer will be temporary at best and will be recognized only in bond yields; that is, the effects will not show up in the real economy and there will be no recognizable improvement in the functioning of the various transmission channels. An assessment of the current state of affairs across the eurozone serves as a stark reminder of the limits of monetary policy and of the dangers investors in the region's equity and bond markets face going forward.
Greece
On December 13, the eurozone cleared the way for Greece to receive a long-awaited fresh tranche of financial aide totaling 50 billion euros. At the time, prime minister Antonis Samaras declared that "Greece is back on its feet." Nearly two months later, a smog hangs over Athens and it certainly isn't a by-product of robust levels of industrial production which, as of November, had fallen 3.5% in 2012. Instead, the pollution is the result of the increasing reliance on wood burning stoves for heat.
According to the Wall Street Journal, tens of thousands of trees have been cut down across the country as residents who can't afford to pay for fuel or electricity are turning to fireplaces for warmth. This has led to the seizure of 13,000 tons of illegally cut timber and particulate levels as high as 241 milligrams per cubic meter, nearly five times the so-called "danger level." Heating oil consumption during the winter months was down a breathtaking 70% from 2011 as a new fuel tax caused prices to increase by 40%.
Speaking of taxes, tax revenues in Greece fell 16% in January as consumption has fallen off the map -- supermarket sales fell a half billion euros last year alone. According to The Greek Reporter, tax revenues would have been far lower were it not for a 100% increase in property taxes. Painful tax hikes combined with deep pay cuts now threaten to plunge the country back into a dangerous state of social unrest according to former prime minister Costas Simitis who said Saturday that Greece will invariably need another debt restructuring in the years ahead. In a testament to the level of instability that persists in Greece, consider that in January, the country's largest shopping mall was bombed and masked gunmen attacked the prime minister's office with a Kalashnikov.
By the end of 2013, the Greek economy will have contracted by an astounding 25% over the last four years. Not to worry though says John Karayiannis, CEO of Olympia Development which invests in manufacturing firms and retailers: "We feel more confident now about Greece's future." To sensible observers however, it isn't even clear that Greece has a future -- at least not in the First World.
Spain
On Saturday Mariano Rajoy, Spain's suddenly embattled prime minister, published his tax returns dating back ten years in a ridiculous effort to combat corruption charges leveled against his party by the Spanish newspaper El Pais. Apparently, Rajoy and members of his ruling Popular Party (PP) received inappropriate payments from a pool of cash funded by construction moguls for over a decade. Rajoy allegedly received in excess of $30,000 per year. Rajoy of course denies the allegations but the fact that the handwritten ledger which supposedly documents the transactions was kept by PP's treasurer Luis Bárcenas doesn't exactly reflect well on the prime minister considering Bárcenas is already under investigation for corruption and has some 22 million euros stashed away in a Swiss bank account.
The scandal has dented the market's fragile confidence in Spain's debt. Just a month after Madrid began the year with a "successful" bond auction, yields on the country's bonds have spiked across the curve with Spanish 2s, 5s, and 10s blowing wider by 60, 55, and 50 basis points respectively. After last month's auction I noted that enthusiasm for Spain's debt would likely wane in short order. Sure enough, Spain was forced to pay considerably more in terms of yield to sell its two year notes last week than it did on January 10.
The current political scandal will likely frighten international investors at a time when the country desperately needs to attract foreign capital. Spain's domestic banks already own some 67% of outstanding Spanish government debt and the country used up its pension fund last year in an effort to retain market access. Foreign demand for the country's debt is so sparse that Citi and Deutsche Bank are arranging an IPO-style roadshow in an effort to convince investors in the U.S. to buy Spanish bonds -- U.S. investors bought just 3% of a recent 10-year issuance.
Political upheaval could also make it difficult for the Rajoy government to implement new austerity measures -- this could in turn cause Spain to once again miss its deficit targets. Here's Citi's Willem Buiter:
Additional fiscal tightening would be needed to meet deficit targets following a likely diagnosis of deficit overshoots in the spring.
The idea that the Spanish people -- suffering under 26% unemployment -- will stand for further belt-tightening imposed by a prime minister who they think has collected hundreds of thousands of euros in illegitimate kickbacks over the last ten years, is laughable at best. Meanwhile, the IMF projects the Spanish economy will contract by another 1.5% this year.
Italy
On January 22, Italy's top banking lobbyist resigned. Giuseppe Mussari was Chairman of Banca Monte dei Paschi di Siena Sp, the world's oldest bank, from 2006 until mid-2012. In January, reports began to surface that the bank signed derivative contracts with Nomura and Deutsche Bank which allowed it to hide hundreds of millions in losses during the financial crisis. In the Deutsche Bank deal, Monte Paschi apparently borrowed money against a stake it held in another Italian bank (Intesa). As part of the swap deal, Monte Paschi remained exposed to the stock price of Intesa which plunged by more than half in 2008. Ultimately, the bank faced a 367 million-euro loss on the swap and instead of reporting it, simply structured a new swap with Deutsche to replace the old one. This allowed the bank to paper over the loss -- for the time being. This top secret deal was called "Project Santori."
The rabbit hole is deep on this one, but suffice it to say for now that via a host of colorfully named financial vehicles ("Chianti Classico" and "FRESH" for example) Monte Paschi ended up losing some 720 million euros. Meanwhile, taxpayers in Italy are being forced to back a 3.9 billion euro bailout of the troubled bank. Here's how it will work: Monte Paschi will issue nearly 4 billion in worthless bonds and the Bank of Italy will give them cash in return. Of course the Bank of Italy swears that "bailout" isn't the correct term to describe the deal:
[Its] not a bailout of a bank in crisis...It's a loan [to a] fundamentally healthy [institution with] limited exposure to structured-financed products. (emphasis mine)
The absurdity here is beyond description, but note that Italy's central bank is describing Monte Paschi as "fundamentally healthy" even though the amount of the "loan" is some 24% greater than the bank's entire market cap and furthermore, 720 million in derivatives-related losses apparently counts as "limited exposure" to structured-financial products.
Needless to say, this whole ordeal has shaken investor confidence and Italian stocks have plunged some 7% since January 29. The country's bonds haven't fared much better. Yields on Italian 2s and 10s have risen around 30 basis points each over the past two weeks and broadly speaking, Italian bond yields are now at seven week highs.
Italy faces critical elections on February 24 and a resurgent Silvio Berlusconi recently promised that if elected, he will refund all housing taxes paid last year and pass a new tax amnesty proposal. Critics say these types of policies will serve to undermine efforts to bring Italy's debt situation under control and may undercut the market's confidence in Italian sovereign debt, causing the country's borrowing costs to rise anew.
Germany/France
The rot as they say, has spread to the core. Back in August, I noted that German economic growth was likely to stall in the very near future. After managing to expand by a meager .2% in the third quarter, the German economy contracted by half a percent in the fourth quarter of 2012 setting the eurozone's largest economy up for a slide back into recession in the first quarter of 2013.
All told, Germany's economy grew by just .7% in 2012, a dramatic decline from 2011 and 2010 when the country's economic output rose by 3% and 4.2% respectively. As Reuters noted last month, German consumer confidence and household spending were at 12 month lows heading into the new year and export growth declined sharply to just 4.1% in 2012 from nearly 8% in 2011.
Slowing export growth has no doubt been a contributing factor to declining industrial production in Germany. Consider the following chart which shows that German industrial production is now back at levels not seen in half a decade: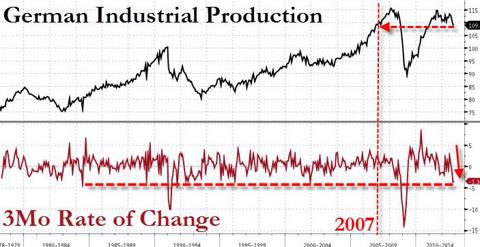 Source: ZeroHedge
Meanwhile, in France, industrial production has taken a horrific dive to levels last seen in 1997. The country's largest automaker, PSA Peugeot Citroën announced last Thursday that it would take a 3.9 billion euro writedown (ironically the same total as Monte Paschi's bailout) on assets such as plants and inventory as a result of a "deteriorating market" across the eurozone -- overall demand for autos has fallen by about 8%. Now it seems the French government is weighing whether to bail out the troubled automaker whose low priced models and concentration in Southern Europe have crippled profitability according to the NY Times article cited above.
Perhaps more worrisome is the fact that France is becoming less competitive on the world stage. In fact, according to Fortune's senior editor-at-large Shawn Tully, France may in fact be the next domino to fall:
It's France -- not Greece or Spain -- that now poses the greatest threat to the euro's survival. France epitomizes the real problem with the single currency: The inability of nations with high and rising production costs to adjust their currencies so that their products remain competitive in world markets.
Tully goes on to illustrate his point with a number of rather alarming statistics. France's share of world exports has fallen from 7% to 3% in the past two decades and its trade balance (once positive) is now -2.7% of national income, meaning trade has gone from being "a growth-generator to a major drag." Its unit labor costs have risen at three times the rate seen in Spain and nine times the rate witnessed in Ireland. As a percentage of GDP, corporate profits in France are half of the eurozone average, R&D spending has cratered by an astonishing 50% in just the past four years, and the country's industrial complex has just one robot for every five deployed by German manufacturers. Here is Tully with perhaps the most telling statistic of all:
It's extraordinary that from 2004 to 2012, the private sector in France showed no growth whatsoever, adjusted for inflation. The entire rise in GDP, a mere 7.3% over eight years, came from government spending. (emphasis mine)
Mission Impossible
Mario Draghi's perceived late-summer heroics were hailed by many as marking the moment when the ECB starting acting "like a real central bank." I would argue that this perception reflects a fundamental (and dangerous) shift in the way the world thinks about the role of monetary authorities. Central bankers shouldn't have so-called "save the world moments" unless they involve bouts of severe deflation or hyperinflation.
Central banks should concern themselves with price stability and shouldn't take every opportunity to employ semantic tricks to convince the uniformed public that their actions are somehow related to the now ubiquitous "transmission channel." These efforts have led us unwittingly into a situation where we are all part of the greatest experiment in the history of monetary policy. It now appears that Bernanke's statement on Capitol Hill should have been framed as an interrogative: "Is monetary policy a panacea?" He could then have quickly answered his own question: "We're about to find out."
As the above journalistic trip across recession-torn Europe has aptly demonstrated however, the problems facing the global economy and the financial markets are far too complex to be solved by any monetary authorities masquerading as superheroes. Mario Draghi did not stamp out the fat tails and he did not mold the distribution of outcomes into a pretty little bell-shaped curve with OMT. The fat tails are still there and indeed the situation in Europe may now be more precarious than ever. Don't be surprised to see periphery spreads widen markedly over the next several months as political and economic instability reintroduce that endangered species we all know as volatility.
Disclosure: I have no positions in any stocks mentioned, and no plans to initiate any positions within the next 72 hours. I wrote this article myself, and it expresses my own opinions. I am not receiving compensation for it (other than from Seeking Alpha). I have no business relationship with any company whose stock is mentioned in this article.