The week ahead looks to be an exciting one for development stage pharmaceuticals. Although much of the sector showed signs of weakness by the end of the week, there are several small pharmaceuticals with scheduled or possible news this week which I believe to be of interest to investors. I advise much additional research into any companies presented, as this piece is intended to only mention the catalysts involved without delving too deeply into either pipeline candidates.
EnteroMedics (ETRM) had a devastating week last week for existing shareholders, as the company released topline results Thursday afterhours for a 239 patient trial evaluating its VBLOC® vagal blocking therapy for the treatment of obesity. Although the device demonstrated a clinically meaningful and statistically significant excess weight loss [EWL] of 24.4% for VBLOC® treated patients with 52.5% of patients achieving at least 20% EWL, the trial did not meet its efficacy endpoints. In the total intent-to-treat population, 52.5% of treatment patients had 20% or more EWL compared to 32.5% in the control group (p=0.004), and 38.3% of treatment patients had 25% or more EWL relative to 23.4% in the sham control group (p=0.02). The trial's goal was to have 55% and 45% of patients experiencing EWL of 20% and 25%, respectively. The news sent shares plummeting from its $2.84 close on Thursday to open Friday down over 50%.
Despite the setback, EnteroMedics will continue to pursue marketing authorization for VBLOC® via a pre-market approval application [PMA] in Q2 of this year. In my opinion, FDA approval does not seem likely, based on these results, with only a 8.5% average weight loss difference between VBLOC® and the control group having a "sham" control device implanted, yielding a p=0.705 valued, with a p=0.05 or less usually being regarded as statistically significant in clinical settings. EnteroMedics shares will likely remain volatile throughout the week, as investors digest the facts and the company's potential.
With analysts, bloggers and social media putting different spins on the data and the devices's chances at approval, the company's common shares could very well begin rising in the coming days as the company begins providing development updates. If regulatory rejection is already priced into the company's current $52.5 million market capitalization, then the downside could be minimal, while there will be investors gambling on a long shot approval or a share price run up after the share price stabilizes. Personally, I may trade the short-term dips/peaks and then enter a long position in anticipation of a run up as the company gives updates, files its PMA and then awaits the FDA's decision.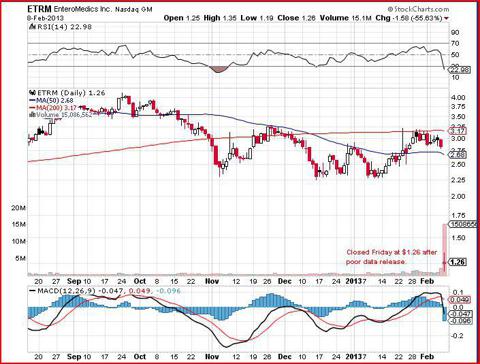 Dyax Corporation's (NASDAQ:DYAX) common stock has been experiencing a bullish run up since May 2012 when it was trading around $1.50, relative to its current $2.95 at markets close on Friday. Dyax launched its only U.S.-approved drug, KALBITOR® in February of 2010 for the treatment of patients 16 years of age and older for acute attacks of hereditary angioedema [HAE], a rare, genetic disorder characterized by severe, debilitating and frequently painful swelling, typically occurring in the abdomen, face, hands, feet and airways. As outlined in my recent article, Dyax has been garnering development and marketing partnerships worldwide; resulting in multiple milestone payments and royalty agreements while having to contribute very little financially to the development or regulatory steps required to get the therapy approved in many other countries. With revenue increasing quarterly and additional approvals possibly coming, shares have been trading on a gradual uptrend. The company updated investors via two press releases in 2013 on additional agreements signed with CVie Therapeutics and Novellus Biopharma (NVLS) with no monetary value mentioned with regard to the upfront fees each of the companies would pay Dyax for KALBITOR®.
Q4 2012 earnings will be released this Wednesday, February 13th, which could provide investors with the value of the upfront payments as well as give revenue numbers for KALBITOR® from that quarter. These numbers will likely determine if DYAX shares continue on their bullish push, or if they succumb to weakness for the short term as shares have been trading a bit weakly over the last two trading sessions. With many partnerships underway, updates on regulatory filings and additional events could also prove to be share price movers. I advise much additional research into the company before considering a position before this Wednesday's updates.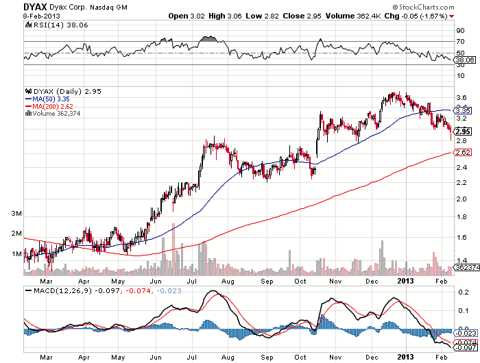 MELA Sciences (MELA) shares have been trading near their 52-week lows over the last week. The company's MelaFind® device used to diagnose melanoma and skin cancers has been a steady but very slow to increase revenue generator since its November 2011 FDA approval. The company also received European approval to market the device in September of 2011, so it has had ample time to market and develop sales growth since that time. The recent 52-week lows seem to indicate that investors are growing frustrated with the wait on solid revenue generation and are putting their money to work elsewhere. On Friday, MELA released news announcing Q4 and 2012 financials and corporate update will occur on March 15. I anticipate shares could likely start trending up in anticipation of the filing and subsequent conference call. For many investors, this may be the "last straw" as they would expect share prices to find new 52-week lows if the company is not progressing as they believe it should be with regard to garnering more revenue and validating their investment positions. In its Q3 conference call update, the company noted that it had sold and installed 76 MelaFind® systems in the U.S. and Germany for which they are obtaining revenue with an additional 23 purchased and in various stages of installation and user training. Also in the Q3 update, the company mentioned a total of 5 additional sales representatives, so there should be little excuse for continued and/or accelerated growth for Q4.
MELA's market capitalization at the close of markets on Friday was $52.5 million with common shares closing the day at $1.66, just above its 52-week low of $1.60. Interested investors should watch the stock's technicals over the week and ascertain entry for a possible run up to the March 15th earnings release. Depending on investor sentiment, the opposite may hold true with a possible selloff from those not wishing to risk a hold through earnings. Although not necessarily a "falling knife", the short term chart for MELA is indeed bearish, but the current share price does seem a bit tempting for me, and I will likely add to my current long position for a possible trend up toward earnings release.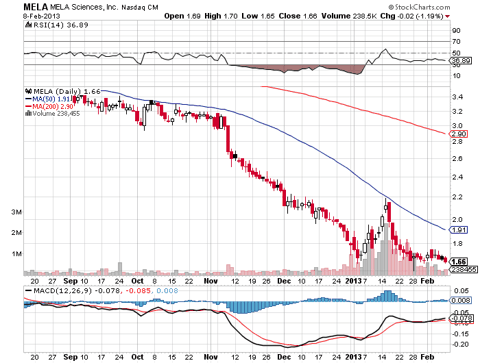 AcelRX Pharmaceuticals (NASDAQ:ACRX) released data from the first of its three phase 3 trials for its lead product candidate, ARX-01, on November 15th 2012. Data for the sublingual opioid for post-operative pain was positive with statistical superiority demonstrated versus IV PCA morphine. Shares surged on the news for several days after the announcement and then dipped on a December 5th announcement of a stock offering to fund the pipeline through the mid 2013 new drug application for the large indication drug. Shareholders are now awaiting data for the two remaining ARX-01 trials with one being released sometime in February and the other being released in "1Q 2013".
The two remaining data sets will be for the treatment of post-operative pain in patients with elective unilateral knee replacement surgery and for post-operative pain following abdominal surgery. Results for both of these trials are imminent and could be significant share price movers. Phase 2 data for ARX-01 for all three indications were positive, with only the knee replacement surgery data giving me any cause for concern as its p<0.02 was not as impressive as the p<0.001 for pain following abdominal surgery versus IV PCA morphine. The three trials will provide data for the NDA to be filed in mid-2013. If either of the two remaining trials fail to meet endpoints, the NDA would likely still be filed, with the failing indication simply left off the NDA and then subsequent product labeling if approved.
AcelRX shares were somewhat volatile last week, allowing watchful investors to purchase additional shares in the $4.90-$5.00 range on Thursday and Friday, before closing the week out at $5.29 with a $196 million market capitalization. Still trading with a bullish chart since its November phase 3 data release, I anticipate much attention going forward through the next two data set releases, the NDA in mid year and possible FDA regulatory decision by the end of the year for AcelRX.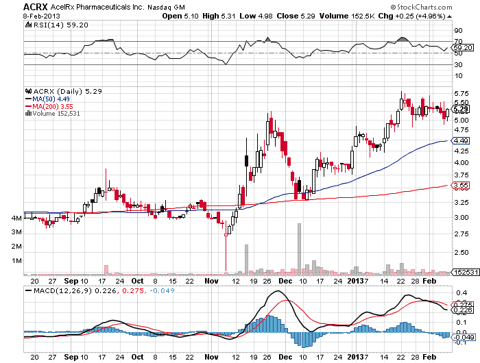 Investment in development phase pharmaceuticals is a risky venture. For those willing to accept the elevated risk, the rewards or losses can be significant depending on how events unfold and depending on a healthy combination of luck and skill. The candidates listed above are certainly no exception to the rule, and I will be watching each closely during and after markets close to help to maximize gains or to minimize losses.
Disclosure: I am long ACRX, DYAX, MELA. I wrote this article myself, and it expresses my own opinions. I am not receiving compensation for it. I have no business relationship with any company whose stock is mentioned in this article.