On October 18th 2012, Google (NASDAQ:GOOG) released its third quarter's results. Those results were perceived to be below expectations, and the share prices fell by 8% in a single day, despite an increase in sales by 45%. The reported revenue was $11.3 billion, which was believed to be $0.5 billion less than expected.
But since then, its stock has given a return of 11.6% to its shareholders. The credit for this push can be attributed to its fourth quarter's results. Google posted net revenue of $9.83 billion, which is about 20.9% higher than last year. Its revenue from international markets grew by 23%. Net income also increased from $2.71 billion to $2.89 billion as compared to last year. This led to an increase of 5% in the stock prices of Google in a single day.
Overall, Google has given a return of around 27% in the last 2 years, 33.5% over the last 1 year, 22.6% in the last 6 months and 12.8% over the last 3 months to its shareholders.

Following graphs illustrate a comparison of the performance of Google with Nasdaq-composite index and Nasdaq technology index over the last 2 years, 1 year and 6 months respectively.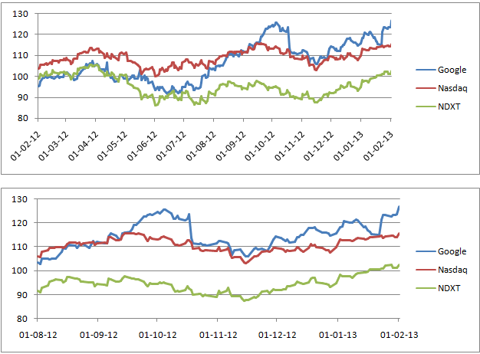 It is clear from these graphs that Google not only has been outperforming the Nasdaq technology index in the last 1.5 years, it has also been outperforming the Nasdaq composite index for the last 6 months. Therefore, it can be safely said that Google has been one of the better performing stocks, not just in technology sector, but also overall in the last 6 months.
But the big questions that lie before investors now are: "Will Google's share prices continue to rise in near future?" and "Will it continue to give similar returns?" The answers lie in a number of factors that have to be considered before forming any opinion.
Google has been facing an uphill task to maintain revenue in its core business of advertising over the last 4 years. This is due to the fact that advertisers are not ready to pay as much for the mobile screens as they pay for desktop/laptops because of the difference in screen sizes. This has led to a continuous fall in the average revenue per click over the last 10 quarters. The fall was a massive 15% in the third quarter results last year, though it has somewhat reduced in the fourth quarter, with the average revenue per click falling 6%. This was 2% higher than that of third quarter. This factor is of high significance for the investors, and will surely affect the revenue growth of the company over the next few quarters, unless it keeps increasing its clientele at a faster rate.
To better cope up with the changing technology landscape, Google acquired Motorola Mobility last year. This step was believed to be Google's entry into the hardware space and in direct competition with companies like Apple, Samsung etc. But the Motorola Mobility division of Google hasn't yet produced any profits. Therefore, the net profits of the company are expected to come down, though by a small margin. For the investors looking to invest for the short term, this factor is not much of significance.
Google has been trying to diversify over the years, and is trying to reduce its exposure from just having one source of revenue, i.e. advertising. The acquisition of Motorola Mobility and building a strong Android environment are some of the steps in this direction, though it is still not clear how things would turn up for the company.
Google's answer to Facebook (NASDAQ:FB), Google+, also hasn't been able to pick up as it was planned. The number of users hasn't been increasing, while the operating costs are rising. The company has still not disclosed its plans to monetize the service. And because Google doesn't disclose its income and expenses separately for each of its businesses, it creates a doubt in the investor's mind about the company's success in recent strategic forays.
Nokia (NYSE:NOK) has collaborated with Microsoft (NASDAQ:MSFT) to gain market share in the smartphone software market, in which Apple's (NASDAQ:AAPL) iPhone and Google's Android are the current leaders. This is believed to be a step that has started to affect the market dynamics. Especially with improved hardware support with Windows 8, the smartphone software market is expected to become more competitive, though it will take time for them to really affect the market leaders' profits.
Despite all these issues, Google's fundamentals are really strong, having reasonable profit margins, liquidity ratios and debt ratios. These are believed to be better than its peers in the industry and are expected to drive the company's growth in near future.
Google is the undisputed leader in the search engine business, with around 66% market share and 11.8 billion searches in a single month. Google is a market leader in the Internet browser space as well, enjoying around 47% market share last month. In addition, with Android recently becoming the market leader in the smartphone software segment, Youtube becoming increasingly popular, with more than 4 billion hours of videos watched every month, and management's continuous plans to diversify, the company is set to continue its growth path in the near future.
Not only this, Google has forayed into a number of other businesses, and one of them is Google TV. It is expected that television advertisers will flow towards this concept once it is established, again, giving the first mover's advantage to Google. The company's own operating system, Google Chrome, is also expected to be a success, though the monetization plans are still not disclosed. There are a number of other services like Google Books, which has already started to earn revenue for the company. All these businesses are being established as a part of revenue generating activity by the company, but the investors will gain more confidence if separate disclosure of the incomes and expenses are done.
Google's current stock price of $775.6 is at an all-time high. but due to the positive sentiment prevailing among the investors and the growth prospects in the future, the stock is expected to further rise and is a good 'buy' for the short term and as well as long term. An investor can also adopt alternative methods of profit booking, e.g. writing of put options with exercise prices below $700. This will allow them to earn the premium, without any significant risk.
Disclosure: I have no positions in any stocks mentioned, and no plans to initiate any positions within the next 72 hours. I wrote this article myself, and it expresses my own opinions. I am not receiving compensation for it (other than from Seeking Alpha). I have no business relationship with any company whose stock is mentioned in this article.