As Intel (NASDAQ:INTC) shareholders come upon the eve of a series of launches that will define the company's future for many years to come, it is only natural that the skeptical, as well as the ignorant, will start to question Intel's long-term viability. During the end of 2011 and up until about May 2012, Intel was Wall Street's darling. The company continually smashed revenue and margin records left-and-right, it had shown off its first truly viable smartphone system-on-chip platform, and the server/enterprise space was continuing to show itself as a major force driving Intel's growth.
The positive articles from the media, trade-press, and even authors here on Seeking Alpha were abundant, and Intel -- much like Apple (NASDAQ:AAPL) was before its own precipitous fall -- was the king of the semiconductor world. It was the largest by market capitalization and by sales, and it was pretty clear to the world that this was a company to buy with both hands.
So, what the hell happened?
The Music Changed
The clues started coming in from Dell (NASDAQ:DELL), HP (NYSE:HPQ), and others that the PC market was starting to weaken. This sent shares of Intel into a slow but steady decline from its peak of $29 to about the $26 level. Then, as expected, Intel warned that its previously strong Q3 guidance would no longer be met, which sent shares further spiraling downward. Cisco (NASDAQ:CSCO) also warned that the enterprise space was seeing a slowdown, and sure enough, Intel's datacenter business saw its growth slow down considerably from the ~15% CAGR laid out at the May analyst day to end the year at a mere 6%, driven mostly by richer ASPs (units were actually down 1%).
I believe the drop from $29 to $20 was completely and perfectly justified, given that EPS and revenue growth during 2012 was negative, and further given that 2013 will see EPS marred by excess capacity charges taken during Q1 and, to a limited extent, during Q2. Investors now do not believe that Intel will actually be able to get back to the historical ~62% gross margin level that the company has enjoyed over the last several years, and they're even more dubious of the idea that Intel can grow revenues and unit volume shipments in order to justify the investments that the company is making in the fabs.
I make no attempt to hide the fact that I believe the long-term Intel story, but I'm not stupid. For someone looking at Intel from a pure business point of view, and for someone who isn't intimately familiar with semiconductor history, it looks as though Intel is in a pretty tight spot. If I didn't know any better, I would be raising the same questions, and I probably would keep my money the hell out of the stock, purely because there are faster/easier places to make money.
So before you read any further, I want to say this: the Intel story is a long-term one. Intel isn't going to become a major player in phones and tablets overnight, nor are we going to see a recovery of the PC industry in that time-frame. This stock is dead money during 1H 2013, and if Intel, however unlikely, fails to execute on its 2H 2013 plans, then there could be some very serious downside even from these depressed levels. It takes a long time horizon, an understanding of the semiconductor industry, and the nerve to believe that Intel will actually succeed on its aggressive plans in order to really invest in this stock.
In short: if you're the kind of person who reads articles such as, "Is Intel's Haswell A Has-Been?" and feels a compulsion to sell your Intel shares, then please sell your shares and consider using the proceeds to buy:
ARM Holdings (NASDAQ:ARMH): If you want a stock that continually hits new 52-week highs and is the darling of Wall Street, this is probably a good bet.
Qualcomm (NASDAQ:QCOM): This is another solid Wall Street darling with huge mobile presence and a reasonable valuation.
Taiwan Semiconductor (NYSE:TSM): This is the foundry where almost every major fabless player gets chips made. This company will not suffer any sentiment or fundamental demand problems anytime soon.
Now, for those of you who are actually still with me, I would like to explain just why the second half of 2013 is so exciting and, ultimately, demonstrate that Haswell isn't a "Has-Been".
Haswell Will Make The Hybrid Tablet/Laptop A Reality
Remember the launch of the Surface Pro? The device is actually really neat -- a tablet and a PC in one. It's much faster than a typical ARM based tablet, and quite frankly, the compatibility with all the existing Windows applications is a major selling point. But there's one problem, though: the battery life stinks.
Now, the reason for the bad battery life against, say, the Nvidia (NASDAQ:NVDA) Tegra 3 that is in the Surface RT, is partially attributed to the fact that the Core i5 in the Surface Pro is leagues faster than any ARM chip around. When people tout "efficiency", they seem to forget that if something is 3 times faster and uses 3 times as much power, it is just as efficient as something that uses 1/3rd the power and performs 1/3rd as well.
That being said, the reviews showed that even in low intensity workloads, the Surface Pro still only lasted about half as long as the Surface RT. There are actually a number of factors that lead to this phenomenon:
The Better Screen: What? You think that a much nicer 1920x1080 display is going to consume only as much power as the 1366x768 display on the Surface RT? No, sir! A better screen eats up more power. Period.
The Faster Storage: While most tablets, including the Surface RT, use eMMC based flash storage, the Surface Pro uses a bonafide mSATA interface. In short, the flash storage on the Surface Pro is PC-grade, not tablet grade. The cost, of course, is some battery life.
The Faster Processor: Yes, the Core i5 in the Surface Pro uses more power than an ARM chip. But newsflash! It's not even close to in the same league performance wise -- it's at least 4 times faster than the best-of-the-best there. Take these benchmarks from Anandtech, for example, to demonstrate just how wide the gap is between a PC class Core i5 and an ARM chip (note that, unfortunately for Mr. Luongo's thesis that Intel's "Clover Trail" Atom Z2760 is "garbage", it is faster than both Qualcomm's Snapdragon S4 and Apple's A6X -- but I digress)
So I actually walk away with the opposite view than what most people seem to think about the Surface Pro: sure, it has half the battery life, but it's almost 5 times faster, with a better screen, faster storage, and twice as much RAM.
But there's still one more problem: even in low intensity workloads, the Surface Pro still loses hard on battery life. While the contributions from the better screen, twice as much RAM, and faster storage certainly don't help, there is one problem directly attributable to the processor: idle power.
The ARM SoCs, as well as Intel's Atom, are great at sipping power when they're doing nothing or doing very minimal work. Ever notice how when you use your phone constantly, the battery life absolutely stinks, but when you only use it sparingly, it seems to last for days on end? That's because these low power chips have a lot of circuitry dedicated to powering down when things aren't being done.
Today's high end "Core" products (codenamed "Ivy Bridge") do not have that level of sophistication built into them. However, despite the bashing that Mr. Luongo did of Intel's Haswell, he completely and utterly misses the single biggest deal about the chip: the much lower idle power.
Haswell's Idle Power Magic
While the slides about how Intel significantly beefed up Haswell's raw performance, especially in code that uses its new instruction sets, the really important part of the "Haswell" picture is found in the following slide: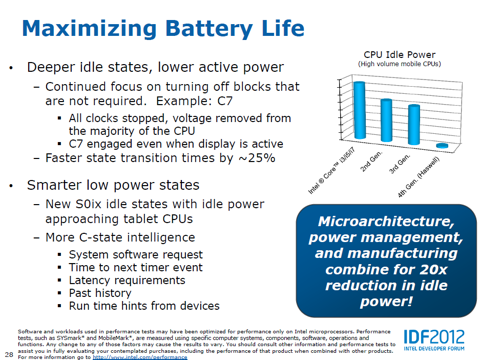 Haswell's "secret sauce" is that the architects spent a significant part of the design resources to significantly improve idle power. That means, in a nutshell, that Intel's claims that Haswell will double battery life over existing laptop/tablet generations using Ivy Bridge are not an exaggeration. The wave of tablets and convertibles using Haswell should see a dramatic increase in battery life, thanks to the fact that the chip will significantly improve the battery usage when in idle mode (which is for many users most of the time).
In addition, there were rumors/leaks that Haswell will be a dud on the performance side of things, especially due to the leaked benchmarks that Mr. Luongo referenced in his article. In fact, he went so far as to remark,
This is a real red flag to me and these engineering sample benchmarks support this, which show even worse performance than this theoretic comparison. So, the CPU side of Haswell may not be anything to write home about.
Of course, these numbers were quickly debunked by Francois Piednoel, a lead performance architect at Intel, who made the following statement via his Twitter feed: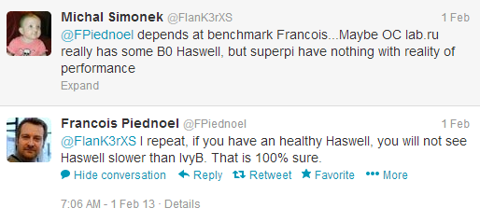 So much for that, right? Of course, anybody familiar with the microarchitectural changes in Haswell would understand that the likelihood of Haswell being slower than Ivy Bridge is next to zero, but again, I digress.
However, Haswell is only part of the story. Mr. Luongo then went on to say that AMD's (NASDAQ:AMD) Kabini would be a real competitor to Haswell. No, the Kabini is based on low power ARM/Atom class products, and as a result, will not be competitive with Haswell in any way except for perhaps the number of watts drawn. Kabini's real competitor is Bay Trail.
Bay Trail: The 22nm, Out-Of-Order Atom
At the high end tablet/convertible space, Intel will be unleashing Haswell, but for the even lower power and/or cost conscious segments, Intel will be releasing its next-generation, fully-redesigned, out-of-order, 22nm Atom SoC, with platform codenamed "Bay Trail".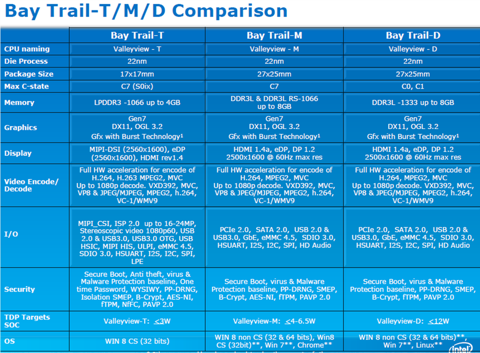 Now, Bay Trail comes in all different flavors to compete with AMD's Kabini/Temash. Now, for those of you unfamiliar with all of these AMD codenames, I present the following official roadmap: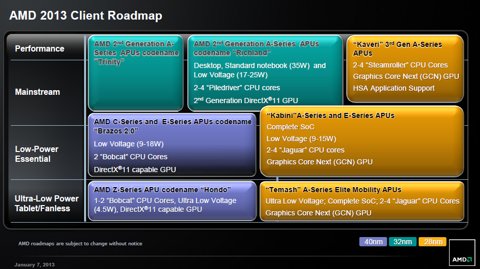 Kabini is a 9-15W chip, so in terms of performance-per-watt, it will get creamed by a Haswell in the same power envelope. However, Kabini, as Mr. Luongo rightly points out, is much cheaper than an ultra low voltage Haswell (the highest performance low power chips cost a premium since they are likely the rarest die to find on a wafer). But Intel's not stupid enough to try to compete with an ARM chip, or with low cost Kabini, with a premium Haswell. That's what Bay Trail is for.
Bay Trail is, as I noted above, a brand new Atom from the ground up on Intel's 22nm tri-gate transistors. AMD's Kabini/Temash will be on 28nm planar transistors, so right off the bat AMD is at a disadvantage. The transistors themselves don't enable much beyond better switching characteristics, lower leakage current (better idle power characteristics), and size, so in theory, if Intel designed a really terrible micro-architecture and AMD designed a really good one, then AMD could still come out ahead.
The problem is, that's an unlikely assumption. The original Atom was designed to be cheap, built on a fully depreciated fab, and somewhat artificially held back so as to avoid cannibalizing high end processor sales, especially as Intel was dealing with the "Great Recession" at the time of the original Atom's launch. However, the threat from ARM in many low power oriented segments from laptops to micro-servers, so the next generation Atom is unlikely to suffer from these constraints. It will be a full effort from the company.
With Intel's vast resources, and with ARM vendors fighting feverishly to take Intel's sales, does anybody realistically expect Intel to not push full force on its 22nm Atom? Given this, does it make any sense that AMD -- whose high end designs are significantly less power efficient (they are slower and consume nearly twice as much power in some segments) -- would be able to out-design a fully-focused Intel on a nearly two-generation behind process technology for a critical new segment?
Notice that, in the above slides, Bay Trail-M consumes less than 4 - 6.5W, and even the desktop version of Bay Trail takes up less than 12W? And notice further that Bay Trail will even go into sub 3W power envelopes for tablet usage?
The Temash variant of Kabini is also aimed at tablets, but while the power consumption numbers are omitted from the most recent slides, AMD let them slip on a slide given at a previous presentation: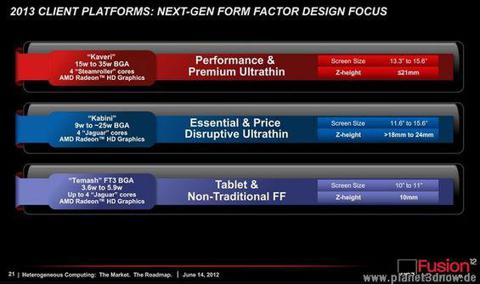 3.6W - 5.9W. Not bad, but certainly more of a gas-guzzler than an ARM chip or Intel's upcoming Bay Trail. The real problem, though, is that for anybody paying attention, AMD noted that its Kabini/Temash would not support Windows 8's connected standby, which isn't a show-stopper, but it's something AMD needs to get implemented sooner rather than later. It is also not clear how aggressive AMD's power states are relative to the Intel chips, but we'll just have to wait and see.
Conclusion
Intel's strategy is clear: high end goes "Core", low end goes "Atom". The notion that "Haswell" isn't a big deal, when in fact it is what could very well turn the tides of this war, is ludicrous. The raw performance will go up, but more importantly, in tablets it will actually be able to deliver tablet-like battery life thanks to its aggressive power management enhancements. The 22nm "Atom" goes head to head with the ARM SoCs in phones/tablets as well as AMD's low power chips in the low end of the PC market.
Intel needs to get this next wave of products out. If they are as good as I suspect they will be, then the company will be just fine. If they do not live up to expectations, then I'll be the first to tell you all. But so far, the company is on the right path to getting revenue growth and profitability back up. But it will be quite a while before we see the fruits of that labor, so I implore anybody that does not buy the long-term story, or simply can't stand to have dead money positions to not expect miracles anytime soon. Guys like me? Well, to me, Intel looks like it's doing all of the right things, so I'm staying on board unless Haswell is a dud, Bay Trail stinks, and the dividend gets cut because all the profits disappeared.
Disclosure: I am long INTC, NVDA, AAPL. I wrote this article myself, and it expresses my own opinions. I am not receiving compensation for it (other than from Seeking Alpha). I have no business relationship with any company whose stock is mentioned in this article.
Additional disclosure: I am short ARMH