Copper continues to play an important role in the world as its superior electrical conductivity, corrosion resistance, structural capability, efficient heat transfer and aesthetics make it a popular ingredient of many industrial products. This popularity has led to multitude of multinationals being involved in the mining of the metal with the two of most well-known copper miners being Freeport-McMoRan (NYSE:FCX) and Southern Copper (NYSE:SCCO).
First mined by man more than 10,000 years ago, copper today is one of the most common and versatile metals in use around the world. It is an internationally traded commodity, and its price is effectively determined by the major metals exchanges- the London Metal Exchange, the New York Commodity Exchange and the Shanghai Futures Exchange. Prices on these exchanges generally reflect the worldwide balance of copper supply and demand, but from time to time, they are also influenced significantly by investment flows and currency exchange rates.
Copper prices have rallied over the past 3 months, rising from about $3.45/lb to about $3.70/lb at today's prices. The rally is expected to continue as the economic data from some of the world's biggest economies continues to improve.
Copper is found in many places in the world, but Chile is a notable hotbed for Copper. Chile is not only the largest copper producer in the world, but also the country with the largest worldwide reserves of the red metal, reveals the latest commodity report by the U.S. Geological Survey. According to the agency, Chile has 28% of the world reserves, more than twice the reserves of its neighbor, Peru, the No. 2 global copper producer. It means that the South American country has reserves of 190,000 million tons of copper -- 26% more than it was thought (150,000 million tons) -- which guarantees copper extraction for the next 100 years, at the current extraction rate.
The economic data has been the big driver behind copper gains, and here is an overview. The news from China has been positive. China's economy grew by 7.9% year over year in the fourth quarter, up from 7.4% in the third quarter. The news provided relief to commodity bulls, who feared that the world's second-largest economy may have continued to slow after growing at the weakest pace in three years in Q3. Instead, it seems as if China's growth may have stabilized above the official government target of 7.5% -- a positive outcome.
Analysts have also come out positive on the metal. One analyst recently said that the economic recovery and growth should push prices up. "Copper is one of those metals that people feel is linked to the industrial cycle," said Carole Ferguson, an analyst at SP Angel Corporate Finance LLP, a broker and adviser in London. "Demand is obviously returning, we've had good numbers coming out of China and the U.S. definitely looks as if it's in a recovery trend."
HSBC raised its 2013 copper price forecast, saying it expects positive sentiment to drive prices for the metal in a structurally balanced market. The bank lifted its 2013 forecast for the average cash copper price to $8,000 per ton from $7,500 (London's copper metric) to reflect the metal's relatively good start to the year. "Copper, perennially described as fundamentally tight, actually finished 2012 posting a gain in inventories," analyst Andrew Keen said in a note to clients. "This market remains balanced in our view, and this is enough to keep prices high when sentiment is good."
With that said, the copper sentiment is positive, and should continue to be so. As a result below are three great stocks to own to play off this copper rally:
HudBay Minerals (NYSE:HBM) is a Canadian integrated mining company with operations, development properties and exploration activities across the Americas principally focused on the discovery, reduction and marketing of base and precious metals. The company's objective is to create sustainable value through increased commodity exposure on a per share basis by growing long-life deposits in high-quality and mining-friendly jurisdictions. HudBay is a strong stock with great analyst coverage. Of the five analysts currently covering HBM, all five have buy ratings or higher.

Copper is an industrial metal and therefore, it is very sensitive to economic cycles. Copper has a variety of uses, and it is a key component of every-day life, from the coins in our pockets to the powerlines that provide us with electricity. Furthermore, its extensive use in "green" technologies, such as solar cells and electric vehicles, ensures that copper will continue to play a key role in our sustainable future. Copper is conductive, durable, malleable, and eminently recyclable, making it one of the world´s most useful natural resources.
There have been some worries surrounding copper because of the short-term macroeconomic concerns regarding the US and Europe. However, the fundamentals are still excellent for copper: as Asia represents over 60% of world demand with China by itself at 39% and could reach 45% in 5 years. Southern Copper forecasts that China and Emerging Markets countries will continue growing, albeit at a lesser pace, but still showing substantial gains. The company also notes that limited production upside and falling grades will result in a deficit copper market going forward.
Two weeks ago, China's neighbor, Japan, also reported positive economic news. Japan raised its expectations for the economy for the first time in eight months, as private consumption held firm and business sentiment improved in a sign that Prime Minister Shinzo Abe's policy of easy money and big spending had begun taking effect. "The economy is weak, but signs of bottoming out can be seen in some areas," the report said. That was an improvement from last month, when the government said the outlook was weakening because of a slowdown in overseas economies. HBM has performed substantially well the past three months with shares rising over 26%.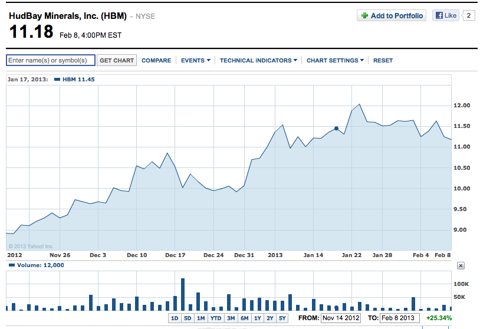 HBM is a quieter and smaller copper name, but nonetheless, is an interesting one to take a look at with the growth projections. HBM expects its copper production to increase 390% between now and 2015, with a 115% increase in precious metals production and 30% growth in zinc over the same time period, which are some pretty hefty growth figures. There also is significant downside protection built in with its balance sheet containing $1.4 billion of cash.
Southern Copper (SCCO) is one of the largest integrated copper producers in the world, and has the largest copper reserves of the industry. The company produces copper, molybdenum, zinc, lead, coal and silver. SCCO is 81.3% owned by Grupo Mexico, a Mexican company listed on the Mexican Stock Exchange. The remaining 18.7% ownership interest is held by the international investment community. All of its mining, smelting and refining facilities are located in Peru and Mexico, and the company conducts exploration activities in those countries and Chile. Southern Copper has performed quite well recently with shares soaring more than 23% over the course of the past three months.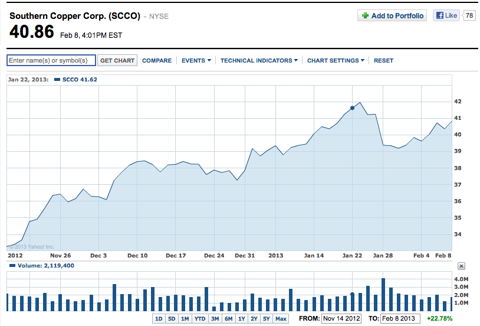 Back to copper, the metal is essential for modern living. It delivers electricity and clean water into our homes and cities and makes an important contribution to sustainable development. More than that, it is essential for life itself. Copper is interwoven with the story of humanity's progress. It has crucial role in our homes, in transportation, as well as in infrastructure and in our industries is omnipresent.
Economically, copper consumption is closely associated with industrial production, and therefore, tends to follow economic cycles. During an expansion, demand for copper tends to increase, thereby driving up the price. As a result, copper prices are volatile and cyclical.
SCCO is another company based in the Southwestern United States, however, it does have one distinct advantage versus FCX, it is a pure-play copper stock, which FCX is not after it diversified into the oil and gas sector with its recent acquisition. The company's most recent earnings were steady, albeit unspectacular. In FY12, net sales were $6,669.3 million, only 2.2% lower than its FY11 historical record of $6,818.7 million, even though the copper price decreased by 10%. This result was achieved by an increase in sales volumes for copper (+7.1%), silver (+14.6%) and zinc (+3%). EBITDA in FY12 was $3,772.6 million (56.6% margin), only 3.5% lower than the record set in FY11.
Swingplane Ventures (OTC:SWVI) is one company involved in copper one of the newer entrants in the space. Already though, the company is generating a buzz as can be seen by the stock chart.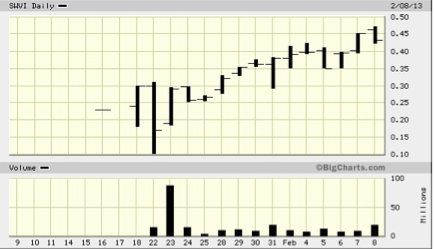 The company owns one major property, the Algarrobo Property that is located in Chile. The mineralized trends for the mine are very well defined at surface through abundant workings, both historical and from more recent work. The workings range from shallow pits and near surface workings to more extensive mine development extending up to 450m below surface.
Swingplan Ventures has seen some analysts pick up as one research firm just issued a $10 target price on Swingplane Ventures. The firm said that a due diligence property evaluation suggests there is a significant opportunity to further develop the mineral potential of the property and dramatically increase the current level of production. The company intends to evaluate potential to: 1) increase the current level of production and 2) undertake construction of a processing facility to maximize recovery of economic grades of copper concentrate.
Notably, in early January, First Quantum Minerals, a $9 billion mining company, made an offer of $5.1 billion to purchase Inmet Mining which holds a very coveted copper mine in Panama. Inmet Mining, a company with a prized copper mine has almost doubled in market valuation this past year alone. Swingplane Ventures operates in the copper market in Chile, located in South America. This part of the world has been proven to possess extremely profitable copper mines as seen by First Quantum's offer for Inmet. After further due diligence and research, we are upgrading the stock to $11.50 with a possibly buyout looming.
Now, we take a closer look into a recent news item for the metal signifying of some larger trends. The fundamentals for copper are clearly improving as the world's copper usage and demand for copper is picking up. Friday, was a prime example of that as copper futures rose the most in a week as China's trade expanded more than forecast, and car sales jumped to a record in the Asian nation, the world's biggest consumer of industrial metals. In January, exports from China surged 25% and imports climbed 29% from a year earlier, both topping projections by economists in Bloomberg surveys, government data showed today. Sales of passenger vehicles surged 49%, a state-backed trade group said. A 6 month price chart of copper follows.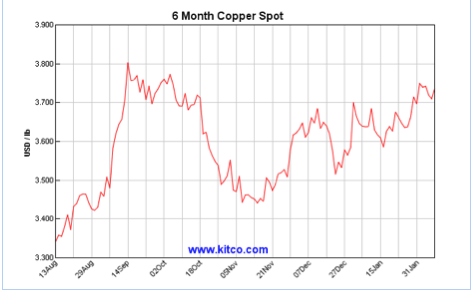 Recent news for Swingplane included the President's discussion of the property. The Algarrobo Property is located approximately 850 km north of Santiago, in the III Region, Province of Copiapo, Chile. The city of Copiapo is located approximately 43 km to the southeast of the Property, with the small port city of Caldera 25 km to the east. The Property consists of 32 tenures, comprising a total of 6,161 hectares.
The current limited artisanal workings are now producing 9% copper ore on 10 acres. The 3 current veins that are being worked on have been trenched and sampled and shown to be over 6 km in length. From existing information on adjacent mines ie: the Viuda Mine, which is 250 meters in depth, the evidence suggests that the company has the same formation.
Knowing that we are not the only ones bullish on the metal has given us more confidence in our own thesis. This fact was demonstrated this week when Kevin Puil, the Malcolm Gissen & Associates portfolio manager, went through his bullish thesis on Seeking Alpha. Puil said "The fundamentals for copper remain highly favorable and I continue to see secular demand for most commodities, copper in particular. Industrialization and urbanization, especially in the BRIC [Brazil, Russia, India, China] countries, is not about to stop, and this continues to put pressure on copper miners, who struggle to keep up with demand. Supply growth has slowed due to lower grades, higher costs and political unrest. In addition, the new projects and mine expansions that were scheduled to come on-line haven't materialized, and if they do, it will not be in a timely fashion. Quite frankly, I think you could see copper peak above $4 a pound [$4/lb] this year…"
The decline in output that Puil discussed is already being seen in the financial markets as Teck Resources (TCK), Canada's largest diversified miner, may consider acquisitions in copper mining to help offset an expected decline in the company's output of the metal, Chief Executive Officer Don Lindsay said. "Copper is a priority for us with declining production for the next couple of years," Lindsay said on a conference call to discuss the company's fourth-quarter results. "Something that might fill the gap would be of interest to us."
Based on size and time on the market, Swingplace Ventures most closely compares to HBM, which rose to $7 a share in its first year on the market.
Disclosure: I have no positions in any stocks mentioned, and no plans to initiate any positions within the next 72 hours. I wrote this article myself, and it expresses my own opinions. I am not receiving compensation for it (other than from Seeking Alpha). I have no business relationship with any company whose stock is mentioned in this article.