At a recent presentation at Louisiana State University's E.J. Ourso School of Business, David Steiner, CEO of Waste Management (NYSE:WM), made a bold statement of the sea-change in purpose behind his company's business. "We no longer look at the material our customers generate as waste, we look at it as material - material that can be recycled, material that can be repurposed…materials that can be used to make energy, materials that can be used to make fuels…and we're doing that, with the materials that you are giving to us." Now, when investors think about Waste Management, they think slow and steady dividends, boring landfill business whose stock could easily be mistaken for any of the utility companies that retirees and income investors reach for when they've got an itch to "spice up" their portfolio. To be sure, the company's dividend has been fairly plump while the shares have traded rigidly range-bound for the recent past, and more than likely this trend will continue. Unfortunately, this seemingly has limited the pool of investors to the income/dividend crowd and to the people who just love to make various "WM's trash can be treasure" type jokes in finance conversations. (Seriously, we get it, WM makes money off of trash, let's take this trash/treasure and stinky clichéd references-okay, that was the last one)
I. Step One: The Only Way Out is Through
However, while I think the long-held contemporary understanding of WM as a defensive stock has served accurately as a predictor of the stock's performance, I think it does not account for the rapid refocusing that the company has undertaken since 2007, when it began its "green crusade" to make significant proactive stances in regards to the future of their industry and business model. So what exactly happened in 2007 for WM? According to the company's 2012 bi-annual Sustainability Report, all issues of which are available on their Investor Relations website, 2007 marked the symbolic beginning of their "Zero-Waste Challenge" mission. 2007 also marked a shift in the way the company reported revenue, by differentiating traditional landfill business from activities that extract value from the waste stream, activities the company calls "green services" (Pg. 6, 2012 Sustainability Report).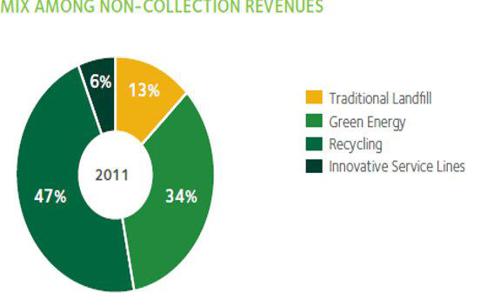 Certainly, they've gotten credit for the cost-saving efforts of converting their trucking fleet to natural gas, which goes to show the company's bold leadership within the environmental services industry. Republic Services Group (NYSE:RSG) -their chief competitor- is also following suit with LNG conversions of their own, but are a distant second in terms of conversion rate, as reported by the excellent Industry website Waste360.com. But there are plenty of people pointing that out and I think that move alone is just a part of the larger reorientation that WM is attempting to do within their "green services" offerings. Since WM began reporting their "green services" model of business mix in 2007, interested investors can see that the largest growing service segment hasn't been the more headline-grabbing landfill gas story or the traditional collection and disposal segment, but rather recycling.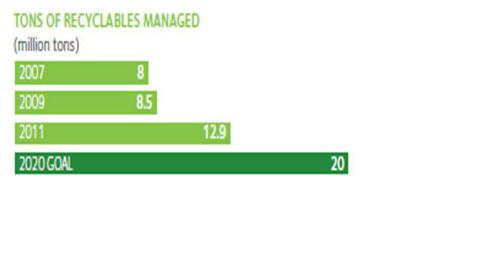 In fact, from 2007 to 2011 (latest figures available) the traditional landfill and collection business segment has actually fallen in terms of percentage points as a contributor to revenue, as in 2007 it accounted for 51 percent, but in 2011, it had been reduced to 43 percent (Pg. 7, 2012 Sustainability Report). What's really interesting to note is that in the company's October 2012 earnings call, Mr. Steiner indicates that due to the increase in scale and economic conditions in recent years, the company has seen core pricing actually increase during these times by an average of 2.6 percent per quarter, and that he continues to expect an increase in the coming fiscal year as well as continued margin expansion going into the future (October Q3 Earnings Transcript, Seeking Alpha). Normally, a pricing increase is good news alone, especially since landfill volumes have been flat, at best, but considering that even with such an increase, the collection and disposal segment, which is considered by many to be the company's bread-and-butter, is being overtaken by the "green services" segments provides a fairly startling conclusion about the future of Waste Management. Fellow Seeking Alpha member Nick Chiu illustrates a potential problem with the future of the landfill business in his excellent and highly recommended piece entitled "Municipal Solid Waste Trends and Changing Demographics" published on December 26th 2012:
"While 76 million of baby boomers began to cross the age of 60 around 2005, the trend of increasing retirement began. Their spending habits and consumption will change gradually and shift from spending to saving, thus possibly lead to less waste generation. According to renowned economist Harry S. Dent, we are poised to move into a long period of deflation resulting reduction in the value of goods and services and high unemployment. It is possible that less money to spend results in less consumption and less waste. Aging population and slowed economy could lead to less waste generation."
So while the traditional landfill and collection business may look like a positive in the short run, there is a systemic possibility that may present longer-term challenges of relying solely on collection and disposal business models. I believe we're seeing WM take proactive moves to hedge against this longer-term risk with the focus on driving revenues from "green services."
Of all the "green services" I'd like to discuss one in particular here, which happens to be the fastest growing in terms of percentage contributions to revenue, and one in which the company is expanding at an astounding rate, recycling. In 2007, recycling contributed approximately 14 percent to overall revenue, but in 2011, it had posted the largest percentage increase of any one segment (landfill and disposal included) to jump to 18 percent. Keep in mind that during this same period, the landfill and disposal business was experiencing margin expansion due to core pricing increases, fell 8 percentage points as a contributor. In fact, in taking all of the non-collection revenue sources into account, in 2011, recycling accounted for about 47 percent, easily the lion's share of non-collection revenue, with "green energy" coming in second with about 34 percent of non-collection revenue (Pg. 7, 2012 Sustainability Report).
Why hasn't WM's recycling growth been talked about more? Perhaps it is because that most of the headlines about recycling have been quite negative. William Caesar, President of WM's Recycle America, remarked as such in The Houston Business Journal when he said, "Our recycling business in not unprofitable. It may not be as profitable as it was a year and a half ago, but it is still a good business and service." To be sure, recycling's major commodity pricing has been a major headwind for the company and has caused a great deal of EPS pain; in the most recent (Q3) earnings call, the company estimates that commodity prices alone cost the company about 18 cents per share, which was way over their guidance of about 4 cents per share. As an investor, this raises a fairly troubling question, namely, "Are recycling commodities so bad that even management is horrifically off in its optimism?" Make no mistake, WM has done a crummy job at warning of the magnitude of the headwinds, and certainly it is an area that management could stand to improve on in the coming quarters. Just as an example, the company expects the upcoming Q4 to alone have a 4-5 cent headwind due to commodity prices (Q3 Earnings Transcript). Although, the problem seems to be present across the industry, as Republic Services Group's management cited declining recycling commodities prices in their most recent call as well. Using the above miscalculations along with the 7 cent waste-to-energy headwind, management believes that their initial EPS guidance for FY2012 of 2.24-2.29 would have been achieved, rather than the reduced expectations of 2.08-2.13 now predicted by management. Now, I'd like to propose that all of the negativity surrounding the recycling business has provided a significant opportunity for WM to consolidate and expand its position in a down and gloomy market. To be glib, WM is using its massive FCF generation and scale to turn many down-and-outs in the recycling industry's present gloom into a herculean feat of unparalleled strength that will change the future of the industry and make sure WM remains at the forefront of the intersection of renewability and profitability.
II. Step 2: Feeding the Green Machine
The recent acquisition of Greenstar LLC, at first glance, seems like business as usual for a company in such a mature industry where organic growth is next to impossible and the primary driver of EPS growth is through M&A activities, perhaps perfectly illustrated through WM's major purchase of Oakleaf. However, digging deeper into the Greenstar acquisition reveals that this is no ordinary purchase, but rather a clear and significant move to consolidate WM's focus on finding value within the waste stream and becoming a prolific recycler and innovator of promethean scope. In fact, WM seems to be the only force in the recycling business that is using the current downturn to acquire assets rather than divest them. Consider the comments of Ireland's NTR's CEO Michael McNicolas, the seller of Greenstar LLC, press release announcing the sale that,
"This sale makes strategic sense for us, in the context of consolidating our portfolio and allowing us to focus on our strategy of driving future growth in the renewable energy sector(Author's note: within the industry, recycling is considered distinct from renewable energy)…NTR has now fully exited the sustainable waste management sector, in line with the strategic plan we announced…last year."
Indeed, recent details have emerged that NTR has pumped as much as 300 million of its own capital into Greenstar before cutting it loose for a loss. Greenstar, billed by NTR as the largest private recycling firm in the US, was sold to WM for an initial amount of approximately 180 million up front with the possibility of an additional 40 million through 2018 if certain performance metrics are met. For reference, management estimated in the Q3 call that WM will generate about 850 million in free cash flow from the FY 2012, despite commodity headwinds costing the company about 200 million, opex increasing 200 million and 100 million in special taxes paid in FY 2012 (Q3 Earnings Transcript). Looking at the bang for WM's 180 million bucks, Greenstar is expected to immediately increase WM's 13 million tons of annually handled recyclable stream to 15 million tons according to WM and industry estimates. Keep in mind that in the initial goals set forth in the firm's "green services" initiative back in 2007 call for 20 million annual tons of recycling capacity by 2020, with Greenstar, the firm has achieved 75 percent of their goal in roughly half the time allotted (figures from Pg. 5, 2012 Sustainablitity Report). For the sake of comparison, Greenstar's 1.5 million ton capability is about triple the current recycling capacity of RSG.
The Greenstar acquisition provides WM with several new interesting footholds in the larger recycling industry. Perusing Greenstar's website one can see that WM picked up several metropolitan recycling centers in cities such as Dallas, San Antonio, Akron, Pittsburgh, Cleveland, and Des Moines. Greenstar also operates two uniquely innovative state-of-the-art facilities, one being a glass beading facility that makes reflective beading for road construction, while the other turns recycled plastics into synthetic crude oil. Additionally, Greenstar operates 7 single-stream centers, which will bring WM's total from 36 to 43. Some back of the envelope math indicates that the Greenstar purchase increases WM's recycling stream by about 11 percent alone.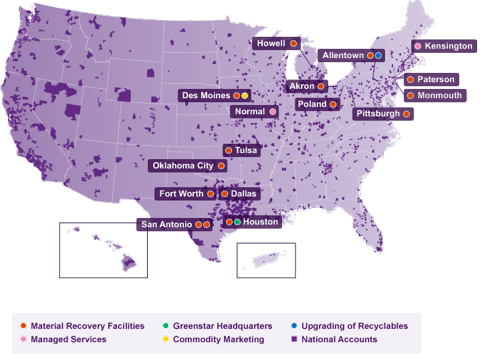 Also, a smaller purchase has not yet been assessed to the total of WM's recycling assets. In December of 2012 the Nashville Business Journal announced that QRS Inc., a regional recycling company sold two recycling centers to Waste Management for 3.8 million dollars. Further details about these two centers are scarce, as I could only find scant mentions of the sale, and even then, very little substance as to what exactly these two centers contain. My speculation is that WM has bought older dual-stream warehouses in order to outfit them with more modern technologies. QRS operates only a few single-stream facilities, a newer recycling technological advance which can usually increase the recoverable yield of streams by 50 percent according to WM CEO David Steiner in an illuminating September 19th 2012 interview with Waste and Recycling News. In the interview, Mr. Steiner muses, "I will tell you, in 2020 my guess, and it's a guess, in 2020, what we are recycling and how we are recycling won't look like what it is today. Just like if you looked at the recycling business 10 years ago, it was mostly dual-stream, low-tech."
As such, I'm unable to provide a concrete, supportable assessment of what exactly the QRS purchases mean to the future of WM's recycling efforts, only point to them as evidence that expansion is clearly a priority. For example, Mr. Caesar indicated that in about five years, WM has gone from having zero recycling facilities in Texas to being the largest player in the populated state.
III. Step 3: Profit?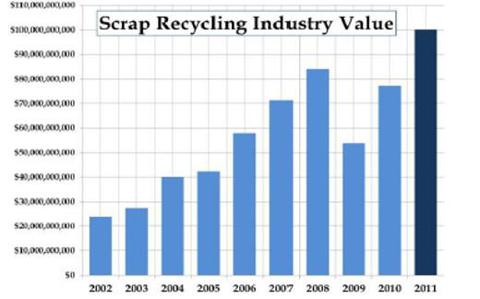 Going back to Mr. Steiner's speech at LSU, "when you think about waste management, no one else is doing the broad scope of things that we're doing, like recycling…plenty of people do recycling, but no one has the investments that we have…we've become the largest recycler in the world." In a more recent interview with CNN Money's Geoff Colvin on January 16th, Mr. Steiner provided a more succinct summation in his response , "five years ago, I'd have told you we're a logistics business, now I'd tell you we're a materials conversion business, that's where the money is." Although it may seem that all those cans and old newspapers may be more of a token feel-good-about-a-green-planet story, the Institute of Scrap Recycling Industries (ISRI) tells quite a different story in the inaugural printing of its "The ISRI Yearbook." The ISRI estimates the US recycling industry processed about 135 million tons of scrap commodities, worth an estimated 100 billion dollars (Pg. 2, The ISRI Yearbook). In other words, post Greenstar purchase, WM, the largest single recycler in the world, controls a little bit more than 11 percent of the US recycling market.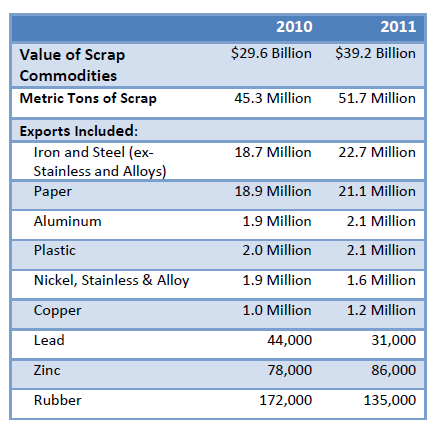 Assuming recycling scrap totals remain flat, which is unlikely as both technology and awareness increase, if WM reaches its 20 million annual tons target, it will increase its share to about 15 percent of the total US market. The 11 billion dollar value estimate seems in line with what WM has said. In the September 19th 2012 Waste and Recycling News interview linked above, Mr. Steiner estimated that the company could mine about 10-12 billion dollars of revenue out of its waste stream annually.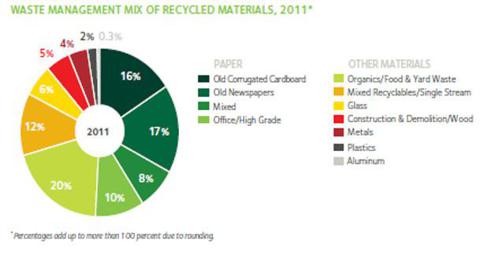 Looking back at the company's past revenue generation since 2008, we see that WM has posted annual revenue in the 11.79-13.38 billion dollar range. Quite simply, using these estimates, it seems WM has a reachable potential to virtually double its revenue through an increase in recycling. Quite the growth runway for a boring, range bound, dividend fat-cat.
Not to say that the company does not face challenges however, it certainly carries a large amount of debt, and the company is headed into an uncertain and unexplored, but exciting, direction in the future. A look at the company's stock performance over the past ten years paints an interesting picture. It seems that the market has consistently kept the company on a fairly short leash due to the large debt load and stagnant landfill and collection business. Indeed, shares have puttered around the 30-33 range since mid-2006.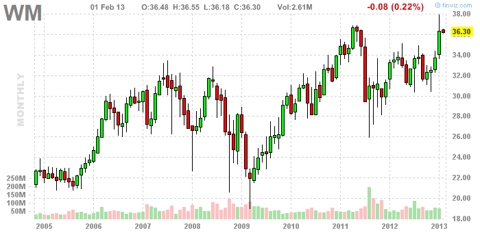 It certainly does not look like the market has given much, if any, credit to the recent growth of the recycling capacities or the reloaded mix of business that WM has sought to advance. I would argue that the risks of such a large debt load as well as the systemic risks that the company and the larger industry face, have not significantly increased over the last several years, but have remained about constant. With pricing and margin trends on its core business trending positively, cash flow remaining solid, and a rebound in housing and commodity prices mitigating headwinds, WM's risks do not seem likely to dramatically increase in the near future. In addition, glancing at the company's opex over the past few quarters, a relatively stable level has maintained around the 2.9 billion level, indicating that the growth in recycling assets has not greatly increased overall opex of the larger company. Steiner mentions that the company is in fact running about 200 million over what it would like to see on capex, but that the increase is a result of the natural gas fleet conversions. Steiner also mentions that in case of an emergency, the company could reduce capex by 200-300 million by putting the brakes on the fleet conversions. Although, this is a metric I intend to keep a keen eye on. However, a significant drop in recycling-related commodity prices could keep the company's EPS grounded for the near future. Interested investors should keep an open ear for any color from management on the upcoming earnings call on Valentine's Day (2/14) in regards to both opex and commodity pricing.
Disclosure: I am long WM. I wrote this article myself, and it expresses my own opinions. I am not receiving compensation for it. I have no business relationship with any company whose stock is mentioned in this article.