On Friday, February 8, former hedge fund manager and current CNBC Mad Money host, James Cramer, commented that he sees potential for Bloomberg to acquire the New York Times (NYSE:NYT) in 2013. Cramer, one of the most listened-to financial experts on television, added that it was just a suggestion, but did note imply he thought Mayor Bloomberg may wish to acquire the paper's influence to replace the loss from stepping down as Mayor of New York City. I would like to suggest to Cramer that he consider Bloomberg's purchase of TheStreet (NASDAQ:TST), a financial media company that Cramer co-founded.
Bloomberg L.P.
It is certainly true that Mayor Michael Bloomberg and his Bloomberg L.P. empire has the ability to purchase the New York Times if it wanted the news source. Through personally repurchasing large portions of his namesake mass media empire though the years, Bloomberg now controls about 88% of the private company, which is worth an estimated $25 to $30 billion.
Bloomberg's media empire started off by providing a specialized financial software tool known as the Bloomberg Terminal, which is a news and analytics integrated equity trading platform that includes over thirty thousand functions. The terminal has become a pillar of strength and a cash-cow that over 300,000 securities exchange companies, offices and individuals consider a required tool for which they are willing to pay a substantial fee.
The success of the Bloomberg Terminal allowed Bloomberg to amass a media empire around it. In 2009, Bloomberg acquired the consumer oriented business magazine and Web property, BusinessWeek, from McGraw-Hill (MHP). Bloomberg already had substantial media influence through its news services division that has existed since 1990, and which also includes Bloomberg Television, originally known as Bloomberg Business News. The company also already provides information to approximately 350 newspapers and magazines worldwide, including The New York Times.
The New York Times As A Potential Bloomberg Acquisition Target
If acquired, the New York Times would likely become a key asset in Bloomberg's media empire and also one related to his New York roots. The paper still controls a large market share of U.S. print advertising revenue. However so, the growing number of free online information sources continues to weigh on the New York Times' core revenue generating business of selling print papers, causing long-term declines in circulation volumes. The paper's online media presence is strong and growing, but still minor in comparison to its paper business. The company also owns several other smaller circulation papers and online destinations.
The New York Times is presently valued at about $1.3 billion. Though the company last reported having about $775 million in debt, it also last reported holding about $615 million in cash, leaving the New York Times with an enterprise value of about $1.45 billion. The company's equity has declined in value by about 80% in the last ten years, about 50% in the last five and about 30% in the last three years, but New York Times shares have appreciated by about 16% over the last 12 months. Many speculators are not impressed with the New York Times' current valuation and near-term prospects, as the short position in NYT shares represents about 11% of the company's float.
Nonetheless, any deal for the New York Times will likely have to go at a premium to current enterprise value. Interested competing media acquirers may also submit alternative offers if the deal was not sufficiently compelling. Under current market conditions the minimum potential inoffensive offer would likely start at close to $1.9 billion. Further, at such a price, major shareholders may be disinterested in selling and/or competitors for acquiring the paper.
TheStreet As A Potential Acquisition Target
While Bloomberg could certainly afford the New York Times, the price would be expensive and a probable bidding war may keep the company from contemplating such a deal. Nonetheless, a smaller acquisition that Bloomberg could make, though one that Jim Cramer may not be able to so freely suggest on television, would be TheStreet. In fact, the company appears a reasonable acquisition target for not only Bloomberg, but also another large media entity like News Corp. (NASDAQ:NWSA) or even the New York Times itself.
TheStreet runs numerous digital financial media sites, including free financial news and information sites, and subscription-based proprietary investment services. TheStreet's media presence is varied-- with portions considered tabloid, while other parts are educational, and others still provide investment research and analysis. The market has substantial growth potential as digital media continues to take market share from traditional sources, and the analog tabloid and research oriented financial print media businesses were generally profitable and popular, indicating the businesses should work in new media too.
One good reason why a larger media company may be interested in TheStreet would be to add diversity to the company's stable of financial news sources. A categorically diverse portfolio of financial content makes sense for large media companies, much like what exists at News Corp.'s (NWS) Dow Jones segment, where many financial news brands such as Barron's and Wall Street Journal are housed, as well as many digital only WSJ sub-brands like SmartMoney, MarketWatch and All Things D. TheStreet's is a competitor to these online only WSJ sub-brands and could potentially become a sister site to them in the future, if News Corp. seeks to further expand its digital content portfolio. The name already appears to fit well with the WSJ brand.
TheStreet's Preferred Investment Dilemma
TheStreet has been under hard times in the last few years, declining with the stock market in 2008 and 2009, and never really recovering. Prior to the decline, in late 2007, Technology Crossover Ventures purchased a stake in the company for about $55 million. The TCV investment was to support the company's accelerated expansion strategy, but the subsequent market downturn postponed that expansion. Shares of TheStreet declined substantially since then, and most of TCV's cash sat on TST's books, restricted in its use.
The TCV investment was complicated. TCV purchased preferred stock and warrants to purchase shares of common stock. The preferred stock converts into common stock at $14.26 per share, which is not good for TCV as shares currently trade below two dollars. The preferred stock received dividends at the same rate as the underlying company's common shares, and retains a liquidation preference that would recapture TCV's cost basis upon events like an acquisition.
TCV got into TheStreet at or near the company's post-dot-com peak. See an 8-tyear performance chart: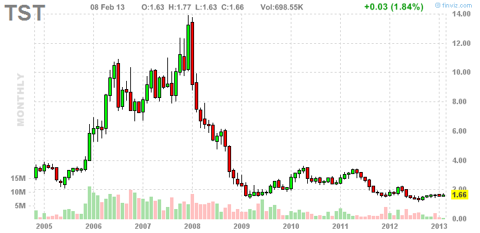 The nature of the TCV investment and the broken market environment that followed it forced TheStreet to park the majority of the cash it obtained from TCV in cash and cash equivalents on its balance sheet. Those interest earning equivalents helped TST supplement its business costs and also helped it pay out its dividend. The company had a quarterly dividend of $0.025 per share from since before the TCV deal and until the summer of 2012, when the company suspended the dividend.
TheStreet's New CEO Is a Digital Financial Media Turnaround & Sale Specialist
A primary basis for the recent change in policy to eliminate TST's long-standing dividend was likely the influence of Elisabeth DeMarse, who was appointed chief executive officer and president of TheStreet in March of 2012. DeMarse also joined the company's board. DeMarse suspended the dividend one quarter after joining the company. While the move may have been DeMarse's idea, it appears more probable that large and interested investors were involved in the selection of DeMarse and that they have a plan for the business that included suspending the prior inexplicable dividend.
Also after DeMarse took over the company, TheStreet acquired The Deal, a small financial media company with a web presence and which published a bi-monthly magazine until DeMarse discontinued it. DeMarse commented that:
"We're shutting down the area of The Deal that was bearing all of the costs and keeping the lucrative part, which is the online database business."

and that:

"From The Deal's perspective, that makes a lot of sense. It's just accelerating them into the shift from print to digital."
There have also been some other executive and board changes at the company since Demarse took over the company. Executive changes included naming William Inman as Editor-in-Chief of TheStreet, appointingStefan Chopinas Chief Technology Officer and addingJohn C. Ferraraas Chief Financial Officer. At the end of last May, the company made a couple of changes to its board, addingSarah FayandMark Walsh, who replacedRonni BalloweandMartin Peretz. Elisabeth DeMarse was then appointed as Chair. The company also more recently added Keith Hall to its board, and named him the Chair of its Audit Committee.
These activities indicate that TheStreet has become active with the TCV investment cash and objectives, and that DeMarse is attempting to both eliminate waste and accumulate digital content. The company noted that its recent board addition, Keith Hall, was the CFO of LendingTree during its acquisition by InterActive Corp, and that "he served as Vice President and Chief Financial Officer for three other publicly traded companies that were subsequently acquired."
While DeMarse's recent actions simply indicate good leadership, her pedigree also indicates a potential sale could be brewing. DeMarse previously served as CEO of Bankrate (NYSE:RATE) from April of 2000 through June of 2004, leading the company through a turnaround period. DeMarse later served as President and CEO of CreditCards.com, a digital financial content company, from November of 2006 until its acquisition by Bankrate in August of 2010.
The above employment history shows that DeMarse has run multiple digital financial enterprises and also overseen the sale of one. Further, in her time between Bankrate and CreditCards.com, DeMarse served as CEO-in-Residence of Austin Ventures, a venture capital firm with a program policy where they partner with proven, entrepreneurial CEOs to pursue value-creation opportunities in segments of mutual interest. This also indicates that DeMarse has collaborated with multiple large investors and has developed credibility in the private equity markets.
TheStreet's Roots At Bloomberg
DeMarse also has credibility with Bloomberg, because she was a senior executive at Bloomberg L.P. for ten years. In 1988, she joined the still infant company as head of marketing. While at Bloomberg, DeMarse launched numerous businesses, including Bloomberg.com and Bloomberg Personal Finance, initially known as Personal Wealth.
Beyond DeMarse's experience at Bloomberg, TheStreet's new Editor-in-Chief, William Inman, also worked at Bloomberg for more than fifteen years. While at Bloomberg, Inman spearheaded the company's electronic publishing endeavors and also led the relaunch of bloomberg.com, which was initially launched by DeMarse. Therefore, both the CEO and Editor-in-Chief of TheStreet are appreciated former Bloomberg employees.
Given the significant changes that have occurred at TheStreet in the last 12 months, it appears that TST is a potential acquisition target that may also continue to increase its own portfolio of digital content through selective purchases. While it is certainly true that the New York Times maintains a more desirable position in the media world than TheStreet, the distinction does not mean it is a better current value than TST and it will certainly cost any purchaser a great deal more. TheStreet has no substantial print paper to wind down or any segments heading towards obsolescence, instead mostly holding a growing portfolio of digital financial content and Internet destinations. Its current turnaround plan may not intend on getting the business acquired, but any good business turnaround story is likely to entice interested buyers.
Printed Newspaper Subscriptions Continue To Decline, Making Valuations Difficult Compared To New Media
Traditional media is still punch-drunk from the evolution of digital media and there is no clear end to the shift from paper publishing to wholly digital media. With an enterprise value of $1.45 billion, the New York Times is still a costly acquisition that obtains around three quarters of its revenue from printed newspapers. That business makes money, but it is shrinking and expected to shrink further.
The New York Times' printed paper business is difficult to evaluate because it has declined for years and could decline rapidly in the future, but may also end up finding some stability eventually. Despite its decline, the printed New York Times is an iconic and highly respected news source that is unlikely to disappear any time soon. If anything, the company likely needs to further brand supplemental digital sub-brands to the New York Times in a similar manner to how News Corp. added multiple online only brands into the Wall Street Journal's online presence.
One significant concern that affects traditional print media is that the cost of printing may soon grow at a rate that will be difficult to pass onto consumers that are already generally selecting cheaper or free digital alternatives. This means printed newspapers are likely to have reduced total sales and also reduced margins in the future. These characteristics are not very appealing.
Be that as it may, the New York Times' print customer base is a desirable and reasonably particular market for certain advertising. The trusted quality of content and associated media within the New York Times will likely continue to appeal to a paper customer base for both readers and advertisers. This appeal must favor older age groups, but seniors are an important segment of consumers. Though not true for every senior, there is a general correlation between age and assets/income, and there are many products consumed almost exclusively by older individuals.
TheStreet Provides Compelling And Relevant Advertising Focus
Despite the strength of advertising in traditional media like the New York Times, new media is growing and appears destined to eventually absorb most newspaper and magazine ad revenue. The Internet is already filled with numerous good places to advertise and TheStreet has established a fairly strong profile for advertising to wealthy and well educated individuals that regularly invest and/or trade.
In late 2012, TheStreet issued a self-promoting press release stating that its main website:
"ranks first among financial media websites for delivering the difficult-to-reach Mass Affluent demographic, according to the most recent comScore (NASDAQ:SCOR) Media Metrix analysis (October 2012)."
TheStreet release included that they found TheStreet to be the #1 ranked financial media website for factors such as reaching households with (1) annual income over $100K; (2) portfolios over $500K; (3) high trading activity; and (4) a likelihood to have earned a graduate degree.
The effect and value of these statistics is difficult to quantify, especially since not all methods of delivering to an audience are equal. It is still unclear how effective various online advertising campaigns are, or even how to analyze them. It becomes difficult to guarantee that a website is an effective method of reaching a large but focused group of consumers, but that does not mean that companies will not spend billions each year in order to improve the efficacy of new media.
Despite these theoretical and actual limitations on Internet advertising, as well as the still infant medium of mobile advertising, TheStreet is making sure to point out that it does reach a desirable audience of high net worth U.S. consumers that are interested in investments and which likely make their own investment decisions. One product that is clearly ideal for advertising to such an audience through such a financial media site would be exchange-traded funds, though many other products, including non-financial products could also be suitable.
ETFs continue to grow in popularity with retail investors and they are taking market share away from mutual funds and other investment options. Indexed ETFs with low management fees like the S&P 500 ETF (NYSEARCA:SPY) and Nasdaq 100 ETF (NASDAQ:QQQ), among others, are already extremely popular portfolio standards that many retail investors are using to replace prior investment schemes. The trend is likely to continue, with many more active ETFs coming to the market in the next several years. These new products will want to reach out to affluent self-directed investors and digital financial media is a sensible place to reach them. Other logical advertisers would include banks and brokers, which are both likely continue soliciting clients indefinitely, as well as many other non-financial goods and services that advertisers may attempt to market to affluent Americans.
Conclusion
While Cramer suggested that Bloomberg consider buying the New York Times, I would suggest that Cramer consider Bloomberg or another large media company's acquisition of TheStreet. Bloomberg could certainly afford both, and TheStreet is likely to cost less than one tenth the minimum probable offer for the New York Times. Moreover, a bid for the Times would likely attract other bidders, while TheStreet should have less potential competition.
Acquiring the New York Times would not only be costly, but also risky. Bloomberg has become a wealthy man by taking on and besting traditional media. Now, the New York Times is declining in value and clout due to reduced paper circulation. Its online presence is significant, but that new business is still insignificant compared to its already dying paper business. Acquiring the paper could end up forcing Bloomberg to save an iconic landmark for the sake of nostalgia and posterity rather than fiscal sensibility.
Alternatively, Bloomberg or another major media entity could acquire TheStreet for a substantially smaller sum. The move would also be less risky than acquiring the New York Times, because TheStreet has no dying primary business or traditional media exposure, like the Times does. Moreover, combining Bloomberg's professional market share and growing retail penetration with TheStreet's appeal to high net worth self-directed retail investors makes sense regarding continued categorical diversification of financial media. There is also likely significant room for cross-marketing of both company's content, and most notably, video content.
Whether or not TheStreet is up for sale, the new executive team and board will likely continue the company's recent turnaround plan, and it should only make the company a more appealing acquisition target going forward.
Disclosure: I have no positions in any stocks mentioned, and no plans to initiate any positions within the next 72 hours. I wrote this article myself, and it expresses my own opinions. I am not receiving compensation for it (other than from Seeking Alpha). I have no business relationship with any company whose stock is mentioned in this article.
Additional disclosure: A family member has an investment in TST.