The Government of India is at it again.
First, some context. India is the world's largest gold consumer at ~800 tonnes of imports in 2012. This is a major drag on Indian foreign currency reserves contributing majorly to the current account deficit, so the Government of India has over 2012-13 taken steps to curb gold imports. First, banks were prohibited from lending money to buy gold. Next, the import duty on gold was increased in steps to the current 6%. This suppressed gold demand and with it the price of gold. After rising steeply till end 2011, gold prices have more or less moved sideways, as the chart below shows.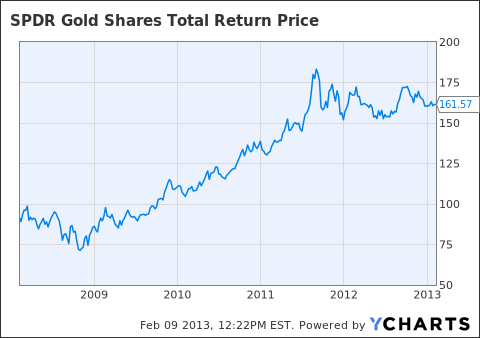 On Wednesday, the Indian Central Bank, the Reserve Bank of India, released the recommendations of its gold control panel. The messages couldn't have been more clear and direct. Reports the Wall Street Journal:
"There is a need to moderate the demand for gold imports," the panel said in a report, posted on the central bank's website.

"When the external-sector situation is deteriorating, we cannot but have to manipulate the import duties, as one among multiple strategies to be adopted" to reduce gold consumption, the panel said in its report.
So, this is nothing but an all out war declaration on Indian gold importers. Anyone who expects Indian gold demand to go in any other direction but down is making a major bet against the Indian Government. Just as US investors are advised not to fight the Federal Reserve, gold investors worldwide will be well advised not to fight the Government of India, because of India's influence on world gold demand.
But this, to some extent, is old and expected news. What is new in this week's report is a far stronger statement by the gold panel. Reports the Wall Street Journal again:
The government could consider capping the volume and value of gold imports in extreme circumstances, the panel said.
I cannot overstress the importance of the above statement.
This is what the Indian Government is saying. If the import price hikes are not enough to lower gold imports to a level that the Government of India approves, they will set outright demand quotas. So, from price manipulation via import duties, they are going to move outright to quantity manipulation via quotas.
The price imports alone cut down gold demand by ~200 tonnes in 2012, going from ~1000 tonnes in 2011 to ~800 tonnes in 2012. The Government of India is clearly not happy with this level and wants to push it even lower. Another ~200 tonne drop in 2013 may not be out of the question here.
How did the market react to this declaration by the Government of India on Wednesday? As expected, gold prices dropped, as the chart below shows.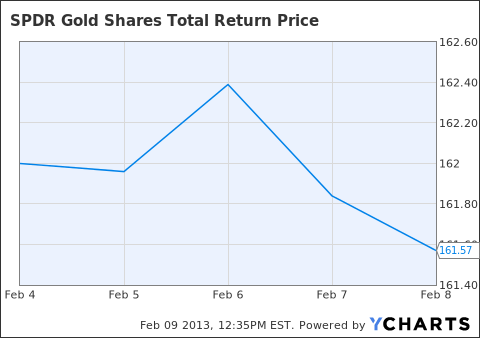 So, this means 2013 will likely be a difficult year for gold bulls. The silver lining (pun intended) in the story is that China is apparently going to make up for some of the lost demand. However, even with increased Chinese demand, it is hard to project a scenario where world gold demand rises significantly in the near future, as lower Indian demand is merely offset by higher Chinese demand. So at best we will see a sideways market in the price of gold in 2013, and at worst, this will be the year when gold prices start the inexorable drop.
What does this mean for your investment thesis for the rest of 2013, dear reader? Well, my projection for gold prices (NYSEARCA:GLD) in 2013 remains unchanged, that shorting gold -- especially via the miners (GDX, DUST, NUGT) -- remains the play for 2013. For more details, please check out my other article titled "How Best To Short Gold - Miners Or Metal?"
In the mean time, I have initiated a position in DUST. I think the miners are really setting up to be perma shorts with falling gold prices and rising mining costs. I am down on this position by about 2-3% but I believe it is just a matter of time till the miners see another steep drop. Of course, nothing is a guarantee, but the Government of India position gives me a good reason to believe that I will make money on this.
Disclaimer: This is not meant as investment advice. I do not have a crystal ball. I only have opinions, free at that. Before investing in any of the above-mentioned securities, investors should do their own research, consult their financial advisors, and make their own choices.
Disclosure: I am long DUST. I wrote this article myself, and it expresses my own opinions. I am not receiving compensation for it (other than from Seeking Alpha). I have no business relationship with any company whose stock is mentioned in this article.