Precious metals have had a tough time in recent months since reaching highs in October 2012. The most popular precious metals ETFs, such as the SPDR Gold Trust (NYSEARCA:GLD) and the iShares Silver Trust (NYSEARCA:SLV), are down 2% and 4% in the last three months, respectively. The ETFs that track many of the companies that mine and sell these metals are down much further. The Market Vectors Gold Miners ETF (NYSEARCA:GDX), the Market Vectors Junior Gold Miners ETF (NYSEARCA:GDXJ) and the Global X Silver Miners (NYSEARCA:SIL) are down even further in the last three months compared with the metals they produce, losing 16.2%, 21.0% and 15.3%, respectively. Given recent sell-offs and the long term-tailwinds that gold and silver prices have due to central bank stimulus, I am reiterating right here that the gold and silver ETFs mentioned above are now strong buys after their massive sell-offs.
While these ETFs are good long-term buys at current levels, greater returns can often be had from individual companies. There are multiple reasons to be bullish on silver and by extension, silver companies. While I have written often about my favorite dividend paying silver companies, such as Silver Wheaton (SLW), Pan American Silver (NASDAQ:PAAS) and Silvercorp Mining (NYSE:SVM) as well as more speculative companies with great potential upside such as Great Panther Silver (NYSEMKT:GPL) and Mag Silver (MVG), there are others which I have yet to cover that I believe are great long-term investments. The purpose of this article is to highlight a premier silver company with potential upside that my readers have inquired about numerous times.
General Company Overview
Endeavour Silver Corporation (NYSE:EXK) is a mid-level silver miner with a current market cap of $697 million. EXK is primarily focused on the growth of its silver production, reserves and resources located in multiple sites throughout Mexico. Since the company was founded in 2004, EXK has had eight consecutive years of growing silver production, reserves and resources and I believe the best growth is still ahead. EXK is rapidly developing and expanding its three operating silver mines in Mexico. It is also exploring multiple acquisition (most recently acquiring the El Cubo mine) and exploration opportunities which could lead the company to flourish into a premier senior silver mining company.
Properties and Holdings
The Company has three producing silver mines in Mexico, the Guanacevi Mine in the state of Durango as well as the Bolañitos and El Cubo Mines in the state of Guanajuato (see figure 1). In 2012, Guanacevi, Bolañitos and El Cubo mines produced 4.5 million ounces of silver and 38,600 ounces of gold. In addition, the company has an attractive portfolio of district-scale exploration properties. The company has five exploration properties in Mexico (figure 1) and in Chile (figure 2), including San Sebastian, Panuco, Parral, Guadalupe y Calvo and El Inca.
Figure 1. Endeavour Silver's Mining Operations in Mexico.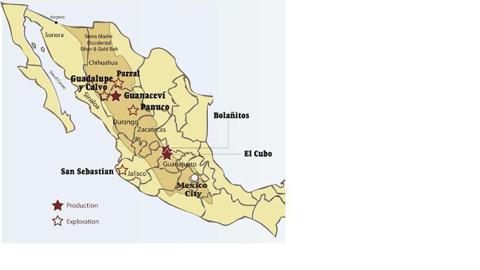 Figure 2. Endeavour Silver's Exploration Properties in Chile.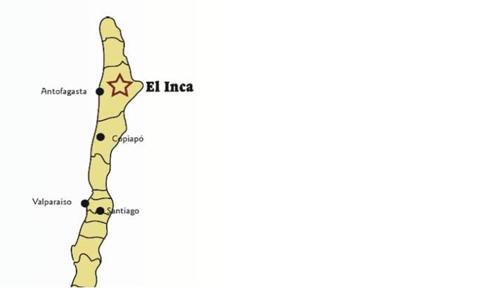 Silver Resources and Reserves
EXK is focused on rapid growth. EXK's goal, which I believe is realistic and attainable, is to be able to produce 10 million ounces or more of silver annually. Their historic growth suggests this is possible as the company has grown its assets 22 fold in seven years (figure 3). In 2004, EXK's silver reserves were 4.7 million ounces. Fast forward to 2012, and this number is now approximately 111 million ounces of silver reserves. With the company's recent acquisition of El Cubo, its exploration of more sites in Mexico and Chile, and its search for further acquisitions, I believe the growth will continue, and shareholders will be rewarded.
Figure 3. Endeavour Silver's Silver Reserves and Resource Growth, 2004-2012.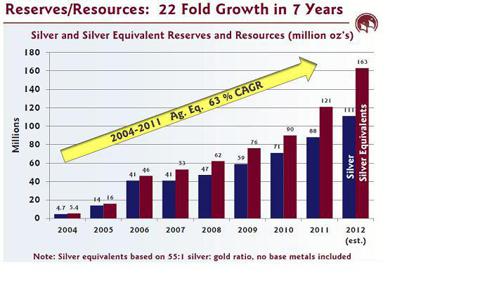 Production Growth
While reserves and resources have grown 22 fold from 2004 to 2011, production growth has not kept pace. Production of Silver has grown from 350,000 ounces of silver in 2004, to 3.7 million ounces in 2011, for a 12 fold growth (figure 4). I do not necessarily interpret this lag in production relative to resource growth as a weakness. Rather, I see it as an opportunity for future production growth. Once mines are fully developed and at peak production, the amount of silver produced should increase significantly. It is also important to note that in 2012 EXK also upped its gold production 77% to over 38,000 ounces.
Figure 4. Endeavour Silver's Production Growth, 2004-2012.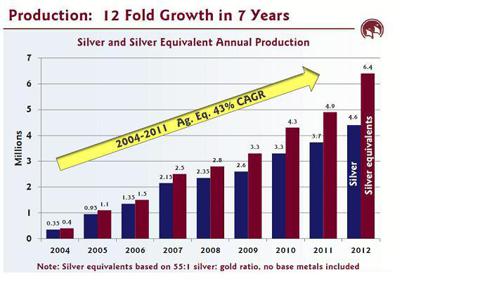 Most Recent Quarterly Results
The most recent quarterly report showed some strength and weakness compared to the year ago quarter (some of which was related to the acquisition of El Cubo). Some strengths include increased production and cash costs. Silver production rose 33% to 1,137,883 ounce. Gold production rose 139% to 11,754 ounce Silver equivalents production rose 56% to 1.73 million ounce (at a 50:1 silver:gold ratio). Cash costs fell 7% to $4.70 per ounce silver payable. Financially there was some weakness compared to the year ago quarter. Net earnings decreased to $16 thousand ($0.00 per share) compared to a $3.1 million ($0.04 per share) in the comparable 2011 quarter. Adjusted earnings fell 81% to $1.7 million ($0.02 per share) compared to $8.9 million. Operating cash-flow before working capital changes dipped 20% to $16.4 million and mine operating cash-flow decreased 1% to $27.0 million One bright spot was that revenues rose 34% to $51.9 million on sales of 1,294,241 ounce silver and 8,984 ounce gold, but this number was diminished by lower metal prices. Realized silver price fell 29% to $28.72 per ounce sold (4% lower than the average spot price for Q3, 2012) and realized gold price fell 3% to $1,637 per ounce sold (1% lower than the average spot price for Q3, 2012).
2013 Outlook
EXK's silver production in 2013 is forecast to rise 12-18% to 5.0-5.3 million ounces and gold production is anticipated to increase 19-27% to 46,000-49,000 ounces. Silver equivalent production is expected to climb 14-22% to 7.3-7.8 million ounces (at a silver:gold ratio of 50:1). Consolidated cash costs of production are expected to increase from the current US$6-7 per ounce range to the $9-10 range in 2013, largely due to the rising production from the higher cost El Cubo mine and the lower grades being mined at Guanacevi. However, El Cubo cash costs should decline in 2013 due to rising operating efficiencies and once the capital projects are completed. Assuming $30 silver and $1650 gold, Endeavour anticipates its mine operating (gross) profit margin will be around $20-21 per ounce in 2013. For every $100 increase in the price of gold, Endeavour's cash cost of production should drop by about $0.90-1.00 per ounce of silver produced and the mine operating profit margin should climb by a similar amount per ounce of silver production.
Stock Information
EXK currently trades near a year low at $7.00 and has a 52-week trading range of $6.85 to $11.30. On average, about 1.1 million shares exchange hands daily. The company trades at a 25 P/E multiple but only a 10 forward P/E ratio. At this time the company currently does not pay a dividend, but I believe after another year or two of growth, the possibility of a dividend is likely.
Conclusion
Global central bank stimulus will undoubtedly debase currencies worldwide, and thus, the tailwinds are in place to sustain a long-term bull market in precious metals. The dollar is likely to only weaken in coming years due to the United States' addiction to high debt and easy money policies. EXK is set to continue long term growth, both in reserves and resources as well as production. Despite increasing cash costs, the company's investments are likely to pay off as precious metal prices have sustainable tailwinds thanks to central bank action. While I have highlighted other companies in the past, EXK is taking proper action to increase revenues and provide shareholders an opportunity for stock price appreciation. At current levels, EXK is a strong buy for the long-term.
Disclosure: I am long SLW, GPL, PAAS, GDX. I wrote this article myself, and it expresses my own opinions. I am not receiving compensation for it (other than from Seeking Alpha). I have no business relationship with any company whose stock is mentioned in this article.