Nike (NYSE:NKE) has been on a great run lately with its shares up over 14% in the past six months. Given that the S&P 500 is up 8%, Nike has outperformed the market, the stock has recently split and is now trading just below $55. Does Nike have room to run or has it gotten too expensive at its current levels?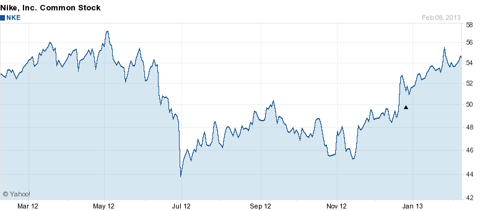 Profitability - Nike's Gross Profit Margin is 43.5% which is in line with the industry average of 43%. Its Profit Margin is 9.22% which is also in line with the industry average of 8.9%.
Management's Effectiveness - Nike's management team excels in this area. Nike has a Return on Equity of over 21%, which far outpaces the industry average of just 1%. This means that Nike's management team is very effective at deploying available capital.
Inventory - Nike has done an excellent job of improving its inventory levels in China as inventory was only up 3% year-over-year while it was up 8% year-over-year globally. Nike has been working hard to reduce inventory through sales and taking back inventory to sell through its outlet stores. Nike has also been limiting the amount of new products it ships to China. This will likely dampen revenues in the short run but will ultimately be good for the company.
Sports - Nike is more than a footwear company, much more. It is a global sports brand. SportScanINFO data indicates that Nike basketball footwear momentum accelerated through Holiday, increasing +40.3% at retail in the last four weeks with average selling prices up high-single digit percentages. In addition to the Nike Basketball momentum, Nike Golf has signed Rory Mcllroy to a long-term deal worth reportedly $20 million a year. I believe this is an excellent move for Nike as Nike now has both Tiger Woods and Rory under contract. The signing of Mcllroy gives them exposure to much of Europe, Mcllroy's homeland and where he still plays often, and to a younger breed of golfers who idolize the current World #1. Nike also is now the apparel provider for the NFL, a move that could expose it to an older demographic that might not have been interested in Nike products beforehand.
Is It Still A Buy? Even though Nike still has very good global growth prospects, it does seem a bit expensive at its current price of $54.59. Right now, it trades at 5x book value, 12x cash value, and a 25 PE. If you are a long-term investor, then I think Nike is a good buy right now, but I believe it is trading at close to fair value and would wait for a small pullback before buying the stock right now. Nike is one of the best companies in the world and has truly changed the landscape of the industry, and it remains committed to global growth, but I believe you should wait for a pullback as the stock is not exactly cheap right now. Although in waiting for a pullback, it is possible you miss a move, it is beneficial in limiting your downside risk, as well as increasing you potential upside.
Disclosure: I have no positions in any stocks mentioned, and no plans to initiate any positions within the next 72 hours. I wrote this article myself, and it expresses my own opinions. I am not receiving compensation for it (other than from Seeking Alpha). I have no business relationship with any company whose stock is mentioned in this article.