A Princess (And Massive Profits) Coming Soon
If you live in the Los Angeles area, you may have noticed some strange advertisements for a prin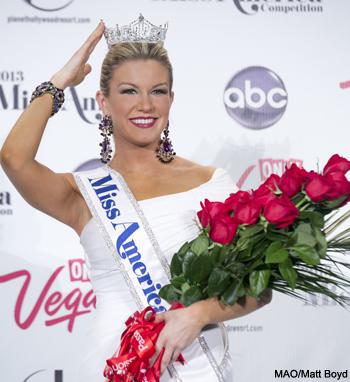 cess coronation event. The question many will ask is - who is being crowned princess? The answer may surprise you, it's a cartoon pony named Twilight Sparkle. Suitingly, the coronation event will be hosted by the newly crowned Miss America 2013 Mallory Hagan. Olympic gold medalist Carmelita Jeter will also be attending the event. This event on February 14th 2013 symbolizes the growing popularity of the newest generation of My Little Pony. (Image from StarPulse)
Toy Sales Falling, But Not My Little Pony
So why does this matter? Hasbro Inc. (NASDAQ:HAS) is currently the owner of the My Little Pony franchise with the currently airing and highly popular television show My Little Pony: Friendship is Magic. Hasbro has been having a rough time along with other toy makers with declining profits in this holiday season compared to the past year. Hasbro's profit fell 6 percent and overall toy sales in the sector decreased by 100 million. However, there has been a rather significant anomaly. In Hasbro's latest Analyst-Investor Day we learned that My Little Pony sales are up double digits globally. My Little Pony will be in 180 different countries in 2013. POS (point of sale) for My Little Pony is up 50% globally. In some international markets, the POS was up triple digits! This strongly goes against the declining toy environment.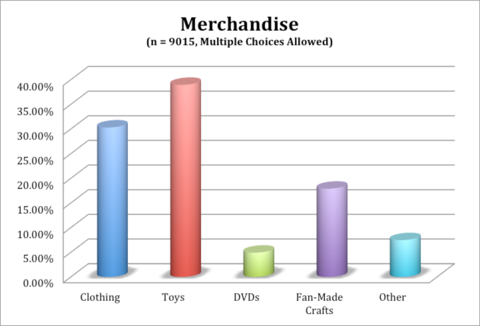 (Merchandise preference based on State of the Herd data.)
A Cultural Phenomenon
The investor event describes how "brand advocates," people who take their love of the show publicly are growing in number. The age demographic for My Little Pony has traditionally been 3-6 but the fans' ages have started to rise as the popularity increases. In an event not expected by Hasbro, a large number of older male fans have been appearing and growing in great number. These male fans refer to themselves as bronies and purchase a great deal of My Little Pony: Friendship is Magic merchandise. While Hasbro has declined to provide figures or comment on who exactly is buying the stuff, it becomes obvious once one investigates further. Equestria Daily, the largest news source for the new My Little Pony has demonstrated the purchasing power of the bronies. Equestria Daily, with more page views than the population of the United States, posted a link to a show accurate pony toy being sold by Hot Topic. Within an hour, the toy was sold out completely. More examples appear in the plush toy market. This market can be considered a black market as the majority of the plushies are created by bronies, then sold on eBay. These plushies, if show accurate, easily sell for over a hundred dollars each, as seen here with this plushie currently selling for over 300 dollars. There have been rumors a life-sized plushie sold for US $4,900. This is a market that Hasbro needs to capitalize on, as their current line of licensed plushies are not show accurate and are therefore not being bought despite their low price.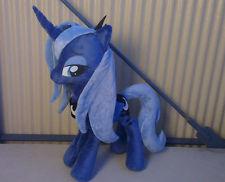 Would you pay $300 for this?
Market Growing Rapidly
The State of the Herd, the census bureau of the bronies, claims that "we can state with a 95% confidence that between 4.0% and 6.8% of the internet-using US population strongly identify as bronies, or approximately 7 to 12.4 million people." Let's keep in mind that these people are very likely in addition to all the 3-12 year old girls who make up the My Little Pony demographic as all data was submitted by individuals online willingly and it is unlikely the target demographic is participating in this sort of census. The number of bronies stated by the State of the Herd likely is a conservative estimate, as sales of My Little Pony products continue to skyrocket. Recently, the new My Little Pony comic has hit 1,000,000 sales. This is a remarkable number, as comic books were never a strong seller for My Little Pony and this is showing that all My Little Pony products are selling like hotcakes if they stay true to the show.
Conclusion
Hasbro is sitting on a goldmine with My Little Pony: Friendship is Magic and has the sales to prove it. People are creating entire conventions worldwide celebrating My Little Pony. Popularity is growing rapidly and Hasbro is not even close to capitalizing on this mayhem fully. With a guided marketing and sales team, show accurate plushies and toys, and an expanded international network, Hasbro can rake in the profits and help stabilize their overall profit growth in this slow toy market.
Disclosure: I am short CZR, EGAN. I wrote this article myself, and it expresses my own opinions. I am not receiving compensation for it (other than from Seeking Alpha). I have no business relationship with any company whose stock is mentioned in this article.