The following is part 1 in a three part intermarket series covering equities, equity sectors, and bonds. Part 2 focuses on commodities, while part 3 focuses on gold, silver, and miners.
Intro:
Relative strength is a concept that has been widely accepted in both fundamental and technical analysis. Relative strength tends to persist over long periods of time, and numerous studies note the value in investing in those securities that exhibit relative strength.
Ratio charts are often used in intermarket analysis as it is one of the most effective ways to examine relative strength in one group compared to another, and accordingly have been used frequently in my work. Put simply, a declining line means that the numerator is underperforming the denominator, and vice versa.
Correlations are also analyzed frequently to determine the strengths of certain relationships in identifying favorable trade setups. Correlations used in my analysis will involve various time periods, from 20 days to 200 weeks. Important signals are often given when correlations cross the zero line - when they go from positive to negative, or vice versa.
The conclusion of the three articles is that commodities, and commodity related equities, could be the best place to be invested in the near future. I particularly like the energy and basic material sectors, and precious metals offer an attractive risk to return ratio. I would also be looking for opportunities to short bonds. This is the same outlook I have maintained over the last month and recommended in previous articles.
Equities and Bonds:
I think the below chart is the one of the most important considerations right now. This charts compares a ratio of high yield or junk bonds (NYSEARCA:JNK) to Investment Grade Corporates (NYSEARCA:LQD) (note that one could just as well substitute (NYSEARCA:HYG) for JNK and derive the same result) to the S&P500 (NYSEARCA:SPY). The JNK:LQD bond ratio often leads equities. Note in June 2012 it broke lows while equities held, only to collapse months later. September 2013 again this ratio dropped while equities remained at highs, again collapsing shortly thereafter. Since January this divergence has re-emerged and this bond ratio should be concerning for anyone maintaining a bullish short term outlook on equities.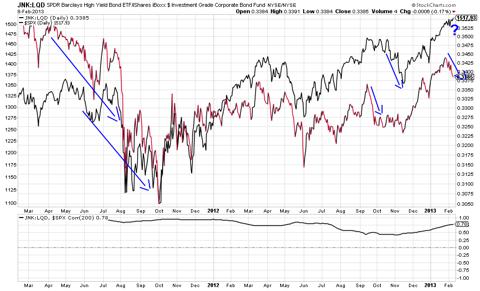 I think when we do experience a pullback in equities, we may see it in the Russell first (small caps have a history of leading markets). The slope (momentum) of the move up since November is very steep and will be difficult to be maintained indefinitely. I think if/when it breaks 900 a pullback to the 870 level can be expected.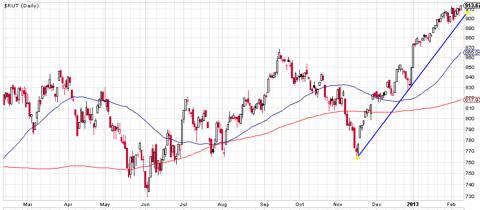 It looks like breadth may be starting to decline; the number of stocks above their 50-day Moving Average has started to fall ever so slightly. In the past year this has successfully served as a leading indicator many times.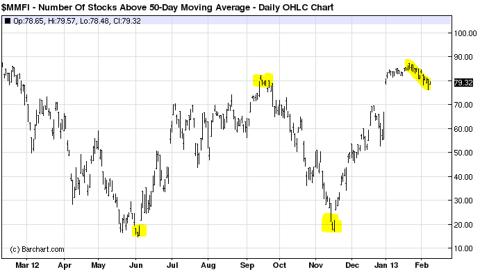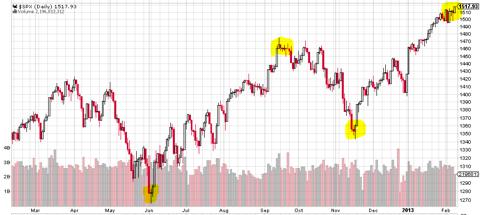 One chart that I am eager to receive feedback about from others is the Baltic Dry Index. Historically this was a proxy for global commodity consumption and accordingly economic strength. From 2003 until mid-2010 it trended in the same direction of equity markets, but has failed to do so since. Is there some sort of fundamental development that has rendered this indicator outdated? Simply a larger supply of shipping vessels? Or is this divergence something that equity investors should be very concerned about? (These are not rhetorical questions, I am very interested in hearing people's thoughts about this).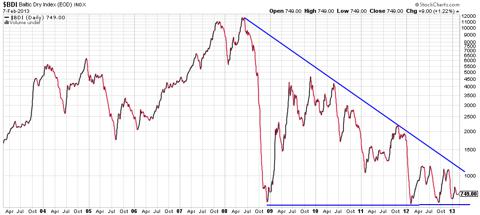 It looks like the free fall in the Yen (NYSE:FXY) may be tentatively halted as it appears to be entering a support zone (blue box in below chart). This could put pressure on the Nikkei (NYSEARCA:EWJ) and to some extent global equity markets as well.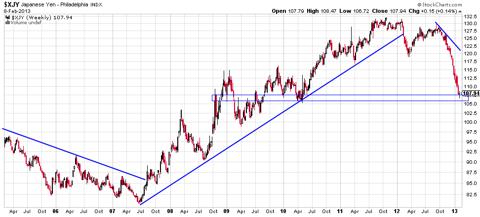 In bonds we can see that the downtrend in yields since 2011 has broken and that the spread between the Nikkei and the 10-year yield may be beginning to converge. Any further strength in the Nikkei could lead yields higher and accordingly bond prices lower. Even in the absence of Nikkei strength the spread could converge with yields rising.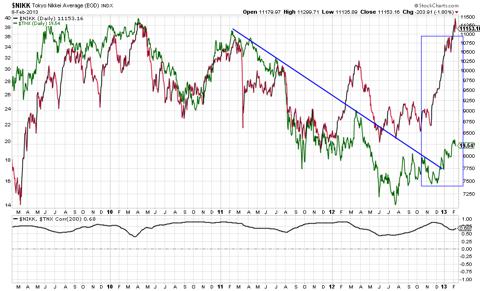 While the 30-year bond (NYSEARCA:TLT) has broken a two year uptrend, it is prudent to keep in mind however that it still remains in a very firm long term uptrend. The monthly RSI may help confirm if/when the long term trend reverses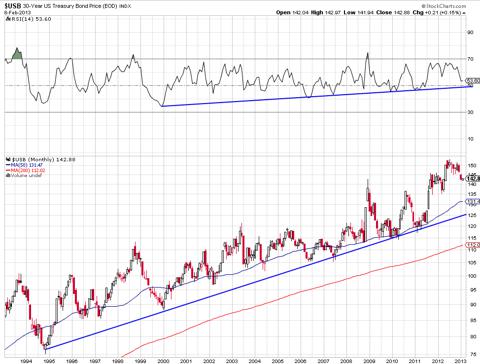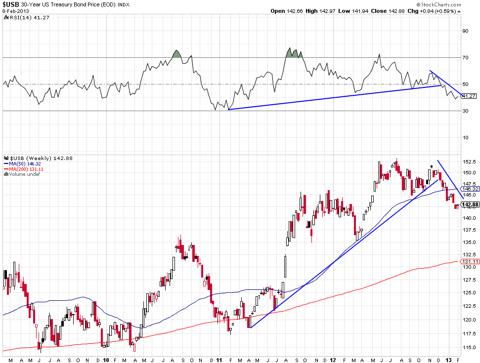 Equity Sectors:
For long equity positions the energy (NYSEARCA:XLE) sector has and continues to be my preferred area to be invested in. After a long period of underperformance this trend has reversed recently. Relative strength tends to persist over time, and I prefer to be involved in newer trends than older ones when possible. As well, given that I am bullish on commodities I consider this to be the best investment opportunity right now.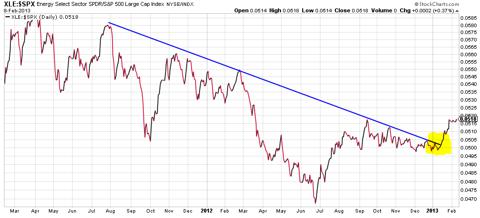 While my work on intermarket analysis is typically for longer-term positions, I am watching the XLE this week in detail as I believe many stocks look ripe for short term gains. Specifically, SLB, TLM, APA, OXY, and CVX, all components of XLE , looks ripe to break upwards out of bull-flag formations evident on both a 60min and daily chart.
The transports have really driven the market rally since October. As long as they continue to exhibit relative strength they remain attractive; however, I would keep a close eye on this trend as it could be maturing.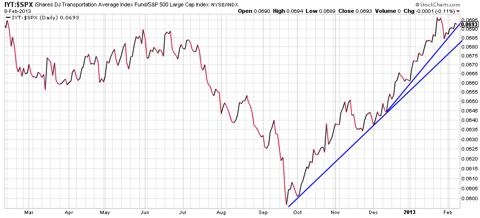 The inverse is seen for technology (NYSEARCA:XLK), having underperformed since September.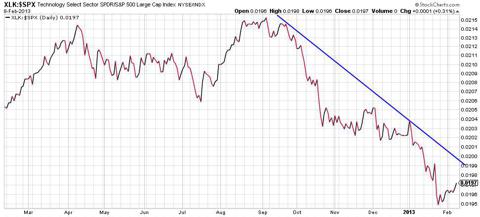 Apple (NASDAQ:AAPL) has undoubtedly been a large contributor to this decline. Now that earnings have passed I suspect Apple will be less inclined to extreme price movements and likely be choppy for the near future. That being said, a resumption in its downtrend as well as the technology sector, and continued strength in the energy sector is highly indicative of an equity market that is approaching its top.
One chart I recently discovered that I think is interesting is the consumer services (IYC, UCC) to the S&P500 ratio chart. Note that this sector led equities out of the recession and has outperformed consistently since. A breakdown in relative strength in this sector, especially after such a long period of outperformance, could be indicative of a market top. That being said, one would probably be best served by waiting for a clear break of this trend rather than trying to predict it.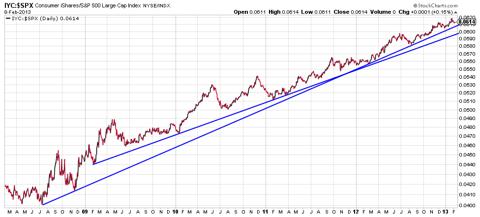 Basic materials (NYSEARCA:XLB) started exhibiting relative strength in December, however have been weak in the last two weeks. I think this pullback was a short term phenomenon, and that this sector could turn to be a market outperformer in the next year.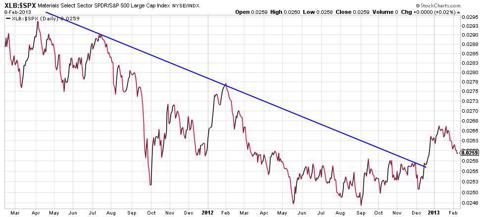 Conclusion:
As mentioned in the introduction, I think that commodities and commodity related equities will be strong performers in the near future. I like the energy and basic materials sectors particularly as I believe they will be outperformers in the coming year. Precious metals and miners also offer an attractive risk to return ratio for anyone considering a long.
I encourage readers to read articles two and three of this series as they cover other important aspects of intermarket relationships.
Thanks to Chris Vermeulen at The Technical Traders for sharing his opinion.
Disclosure: I am long PAL, ZNGA, TLM, UNG, KOL, ANGI, PLCE, DGP, JJC, VXX, VMW, PPLT. I wrote this article myself, and it expresses my own opinions. I am not receiving compensation for it (other than from Seeking Alpha). I have no business relationship with any company whose stock is mentioned in this article.
Additional disclosure: I am short NUS, MED, and RT. I will be looking to add long energy positions this week. I will also be considering all other mentioned trades. My time frame typically is shorter term, from a few hours to a few weeks (swing trades).