The following is part 3 in a three part intermarket series covering gold, silver, and miners. Part 1 focuses on equities, equity sectors, and bonds, while part 2 focuses on commodities.
Intro:
Relative strength is a concept that has been widely accepted in both fundamental and technical analysis. Relative strength tends to persist over long periods of time, and numerous studies note the value in investing in those securities that exhibit relative strength.
Ratio charts are often used in intermarket analysis as it is one of the most effective ways to examine relative strength in one group compared to another, and accordingly have been used frequently in my work. Put simply, a declining line means that the numerator is underperforming the denominator, and vice versa.
Correlations are also analyzed frequently to determine the strengths of certain relationships in identifying favorable trade setups. Correlations used in my analysis will involve various time periods, from 20 days to 200 weeks. Important signals are often given when correlations cross the zero line - when they go from positive to negative, or vice versa.
The conclusion of these articles is that commodities, and commodity related equities, could be the best place to be invested in the near future. In particular I like the energy (NYSEARCA:XLE) and basic materials (NYSEARCA:XLB) sectors. Precious metals and miners are currently offering an attractive risk to return ratio. I would also be looking for opportunities to short bonds. This is the same outlook I have maintained over the last month and recommended in previous articles.
Gold, Silver, and Miners:
Gold (NYSEARCA:GLD), silver (NYSEARCA:SLV), and miners (GDX, GDXJ, SIL) are all very highly correlated. Any significant move or break in one product is important for the others.
As mentioned in my last intermarket analysis, gold still looks bullish and offers what I believe to be an attractive risk to reward ratio. There is significant support from $1650 through $1625. You can look at getting long here with a stop below $1625, and add to the position with a close above $1700. The weekly RSI has also been valuable for confirmation; a break above 50 will be confirmation of a change in trend, and a break below 40 would suggest that the downtrend since October is still in effect.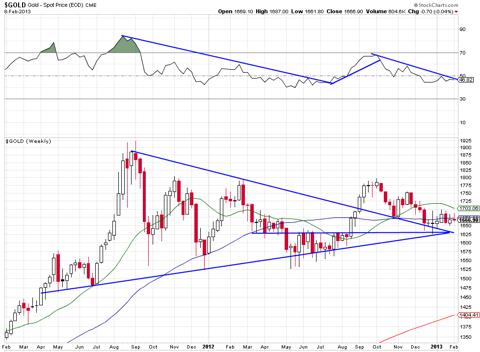 Silver is also very interesting right now, a couple things worth noting:
20 Period Simple Moving Average

(

(NYSE:SMA))

(thick green line in chart) has acted as an important support and resistance line

RSI has been very useful for trend confirmation
Note that silver is approaching the apex of a lon

g-ter

m consolidation evident on both the price chart and the RSI. I am inclined to believe this breakout will be to the upside. Lon

g-term

bullishness will be confirmed with closes above the 20 period SMA and then strengthened with closes above $33-$35.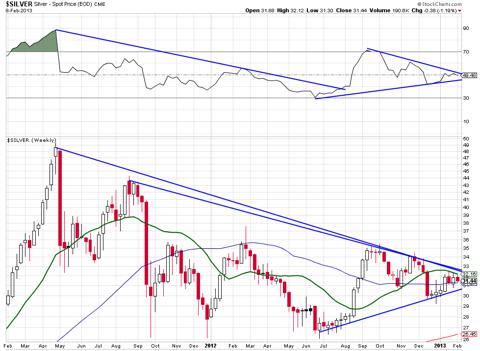 In miners I have so far been wrong. Like many others I have been looking for a bottom to be put in, however had no such luck yet. Below are the charts I posted two weeks ago. Note that gold miners have continued their underperformance and failed to hold what I thought may be support in the rising trendline.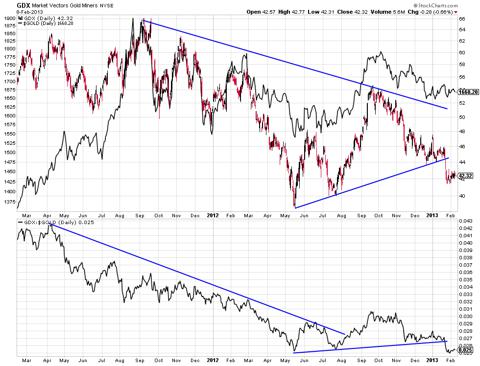 That being said, there are still signs that miners are trying to turn around. Both on balance volume (OBV) and the RSI are exhibiting bullish signals. Until the recent downtrend is broken, however, I think one must be cautious in establishing longs.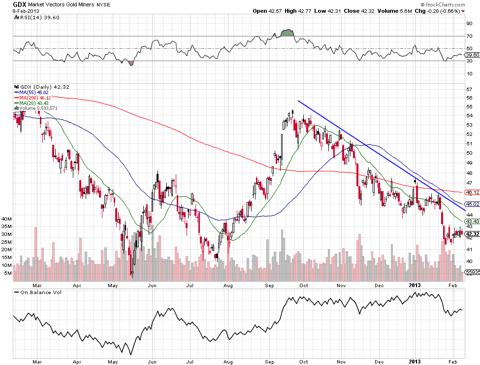 On the weekly chart you can note that $40 is a key support level; there has not been a close below this level since 2009, despite being tested on three occasions. This level can also be considered a neckline in an extended head and shoulders pattern (may be a stretch, but worth consideration). OBV however is concerning as it is showing considerable distribution.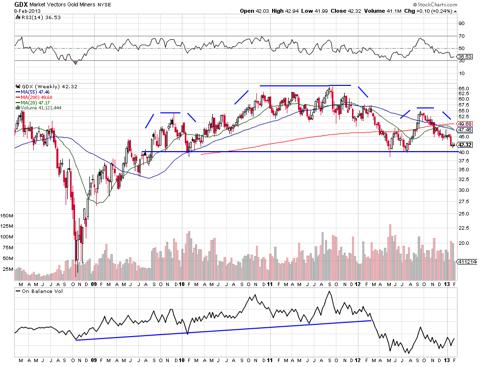 I think the trade may be to look for entries in this price range with a stop on a weekly close below the $40 level. An aggressive play would be to buy any further dips towards $40, while a more conservative investor may wait until the shorter-term downtrend line since fall 2012 has broken. The future direction of gold will be a critical factor here, with a close above $1700 being bullish for miners while a close below $1625 being bearish.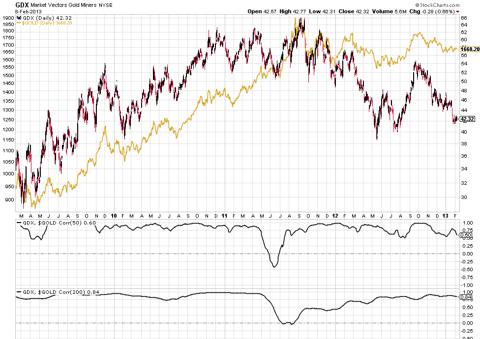 In silver miners I have used Silver Wheaton (SLW) as a proxy for miners. Note that they have almost perfect positive correlation over the long term, with smaller deviations in the short term. These small deviations are opportunities as a deviation infers a spread between the two products which typically don't last long.
Silver Wheaton has been stronger than silver recently, and may lead the precious metal up. A close above the $38 would be bullish for both.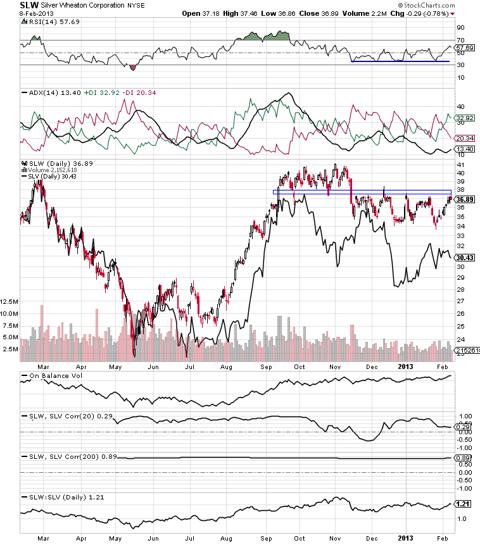 Conclusion:
I think patience might be required for a little longer. It looks like major new trends may be developing in the near future, which I suspect will be to the upside. Focus should be kept on miners and the underlying precious metals as the correlation within the group is very high. Aggressive investors can try long entries in GLD and GDX with stops below the noted support zones. Those who are more conservative may want to wait for confirmation of a new uptrend.
As I mentioned in article one of this series, dollar direction will be a critical component in the future direction of commodities due to its historically high negative correlation. Just as commodities have been consolidating sideways, so too has the $USD (NYSEARCA:UUP). A decisive $USD break out in one direction will be significant for commodities, notably gold and silver, and accordingly miners. I also think the energy and basic materials sectors to outperform in the next year.
I encourage readers who have not yet done so to read articles one and two of this series as all asset classes are related in someway or another.
Thanks to Chris Vermeulen at The Technical Traders for sharing his opinion.
Disclosure: I am long PAL, ZNGA, TLM, UNG, KOL, ANGI, PLCE, DGP, JJC, VXX, VMW, PPLT. I wrote this article myself, and it expresses my own opinions. I am not receiving compensation for it (other than from Seeking Alpha). I have no business relationship with any company whose stock is mentioned in this article.
Additional disclosure: I am short NUS, MED, and RT. I will be looking to add long energy positions this week. I will also be considering all other mentioned trades. My time frame typically is shorter term, from a few hours to a few weeks (swing trades).