Petrobras - Not Too Late to Sell
Investors should sell Petrobras (NYSE:PBR) stock and buy credit protection as oil production growth is proving elusive despite heavy capital spending. PBR bulls continue to point to massive oil potential in giant offshore fields, but in the meantime, Brazil's domestic politics and high inflation are forcing PBR to shift money out of the company's cash flow to subsidize domestic fuel (gasoline and diesel) prices. With an election looming and inflation rising it is unlikely that the PBR will get the big fuel price hikes it wants and needs.
PBR Premium Multiple Unjustified
Investors should not be paying 7x EV/EBITDA to own PBR given the lack of oil production growth in 2013 and a government that is taxing minority shareholders to fund domestic fuel subsidies. A more appropriate multiple would be 5x, which would lead to a single digit share price. With large cap E&P's offering 3-5% production growth trading at 4x, PBR's premium multiple seems unjustified.
| | | | | |
| --- | --- | --- | --- | --- |
| Capitalization $bil | 2012 | 2013 | | |
| Cash | 24 | 24 | | |
| Debt | 96 | 123 | | |
| Preferred | 1 | 1 | | |
| Market Cap | 110 | 34 | 69% | Price decline |
| Enterprise Value | 183 | 134 | | |
| EBITDA '13 | 26.7 | 26.7 | | |
| EV/EBITDA | 6.9x | 5.0x | | |
This is obviously a radical outcome, but it is likely to happen without a big change in fuel price policies. Even a 1x reduction in the multiple would lead to a near 50% decline in the share price.
After a dismal 2012 which included a management capitulation on overly optimistic oil production growth targets, Petrobras shareholders were once again given a Bronx cheer as Petrobras posted an astounding $15 billion loss in their refining segment for 2012.
PBR bulls point to the huge potential in untapped discoveries, but are missing that credit and equity markets may not fund the debt that will be required to fund the $200+ billion in capex in the coming years.
Refining Losses - Domestic Realities
Brazil has historically had an inflation rate of 4% to 6%, but has suffered painful bouts of much higher inflation rates. Brazil's policy makers are understandably vigilant when it comes to managing inflation. As a result of the structurally high inflation and the reality that fuel prices are an important contributor to the inflation index, Petrobras' role is to stabilize fuel prices. In January 2013, Petrobras raised prices by 5.4% for diesel and 6.6% for gasoline, but a 15% hike is what is really needed to stem losses. Big price hikes are impossible because of the inflationary impact this would have on the Brazilian economy, but also because Brazil already has painfully high fuel prices relative to income levels. The chart below from Petrobras' website highlights gasoline prices relative to other much richer nations.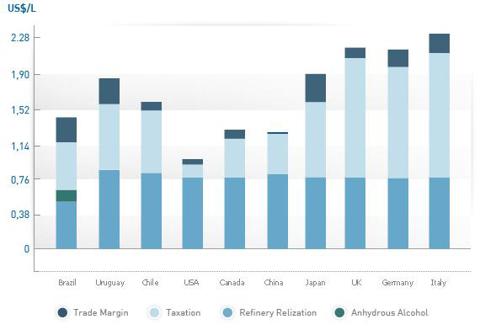 Oil Production
Petrobras oil production has been relatively flat despite heavy investments, moving from 2.03 million bpd in 2009 to 2.09 million bpd in 2011 (1% CAGR). The chart below from the Q4 2012 earnings presentation shows management forecast for stable production from 2011 through 2013. Growth is expected to occur in 2014 and beyond as new projects finally come on line. Given the record of missing forecasts, investors are likely to discount future success.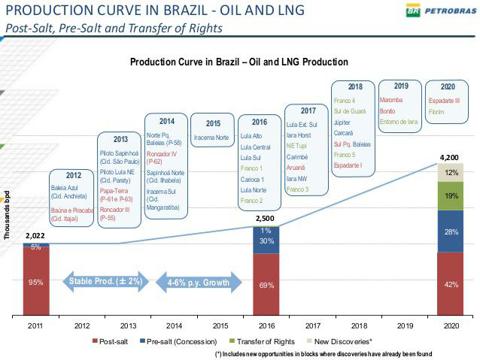 Leverage Spiking
The takeaway missing from analyst reports post earnings is that through 2014 refining losses will eat into cash flow. This is happening at the very moment PBR oil production stalls hurting cash flow. Leverage will spike into 2014.
Analysts on the conference call politely wondered about mounting debts and shrinking EBITDA, but generally treated management with a lot of deference. Searching through analyst reports there were many comments on the long term oil growth potential but very little explanation of the negative implication of refining losses on PBR's financial position.
The table below shows just how dire the situation is. Note how refining losses offset EBITDA generated by the E&P business. This cash burn could cost PBR $30 billion in the next two years, leading to a 50% jump in debt, while oil production and cash flow remain flat.
| | | | | |
| --- | --- | --- | --- | --- |
| $ Billions | 2011 | 2012 | 2013 | 2014 |
| E&P and Other | 37.1 | 42.0 | 42.0 | 42.0 |
| Refining | -6.0 | -15.3 | -15.3 | -15.3 |
| Total EBITDA | 31.1 | 26.7 | 26.7 | 26.7 |
| interest | -3.2 | -3.7 | -5.0 | -6.0 |
| capex | -40.6 | -39.5 | -45.0 | -50.0 |
| tax | -5.6 | -3.4 | -3.4 | -3.4 |
| FCF | -18.2 | -19.9 | -26.7 | -32.7 |
| | | | | |
| Debt EB | 83.5 | 96.0 | 122.7 | 155.4 |
| DEBT/EBITDA | 2.7x | 3.6x | 4.6x | 5.8x |
| EV/EBITDA | | 6.9x | | |
Assets Sales
PBR expects to sell assets to help fund refining losses, but with the multiple at 7x these asset sales are likely to prove to be dilutive to shareholders. Sales of US and international assets will also further concentrate risk in Brazil, lowering earnings quality.
Credit Rating Downgrades Looming
Moody's lowered PBR's rating outlook to Negative in December 2012, citing excessive losses on fuel subsidies. Having worked at FitchRatings, I know that rating agencies like Moody's tend to move very slowly with very large companies, they prefer to let markets take the lead. It is my view that credit markets will not tolerate a debt/EBITDA above 4x with no end in sight to the refining losses. This issue is now coming to a head and only a blow out in PBR's credit and a collapse in the share price will force the government to converge Brazil's fuel prices with international prices. PBR CDS has widened from 145bps to 209bps just since the beginning of the year.
The Brazilian newspaper Estado reported this weekend that Petrobras' CEO is already starting to worry about a downgrade of the company's current low single A rating (to BBB).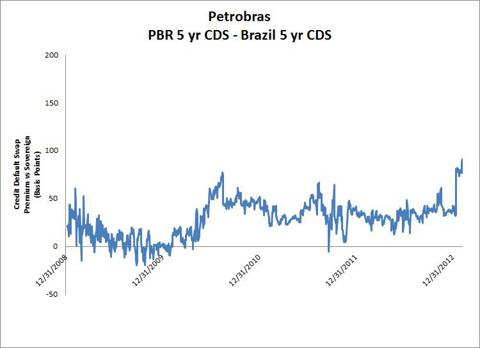 There is no doubt that PBR has made some impressive oil discoveries, but the fact that oil production is flat should be a wakeup call to investors unfamiliar with the difficulties of producing oil from super deep offshore wells. Furthermore, if credit markets lose confidence in PBR, the massive capital spend required to tap deep offshore wells will be difficult to finance.
These risks have been weighing on PBR for some time, so when the new CEO came clean with a revised and more realistic oil production forecast the stock actually rallied from $18 to $24 per share during 2012.
This rally was aided by hopes that the new CEO might be also able to convince the government to allow fuel prices to be increased, reducing losses in the refining segment. Price increases did go through, however, these prices were dictated by what was politically and economically feasible, not the needs of PBR. So PBR investors were double crossed, leading to the current $16 share price.
Technicals Weak
Trading action since the earnings call has been very weak, PBR shares are for sale every day as minority shareholders are voting with their feet.
Disclosure: I am short PBR. I wrote this article myself, and it expresses my own opinions. I am not receiving compensation for it (other than from Seeking Alpha). I have no business relationship with any company whose stock is mentioned in this article.
Additional disclosure: Puts are an inexpensive and safe way to be short.