Most of the Asian markets were closed today, but Europe was open and the movement there was positive. The other big news hitting the wires this morning is that the Pope plans to step down and for those who do not follow the Vatican each time a new Pope is to be elected South America comes closer to getting their first Pope. It remains to be seen whether this will be the case, but the Catholic church was the first organization to go global and in today's world it would mimic the global brands (think Pepsi, Coke and others) and promoting leaders with insights into their growth areas.
Markets seem to be off to a good start this week looking at the futures, and although last week we had our first down week of the year it is our belief that the bull is not yet dead.
Chart of the Day
It looks like Australia is setting up for a breakout, and if things 'Down Under' are looking up then they are looking up in China and in the commodities arena. It might be time for general market participants to lower exposure to tech and go overweight in commodities.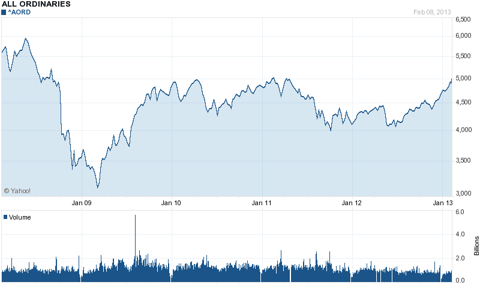 Chart courtesy of Yahoo Finance.
We have no economic news due out today.
Asian markets finished lower today as most of the markets were closed due to holiday:
All Ordinaries - down 0.18%
Shanghai Composite - CLOSED
Nikkei 225 - CLOSED
NZSE 50 - down 0.12%
Seoul Composite - CLOSED
In Europe markets are higher this morning:
CAC 40 - up 0.53%
DAX - up 0.26%
FTSE 100 - up 0.45%
OSE - down 0.20%
Technology
Admittedly we were in the camp who obviously did not get LinkedIn (LNKD) when it first debuted on the exchanges as we thought it was silly to think that people would pay for a social networking site for professionals. After the huge rise the first day and the subsequent rise after good earnings we were sure it was just a passing fad which would readjust once Facebook IPO'd. That obviously did not happen and the real winner in social networking has without a doubt been LinkedIn. The shares continue their march higher as well as their consistent growth, with shares having risen $26.39 (21.27%) on Friday to close at $150.48/share after reporting EPS of $0.10 and a forecast for 1st Quarter sales in the range of $305-310 million. Sometimes you are right and sometimes you are wrong. We were wrong with our thinking here and at times like that it is best to admit it, learn from the mistake and move on while hopefully learning from the mistake and preventing it from happening again in the future.
The premier name in social media: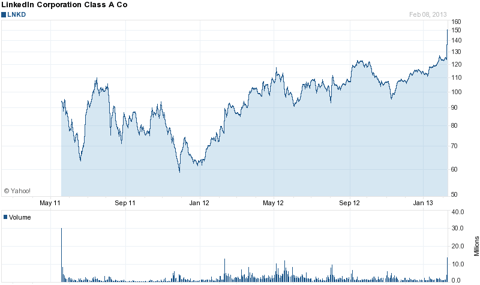 Chart courtesy of Yahoo Finance.
One company which we do think has gotten away from itself is AOL (AOL) which saw shares rise $2.31 (7.35%) to close at $33.72/share after the company reported its first Y/Y revenue increase in 8 years. The company's advertising revenue was up by 13% and the quarterly results were in line with analysts' EPS estimates. The analysts' revenue estimates of $573.7 million were handily beat as the company reported $599.5 million. Investors need to recognize the growth in advertising, but also the subscription decline because the two businesses have different margins and although one has good upside the other is where the profits are made, thus as it shrinks so too does the EPS figure so manageable declines will need to be on order for the company to simply remain in the neighborhood of current earnings.
Has AOL gotten ahead of itself? In our opinion yes. With their cash cow shrinking each quarter profitability will have to be replaced and even Yahoo thinks Google has the best ad system.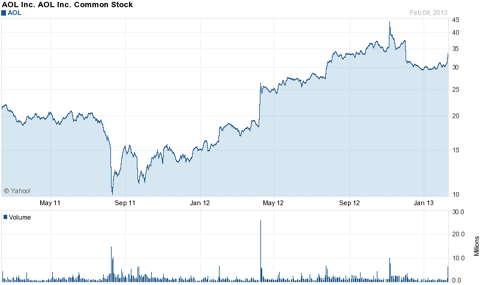 Chart courtesy of Yahoo Finance.
We watched Friday as Nuance Communications (NUAN) traded 33.9 million shares and saw the company get hammered with shares down $4.55 (18.53%) to close at $20.20/share. The financial news media was not forgiving as we saw many of the talking heads throughout the day ridicule the company over their handling of the miss and where they attributed blame. Our thinking is that it is what it is and that at the end of the day every company blames poor results on one thing or another. Truth be told, the company is seeing slower growth than expected in the mobile and health care sectors which is why the speech recognition company cut its full-year guidance last week. The revenues were not cut all that much, however the EPS figures went from $1.84-1.94/share to $1.76-1.87/share. We bought some of the company's software recently so investors cannot say we did not try to help, but it will be interesting to see if this guidance downwards is a one-time event or something which will need to be done more than once moving forward.
Also having a rough day in the technology world on Friday was Riverbed Technology (RVBD) which experienced numerous negative events. The company received two downgrades after earnings disappointed and although revenues beat expectations the fact that acquisition costs weighed on the bottom line did not please anyone. That was not the worst of it though as the company forecast 1st Quarter results to be below estimates ($0.01-0.02 short on the EPS figure and between $257-266 million vs $263.3 million revenue estimate). With 25.8 million shares trading on Friday the shares finished at $16.56/share after falling $3.54 (17.61%).
Biotechnology
Shares of Dendreon (DNDN) were once again on the move Friday as they caught a bid in early trading and managed to finish the day up $0.44 (6.80%) at $6.91/share. The reports we saw in the morning from Briefing was that the strength in the shares was being attributed to a preliminary abstract leading up to the ASCO conference this week. If that is the case, then surely this week shall be interesting to watch.
Disclosure: I have no positions in any stocks mentioned, and no plans to initiate any positions within the next 72 hours. I wrote this article myself, and it expresses my own opinions. I am not receiving compensation for it (other than from Seeking Alpha). I have no business relationship with any company whose stock is mentioned in this article.