Buy-and-hold is a long-term investment strategy based on the view that in the long run financial markets give a good rate of return despite periods of volatility or decline. For typical buy-and-hold investors the short-term market gyrations are mere noise, which will be eliminated eventually from the bigger picture by a market that can be relied upon to value a security fairly. Now add dividends to this way of thinking and you have a strategy that results in a steady stream of income and requires very little ongoing maintenance; as long as the right stocks were picked in the beginning. Selecting a diverse portfolio of blue-chip stocks is the most common advice given for investors using this investment style and there are numerous articles with related stock suggestions.
We noted that gold miners are not commonly represented in these suggestions, which prompted us to look at buy-and-hold scenarios using historical share price data, in the hope of finding gold miners with a track record warranting consideration for future inclusion in buy-and-hold portfolios.
In order to find adequate candidates for our study we decided to filter for senior gold mining companies trading in the U.S. with a track record of paying dividends for at least 12 years. A ranking of the 10 largest gold mining companies served as a starting point. From this list the following five companies fulfilled our criteria: Barrick Gold (NYSE:ABX), GoldCorp (NYSE:GG), Newmont Mining (NYSE:NEM), AngloGold Ashanti (NYSE:AU), and Gold Fields (NYSE:GFI). We then added three more senior gold producers, all with a long enough history of trading and dividend payment to the list: Agnico Eagle (NYSE:AEM), Harmony Gold (NYSE:HMY), and Buenaventura Mining (NYSE:BVN).
Using this group of eight stocks we went back in history and computed the performance we would have observed had we bought $1000.00 worth of stock for each of the companies at the start of 2001. For each company we calculated the number of shares we could have bought for $1000.00 at the time. We then computed the value of these shares using the share price at the start of 2013. We also took into account the accumulated dividends throughout this period of time ignoring interest. We termed the present share value plus dividend yields as today's total value.
The tables below give a summary for this scenario. Please note that yearly increases in the lower table ignore interest on the paid dividends.
| | | | | | |
| --- | --- | --- | --- | --- | --- |
| Company | Ticker | # of shares in 2001 | Shares value today [$] | Dividends [$] | total value today [$] |
| Barrick Gold | ABX | 61 | 2192.92 | 242.37 | 2435.29 |
| GoldCorp | GG | 163 | 6172.92 | 442.25 | 6615.17 |
| Newmont Mining | NEM | 58 | 2734.84 | 324.67 | 3059.50 |
| AngloGold Ashanti | AU | 67 | 2117.14 | 437.08 | 2554.22 |
| Gold Fields | GFI | 291 | 3651.16 | 732.56 | 4383.72 |
| Agnico Eagle | AEM | 167 | 8940.00 | 376.67 | 9316.67 |
| Harmony Gold | HMY | 211 | 1882.11 | 294.74 | 2176.84 |
| Buenaventura Mining | BVN | 70 | 2538.25 | 221.84 | 2760.08 |
| | | | | | |
| --- | --- | --- | --- | --- | --- |
| Company | Ticker | increase [%] | Increase / years [%] | div. yield [%] | div. Yield / year [%] |
| Barrick Gold | ABX | 143.5 | 12.0 | 24.2 | 2.0 |
| GoldCorp | GG | 561.5 | 46.8 | 44.2 | 3.7 |
| Newmont Mining | NEM | 206.0 | 17.2 | 32.5 | 2.7 |
| AngloGold Ashanti | AU | 155.4 | 13.0 | 43.7 | 3.6 |
| Gold Fields | GFI | 338.4 | 28.2 | 73.3 | 6.1 |
| Agnico Eagle | AEM | 831.7 | 69.3 | 37.7 | 3.1 |
| Harmony Gold | HMY | 117.7 | 9.8 | 29.5 | 2.5 |
| Buenaventura Mining | BVN | 176.0 | 14.7 | 22.2 | 1.8 |
In terms of increase in total value over the observed 12 years Agnico Eagle (+831.7%) leads the way ahead of GoldCorp (+561.5%) and Gold Fields (+338.4%) coming in third. When looking at dividend yield Gold Fields (+73.3%) comes first ahead of GoldCorp (+44.2%) and AngloGold Ashanti (+43.7%) in third place.
This scenario certainly represents a first snap shot only. We therefore repeated the process, but this time we assumed purchasing $1000.00 worth of shares at the start of 2002. And then we ran more versions of this scenario with entries at the start of 2003, 2004 and so forth all the way until we simulated holding the shares only for one year in 2012. For all these scenarios we computed the same two tables as shown above and ranked the companies with regards to performance in 'total value.'
Averaging the rankings over these 12 scenarios gave us the top three long-term performers among the selected group of gold miners over the past 12 years with regards to share price growth plus dividend yield. In this ranking GoldCorp came first overall closely followed by Agnico Eagle and Buenaventura Mining in an already distant third place. The diagram below shows the rankings for each year for these three companies.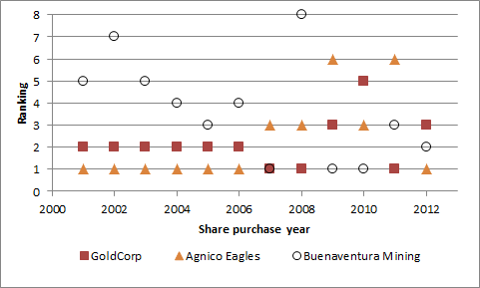 In other words: if someone chose to buy GoldCorp or Agnico Eagle at some point since the turn of the century these two companies offered the best chances of outperforming their peers until the start of this year in terms of combined growth and dividend yield.
This leads to the issue of dividend yield in the context of gold mining companies. Compared to other sectors dividend yield for gold miners is rather modest. However in recent years more gold mining companies have started to offer dividends, and significant dividend increases have been noted for quite a few gold mining companies. Dividends are one way to provide value for investors in the senior gold mining sector where profitable growth may reach a natural limit in the not-too-distant future imposed by fewer new world class discoveries, lower grades and rising cost. Dividends are also a compelling argument in the face of competition from gold ETFs.
The diagram below shows the dividend development since 2001 for the eight companies that were selected for the present study. The three companies with the best performance in our study described above, namely GoldCorp, Agnico Eagle and Buenaventura, also have the greatest dividend growth since the turn of the century, with the addition of Newmont Mining, which has shown high dividend growth in the last three years. Agnico Eagle has just announced another 10% dividend increase for 2013, and presumably others will follow.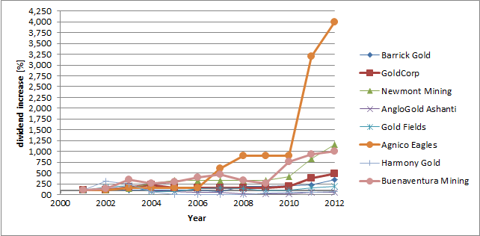 Looking at absolute dividend value is only one side of the coin. We used the share price at the start of each year since 2001 to compute the yield of each company for this year. The diagram below illustrates the results. Newmont Mining offered the highest yield in 2012 ahead of Agnico Eagle in close second place. Interestingly, all three South-African entries in our list offered high dividend yield at the start of the century. Only Gold Fields could retain a leading position in this ranking with AngloGold Ashanti and Harmony Gold offering rather nominal dividend yield well below 1% per annum these days. And finally, Barrick Gold, the sector leader in terms of gold production and reserves, also rates a mention with a third placing in dividend yield for 2012.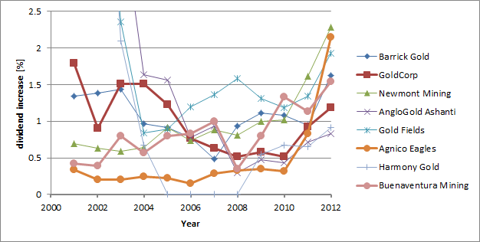 Given the current macro-economic conditions gold is fast becoming a vehicle to preserve value through potentially turbulent times ahead. It might therefore be a good time for conservative buy-and-hold investors to consider adding gold miners to their portfolio, along with the physical gold that we always recommend as part of the mix.
Analyzing past performance is certainly not the only research necessary before taking the plunge. However, the past often gives some indication, which company may fit a certain investment style in the future. Based on the results presented above conservative long-term investors with an eye on growing dividends are encouraged to perform more research on Agnico Eagle, GoldCorp and possibly Buenaventura Mining.
Disclosure: I am long AEM. I wrote this article myself, and it expresses my own opinions. I am not receiving compensation for it (other than from Seeking Alpha). I have no business relationship with any company whose stock is mentioned in this article.