Battered by weak exports and an economy in recession, Japan (NYSEARCA:EWJ) unveiled a $117 billion fiscal stimulus package in a bid to boost growth and end deflation. The measure will increase spending on public works, disaster recovery and provide aid to smaller businesses. The plan is part of newly installed Prime Minister Shinzo Abe's effort to get the country's economy back on track with a combination of increased government spending and monetary easing similar to that of U.S.
In my previous article "Southeast Asian Tigers: On The Roar Again," I have written about the economic prospects of the South Asian region. Now let us look at the investment options and ways to play around Japan's reflation theme. According to Santitarn Sathirathai of Credit Suisse, the two major outcomes of Japan's (NYSEARCA:DXJ) reflation game are: Yen (NYSE:FXY) depreciation and growth in Japan's domestic demand.
I) Depreciating Yen: The performance of any Non-Japanese Asian country due to a weaker yen depends on the extent to which it is integrated into the Japan-led supply chain. Countries that count Japan as their suppliers will benefit from a weak yen through cheaper intermediate goods. Countries that compete with Japan stand to lose competitiveness mainly in the export market.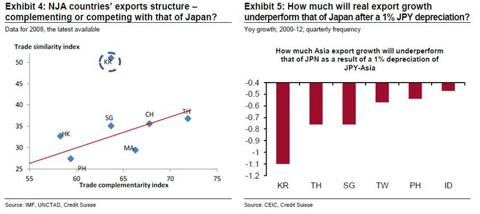 Source: Japan's Reflation: Winners and Losers in Non-Japan Asia, Credit Suisse
Korea (NYSEARCA:EWY) will be the biggest loser as it competes directly with Japan in the export market. Thailand (NYSEARCA:THD) would benefit as Japan exports high value-added auto parts to Thailand for assembly.
II) Growth in Japan's domestic demand: Countries well placed to benefit from Japan's domestic demand growth are those which export significant share of "end user" products to Japan, rather than intermediate goods for re-exports.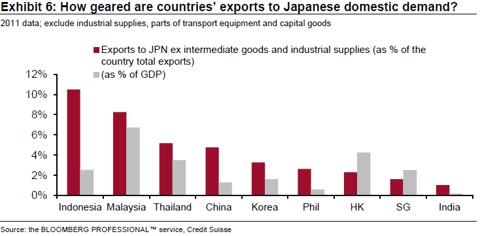 Source: Japan's Reflation: Winners and Losers in Non-Japan Asia, Credit Suisse
Indonesia (NYSEARCA:EIDO), along with Malaysia (NYSEARCA:EWM) would benefit from Japan's domestic demand in absolute terms, due to exports of fuel and lubricant products. However in terms of percentage of GDP, export driven countries of Malaysia and Thailand would benefit the most.
The following diagram explains it all. The horizontal axis shows the sensitiveness of the country's real export growth (relative to Japan) to JPY depreciation and the vertical axis the degree to which a country's export are leveraged to Japan's domestic demand growth.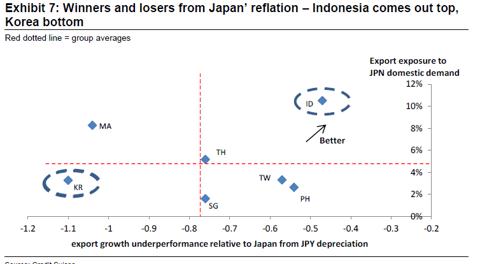 Source: Japan's Reflation: Winners and Losers in Non-Japan Asia, Credit Suisse
The winners are the countries in the northeast quadrant while the losers are those in the southwest. In conclusion, Indonesia is best positioned while Korea is the most vulnerable.
A list of Japanese companies that have dominant market position in their end markets and that would benefit from a weaker Yen include: Nintendo (OTCPK:NTDOY), Hitachi (OTCPK:HTHIY), Toshiba (OTCPK:TOSBF), Nissan Motor (OTCPK:NSANF), Toyota Motor (NYSE:TM), Sony (NYSE:SNE) and Komatsu (OTCPK:KMTUF).
Disclosure: I have no positions in any stocks mentioned, and no plans to initiate any positions within the next 72 hours. I wrote this article myself, and it expresses my own opinions. I am not receiving compensation for it (other than from Seeking Alpha). I have no business relationship with any company whose stock is mentioned in this article.