Company Overview
National Oilwell Varco (NYSE:NOV) is the global leader in providing capital equipment to the upstream oil and gas industries. NOV primarily serves drilling contractors, shipyards, well servicing companies, pressure pumping companies, oil and gas companies, supply stores, and pipe-running service providers. The company's products include major mechanical components for on and offshore drilling. NOV's three business segments include: Rig Technology, Petroleum Services and Supplies and Distribution Services. To begin, NOV's Rig Technology segment designs, manufactures, sells and services complete systems for the drilling, completion, and servicing of oil and gas wells. Furthermore, the Petroleum Services and Supplies segment provides a variety of consumable goods and services used to drill and complete oil and gas service flowlines. Lastly, in the Distribution Services segment, NOV provides maintenance, repair and operating supplies to drill sites and production locations worldwide.
Source: National Oilwell Varco
The Opportunity
National Oilwell Varco is a great way to invest in the oilfield equipment revolution that is impacting both on and offshore drilling. NOV is the dominant provider of equipment used worldwide for drilling in all environments. I believe NOV is the only major oil service company that supplies other oil service companies, the on and offshore drillers, and the oil companies, as NOV supplies everybody. In fact, NOV is commonly nicknamed "No Other Vendor." I think that the NOV story is shifting from a relatively new rig constructor to a rapid earnings growth play for investors seeking opportunity in the oil equipment upcycle. NOV is trading near a 5-year low relative to peers on P/E, indicating that the market's view on this rig cycle is overly pessimistic. At 13 times earnings, NOV is trading near a 30% discount to its peers, and is also cheaper than other alternatives such as Halliburton (NYSE:HAL). I argue that the rig-building cycle is no longer the most appropriate industry for NOV's future earnings. The market is not giving NOV any credit for its ability to invest the cash it generates, despite having a long history of successful acquisitions. In situations such as these, it seems that the Street is taking a pessimistic view on a company that has a clear outlook where high returns are made. It is quite clear that: 1) the company will continue to make acquisitions, and 2) current earnings numbers do not incorporate any earnings potential from future acquisitions.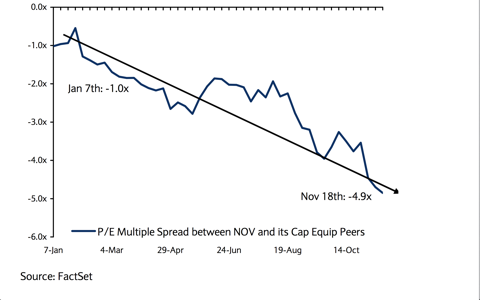 Wall Street Estimates Exclude Future Acquisitions, Hiding Potential Earnings Power
NOV has acquired hundreds of companies since its IPO in 1996 but Street estimates assume the company just sits on its growing pile of cash. NOV's management has been quite successful in preventing what Peter Lynch calls "diworseification," in that they make smart acquisitions that generally don't constrict margins or narrow their moat. With a $3 billion cash depot and $2-3 billion more free cash generated yearly, NOV's true earnings power is likely much higher than the Street's view. Assuming a conservative 15% ROE, nearly every $3 billion used to make acquisitions can add around $1 of earnings each year.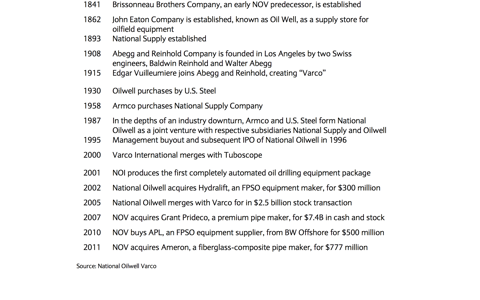 Key Drivers
Key Driver 1: The New Offshore Rig Building Upcycle Continues
To begin, NOV is the dominant rig equipment provider and is playing a key role in the replacement of the world's aging offshore rig fleet. The deepwater business is quite premature in what analysts expect to be a multi-decade expansion, and it is believed that the current new building cycle will reach more than 200 units. Deepwater is the main theme of this cycle and recent success in new areas such as French Guinea, East Africa and Southeast Asia are only adding an already strong demand for new deepwater equipment. In addition, roughly two-thirds of the global fleet is older than 25 years and will need to be replaced. With a dominant market share nearing 70-80%, NOV is the beneficiary of the upcycle.
Source: S&P
Key Driver 2: FPSOs are set to begin replacing rig orders starting in 2013
In addition, NOV's current award potential is $120-150 million per vessel, and that figure should grow over time as the company continuously expands its portfolio. As deepwater production gains traction later this decade, additional flexibility in oil and gas processing will prove to be quite useful. With a current floating production storage and offloading (FPSO) fleet of only 150 vessels, the fleet has the ability to double over the next decade and NOV is readying itself to become a massive independent provider of FPSO equipment.
Key Driver 3: The Onshore Rig Upcycle Is Accelerating
Furthermore, it seems apparent that contractors are retiring older models and are beginning to seek out new replacements that can meet the demands of unconventional drilling techniques. Roughly 150 mechanical rigs have been retired by public drilling contractors, just this year alone. Only 25% of all rigs are using new technology, and analysts believe over 1,000 new land rigs will be ordered this cycle. Each complete land rig order represents around $20 million for NOV. This signals a tremendous revenue boost over the next 10 years for "No Other Vendor." Also, a growing rig fleet in addition to increasing safety standards will drive margins even after the upcycle.
Key Driver 4: Essential In The Current "Oil Renaissance"
Finally, after many years of lackluster production, there are now more oil than gas rigs in the U.S. Without NOV's rig equipment and technology, the revival of the North American oil industry would be impossible. Key players in the oil field are now beginning to invest in NOV's technology, signaling huge earnings increases over the next decade.
Conclusion
In conclusion, NOV makes a great investment in the current oil upcycle. As opposed to the competition, NOV is trading at a large valuation discount nearing 30%. Investors should consider purchasing exposure, as shares are modestly priced at the moment. Through a multitude of factors, the price will continue to be driven over a long-term outlook.
Disclosure: I am long NOV, SLB. I wrote this article myself, and it expresses my own opinions. I am not receiving compensation for it (other than from Seeking Alpha). I have no business relationship with any company whose stock is mentioned in this article.