Very few companies understand the power of establishing and enhancing a "wide moat" like the world's largest retailer Wal-Mart (NYSE:WMT) does. From its origins as a rural retailer that leveraged high volume sales and an efficient distribution system to outlast its historic competition, to the decision in the mid-80s to build a satellite communication system to transmit information from stores to corporate headquarters in real time, to present-day Wal-Mart strategies of effectively leveraging information systems and best practices on a truly global basis, Wal-Mart has always been a leader.
With increasing size, sales growth becomes harder to come by and Wal-Mart is no exception to the investment definition of the "law of large numbers." Fortunately, the company has not deviated from the course of international expansion that its founder, Sam Walton set in motion. From 2003 to 2012, sales have increased from $246.525 billion to $443.9 billion, but that only tells part of the story because during the same period, diluted earnings per share grew from $1.81 to $4.52. Wal-Mart is obsessed with being the everyday low price leader, and its biggest stumbles have occurred when it has taken its eye off that ball. At T&T Capital Management, we believe that Wal-Mart is a wonderful buy if it drops to the low $60s and is a hold at current levels.
Whenever an investor considers buying a retail stock, it is wise to assess how that company is coping with the massive threat presented by Amazon (NASDAQ:AMZN). E-commerce is growing rapidly and the advantages in Amazon's cost structure through its efficient distribution network, as opposed to a large retail real estate footprint, will likely enhance its competitive position, even more so over time with the majority of retailers. Wal-Mart is highly focused on the threat of Amazon and in my estimation is by far and away the best prepared of the large retail companies to emerge even stronger over time. Amazon is really adopting Sam Walton's original retail strategies, but is adjusting for the current technological age. Low prices, high volume, and a maniacal focus on lowering distribution costs through an efficient network are the keys to building the most efficient mass merchandise retail network. Because of Wal-Mart's longer operating history and carefully constructed real estate portfolio, the company can offer services such as store pick-up, delivery, and leverage the high volumes of in-store and online purchases for a more complete sales channel. Even better, the company is rapidly growing its massive international operations, so the scale advantages versus its competition will only be improving, and it should certainly keep pace with Amazon in its ability to offer everyday low prices.
Wal-Mart lowers costs by reducing expenses, increasing productivity, and leveraging technology to improve efficiency throughout the supply chain and operations. Wal-Mart U.S. grew sales by 1.5% to $264 billion in fiscal year 2012, while Wal-Mart International grew sales by 15.2% to $125.9 billion. The U.S. division had operating income of $20.367 billion, which was up slightly from 2011, while Wal-Mart International grew operating income by 10.8% to $6.214 billion. Sam's Club had sales growth of 8.8% to $53.8 billion, while operating income grew 9% to $1.9 billion. For the company as a whole, sales grew 5.9% in 2012 to $443.9 billion, and operating income grew by 4% to $26.6 billion. Diluted EPS from continuing operations rose to $4.54, up from $4.18 in 2011.
Unlike Amazon, which regularly dilutes long-term shareholders' interests by regularly increasing shares outstanding, Wal-Mart returned $11.3 billion to shareholders' through dividends and buybacks in 2012. Highly profitable and durably competitive businesses are usually able to reward owners and maintain growth at the same time. Last year the company decided to invest $2 billion through expense reductions and productivity improvements during the next two years. Wal-Mart is committed to reducing operating expenses as a percentage of sales by 100 basis points over five years. This focus on improving profit margins while maintaining its role as the everyday low price leaders is what allowed the company to outduel K-Mart and other mass-merchant retailers in the past, and I believe it will allow the company to only enhance its competitive position versus high-tech competitors such as Amazon and E-Bay (NASDAQ:EBAY) today and in the future.
http://www.walmartstores.com/sites/annual-report/2012/WalMart_AR.pdf
For all of Amazon's wonderful qualities and its own immense moat, the business is not even close to being highly profitable. Therefore the question should be raised as to how the company is able to invest so heavily in expanding its footprint despite the dearth of earnings and free cash flow. The answer lays in the fact that Amazon has super-cheap access to capital due to the extremely high multiple market participants assign to adjusted earnings, which aren't reflective of the economic per share income to shareholders' due to the dilutive impact of stock options. Amazon has been very intelligent in issuing stock at what I would argue to be inflated prices, and creating value through enhancing its moat by enhancing distribution and technology. This works until it doesn't and if the often fickle "Mr. Market" was to assign a lower value to the stock, capital costs would likely curtail Amazon's growth rates, which are largely dependent on maintaining heavy capital expenditures to enhance its scale.
Wal-Mart is an AA rated company that also has super-cheap access to capital, but even if the capital markets weren't as friendly as the current low-rate environment and buoyant stock market, Wal-Mart would still have little trouble funding its growth through net income and free cash flow. While many analysts choose to rationalize Amazon's stratospheric multiple on earnings as being artificially depressed due to heavy capital expenditures, little is mentioned about Wal-Mart's heavy investing that has the same effect on its reported net income. In 2012 the world's largest retailer opened 612 stores organically, and including acquisitions, the company added 1,094 stores and 42.2 million square feet around the world. Capital expenditures were close to $13 billion in 2012, and a huge portion of that was spent on growing the business. The company is committed to being the low cost leader in every market that it participates in and while regional tastes might differ, a desire to obtain the lowest price on goods and services tends to be a rather universal characteristic of humanity.
Realistically, I believe that aside from the late 90s, when the stock traded at a crazy multiple on earnings, Wal-Mart is almost always undervalued due to the tremendous hidden value of its real estate portfolio that is marked at cost on the balance sheet, and obviously the buildings are depreciated while land is not. The addition of a Wal-Mart to an area usually spawns an off-shoot of other businesses, which may or may not actually lease the real estate from Wal-Mart. Because Wal-Mart owns such a considerable portion of its real estate across the globe, or at least has extremely attractive long-term lease terms that basically allows for the company to effectively control the property. There is considerable value that could potentially be spun out if it were ever to make the real estate a publically traded R.E.I.T. I don't believe the company will or should do this because unlike Sears Holdings (NASDAQ:SHLD), which faces a constant battle to achieve reasonable returns on invested capital therefore divesting significant and attractive real estate makes sense,
Wal-Mart boasted a return on investment of 18.6% in 2012, according to its own version of the metric. Net property and equipment on the balance sheet is $109.603 billion, but I believe the true value could be double or triple that amount. Instead of divesting real estate, I believe Wal-Mart is intelligent to be expanding its smaller Neighborhood Market business. This allows the company to expand into under-penetrated cities, which might not have been great locations for Wal-Mart's supercenters. Wal-Mart's size, efficiency and distribution network could be extremely damaging to traditional grocery stores if Wal-Mart really begins to flex its muscles in this area.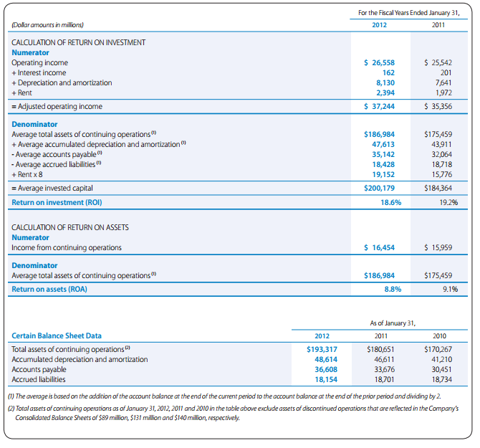 http://www.walmartstores.com/sites/annual-report/2012/WalMart_AR.pdf
Wal-Mart is in excellent financial condition with a debt to total capitalization of 42.8%. At a recent price around $71 per share, the stock has a dividend yield of around 2.2%. As of January 31st, the company still has $11.3 billion in buyback authorization available to it. Returns on equity and invested capital computed the traditional way are over 20% and 11%, respectively. Wal-Mart's operating margins are around 6% and likely to improve, which speak directly to the moat that is being constantly enhanced by Wal-Mart's seasoned management team. According to Morningstar, the mean analysts' estimate for 2013 earnings is $5.20, so the stock trades for roughly 13.6 times earnings.
Over the last decade the share count has declined from 4.446 billion to about 3.379 billion, which is down by close to 24%. Management has been smart about issuing debt at low interest rates to buy back stock, and if the company were to enhance those efforts as a response to the historically low interest rates, I wouldn't object, even at the current share price. I believe Wal-Mart can improve its internet shopping experience to take share away from Amazon, and I'd expect to see that become an even greater strategic focus. The increase of the middle-class in key growth markets such as Brazil and China could be an enormous catalyst for Wal-Mart moving forward. I believe a price of $60-$65 would be an ideal time to start building a position in the stock, and if it traded below those levels I'd likely buy aggressively.
Disclosure: I am long WMT. I wrote this article myself, and it expresses my own opinions. I am not receiving compensation for it (other than from Seeking Alpha). I have no business relationship with any company whose stock is mentioned in this article.