Sometimes, investors get a second chance to purchase a good stock "on sale." Aflac Incorporated (NYSE:AFL) has presented itself as such a candidate, recently falling nearly 7.5 percent immediately following its fourth quarter earnings announcement and conference call.
Aflac has been one of my favorite investment ideas since mid-November 2012, but it has been difficult to build a full position. After purchasing initial shares during a brief dip below $50, the stock price has continually "run away" from me.
Aflac Incorporated -- Six-month Price and Volume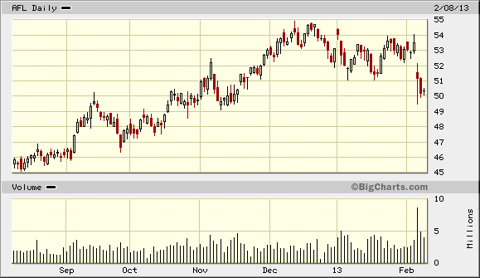 Courtesy of bigcharts.com
The recent pullback has permitted additional investment at approximately $50 to $51 a share.
In this article, we will review investment premises for owning Aflac stock, discuss the reasons for the recent share price dip, and conclude with my expectations for the stock going forward.
Why Invest in Aflac?
AFL is the holding company for two primary supplemental insurance carriers; American Family Life Assurance Company (hence AFLAC), and a sister company in Japan. Nearly four-fifths of the company's revenues come in through the Japanese affiliate.
Aflac enjoys a strong business model, conservative management, a good balance sheet, excellent cash flow, and the distinction of raising its cash dividend to shareholders for thirty years running.
Fundamental highlights include:
AFL's five-year operating cash flow growth rate has been 5.6 percent versus negative OCF growth within the insurance industry as a whole
Balance sheet cash and investments have marched upwards strongly from 2007 through 2012; unabated through the Great Recession.
A thirty-year string of dividend increases have seen a likewise strong five-year annual growth rate of 10.9 percent. The Payout Ratio is only 22 percent.
The Price / Earnings ratio is 8.2X. The normalized 10-year P/E is 15X.
The Price / Sales ratio is only 1.03X.
Company leadership has regularly initiated common stock share repurchase plans that have "moved the needle." The stock buybacks have not only staved off dilution via exec and employee options / grants, but have reduced the average number of shares outstanding from 488 million at the end of 2007 to 467 million at YE 2012. A minimum of $400 million in share repurchases are scheduled for this year. This number may be increased up to $600 million.
Recently, I had the opportunity to speak with one of Aflac's Investor Relations staff. We concentrated upon core financial and operating metrics company management focuses upon for continued success. She identified the following:
Return on Equity: Current RoE is 23 percent. This figure is generally computed by dividing earnings by owner's equity. Aflac calculates it by using Operating Earnings and booked figures less AOCI (Accumulated Other Comprehesive Income). The corporate RoE target is 22 to 26 percent. This puts AFL above the 90th percentile for the industry.
Benefit-to-Premium Ratio: In both the United States and Japan, this ratio has eased downward over the past ten years. This means that over time, company benefits paid to policyholders have been going down as a function of premiums collected.
Persistency Ratio: This metric measures what percentage of policy holders re-up when it's renewal time. It's a function of customer "stickiness." This figure rose from the mid-70 percentile range to the high 70s in the U.S. over the past ten years. It's been static in Japan over the same period, but the number clocks in at nearly 95 percent. Very sticky, indeed.
Expense Ratio: The number is calculated simply by dividing operating expenses by total revenues. Aflac has shown good management of this metric over the past decade. In the U.S., the ratio has been nudged down from about 84 percent to 82 percent. In Japan, the drop has been more pronounced. The ratio has gone from the high 80s to nearly a flat 80 percent.
Total Revenues: AFL has grown the top line by over 8.5% annually over the past five years. Industry peers have improved at a 2.5% rate, thereby putting Aflac above the 85th percentile versus other insurers.
Details for the aforementioned is either presented within or can be easily determined from Aflac reports and filings as found on the investor website.
If Aflac Stock is So Good, Then Why the Selloff?
I suspect there are several reasons for the recent selloff, though I believe none of them affect the long-term value of the investment.
Yen-to-Dollar Exchange Rate
Aflac's business is conducted in Japan and the U.S. However, nearly eighty percent of the revenues are generated in Japan. Therefore, most of the sales are based in Japanese Yen.
The last four months has seen a dramatic rise in the Yen-to-Dollar exchange rate.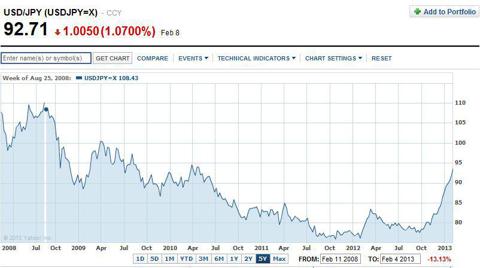 Courtesy of finance.yahoo.com
Therefore, some investors have fretted that AFL future earnings will be damaged by a suddenly weakening Yen.
While this is factual on an accounting level, it's far less of an issue on a cash and operating level. Here's why:
Aflac runs largely independent insurance businesses in Japan and the United States. However, they must be consolidated to meet accounting and reporting requirements. Since the company is incorporated here in the U.S., the accounts are converted into USD. Management must convert overseas Yen into Dollars, but this is for the aforementioned accounting purposes only. The company actually transfers little to no cash between Japan and the United States.
The company reports Operating Earnings sans forex exchange. This is typical for multi-national corporations. Operating Earnings are generally favored by Wall Street when comparing period-versus-period financial performance, since the currency exchange rates can distort the underlying business metrics.
In 2012, Aflac paid investors less than $600 million in cash dividends. Last year, the U.S. affiliate alone earned about $1 billion and had balance sheet cash and investments of $12 billion.
Aflac has the ability to hedge the yen versus the dollar to mitigate currency swings. Gains (or losses) on currency hedges are also booked "below the line" when reporting Operating Earnings.
Aflac openly shares the Yen / Dollar currency effect with investors. Indeed, my interview with Investor Relations emphasized that this isn't the first time AFL management has dealt with the falling yen. Here are two graphs from the website showing the forex effect over the years:

Here's the most recent data:

De-Risking EU Investments
Previously, AFL had invested considerable funds in EU - peripheral country sovereign debt. The company was caught somewhat flat-footed as the European Union monetary crisis unfolded. Consequently, senior management initiated a multi-year de-risking program to align corporate investments to accepted corporate risk profiles.
This process is effectively complete. Aflac investor relations confirmed that while the company continues to monitor and manage EU investments cautiously, a formal de-risking program has ended.
Currently, about 4.7% of AFL's current portfolio is comprised of securities rated below investment grade.
Here's a table from their recent earnings release, also found on the investor website, outlining the trend. One can see the spike up in 2009, then notice the steady drop down since that time:

Tough Comps
Lastly, Aflac's recent successes could be a short-term headwind. Management noted that very strong revenue and earnings figures, coupled with their forecast of a tepid global business climate, would make 2013 comparisons challenging. Senior execs pointed to outstanding 2012 cash flows from Japan, as well as other items.
CEO Daniel P. Amos offered the following on the fourth quarter earnings conference call:
I want to reiterate that objectives for 2013 have not changed. The increased operating earnings per diluted share 4% to 7%, this range reflects the impact of the portfolio of derisking and investing significant cash flows at low interest rates.

I would also point out that we had a better year in 2012 than expected in large part due to the receipts of the deferred coupon in the first quarter and lower annual effective tax rate. This will make it a more challenging comparison to 2013, but we will achieve it.
Go-Forward Expectations
I believe Aflac Incorporated common stock is an undervalued security. Based upon the thesis and fundamentals above, I expect to see both earnings and dividend growth for at least the next several years. Furthermore, my opinion is that the recent pullback has presented an opportunity to obtain shares "on sale," for a variety of reasons outlined above.
Here is a 10-year F.A.S.T. Graph that summarizes a number of the investment metrics around the stock.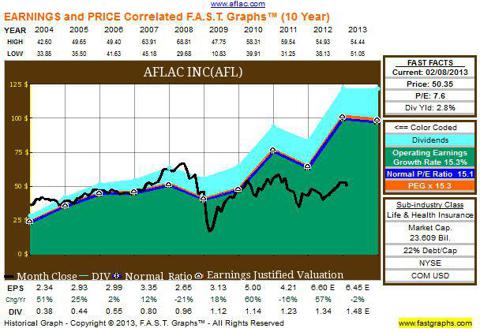 Courtesy of fastgraphs.com
My view is that while operating EPS may grow more modestly for the next few years versus the past decade, the percentage will continue to increase by the mid to high single digits per year. This is well below analysts' growth estimates.
Considering most finance-related stocks have not re-asserted their pre-2008 crash P/E multiples, I suggest a reasonable expectation is for AFL stock to command a 10X multiple. This is well below their 10-year normalized P/E of 15X (the blue line in the F.A.S.T. graph above).
For additional perspective, Aflac's 20-year normalized P/E is 16.7X and the 5-year normalized multiple is 12.1X.
Utilizing a 2013 EPS estimate of $6.47, which is the midpoint of management's 2013 forecast, and applying a 10X P/E multiple, I target AFL shares to be worth approximately $65 each.
This represents a nearly 30 percent uplift from today's prices.
The 2.8 percent yield adds gloss to the return.
Longer term, I believe that multiple expansion is well within reason, thereby offering patient investors significant additional capital appreciation. The solid dividend yield and growth remain my long-term expectations.
Please do your own homework, gauge your risk tolerance, and make diligent decisions. Good luck with all your 2013 investments.
Disclosure: I am long AFL. I wrote this article myself, and it expresses my own opinions. I am not receiving compensation for it (other than from Seeking Alpha). I have no business relationship with any company whose stock is mentioned in this article.