In Berkshire Hathaway's (BRK.A,BRK.B) 2007 annual shareholder letter, Warren Buffett and his partner Charlie Munger shared the four criteria they use when selecting investment opportunities for Berkshire:
A business Buffett and Munger understand
Favorable long-term economics
Able and trustworthy management
A sensible price tag
I have written a bit about point No. 2 in my article "A Method For Investors To Identify Companies With Competitive Advantages." Today I want to discuss point No. 4.
The biggest mistake you could ever make as an investor is paying too much for a security. The return on the investment is largely driven by the price of entry. Even if it is a great company with a robust balance sheet and bright future, it can turn into a terrible investment if the price is too high. Don't believe me? Just ask the people who bought Apple (NASDAQ:AAPL) at close to $700 per share in September. Since then, Apple shares hit a 52-week low of $435 per share in January before recovering to $475 per share in the last week. At the current price, those who purchased AAPL around the 52-week high are sitting on a 32% loss and would need the shares to increase by close to 47% from their current level just to break even. But it gets even worse when you consider the opportunity cost.
What if back in September an Apple investor had decided to purchase corporate bonds, which -- according to the IRS -- had an average yield in September of 5.25%, instead of investing in AAPL? As the graph below illustrates, even if Apple shares were to grow 10% annually from the current share price of $475, it would not catch up in value with the corporate bonds.
Click to enlarge image.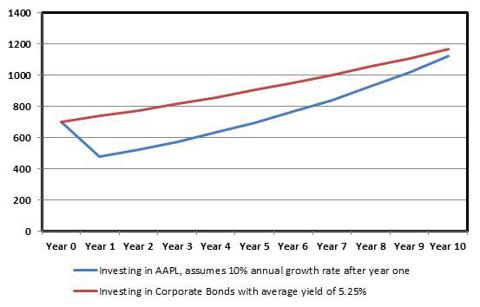 Note: The chart is assuming full-year intervals to simplify the x-axis. Technically, the time period from year zero to year one is not a full year, but is meant to represent the time from September until February.
So, How Can You Tell if the Price Tag Is Sensible or Not?
One way to tell if the security is carrying a sensible price tag is the concept of margin of safety, first introduced by Benjamin Graham in his book, The Intelligent Investor. Graham's value investing philosophy is built around the preservation of the investor's capital; he believed that under no circumstances, should an intelligent investor accept increased risk of losing capital in exchange for a higher rate of return. He often found few occasions in which investors should consider securities beyond U.S. Treasuries and high quality corporate bonds because they had the lowest risk of eroding capital and provided a reasonable return. He did, however, recognize that the common stock of certain high-quality stocks, if purchased at the right price, could carry the same risk as high quality corporate bonds but with higher returns.
Graham's method for determining if a common stock had a low enough price was evaluating the difference in the company's earnings power and the yield on high quality corporate bonds. The larger the difference between the two values, the more unsatisfactory developments -- like lower-than-estimated earnings -- the security can absorb before the high quality corporate bond would have returned more.
In the case of Apple, the margin of safety was incredibly low in September 2012. With earnings for the last trailing 12 months of $44.15 (Graham often recommended averaging multiple years of earnings -- today I haven't just to simplify the example), the earnings yield was a mere 6.3% compared with the average corporate bond yield of 5.25%. With only 1.05% as a margin of safety, investors had no margin of safety to absorb unfavorable developments -- like the U.S. economy shrinking in Q4 or lower-than-expected revenue guidance -- before corporate bonds become a better investment vehicle.
By contrast, at the current level of $475 and earnings of $44.09, the earnings yield is 9.2% -- 4.02% higher than the January 2013 corporate bond average yield of 5.01%. With the earnings yield now 1.8 times larger than the yield on corporate bonds, there is much more room for unfavorable developments providing investors a much larger margin of safety over corporate bonds.
Conclusion
Ignoring the fourth criteria that Buffett and Munger use to select securities is the biggest mistake an investor can make. The price of a security sets the rate of return the investor can expect. Even high-quality companies like Apple can become a terrible investment if purchased at too high of a price. As demonstrated, it can take years of accelerated growth for the investor to recover from a large loss in capital.
One tool investors can use to avoid paying too much for a security is to evaluate the difference between earnings power and the average corporate bond yield. The larger this difference, called the margin of safety, the more unfavorable developments the security can absorb before returning less than corporate bonds. Ideally, investors should look for earnings power of at least 1.5 times the average high-quality corporate bond yield.
Note to readers: I'd love to hear about some of your methods for ensuring you don't overpay for a security in the comments.
Disclosure: I have no positions in any stocks mentioned, but may initiate a long position in AAPL over the next 72 hours. I wrote this article myself, and it expresses my own opinions. I am not receiving compensation for it (other than from Seeking Alpha). I have no business relationship with any company whose stock is mentioned in this article.