By Paul Carton
Jim Woods co-wrote this article.
The latest ChangeWave survey on cellular service providers shows the battle between AT&T (NYSE:T) and Verizon (NYSE:VZ) is raging on.
The December 9-15, 2008 survey asked 3,800 respondents to identify their current cellular service provider, and AT&T tops the list with 31% – up 1-pt from the previous survey in September. Verizon (30%) came in a very close second, also up 1% from previously.
Sprint Nextel (NYSE:S) (10%; down 1-pt) and T-Mobile (10%; unchanged) are still far back at the rear of the pack.
In terms of customer satisfaction, however, the results are quite different. The battle isn't even close.
As the following chart shows, Verizon (49%) holds a commanding lead over AT&T (30%), in terms of the percentage of its customers who say they are very satisfied with their cellular service provider.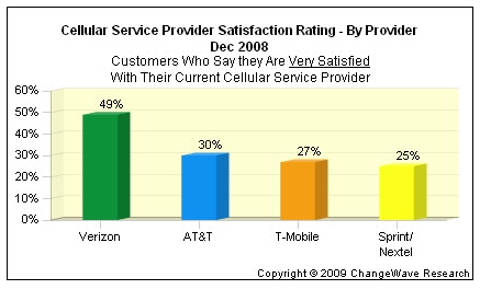 Once again, T-Mobile (27%) and Sprint Nextel (25%) bring up the rear.
What's Up For 2009?
To get a sense of where the AT&T vs. Verizon battle is headed in first half 2009, we asked respondents if they planned to switch cellular service providers in the next six months. And among those saying they're likely to make a change, we asked which cellular service they planned on switching to.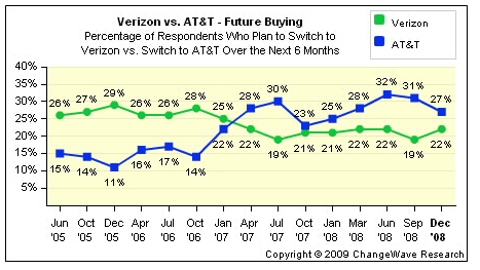 AT&T still tops the list, garnering 27% of potential switchers – but that's down 4-pts from September. At the same time Verizon (22%) has gained 3-pts since September.
Sprint Nextel (5%; up 2-pts) and T-Mobile (5%; down 2-pts) are tied for third place.
Just Drop It!
The ChangeWave survey also took a look at dropped calls – one of the biggest factors when it comes to cellular service provider satisfaction.
To see how the industry titans measure up in terms of number of dropped calls, we asked our respondents to tell us the percentage of their calls that were dropped over the past 90 days.
The clear winner: Verizon, whose customers reported an average of just 2.2% of their calls dropped over the past 90 days.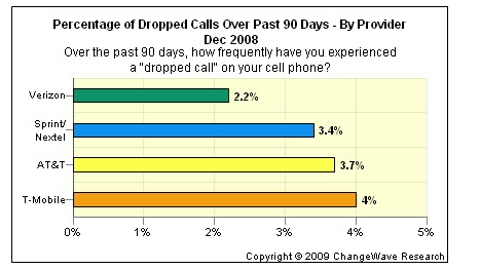 Sprint Nextel was second with an average of 3.4% of their calls dropped, followed by AT&T with 3.7%. Reporting the most drops were T-Mobile customers, with 4%.
With the Verizon dropped call rate registering the lowest in the industry, it's no surprise that their overall customer satisfaction rating is the highest in the industry. But why then does AT&T hold a slim market share lead over Verizon?
There's a simple three word answer, actually – the Apple (NASDAQ:AAPL) iPhone.