Healthy living crazes have come, gone and come again over the years. Whether it was the Atkins diet or Weight Watchers (NYSE:WTW) that got your attention, or maybe Jenny Craig, Jared from Subway, or even Richard Simmons inspired you to change your living and eating habits, one thing is for sure, there has been no shortage of healthy living options over the years.
This is an industry that has been driven by mini-fads, seasonal cycles and long-term trends, all developing over the years to bring us to this point in time, the doorsteps of a healthy living boom! Although the majority of diet plans will continue be initiated just after New Year's, and health club enrollments will always spike shortly before summer, with an ever increasing focus on things like childhood obesity, elevated disease rates and even the effect of chemicals in our food; calorie counting menus, limitations on soda sizes and organic foods will continue to grab our attention.
Now before you stop reading, don't worry, I'm not going to highlight the cellulite that you may or may not be carrying around, I won't force you into some sort of ultra-punishing exercise routine, and I'm not even going to ask you to totally purge your body of all toxins by living on nothing but organic liquids over the next three weeks.
Instead I simply want to offer to you several investing ideas that may allow you to profit from the more recent, and here to stay healthy living movement. Now, that doesn't sound so bad does it? Before I go into the actual stocks, I do want to highlight that the "healthy living" scope is incredibly wide, so this is by no means an exhaustive list of stocks that can (and will) benefit from this movement. Instead, I've tried to highlight some of the names who I think are "best in class" within various segments of this lifestyle movement.
Whole Foods
You can't talk about healthy living without starting with Whole Foods (WFM). The world's largest retailer of natural and organic foods operates 343 stores in the United States, Canada and the United Kingdom. Whole Foods has no real competition when it comes to true organic grocers. While major retailers like Wal-Mart (NYSE:WMT), Target (NYSE:TGT), Costco (NASDAQ:COST), Kroger (NYSE:KR) and Safeway (NYSE:SWY) have certainly ramped up their organic offerings over the last couple of years, their several hundred all natural offerings are all natural peanuts compared to the thousands that Whole Foods has available. Not to mention, all of the previous names mentioned have been accused of not only selling low-integrity organic foods from factory farms, but even mislabeling convential food products as organic.
The biggest downside for Whole Foods at the moment, relative to the other grocers mentioned is the availability (or lack thereof) of the products due to fewer store locations. Of course any savvy investor will quickly note that this isn't actually a downside at all, but rather an opportunity for expansion.
With organic food sales growing at 9.4% (versus 4.7% for conventional food) and passing the $30 billion mark for the first time in 2011, it's pretty easy to see the value proposition that Whole Foods offers. And with the Organic Trade Association [OTA] stating that organic food sales now represent 4.2% of all U.S. food sales, which is up from 4% in 2010, and that organic food and non-food sales will continue to grow around 9% for the next couple of years, there is clearly some serious growth potential for the leading retailer of all natural products, Whole Foods. And remember, when you buy organic foods and goods, you're not only helping yourself, you're also helping animals and the environment!
Slide from Whole Foods 2012 Annual Stakeholders Report: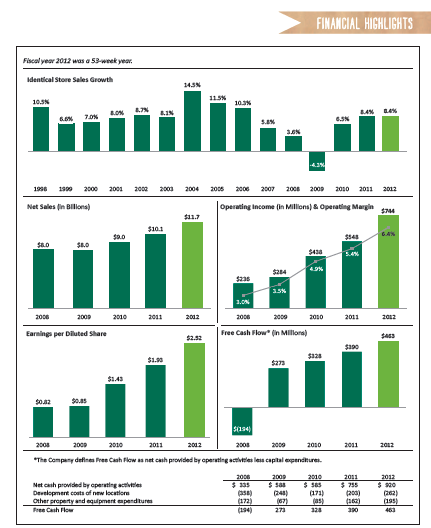 As for the stock, Whole Foods reported Q4 EPS of 60 cents in November '12, just ahead of analyst estimates of 59 cents, and will report Q1 2013 earnings next week on February 13; estimates are 77 cents. Those same analysts are projecting growth in sales of 12.2% this year and 14.5% in 2014, which makes a price target of around $128 based on forward earnings (YE 2014) and trailing P/E a real possibility. That's about a 35% gain from where the shares currently trade.
As a final note, in November, Whole Foods made a couple of press releases announcing a special one-time dividend of $2.00 and a $300 million increase in its stock buyback authorization, two promising signs for investors.
Pro-Organic Ad from OTA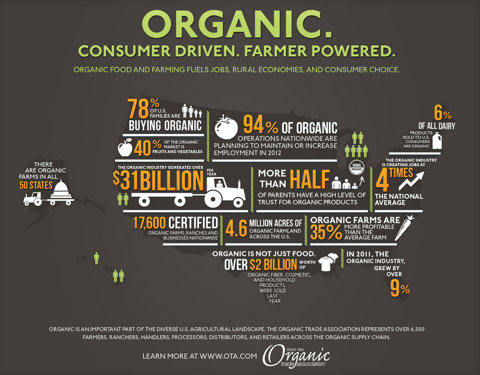 Panera Bread
With the help of Jared, Subway was able to get tits proverbial foot in the door of healthy, made-to-order fast food, allowing companies like Panera Bread (NASDAQ:PNRA), Chipotle (NYSE:CMG), Jason's Deli and Taco Del Mar to come barreling through.
I personally like Panera due to their diverse menu, relative to Chipotle, which focuses on Mexican cuisine. From a healthy living standpoint, Panera scores a trifecta; posting calorie counts on its menu (first to do this nationwide), using organic ingredients, and even storing some of its foods (like soup) in BPA free containers. For those of you that don't know, BPA stands for Bisphenol A and is a chemical commonly found in plastics. Fears are that this chemical can leach into water and food from the containers and may ultimately cause brain development and other issues, especially among children.
Panera highlights right on its menu that you'll receive food made from "select organic and all natural ingredients," with its claim to fame being freshly baked whole grain bread and antibiotic-free chicken. It just so happens that according to the Organic Trade association, the meat, fish and poultry category was the fastest growing among organic foods in 2011, with 13% growth year over year.
The fundamentals for Panera are also attractive, as the company sports a 27.6 P/E, which is spot on the specialty eatery industry's average, but below well-known competitors like Chipotle (36.6) and Starbucks (NASDAQ:SBUX) at 30.3, which implies that the stock may be a little cheap. On the subject of P/E, with a restaurant industry P/E ratio around 22.2, it looks like the market is willing to pay a premium for the growth potential of the specialty segment.
Last week, Panera Bread reported Q4 and full year fiscal 2012 diluted EPS of $1.75 and $5.89, which was up 34% and 29% over fiscal 2011, and ahead of Q4 estimates. According to Yahoo! Finance, the 20 analysts covering Panera believe that there is about 15% worth of appreciation in the stock this year, as they've set a consensus price target of $187.
As a final quick note, take a look at the below two charts of McDonald's (NYSE:MCD) and Panera Bread since 2012. Keep in mind, McDonald's is certainly no slouch; it has performed well as a result of the recession, not to mention it is one of America's great success stories and have made recent commitments to nutrition. Regardless of that, notice the difference in the trends of Mickey D's and Panera's. Not ground-breaking news by any means, but maybe evidence of the beginning of a new trend?
Although not without volatility, PNRA has trended upward: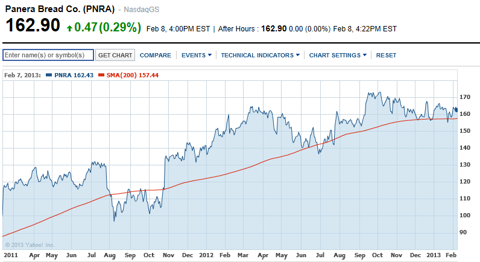 Courtesy of Yahoo! Finance
While after peaking in early 2012, MCD has since stalled and pulled back: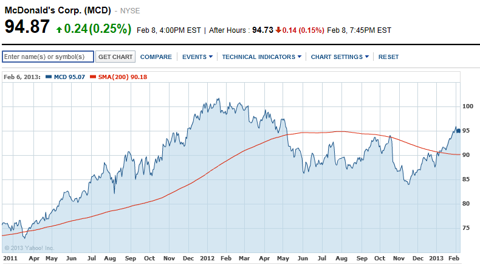 Courtesy of Yahoo! Finance
United Natural Foods
United Natural Foods Inc. (NASDAQ:UNFI) is the largest distributor of natural, organic and specialty products in the United States and Canada. I won't go into all of the growth prospects of the all-natural and organic food industry again, but since this name isn't quite as common as Whole Foods, I'll give you some details on the operation.
UNFI serves more than 23,000 customers and carries over 60,000 products with the help of its 26 distributions centers that span across the U.S. and Canada. The continued build-out of its nationwide network has created supply chain opportunities and distribution efficiencies, and more specifically provided a growth platform for Canadian distribution. Additional investment and infrastructure improvements allow UNFI to boast the largest freezer and cooler capacity in the industry, as well as optimize distribution routes, centralize G&A functions and manage transportation costs more efficiently.
United Natural Foods operates in a highly fragmented environment, with over 200 local and regional competitors. However, as a result of the industry's fragmented state, UNFI only has one national competitor, which based on sales is less than half of its size.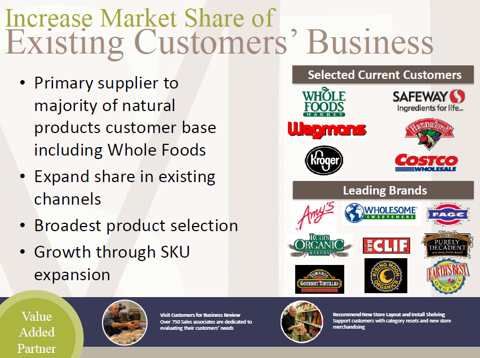 Slide from Jan 2013 ICR XChange Conference
Although UNFI is and has been the primary natural and organic food supplier to Whole Foods for over 12 years, it is more of a pure play on the healthy living movement since it is also the primary supplier to most independent organic retailers. It is also poised with a growth strategy that will take advantage of its fragmented competitor landscape, long-standing customer relationships and the expected growth in the all-natural and organic food industry.
United Natural Foods will continue to look to expand the empire through the pursuit of opportunistic acquisitions, which has been a proven formula for success as the company has made five acquisitions over the last few years, scooping up companies from the fragmented industry that were strategically positioned. While UNFI continues to further expand distribution channels, it will specifically seek to build-out its customer base within the conventional supermarket segment, as this area has been very profitable due to wide networks and the sheer number of store locations. The importance of this segment was highlighted recently after a three-year agreement was signed with Safeway in October 2011, which now generates 4% of UNFI's total sales.
For those of you who like the all-natural investments for personal and environmental reasons, UNFI has solar panels installed in three locations in California, Connecticut and Rhode Island, that have generated 2.5mm kWh since they were installed in August 2011, and it also has hydrogen fuel cells at its Sarasota, Fla., location. In addition, their Ridgefield, Wash., location was the first refrigerated distribution center to achieve USGBC LEED Gold certification, while their York, Pa., and Lancaster, Texas, also received the certifications. The York and Ridgefield locations were also able to reduce water usage by more than 40% with energy savings programs.
These upgrades will not only improve United Natural's carbon footprint, they should also have a positive impact on the bottom line (and your portfolio) due to energy cost savings.
United Natural Food expects revenue to increase by 12.3% to 14.2%, which equates to $5.88 billion to $5.98 billion for fiscal 2013, and diluted EPS of $2.14 to $2.24. Analysts estimates are on the aggressive end of the company's forecast at $2.22.
The below chart is a visual of UNFI's sales and operating income growth over the last 10 years.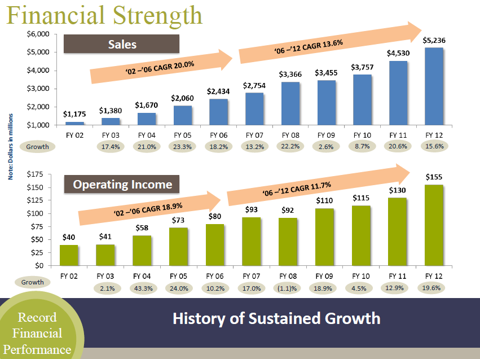 Slide from Jan 2013 ICR XChange Conference
Life Time Fitness
Life Time Fitness (NYSE:LTM-OLD) has branded the business as "The Healthy Way of Life Company," which makes it an ideal candidate to represent the health club industry on this list of healthy living titans. The company currently operates 105 fitness centers between the U.S. and Canada, where it offers sports, professional fitness, family recreation and spa features, typically 24 hours a day and seven days a week.
Life Time Fitness seems to consistently rank at the top of national health club surveys as its facilities are seen as "day resorts for the entire family" and "innovate and first-class." One of the club's biggest calls to fame is its spa-like atmosphere and more specifically the Life Cafe, which sells all-natural, delicious meals and smoothies. Many visitors also comment on the expansive amount of equipment and number of classes that Life Time Fitness offers, as well as the top notch staff. I won't get too detailed in terms of the club's offerings, but lastly, for green-minded people, LTM does employ some eco-friendly strategies, offering abundant natural light as well as progressive energy and water saving practices.
Life Time's growth strategy is to continue to build subscriptions, drive the brand and enhance differentiation. Continuing to focus on the health and well-being of the entire family and groups should allow LTM to take full advantage of the pending healthy living expansion.
A couple of weeks ago as part of a 2012 preliminary financials release, Life Time Fitness CEO Bahram Akradi said, "Strategically we have been investing in a number of areas including new membership and programming initiatives including a kid's membership, expanded weight loss products and services, and non-health-club access membership called Life Time Health. Member and consumer-facing technology initiatives such as improved online scheduling and new mobile applications that will grow are touch points with our membership base making it simpler to transact business as well as expand our education and class offerings."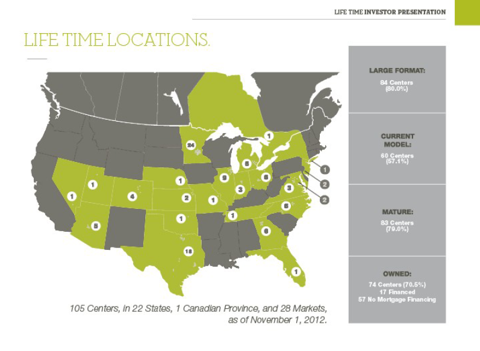 Slide from 2012 Annual Shareholders Meeting
Speaking of the preliminary release, I'll cut to the chase on the stock. On February 1, LTM shares sunk around 20% as a result of Q4 '12 EPS guidance coming in at 53 cents to 56 cents, versus an analyst consensus of 65 cents. According to LTM management, losses as a result of hurricane Sandy as well as timing differences with respect to the opening of several new locations in 2013 caused analyst estimates to be slightly high relative to company guidance. The company does expect to recover some of the storm losses from insurance payouts.
Even with the miss, LTM expects to post year-over-year revenue growth of 11% in 2012, and Q4 EPS to be up 16% relative to the same period in 2011, and up 18% YoY. Company guidance for 2013 also looks favorable, with revenue potentially up 8% and net income 11% higher.
With consistent growth expected, and Life Time Fitness' market position and plans to expand, it's likely that the recent 20% pullback represents an excellent buying opportunity. Stifel Nicolaus recently upgraded the stock to "buy" after LTM guidance missed expectations, while the consensus 2013 price target sits at $50.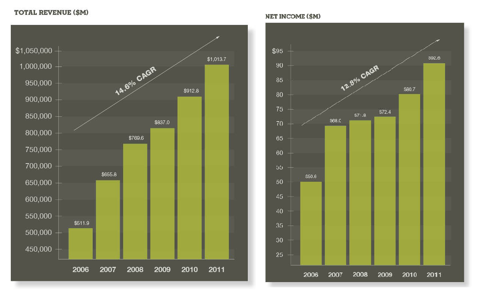 Slide from 2012 Annual Shareholders Meeting
GNC Holdings
Most people are probably familiar with the "Live Well" retailer GNC. The company is a leading global retailer of vitamins, minerals, herbal supplements, sports-nutrition and diet products. As of mid-2012, there were approximately 7,800 locations in total, with around 6,000 in the United States. The retailer has franchise operations in 55 countries.
Of course the health and wellness retail industry is not without competition, as major drug stores like CVS, Walgreen (WAG) and Rite Aid (NYSE:RAD) are all considerable players in the industry. It is worth noting that GNC has around 2,100 store-within-a-store locations within Rite Aid in the U.S. Additional competition comes from health and wellness specialty stores like Vitamin Shop (NYSE:VSI) and of course major retailers like Wal-Mart and Target, but that is where the GNC versus competitor similarities end.
GNC maintains a sporty look and cutting-edge reputation, which attracts and retains the growing vitamin, supplement and sports-nutrition customer base. This younger, educated, digital-age base has proven itself to be fitness-focused, highly loyal customers. This crowd has not only driven same-store sales, but also helped GNC to exponentially expand online sales, allowing the company to increase revenue without necessarily having to expand retail locations. More importantly, if you drill down into sales, you'll find that 57% of GNC's are from proprietary products, something that your average retailer simply cannot say.
GNC's product development unit houses over 120 specialists, which includes doctors and registered dietitians. With pharmaceutical style R&D, access to major universities, and first looks at new technologies and pilot data, it's easy to understand how GNC is able to offer valuable and innovative products that keep customers coming back. Of course, the company completes the package by focusing on features that may be small, but are important to its industry's consumer base. With things like website enhancements, well trained associates and even dedicating 1/3rd of shelf space to education and product descriptions, GNC solidifies its place as a leading retailer and provider of vitamins and other nutritional supplements.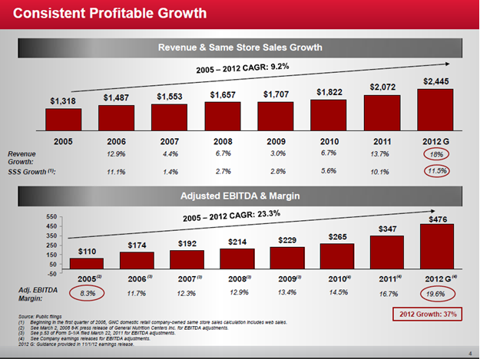 Investors Presentation Nov 2012, Morgan Stanley Global Consumer Conference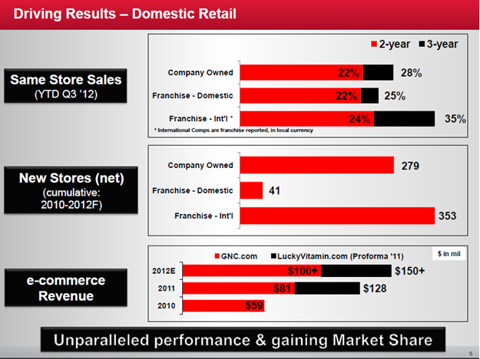 Investors Presentation Nov 2012, Morgan Stanley Global Consumer Conference
As you might expect, business has grown rapidly, especially in recent years. Since 2010, GNC has experienced nearly 20% more gold card subscribers, 33% more unique visitors to the website, and has obtained over 75% more email addresses for promotional distributions. Those growth numbers equate to over 5.8 million gold card holders, more than 3 million website visitors each month and nearly 11 million email addresses. GNC looks to continue this trend with an aggressive growth strategy in both the United States and the rest of the world. While the company sees current growth potential of 600 - 700 stores in the U.S., global prospects are even more promising. Existing geographies only carry about half of the SKUs that are offered in the U.S., and with new markets in Europe, China and Brazil potentially coming online soon, there is a ton of upside for this company. With all that said, GNC expects long-term revenue growth around 9-10% and EPS growth to be in the 18-20% range.
GNC currently trades about 14% below its all-time high, which it hit last July, and with earnings coming up this week, it may be a good time to take a close look at this industry leader.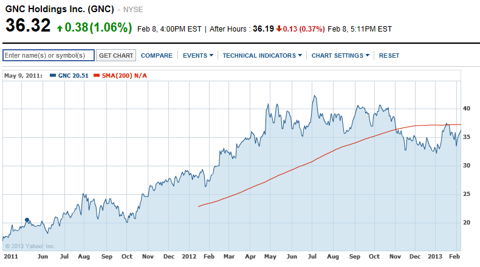 Courtesy of Yahoo! Finance
Conclusion
Again, while this is by no means an exhaustive list of the companies that can and will do well as part of the sustained, long-term healthy living movement that our country and the world is experiencing, it is a look at the businesses that I believe are best positioned to take advantage of this growing global phenomenon. With a grocer, restaurant, food distributor, health club and vitamin/supplement retailer, this is a fairly diversified list of names that all have significant exposure to the growing trend of living healthier (and even greener) lives.
Disclosure: I have no positions in any stocks mentioned, and no plans to initiate any positions within the next 72 hours. I wrote this article myself, and it expresses my own opinions. I am not receiving compensation for it (other than from Seeking Alpha). I have no business relationship with any company whose stock is mentioned in this article.