Rosetta Stone (NYSE:RST) provides language-learning software in over 30 languages. It has long been a leader in the United States language market. However, it is facing increased competition that threatens its business and profitability.
The Competition
Rosetta Stone's biggest new competitors? Significantly increased competition from free (yes, free) language learning sites. Why spend $400 on something you're not sure is going to work when you can learn a language for free on Duolingo.com, and talk to natives giving free lessons in your target language on Livemocha.com or Verbling.com? Duolingo is truly threatening Rosetta Stone's business model. By offering a free, easy to use, interactive online-based service, Duolingo is revolutionizing language learning.
Where did Duolingo come from?
Duolingo received Series A round funding of $3.3 million led by Union Square Ventures. They recently raised $15 million more in Series B funding, led by NEA. Tim Ferris of the 4 hour workweek and Ashton Kutcher are also prominent investors in the company. The company was founded by Luis von Ahn, the creator of reCAPTCHA.
But does it work?
The question is: Do Duolingo users actually learn the language? Or is it just like so many other language programs out there that fail to provide any real benefit to its users. Independent research suggests that new Duolingo users with no prior experience in Spanish take an average of 34 hours to learn the equivalent of a first college semester's worth of Spanish. Seems like it works. By contrast, a study by the same group found that it takes Rosetta Stone users between 55 and 60 hours to learn the same amount of material. This spells bad news for Rosetta Stone. It's competing against a free product that is arguably better for learning a language.
The Millennial Problem
There is another large new development that threatens the Rosetta Stone business model: Generation Y. The future language learners of the world don't want to spend $400 to buy a product that may or may not work. They want content for free, and they know how and where to get it. As Duolingo improves, it and others like it will take over the language learning market and leave companies like Rosetta Stone in the dust.
To research this a little further, I went to a slightly unorthodox source: Google Trends. The Trends search showed some surprising results, although in retrospect maybe they were to be expected.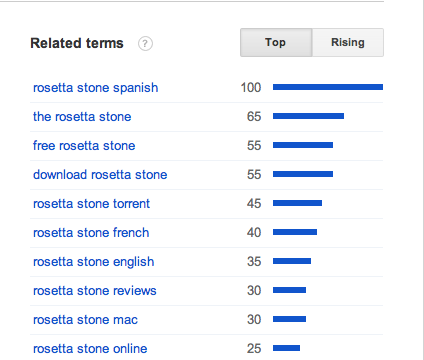 This trends search shows the most commonly used phrases including "rosetta stone" on Google in the last 12 months. The 100 for "rosetta stone Spanish" represent the most frequently searched term in the last year. Not bad. The next 4 terms however, seem unlikely to become buyers. "Free Rosetta stone", "download rosetta stone", and "rosetta stone torrent" are all reflections of a new generation. They want results free and fast. Duolingo provides that. Rosetta Stone does not. I find it unlikely people searching for "the rosetta stone" will become customers either.
International Translation for Profit?
Revenues from international markets, once thought to be a haven of growth for Rosetta stone, who derives 77% of it's sales from domestic markets, have declined 8% from Q3 last year. Not exactly promising for the prospect of international growth. In addition to this, overall revenue growth YOY in the last quarter was less than 1%. And this is with a marketing spend of over 60% of revenues. In addition, reviews from international users of Rosetta Stone's products have been less than stellar. Considering 50% of people in Europe already speak a foreign language (compared to just 10% in the United States), maybe they already have a better formula for language learning. Or the market is saturated with entrenched, superior international competitors. Whatever the reason, RST is looking at flat growth or worse in international markets.
Another potential source of growth for RST is online learning subscriptions. If you look at RST's earning's slides from last quarter, you will see emphasis placed on the 167% increase in online learners through Rosetta Stone. Impressive, until you realize this 167% growth rate reflects just 40,000 new customers using Rosetta Stone online learning programs. Also readily admitted on the earnings call, subscribers rarely re-subscribe after their year expires. So either their customers learn their choice language in one year, or they give up long before that. Either way, no repeat business for Rosetta Stone.
Duolingo, by contrast, has over 1 million active users, with over 1 million iPhone app downloads, and 100,000 daily users. Oh yeah, and it launched to the public less than 8 months ago. That's what real growth looks like.
Saving Grace
There could, in my eyes, be one saving grace for Rosetta Stone. This is if they refocus their product offerings on the younger generation by offering much less expensive platforms for mobile and online learning, and use their brand name as leverage to get customers. Yes, this would likely cannibalize their current product line, but, as Steve Jobs once said "If you don't cannibalize yourself, someone else will." Someone else is cannibalizing RST right now. It's time to evolve. This would be a risky move by management, however, and I have not heard any indication of plans to lower prices, or offer stand-alone mobile apps. Unless changes are made soon, I see a grim future for Rosetta Stone.
Conclusion
A combination of slowing growth in international markets, combined with highly increased competition from free language-learning providers who provide a better online product, make Rosetta Stone's business model unsustainable. Its earnings have turned negative in the last 5 quarters, and I expect a continued lack of profit and downward trend for the company as revenues shrink and product prices are forced downward with new competition.
Disclosure: I have no positions in any stocks mentioned, and no plans to initiate any positions within the next 72 hours. I wrote this article myself, and it expresses my own opinions. I am not receiving compensation for it (other than from Seeking Alpha). I have no business relationship with any company whose stock is mentioned in this article.