In the age of the iPad and driverless cars it is no small feat for a coffee seller to be named the world's most buzzed brand. Starbucks (NASDAQ:SBUX) is the intersection of brand management, technology, innovation, leadership and relentless growth. It is a company that knows how and when to hit the refresh button on its brand to keep it fresh and reinvigorating. Who knew that a coffee roaster that started in 1971 would be streaking towards 20,000 stores by 2014, operating in 61 countries, and employing about 200,000 partners (employees)? Starbucks decided from the outset to make coffee sexy - Demi, Grande, Venti, Trenta - and evolved across its supply chain to be a major coffee buyer, coffee seller and everything else that is complementary to its core business. This is a company that makes actual products, owns retail stores, owns brands and insists on trying to do right by its ecosystem of stakeholders. It has perfected the art of transferable scalability in its operations and has its fingers on the multiplication button of growth. It does this by leveraging technology, innovation through R&D, social media and consumer insights to satiate the nuances of its customers. Make no mistakes, coffee is a commodity and competition is robust and the risks are real. There is a maxim that says it takes 99 days to build a brand and one day to destroy it. Starbucks can never live to see that one day because if that one day comes Nestle, Coke (NYSE:KO), McDonald's (NYSE:MCD), Burger King (NYSE:BKW), Dunkin Brands Group (NASDAQ:DNKN) and every gas station across the country will be waiting in the wings with quality brews to serve its customers.
Then and Now:
Starbucks has evolved greatly over the years but at its core it is still a coffee company and that is exactly why its customers know exactly what it stands for. As Alphonse Karr stated, "The more things change the more they stay the same". Starbucks looked at the cups of coffee it brews and asked what it could do around selling cups of coffee to make the consumption experience for its customers lasting and different. It created a Channel Development and Emerging Brands group to essentially mimic P&G and Nestle to become a CPG company. It is this group that brings you the products you find in retail outlets either directly or through licensing agreement with other manufacturers. Products that you can enjoy at home and that reinforce their products/brand and make it hard to switch to competing products. Starbucks is also expanding its store count very rapidly to make sure that it becomes a preferred intermediate destination away from home, work or play. The table below shows how much Starbucks changed while staying true to its core competency of coffee.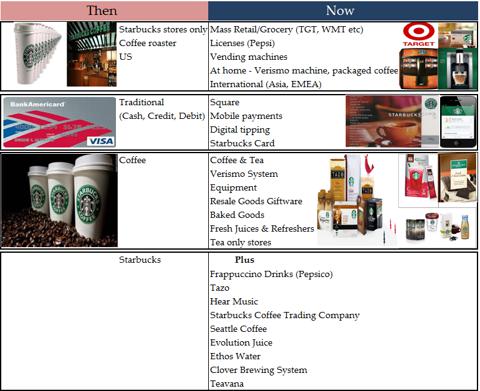 The Heart of Starbucks:
Every successful company has an intangible component at its core that is not easily imitated. At Starbucks it is Howard Schultz, the current CEO. Most retailer earnings calls are replete with references to shareholder return, same store sales, new strategic initiatives and YOY revenue. Rarely do you hear a company whose leader takes as much pride in the strategic vision of his company as in making sure the interests of the stakeholders are integrally woven into the success of the vision. Howard Schultz does and it is no coincidence that when he left the company it struggled. He had to come back to rescue the company from severely depressed stock prices, reduced customer loyalty and even had to close underperforming stores to get costs back in line.
He removed "Starbucks Coffee" from the company logo because he understood that the company could be bigger than coffee. He has maintained the focus on coffee as part of a more ambitious plan to become a CPG company. He has also hired a competent leadership team around him and is growing the company in the U.S. and internationally. Above all, he is keeping the Starbucks brand fresh and reinvigorating across all product lines. The company provides full insurance and a stock options program to full time/part time employees and is one of the leading resellers of certified fair trade coffee. It has embraced technology from payment systems to operational standards, social media to brewing techniques, and even uses digital networks to ensure that customers identify with a "Starbucks Experience" across multiple mediums and places of consumption.
Performance:
(All from Scottrade unless otherwise noted)
Starbucks currently trades at a PE of about 30.8X (price of $56.4) with a dividend yield of 1.49%. Total Revenue from 2010 through 2012 was $10.7B, $11.7B and $13.3B respectively. Increasing by 9.27% from 2010 to 2011 and an additional 13.68% from 2011-2012. Net income for the same years was $946m, $1,246B and $1,384B respectively, increasing 31.71% from 2010 to 2011 and an additional 11.08% from 2011 to 2012. The high for the last 52 weeks was $61.98 in April of 2012 and the low was $43.04 in June of 2012.
Against the industry it compares favorably in profitability, financial and valuation metrics. Against its peers its margins are not as favorable - see table below.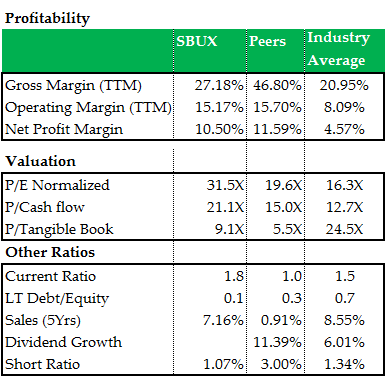 Source: Scottrade
Shares of Starbucks have been very bullish in the last year trading above its 50 and 200 day averages of $56.63 and $50.21 respectively. The chart shows an interesting pattern of ebbs and flows with the intensity steadily decreasing overtime and indicating a possible pivot. I would set my target due to recent results and positive sentiment for the stock to hit $62 in 2013 which is a 10% gain from recent levels of $56.00 without including dividends.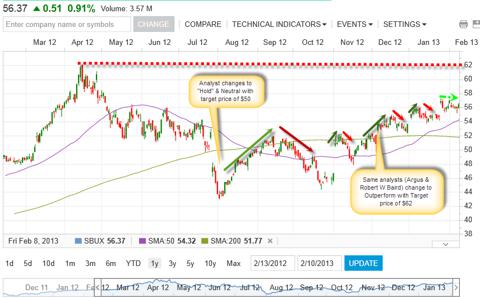 Source: MSN Money
Threats:
Product and Market Scope - global expansion, product expansion and success exposes Starbucks to a multitude of threats. These threats are exacerbated by the fact that Starbucks is first mover into a lot of markets and breaking down barriers for its competition. When McDonald's, for example, decided to move into coffee all it had to do was match the quality and lower the price to attract customers. This has largely been the same with other new entrants. On the global scene, the recent horsemeat issue in Europe though not linked to Starbucks is a good example of how delicate it can be to manage an increasingly complex supply chain. A similar issue for Starbucks can severely affect the brand.
Inflexibility - The opportunity cost of physical locations is that they lock you in with long term lease agreements or assets that need to be depreciated over a long period of time. This becomes an issue if you have to make changes to respond to the market. In addition to locations and the fact that Starbucks removed coffee from its logo it has done a great job providing only products that complement its core business. The longer it does this the more it locks in the impression in the customer's mind that it is a cocoa/coffee brand. This might reduce its ability to maximize its push to become a full-fledged CPG company even though I personally think it should stay focused and become a reference point around its area of focus.
Conclusion
I like Starbucks for its focus, its execution capacity and the goodwill it is building around its brand. I like the fact that along with its growth potential it pays a dividend. I like its history of 2-for-1 stock splits which it has done 5 times since 1993 with the last coming in 2005. I like the fact that it is extremely innovative and has been successful at growing its business outside of the U.S. and in areas with administrative and cultural challenges. I like the fact that it has been able to compete successfully against very capable competitors and that it has been able to grow topline revenue. Its margins are always going to be squeezed but as long as it keeps integrating its new business lines and expanding into adjacent areas it will sooner rather than later have PepsiCo Inc. (PEP) and Unilever (LON:ULVR) in eyesight.
Disclosure: I have no positions in any stocks mentioned, but may initiate a long position in SBUX over the next 72 hours. I wrote this article myself, and it expresses my own opinions. I am not receiving compensation for it (other than from Seeking Alpha). I have no business relationship with any company whose stock is mentioned in this article.