Even though Tesla Motors (NASDAQ:TSLA) pre-announced weak performance for Q3 2012 and had to raise $222M in a dilutive secondary offering in October, Tesla's share price is within 5% of its all-time high, and it recently traded at $.05/share above its previous all-time high of $39.95 set in March 2012. Tesla's stakeholders have high hopes that the company will be able to generate the increased level of production that Tesla's CEO Elon Musk has projected. Tesla's stakeholders expect that the company's finances will improve, and that its record of losses will change into a record of profits. We believe that hope and change is a great way to run a modern day political campaign, but not necessarily a good indicator of profitable investments in the automobile industry. We also believe that investors and consumers may want to think twice before test-driving a Tesla Motors car or Tesla Motors' stock.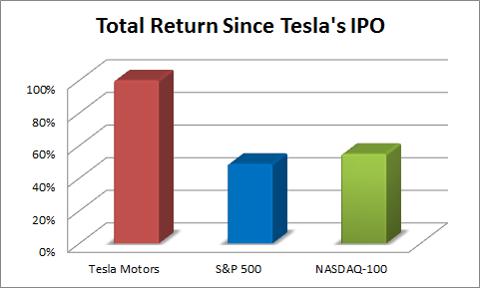 Source: Morningstar Direct
The New York Times columnist and Green Blog author John M. Broder had the "pleasure" of test-driving a Tesla Motors Model S from the suburban Washington, D.C. area all the way to Connecticut and back. Mr. Broder was eagerly anticipating this test drive for the following reasons:
The New York Times had previously conducted a test-drive involving the Model S on the West Coast in September, and the results were encouraging
The Tesla Model S has recently won multiple car-of-the-year awards
Tesla had recently installed electric car Supercharger stations in Newark, DE and Milford, CT
According to electric vehicle evangelists, the Tesla Model S is a technological wonder
Unfortunately for Mr. Broder, he found out the hard way that Tesla's electric vehicles do not perform very well in cold weather. In order to avoid running out of battery power, the author had to eliminate battery-draining amenities such as warming the cabin and keeping up with traffic. He turned the climate control to low -- the outside temperature was still in the 30s -- and planted himself in the far right lane with the cruise control set at 54 miles per hour (the speed limit is 65). Buicks and 18-wheelers flew past, their drivers staring at the nail-polish-red wonder car with California dealer plates. Our hero barely made it into the Milford Supercharger station after wondering if he would be able to make it the final 20 miles as the car was flashing, in vivid red letters, "Recharge Now."
After Mr. Broder was able to recharge the car in order to drive an additional 185 miles, he drove an additional 79 miles and stopped in Groton, which is in the Southeastern part of Connecticut. When Mr. Broder parked the car, its computer said he had 90 miles of range, twice the 46 miles back to Milford. It was a different story at 8:30 the next morning. The thermometer read 10 degrees, and the display showed 25 miles of remaining range -- the electrical equivalent of someone siphoning off more than two-thirds of the fuel that was in the tank when he parked. Despite a herculean effort by the driver and Tesla's product service team in order to locate additional electric power chargers, the car ran out of power in Branford, CT.
We can't even begin to describe our take on the road-side service efforts that were expended on behalf of Mr. Broder's terrifying test drive. We think that the driver the towing service sent (Mr. Rick Ibsen) must been one of the most patient and stoic individuals in the world, considering that he had to literally drag the Tesla Model onto his flatbed truck because the car's electrically actuated parking brake would not release without battery power, and hooking the car's 12-volt charging post behind the front grille to the tow truck's portable charger would not release the brake. Tesla's Chief Technology Officer, JB Straubel, acknowledged that the two East Coast charging stations were at the mileage limit of the Model S's real-world range. Making matters worse, cold weather inflicts about a 10 percent range penalty, he said, and running the heater draws yet more energy. He added that some range-related software problems still needed to be sorted out.
In our interview with The Wall Street Journal, our Senior Analyst Joshua Norman pointed out that Tesla needs to deliver on its lofty expectations, and we are expecting Tesla's road to be a lot bumpier after the results of this test-drive. We were amused that Mr. Straubel said "It's disappointing to me when things don't work smoothly. It takes more planning than a typical gasoline car, no way around it." Considering that Mr. Straubel has two degrees from Stanford, we would have hoped that he would have had some common sense to go with his high-priced book learning. We believe that a complex product like the electric car should have undergone more rigorous testing internally before it invited mainstream media organizations like The New York Times to try it out. Instead, Mr. Straubel had to hope that The New York Times would cut Tesla some slack because it recently installed the East Coast Supercharger stations. Tesla has burned through $1.25B in free cash flows in order to develop the company, and we expect that terrifying test-drives of electric vehicles from Tesla Motors will continue. We find it amusing that Elon Musk is willing to help out Boeing's Dreamliner due to the battery issue. We would like to remind Elon Musk and his team that they need to first fix their problems with their products before trying to be a superhero with the products of other companies.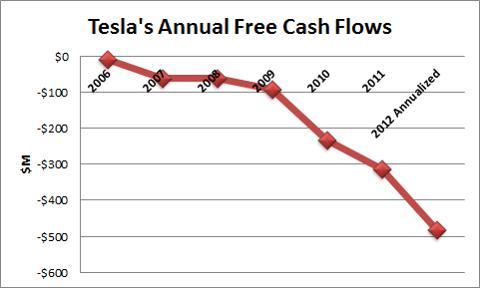 Source: Morningstar Direct
In conclusion, we're surprised that Tesla's share price only declined by 3.5% after the results of its Model S Test Drive by The New York Times. While the electric car may work well in theory, it didn't work out so well in the real world when it needed to. We believe that car buyers should think twice before buying an electrified lemon like the Tesla Model S. We also believe that investors may want to think twice before investing in a car company that is run by politically connected business personalities like Elon Musk and promoted by ivory tower egg-headed technocrats like Steven Chu and controversial investment banking organizations like Goldman Sachs. Regardless of whether Tesla Motors meets or beats its upcoming earnings estimate and outlook, we believe that Tesla Motors represents a terrible investment whether you are a car buyer or an investor, especially at 22x book value.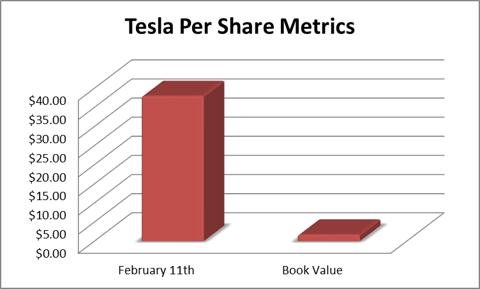 Source: Morningstar Direct
Disclosure: I have no positions in any stocks mentioned, and no plans to initiate any positions within the next 72 hours. I wrote this article myself, and it expresses my own opinions. I am not receiving compensation for it (other than from Seeking Alpha). I have no business relationship with any company whose stock is mentioned in this article.
Additional disclosure: This article was written by an analyst at Saibus Research. Saibus Research has not received compensation directly or indirectly for expressing the recommendation in this article. We have no business relationship with any company whose stock is mentioned in this article. Under no circumstances must this report be considered an offer to buy, sell, subscribe for or trade securities or other instruments.