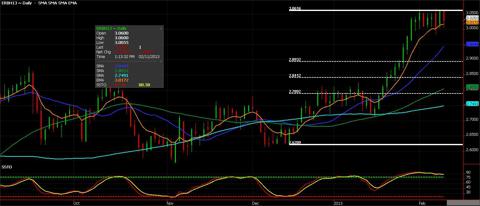 In the last 3 weeks, RBOB futures have appreciated 30 cents, or 11%, putting prices over $3/gallon. It appears that we are running into resistance at $3.05 on the March contract, and I see limited upside before we have at least a moderate correction. Support is seen on the chart above at the 8 day MA -- identified by the orange line. I think we need to see consecutive settlements under that pivot point before futures retrace. As one can see on the stochastic under the chart, prices are extremely over bought. I have suggested traders have bearish trades on their radar, but have yet to make any moves, as I am looking for confirmation.
I think there are several ways to attack this market, depending on your account size and risk tolerance. A pure play on RBOB could be constructed by buying put options, selling call options or a combination of a futures and options trade. For example, selling out of the money put options while simultaneously getting short 1 futures contract. To collect enough premium, you may need to go out 3-4 months. Also, a crack spread, as aggressive traders could get short (1) RBOB and long (1) WTI Crude oil futures. The idea would be to make more money in RBOB or Crude than you lose in the other, though it is feasible on days like today that you make on both legs. Every $1 move in Crude futures represents $1000 gain/loss, and every 1 cent move in RBOB represents a gain/loss of $420.
I think prices have traded high enough in RBOB that we have started to see demand destruction, and if we see the consumer back off in the coming weeks, it should have an impact on prices finding an interim top. It appears the trade (crack spread) just started to work today… this should be on your radar if you're an energy trader or you trade commodity relationships.
Risk Disclaimer: The opinions contained herein are for general information only and not tailored to any specific investor's needs or investment goals. Any opinions expressed in this article are as of the date indicated. Trading futures, options, and Forex involves substantial risk of loss and is not suitable for all investors. Past performance is not necessarily indicative of future results.
Disclosure: I have no positions in any stocks mentioned, and no plans to initiate any positions within the next 72 hours. I wrote this article myself, and it expresses my own opinions. I am not receiving compensation for it. I have no business relationship with any company whose stock is mentioned in this article.