The advertising market recently is in turmoil. Traditional advertising - TV, radio, and print advertising - is deteriorating. Thus, television viewers are down (NY Times), Americans are tuning out of traditional broadcast radio, and into digital audio services like Pandora. Almost 40% of Americans listen to audio on digital services according to a Pew Research study and newspaper circulation has declined 30% since 1990 (Pew Research). Billions of advertising dollars are being shifted away from traditional channels to online local advertising. As soon as local advertisers started focusing their attention on the growing online audience, consumers have already shifted their attention once again to a new medium: mobile. According to a new report from Gartner, revenue from mobile advertising is expected to hit $11.4 billion worldwide this year, up from $9.6 billion in 2012. And by 2016 worldwide mobile ad revenue is expected to reach $24.5 billion. Asia/Pacific countries will see the most revenue from mobile advertising ($4.3 billion), followed by North America ($3.2 billion), and Western Europe ($1.6 billion).
Thus, mobile internet connections now exceed "fixed" connections (i.e. PCs, laptops) and as mobile use increases, usage of all other forms of media (i.e. TV) decreases (Future of Digital). Nevertheless, mobile ad spending is still a tiny fraction of overall digital ad spending and while 10% of consumers' time is spent on mobile, this channel only represents 1% of mobile ad spend.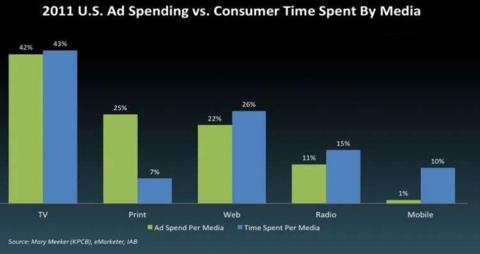 Despite more consumers spending more time on mobile, mobile ad revenues have "failed to launch". But what do local advertisers really know about mobile advertising and how are they using mobile advertising differently than online advertising? According to a Velti and Forrester Consulting study, they're using the same tactics for both online and mobile. This could be the reason mobile ad revenues have "failed to launch". How could a typical online ad, rich with multimedia, present well going from a fifteen-inch screen down to a four-inch miniature version? Mobile advertising requires different strategies than online advertising, just as traditional advertising requires different strategies. Companies that discovered these strategies have experienced large jumps in their revenues. Thus, Facebook (NASDAQ:FB) made $1.585 billion in revenue in the fourth quarter, an increase of 40 percent from the year prior, including advertising revenues of $1.33 billion, or 84 percent of total. Mobile advertising started only in the first quarter 2012, but it already contributed 23% of advertising revenues ($305 million), or 19% of total revenues. By now it has 680 million mobile active users, up 57 percent year over year. In the fourth quarter Facebook has launched mobile app install ads platform which receives a 50% higher click-through rate.
Another company - Pandora Media (NYSE:P) - has emerged as one of the strongest U.S. mobile display-ad sellers, and its share of the total U.S. mobile display market is expected to reach 20.5% in 2012. By 2014, Pandora will have 7.5 percent of the mobile ad market. In Q3 2013, total revenue grew by 60% from a year ago, and mobile revenue grew by 112% to $73.9 million. The 112% rise in mobile revenue outpaced the 85% growth that Pandora saw in mobile listeners (total active users grew by 47% in Q3 to 59.2 million). Currently mobile advertising makes 66% of total revenue. Pandora's advertising revenue grew faster than its content costs, and mobile revenue growth outpaced mobile listener growth by a wide margin. Pandora's mobile RPM (ad revenue per 1000 listener hours) has increased from less than $7 in 2008 to between $22 and $23 in 2012. This trend is already beginning to manifest itself in Pandora's operating margins. The current market cap reached almost $2 billion. The company ended Q3 2013 with $90.581 million in cash and investments. Its revenues are expected to grow from $426 million in 2012 to $1.3 billion in 2019 while gross profit will rise from $150 million to $603 million.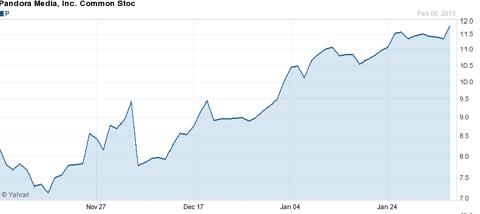 Another company with the big potential - Mobivity Holdings Corporation (OTC:MFON) - a microcap stock that provides local advertisers multiple channels to market to their customers' mobile device via social channels, such as Twitter or Facebook, and SMS text messaging. Today Mobivity has approximately 5,000 clients paying an average of $1,000.00 per year. The business model is a recurring revenue model. When the firm signs a franchise deal it's possible to sign as many as 3500 individual stores at one time, such as in the case of Sonic (NASDAQ:SONC). If there are 500,000 viable places to eat in the United States and over time the company can get a 20% penetration rate that could translate to $100 Million in revenue. Mobivity's clients include CNN, Disney, NFL, Sony Pictures, AT&T, USTA, the Golf Channel, NBC Universal, numerous professional sports teams, and many others.
At the same time new mobile marketing services such as Yelp (NYSE:YELP) bring a uniquely "mobile" approach to marketing, with particular focus on local advertisers. Yelp had a monthly average of approximately 84 million unique visitors. According to Business Week, Yelp has acquired approximately 19,000 paying local advertisers to date. With Yelp's revenues more than $100M the market has been highly enthusiastic about Yelp with a market cap of more than $1B.
Disclosure: I have no positions in any stocks mentioned, and no plans to initiate any positions within the next 72 hours. I wrote this article myself, and it expresses my own opinions. I am not receiving compensation for it. I have no business relationship with any company whose stock is mentioned in this article.