Recently, Hewlett-Packard Company (NYSE:HPQ) has been the subject of many discussions concerning breaking the company up or selling off parts of its operations. Rumors abound concerning whether HP's board is considering selling off some of its divisions and/or assets -- even *gasp* its PC section. Whatever the results of any discussions HP may or may not be having about its divisions and what to do with them, and whether or not HP ultimately decides to divest itself of some of its operating units, there is nothing in such talks that is going to help turn things around for the company which, for the past 15 years, has had substantial -- and often quite visible -- problems in the boardroom and the C-suite.
Locating The Problem
That HP is having its problems is obvious, although a cursory glance at financial data for the past 15 years might mask some of those problems. If we look at share price from 1999 to the present, it is not hard to see the signs of trouble: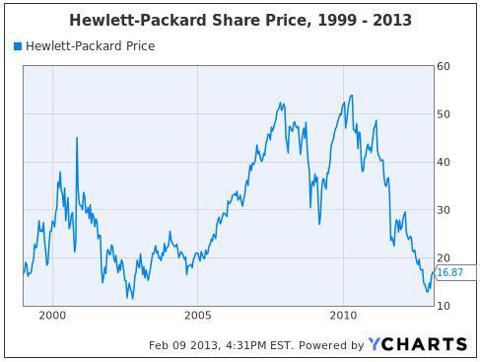 The graph shows a substantial increase in price from 2004 until 2008, when the price dropped significantly, recovering in 2009. It would be tempting to attribute this drop to a persistently weak economy, particularly with the magnitude of the recovery into 2010. After 2010, however, the share price dropped precipitously, from $54.52 on April 14, 2010 to $11.71 on November 20, 2012 -- a loss of ~ 80% of value, the most dramatic portion of which occurs in 2012.
A look at its revenues does not present much to be concerned with, except for a slight dip in 2009, and the beginning of a slide in the period starting in 2011-2012: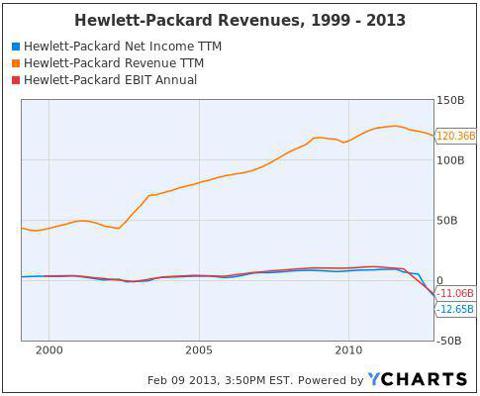 The drop in revenue that began in 2011 is noteworthy; when coupled with the dramatic drop in share value, it would seem to wave a red flag. When we look further, 2011 seems to loom large as a major turning point for HP's fortunes. Both net income and EBIT take dramatic dips beginning at the point where revenues start sliding, with net income and EBIT entering negative territory.
Further evidence of a serious problem is evidenced by the returns data, as reflected here: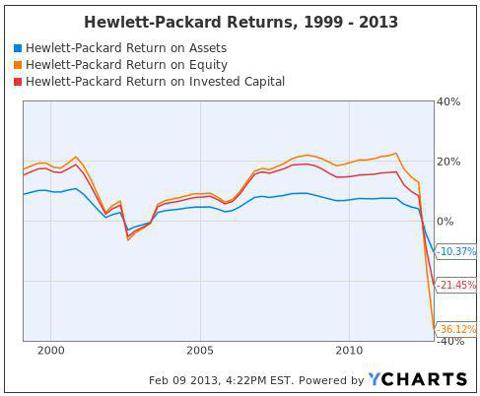 What were, for the most part, respectable ROA, ROE and ROI data suddenly drop off into the negative range, as did net income and EBIT. A sudden turn downwards such as this no longer raises a red flag -- the storm warnings are sounding loud and clear. Returns data is frequently used as an indicator of management effectiveness; whether the present poor performance is due to poor management remains to be seen (or at least discussed).
One final consideration here: HP's debt/equity ratio, which normally stayed at levels less than 1, has risen to 1.25; and although that transition has tended to be gradual, it accelerated (dramatically, as with the other data) around 2011-2012 to its current level: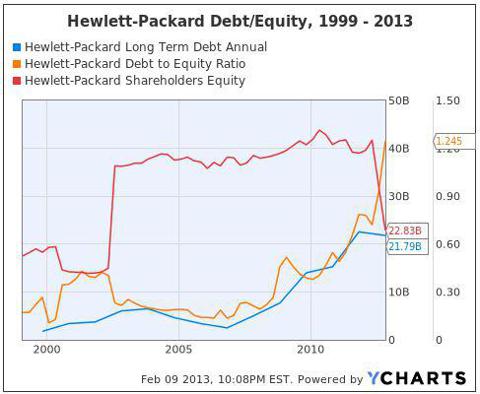 Perhaps not surprisingly, we find the debt/equity ratio to be a product of both the rapid assumption of long-term debt accompanied by the sudden drop in shareholders' equity.
One would seem to be led to the period beginning around 2011 in trying to identify whatever caused the sudden downturn in HP -- for all intents and purposes, everything seems fine with the company up to that point, after which everything goes south, and does so in the most drastic and dramatic fashion. And, as a matter of fact, there are some events during the period in question that would seem to play a role in the sudden downturn at HP: two product launches that ended abruptly, and a major acquisition that ended up taking a huge toll on resources.
Other than its acquisition of Palm, Inc. in 2010, HP had no offerings in the area of smartphones, and tablet PCs -- both of which were increasing in popularity yet missing from the HP line. Palm enabled HP to make tentative inroads in the market, but it would produce no offerings of its own until the company developed both a smartphone (Veer) and a tablet computer (TouchPad) which were released in 2011.
Although both products received warm reception from early reviewers, neither product was successful (or, perhaps more significantly, wasn't given the chance to succeed), and both were discontinued in 2011 (literally within months of release) when HP announced that it would no longer support the webOS both the phone and the tablet utilized. Thus, while other companies were developing tablet computers and smartphones (notably Apple, Inc. (NASDAQ:AAPL) and Samsung (OTC:SSNLF)), for all intents and purposes, HP withdrew from a rapidly developing and extremely popular segment of the consumer electronics market.
[Note: HP has released two new products recently. One offering is the ENVY x2, which is a hybrid laptop that can be converted to a tablet. A review on CNET gave the ENVY a lukewarm appraisal. Another newly released product is the ElitePad 900, which is being marketed as a business tablet. This product has not received anything other than pre-release coverage, but the review provided by PCMag.com seems fairly enthusiastic about its potential. Thus far, no new offerings in the smartphone arena have been forthcoming.]
At approximately the same time that HP announced it would no longer support its tablet and smartphone offerings, it was announced that the company would purchase Autonomy Corporation, a company most known for its product IDOL (Intelligent Data Operating Layer), which promises greater ability to manipulate and analyze data (including unstructured data) from a variety of sources. The purchase of Autonomy amounted to more than $11 billion. It was later discovered that the value of Autonomy had been artificially inflated, leading HP to take an $8.8 billion write-off for the acquisition in 2012. The FBI is currently investigating the matter.
Given the charts we've examined to this point, it would seem that the rather abrupt turn in HP's affairs of late could be due to the launching of two products that HP ultimately -- and abruptly -- decided to cut loose, and an extraordinary business misadventure that led to a nearly $9 billion loss. One could go on to argue that a company of HP's size, as well as one having its market and consumer appeal, should be able to right itself with minimal trouble. In that regard, the two new products HP has put on the market would be indications that the company is trying to right itself by enhancing its line of hardware offerings; but whether this is intended to reverse HP's recent difficulties, or to improve the value of its PC unit to make it more attractive to potential buyers, is anyone's guess.
But...
It is always interesting -- if not completely entertaining -- to run across some little anomaly in one's data that requires one to do some additional thinking. There is such an anomaly in the Hewlett-Packard data, to wit: the period prior to 2004. Initially, I examined data for the past 10 years, and that revealed little about the company's past, but for the fact that in the area of 2003-4, HP's share price had taken quite a hit. The data on returns at that time also dipped below zero, if only marginally. Revenues also dropped, while shareholders' equity skyrocketed.
I recalled that the early 2000s had been somewhat tumultuous for HP for one reason or another, and looking back, I found that the CEO at the time was Carly Fiorina, who had been fairly unceremoniously dumped by the company because of flagging revenues and market value. I decided to run the data back to the beginning of Ms. Fiorina's tenure to get a more complete picture of what was going on that might help account for the little glitches I had noticed.
I was certainly not disappointed. What had appeared as glitches on a 10-year chart took on greater significance on a chart running back to 1999. Share prices dropped from a high of $57.22 on July 13, 2000, to $9.78 on October 9, 2002 (HP shares underwent a 2:1 stock split in 2000, and a dividend payment of more than $15 per share was paid shortly thereafter; therefore, values have been adjusted for the split and dividends). This represents a decrease in share value of more than 80% -- on a scale comparable to its more recent drop.
Although net income and EBIT for the period barely register a dip for the period, there is a noteworthy dip in revenues in the area of 2002-2003, and this is accompanied by a significant drop in returns in assets, equity and invested capital. At the same time, there are noteworthy changes in shareholder's equity and debt-to-equity ratio -- at a time when there was a notable increase in long-term debt.
To go a bit deeper, I checked the company's book value over this period, and on first blush, it was surprising to see a sudden and substantial increase in book value take place at the same time that the other "glitches" were taking place. Something about this looked suspicious, so I checked the tangible book value for HP. The comparison between book value and tangible book value is reflected in the following graph: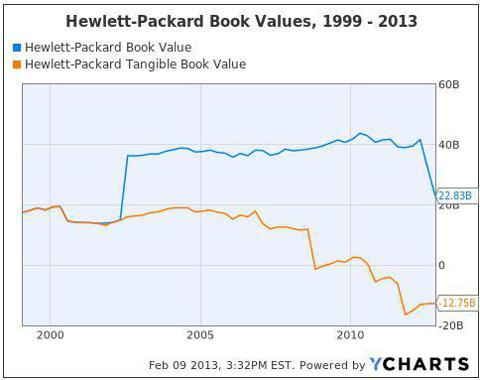 Until 2003, book and tangible book values were linked, the separation coming in the area of 2002-2003. At this point, not only does HP's book value jump, but the tangible book value begins a seven-year odyssey towards the basement, reaching a value of "zero" before making a brief comeback in 2010 (around the time HP acquired Palm), then dropping into virtual meaninglessness, to bottom out below -$12 billion.
The above observations would seem to indicate that the current book value of HP is based on intangibles -- an interesting development for a company that is claimed to be the largest PC manufacturer in the world. Typically, a dissociation of book value from tangible book value, as we see here, is indicative of a company that is more strongly involved with software and intellectual property -- a company akin to Microsoft Corp (NASDAQ:MSFT). While this sort of divergence would scarcely warrant a second look in Microsoft's case, however, one has to ask what is going on at HP for it to move from its position prior to 2003 to where it is today.
The View From The Top
One of the most significant problems HP has had over the past 15 years has been instability among its leadership: since 1999, the company has gone through four CEOs and two interim CEOs. Three of the appointed CEOs (Fiorina, Hurd and Apotheker) were essentially forced out of the company. Current CEO Meg Whitman was serving on the board at the time of Apotheker's dismissal, and was chosen to replace a man who had been on the job for less than a year.
During the period of 1999 through 2010, there were recurrent comments and complaints about the executive environment at Hewlett-Packard, and the disagreements between board members seemed particularly fervent at the times of the dismissals of the three ousted CEOs. Evidence that there was discord among the upper echelons of HP can be found in the 2006 pretexting spying scandal (ordered by chair Patricia Dunn, and involving investigating board members and journalists) and the 2011 lawsuit filed by HP against Oracle Corporation (NYSE:ORCL) (wherein Oracle was charged with failing to fulfill its contract with HP, with regard to which Oracle officials cited conflicts within the HP executive ranks as resulting in an untenable working relationship). Somewhat less visibly, board disputes arose in attempts to thwart the acquisition of Compaq, and the dismissals of Fiorina and Hurd.
This period is also marked the acquisition and assimilation of more than 60 companies, with a notable number of these being software or information-management companies. Noteworthy technology manufacturing acquisitions during this period included Compaq (acquired for $25 billion) and Palm ($1.2 billion). Both companies were intended to continue to produce products under their own names, but in 2010, the Compaq brand was phased out; Palm was later dismantled with its components being used to establish Gram, a wholly owned subsidiary of HP. To company insiders and outsiders alike, it was not certain that all of these acquisitions were intended to further the development of HP's operating units so much as indicative of "empire building."
In 2011, after HP pulled its support of its smartphone and tablet products, it was suggested by the company itself that HP might spin off its personal computer operations, but soon thereafter, it affirmed its intention to maintain the division within HP. More recently, in March 2012, HP announced that it planned to combine the PC and printer divisions into one unit. The head of the PC division (the "Personal Systems Group") -- Todd Bradley -- would assume leadership of the restructured unit, while printer-division honcho Vyomesh Joshi would be leaving the company. These decisions were made after several years (notably 2007 through 2009) of problems with the technological development of its products, leading HP to extend warranties on some products, and resulting in small-claims and class-action lawsuits over others.
Assessment
It is clear that Hewlett-Packard is going through some problems. Of great concern should be the value of the company and its ability to regain more solid footing. At present, this does not look especially promising. For one thing, the company has apparently developed a split personality of sorts: as with any large corporation, HP has its various operating divisions, but it seems to be functioning along two different paths -- one involving the development and production of computer and related hardware, the other involved with information management and software development.
While this may be no different than other companies (notably, again, Microsoft), HP originated primarily as a hardware and peripheral manufacturer, and its development along the "intangible" part of computer systems seems to have come at the expense of the products it manufactures.
How does this position the company? Consider the following chart: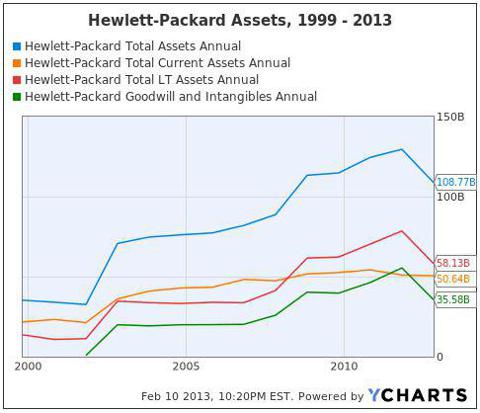 Total assets are a respectable $108.77 billion, $50.64 billion of which is in current assets, and $58.13 billion in long-term assets. This seems all fine and well, until we consider that of its long-term assets, $35.58 billion comes from "goodwill and intangibles," leaving long-term tangible assets of $22.55 billion, and total tangible assets of $73.19 billion.
Why should this matter? Consider the following chart: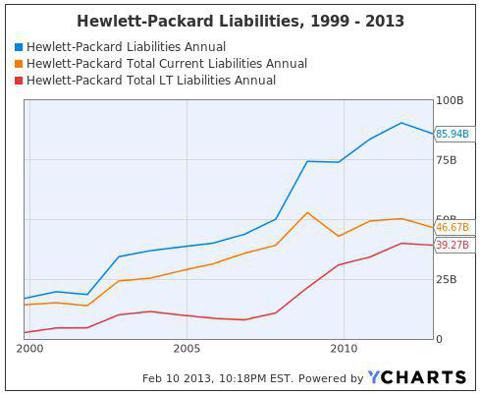 HP's total liabilities are $85.94 billion. Unfortunately, there is no such thing as an "intangible liability" -- at least, not as far as a balance sheet is concerned. Thus, while HP's total assets exceed the total liabilities by $22.83 billion, subtracting the intangible assets leaves HP $12.75 billion short of covering its liabilities -- which happens to be its tangible book value: -$12.75 billion. You cannot pay your bills with intangibles and "goodwill."
But then, most experts will say that a negative book value is, for all intents and purposes, meaningless. Meaningless or not, however, it severely skews whatever value one tries to assign to Hewlett-Packard. Consider the following chart of HP's Market Value: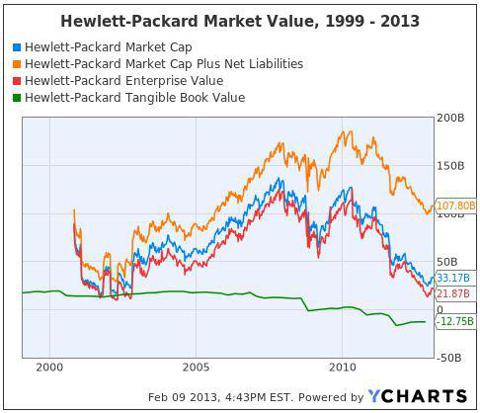 Given its current market capitalization, it is not easy to see how to value a buyout of HP; in fact, it is here that the costs associated with HP's net liabilities make it significantly more expensive than it would seem to be worth, at least at first blush. On the other hand, the enterprise value of HP (its market cap plus net liabilities) is $11.3 billion less than market cap (due to the fact that HP's total liabilities are more than offset by its total assets -- but this gives material value to the intangible portion of the assets, which might not be satisfactory to the buyer, as they would assume that portion of the tangible liabilities that the intangible assets are being applied against).
Difficulty in pricing HP as a company would seem to carry over to any proposed divestment of some of its holdings. It is hard to believe that a company would want to buy HP's Personal Systems Group (in whole or in part) without at least something of the HP brand with which to leverage products. Would HP surrender the name "Hewlett-Packard" to a potential buyer? Would the brand name "Compaq" have any value at this point? Moreover, HP's leadership would suffer (another) disabling blow to its credibility. [Note: during his tenure as CEO, Mark Hurd oversaw the layoffs of a substantial portion of HP's workforce, dramatic restructuring that cost more jobs, pay cuts and discontinued benefits. Mr. Hurd voluntarily accepted a 20% cut in pay, only to have his bonus increased by an amount equal to the "cut."]
No, HP's best chance to reassert its brand dominance is to revive its Personal Systems Group as it affirmed in 2011. If the two new offerings intended to compete in the tablet market are an indication, they show that HP is, indeed, committed to make a stand, although it remains to be seen if it is standing tall enough to attract attention. But even this is not adequate until it is able to revitalize its technological acumen across the spectrum of personal computing devices.
Selling off some of the elements that contribute to its "intangible" assets might seem attractive, but much of this part of its business came at substantial costs. The Autonomy debacle is the most visible -- and expensive -- acquisition in this arena, but it is not the only "mistake" HP has made. In 2010, HP was involved in two questionable acquisitions: it got into a bidding war with Dell Inc. (NASDAQ:DELL) over data storage company 3PAR, and ended up paying $2.35 billion dollars for the company -- an amount more than 300 times 3PAR's EBITDA (a record); later that year, $1.5 billion was paid for ArcSight, a firm specializing in corporate computer security -- the amount paid was 57 times ArcSight's EBITDA.
Indeed, the acquisition spree HP enjoyed since 1999 has cost it much more than it could hope to recoup without selling off substantial portions of its Enterprise Services and/or Software Division. A sell-off in these areas would deprive HP of the very value it needs to maintain credible market worth, at least until the Personal Systems Group is able to reestablish itself.
All of this would be academic if HP were to be unable to overcome the internal conflicts that seemed to be tearing at the board and C-suite -- even if the internal conflicts were not as extensive as they seemed from the outside. But since the appointment of Meg Whitman, it appears that the board of directors has been given an update: seven of the board members (Ms. Whitman included) joined the board in 2011; two members joined in 2009, and the remaining two members date back to 2006 and 2005. The executive team is nicely diversified in terms of tenure with HP -- several people new since 2010, and several people who have had substantial careers at HP. Time will tell whether this group of people can "play nice together," but it is almost certain that the internecine warfare that distracted business for more than a decade has been quelled.
Recommendation
I would like to believe that Hewlett-Packard can right itself now that it has a new leadership and has put some unfortunate decisions and escapades behind it. If I owned shares of HP, I would hold onto them, at least long enough to see if real changes are going to be made. HP's share price is currently less than $20, and would seem to be attractive as a bargain. If I were committed to buying into HP, I think I would do so gradually, again to determine if the company was going to effectively right itself. I do believe that it might be prudent to hold off on any major moves, and wait for awhile to see if the company's new products can have an impact on the market, and if the old products can be brought back up to snuff.
Disclaimer
This article is for informational and educational purposes only, and should not be construed to constitute investment advice. Before investing in Hewlett-Packard or any other business mentioned herein, consult with your broker or investment advisor. Please be sure to perform due diligence before making any investment decision.
Sources
All charts are courtesy YCharts. Historical information from Wikipedia. Other information courtesy Hewlett-Packard's website. Also, both CNET and PCMag.com were used for reviews of ENVY x2 and ElitePad 900, respectively.
Disclosure: I have no positions in any stocks mentioned, and no plans to initiate any positions within the next 72 hours. I wrote this article myself, and it expresses my own opinions. I am not receiving compensation for it (other than from Seeking Alpha). I have no business relationship with any company whose stock is mentioned in this article.