Investing doesn't have to be complicated. Warren Buffett once said "If you're in the investment business and have an IQ of 150, sell 30 points to someone else." Unfortunately, Buffett seems to have recently sold those 30 points to key members of the Republican party, who have wisely decided to avoid a second debt ceiling stand-off. I say unfortunate because 1) it would have made for great theatre and 2) I love when idiocy and uncertainty causes stocks to sell-off right into my waiting arms. Way to go, Warren.
But I digress. It's been said that creativity is the art of taking something complex and making it simple. If so, then it appears investment analysis (as practiced by most) is the art of taking something simple and making it complex.
Every single day I read and watch analysis complex enough to meltdown the Watson computer, with references to mundane economic data, the latest and greatest valuation method (which inevitably is the same valuation method as all the others … just with a different name), or some new technical theory so bizarre it makes this chart seem sensible.
A lot of times investing is this simple: Excellent track record? Check. Solid Management? Check. Sustainable competitive advantage? Check. Trading below fair value? Check. What are you waiting for, huh!?!?!?! Buy the stock and get on with your life.
Brick City Buying Opportunity
With that in mind, might I draw your attention to New Jersey Resources (NYSE:NJR).
NJR is a natural gas utility serving almost 500,000 residential, commercial and industrial customers via a 7,100 mile distribution network … and if you haven't figured out where it's based, I suggest you bid on some of Buffett's IQ points.
NJR also has a couple side businesses: NJR Energy Services is a trading unit that arbitrages natural gas spreads in spot, storage and futures markets. NJR Home Services is a small unit that provides installation and maintenance of home appliances. Finally, NJR Clean Energy Ventures (NJRCEV) installs rooftop solar panels on residential homes for no up-front cost (for which it receives a hefty tax subsidy).
All told, the natural gas utility contributes about 80% of the company's earnings.
Track Record
Let's check the particulars.
NJR's revenues and earnings are volatile, due mainly to volatile natural gas prices and high notional values on its energy services trades, which are entered into essentially when opportunity presents itself.
For that reason, I went back 21 years for some data.


Despite the volatility from year-to-year, NJR has consistently grown its EPS, customer base and dividends, all while maintaining a double-digit ROE, comfortable debt levels, and a payout ratio below average for its peer group.
That bears repeating. NJR has increased its customer base every single year in the past 21 years and it has increased its per share dividends every year for the past 17 … a string of consistency rivaled only by the ocean tides.
And in that time, NJR has absolutely trounced the S&P 500 in stock performance. It even managed to keep pace in the late 1990s when most rickety, old-economy companies were left for dead and any business with a domain name would oversubscribe an IPO.

The last year, however, has been a bit of a different story. First, record-low natural gas prices and, then, a 100-year weather system known as Superstorm Sandy have caused a 20% sell-off in the stock. Meanwhile the S&P500 has, ahem, stormed ahead.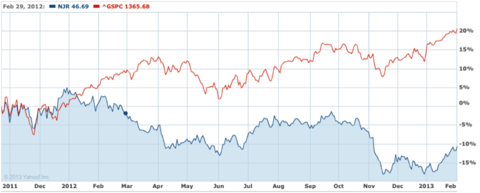 So could the sell-off of this perennial outperformer with a stellar track record create a buying opportunity?
Management
A quick word about management. The quality of management can often be inferred from past performance, assuming the same managers responsible for the past performance are still running the show in the present.
That is certainly the case with NJR.
The CEO of the company is Laurence Downes. He's 55 years old, although he looks like he's 35 (I wonder what moisturizer he uses). Downes has worked with NJR for 30 years and has helmed the company since the tender age of 35 (when he looked like he was 15).
There are many benefits to having a long-tenured CEO. Downes has worked in every facet of the business and understands its nuts and bolts. It's much easier to command your people in the trenches if you've actually been in the trenches. If he was, in fact, an idiot, I surmise that he would have wreaked 10x Superstorm Sandy damage on the business by now. Instead, 25 years of trouncing the S&P.
The VP of Clean Energy, the Corporate Secretary, and the CFO all have 25 - 30 year tenures with the company. The continuity this creates is invaluable, allowing incremental gains in efficiency as people familiar with their jobs find ways to do it even better than before … and it is likely a huge factor in NJR's performance.
Now, you might be saying to yourself that Dick Fuld was the CEO of Lehman Brothers for 14 years before he drove it over a proverbial cliff … And in response, I would offer the following, carefully considered argument: NEVERMIND!
Sustainable Competitive Advantage
So we've checked off track record and management. What about sustainable competitive advantage?
This is a pretty easy one. First, NJR has a monopoly on natural gas distribution in its service area with no immediate threats looming. A monopoly, almost by definition, is a sustainable competitive advantage.
NJR does compete with our energy sources, as well, such as coal, fuel oil, propane and electricity (which utilizes baseboard heaters). At present, however, natural gas is unique given its current low cost, relatively low greenhouse gas emissions, and use in industrial applications for which these other fuels are not a substitute.
Sustainable Competitive Advantage? Check.
Who Took the Gas out of Your Sails?
So why would the stock of such an obviously great company be languishing in bear market purgatory?
1) Natural Gas Prices
A large portion of NJR's gas is used to heat residential homes and commercial and industrial buildings and, notwithstanding the epic Nor'easter of last week, winters have been getting warmer and demand for all sources of heating has declined as a result.
Lower natural gas prices reduce the spreads earned on arbitrage trades.
But things are not as gloomy as they appear. There are several mitigants that will support future demand and earnings growth.
Customer Switching: Lower natural gas prices have created increased demand from customers looking to switch fuel sources to lower heating bills. NJR is the only supplier of natural gas in the region, meaning it captures 100% of all conversions. As a result, almost half of NJR's new customers in 2012 were conversions from other fuels.
Conservation Incentive Program (CIP): NJR's utility gross margin is protected by a mechanism that adjusts customer usage for weather. Essentially, the average temperature during the year is compared to the average temperature over the previous 22 years and the customer pays the difference between its actual usage and its presumed usage under the average temperate conditions. This mechanism contributed $45 mil to NJR's utility gross margin of $275MM.
Clean Energy: NJR has invested heavily in residential/commercial solar panels and an $8.8 mil investment in an onshore wind farm developer.
2) Superstorm Sandy
Superstorm Sandy was the unholy alliance of Hurricane Sandy, the largest Atlantic hurricane ever recorded, and a classic late fall Nor'easter causing economic losses of some $74 bill.
Sandy left over 4.8 mil American customers without power with nearly half of those residing in New Jersey.
Remarkably, just 32,000 of NJR's customers were cutoff from service, a little more than 5% of its customers. NJR was able to restore service to 95% of those customers within 8 weeks.
Earnings were obviously impacted by the service reductions and related impacts of Sandy, with EPS falling 22% for 1Q2013. Note, however, that earnings from the natural gas utility segment fell by just 2%.
Full-year guidance for EPS was$2.55 - $2.75, which, if in the low-end of the range, would be NJR's first decline in earnings in 21 years. NJR still plans, however, to increase its annual dividend ~4% to $1.60/share.
Expected capital expenditures related to damage from Sandy is $30 to $40 mil, $25 mil of which will be spent in 2013. That represents just a 15% increase in NJR's 2013 capital budget.

So, while the Frankenstorm was costly, it appears NJR can easily cover the capex related to Sandy and continue to grow its dividend without substantially impacting its balance sheet.
Intrinsic Value
Now we are ready to assign a value to NJR … but FIRST, a word on discount rates, brought to you by Common Sense:
Discount Rates
The discount rate for an investment is the long-term risk-free rate plus the stock's risk premium. Now, most practitioners tend to settle on a 12% discount rate, which is apparently derived from combining the stock market's 7% long-run real return from 1871 to 2001 (thank you, Jeremy Siegel) and a risk-free rate of 5% (or so the math tells me).
BUT I see this as a glaring error. Each company is a unique entity with its own risk profile, some riskier than the broader market and some less risky. So why apply the average market risk premium to any one individual investment?
Warren Buffett doesn't even use a risk premium (as detailed in "The Warren Buffett Way"). He believes it's too tough to measure and he has such conviction in his investments that he believes they are effectively risk-free in the long-run.
The U.S. 30-year bond currently yields 3.16% and is still broadly considered a risk-free asset … although I fail to understand how a AA credit can be risk-free. Hopefully S&P will explain that one in court.
So a 12% discount rate implies a 9% risk premium. That strikes me as absurd for a gas utility, even if global warming threatens to eliminate snow from meteorology.
Hurry Up and Value It Already
So I used a simple Dividend growth model to value NJR and in light of the discussion above, I did a scenario analysis for different discount and dividend growth rates. The resulting values are $/share.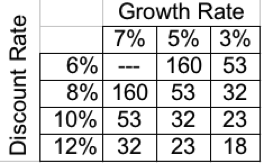 If we assume all 11 scenarios have equal probability (also known as an average), the Value per Share = $58. I believe by far the most likely scenario is 8% discount rate and 5% dividend growth, therefore, I see NJR's per share value as $53. Today's stock price represents ~ a 20% discount.
So let's recap.
Strong track record? Check. Strong Management? Check. Sustainable competitive Advantage? Check. Trading below Intrinsic Value? Check.
Now buy it and get on with your life.
Disclosure: I am long NJR. I wrote this article myself, and it expresses my own opinions. I am not receiving compensation for it (other than from Seeking Alpha). I have no business relationship with any company whose stock is mentioned in this article.