Intellectual property company Vringo (VRNG) has prevailed in its patent infringement lawsuit against Google (NASDAQ:GOOG), which is now in the post-trial motions stage. Vringo is now also suing Microsoft (NASDAQ:MSFT) on the same patents, which relate to search engine technology.
I have been following the VRNG vs. GOOG (a.k.a. I/P Engine v. AOL et al.) case for some time, and have written a few articles about the case (here and here), in which I discussed procedural and trading issues.
This article is the first in a series in which I will analyze the substantive issues in VRNG's lawsuits against GOOG and MSFT, and discuss the suits' potential impact on valuation. As the title suggests, this article is about VRNG's nearly nonexistent chances of overturning Judge Jackson's ruling on the doctrine of laches, which eliminated six years (at least $350 million, and even more if the judge denies VRNG's motion for a new trial on past damages) of VRNG's past damages from GOOG -- more than VRNG's current market cap!
The Laches Ruling
On the morning of October 31, 2011 -- Day 11 of the VRNG v. GOOG Trial -- Judge Jackson granted GOOG's motion to limit the damages available to VRNG based on the doctrine of laches (Trial Tr. At 1800). This decision eliminated at least $350 Million of VRNG's past damages theory, and resulted in VRNG stock dropping from a daily high of $4.47 to a low of $1.75 before closing at $2.56 -- an interesting day on the candlestick chart!
If a patentee waits to file a patent suit for more than six years from the date that they knew or "should have known" of someone's infringement, then the elements of the laches defense -- unreasonable delay, and harm from the delay -- are presumed to exits, and unless they are rebutted, laches will be found.
Judge Jackson found that VRNG knew or should have known about GOOG's infringement more than six years before it filed suit, so the presumption applied: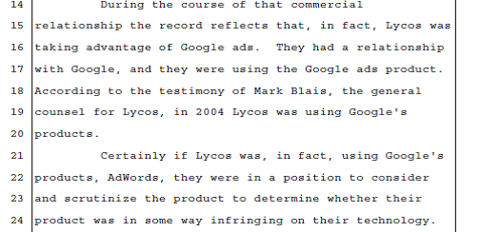 (Trial Tr. 1802) Judge Jackson ruled that VRNG had not presented adequate evidence to rebut the presumption.
Judge Jackson also ruled that VRNG did not address the potential prejudice of delay from witness memory loss:

(Trial Tr. 1805) The result of Judge Jackson's ruling is that VRNG can only get past damages from GOOG going back to the filing of the case (October 2011), and not for the 6 years prior.
Judge Jackson Denies Laches Motion Before Briefing Is Complete
VRNG's opening Motion on laches and GOOG's Opposition have been filed (Dkt. 837 & 863), and VRNG's Reply was due this Friday, February 15. The Judge did not wait for the Reply, however, but on January 31, denied VRNG's Motion for Judgment under Rule 52(b) and a New Trial under Rule 59 on Laches (Dkt. No. 835).
Even before the Judge ruled, the outcome of VRNG's laches motion was evident. Judge Jackson listened to VRNG's arguments at trial, but was clearly not buying them, and I did not see anything in the papers that would have changed that.
Laches Will Not Be Overturned On Appeal
VRNG may appeal Judge Jackson's laches ruling to the Federal Circuit. However, laches is one of the many areas where a trial judge is given broad discretion. The standard for overruling the Judge's laches ruling is the high "abuse of discretion" standard, and I just don't see that happening in this case. It looks like Judge Jackson considered VRNG's arguments at trial and in its summary judgment and post-trial briefs -- he just does not buy them. At all. The judge is looking at the facts differently than VRNG, but from what I can tell, has not made a fundamental error that would be necessary to overturn the decision.
Conclusion
The bottom line is that investors should not assign any value in analyzing VRNG to the possibility that the laches ruling may be reversed by either Judge Jackson or the Court of Appeals for the Federal Circuit. There are some things to be optimistic about when it comes to VRNG, but changing the laches decision is not one of them.
Disclosure: I am long VRNG, GOOG. I wrote this article myself, and it expresses my own opinions. I am not receiving compensation for it (other than from Seeking Alpha). I have no business relationship with any company whose stock is mentioned in this article.