Coca-Cola (NYSE:KO) is one of those widows and orphans stocks. Strong, stable and reliable are words that come to mind in thinking about this great American company. Look at the KO chart. It shows a steady growth trend advancing about 20% over the past 5 years. The company has been increasing dividends every year. What's not to like? This is a favorite core holding for many retirees. But should it be the one for you? Let's look a bit further at more details.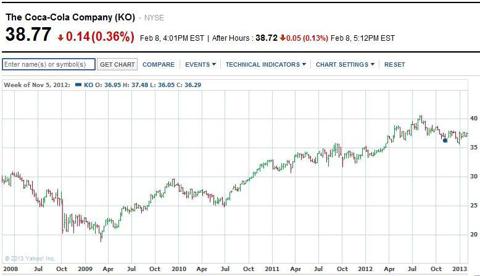 (source: yahoo.com)
The business of bottling and selling Coca-Cola products is much like the company products themselves. It is available in many flavors.
KO is the American company that bottles and distributes its brands of beverages through its own facilities as well as through independently owned bottling partners, distributors,

wholesalers

and retailers. KO operates in many countries throughout the world.
In Latin America it operates primarily though its franchisee, Coca Cola FEMSA, S.A.B. de C.V (NYSE:KOF).
KOF is in turn a subsidiary of Fomento Económico Mexicano, S.A.B. de C.V. (NYSE:FMX).
Those who are interested in investing in shares of KO should take a closer look at these two other ways to own Coca-Cola. Both of them outperform KO on share price performance, dividend growth and total return. Both also offer portfolio diversity with regard to geographic region, the host country currency, demographic population growth factors, economic trends, and political environments.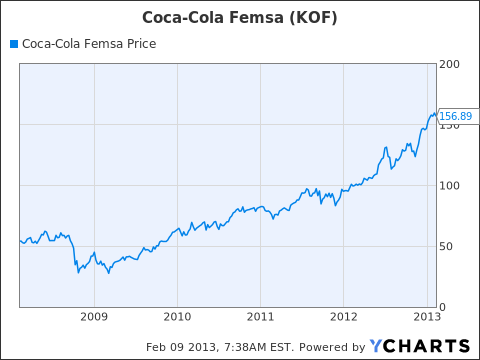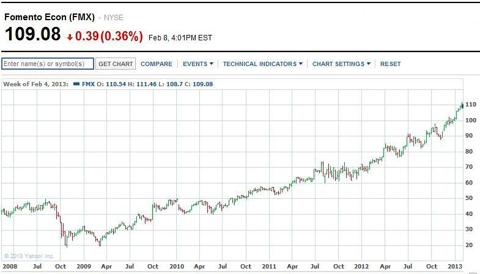 (source: yahoo.com)
For a particular individual investor, one, two, or even all three of these fine companies may play an important part in your portfolio. When we compare the percentage gain over the past five years for these three stocks KO comes out in a lowly 3rd place in that field of three.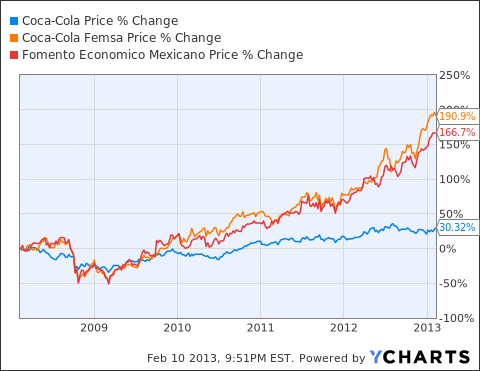 KO has increased its quarterly dividend each year for many years including through the financial crisis years of 2008 and 2009. Currently it has a dividend yield of 2.6%.
KOF has paid a dividend annually since 2010.

(SOURCE: Dividend.com)
Formento Econ. has also paid dividends since 1998. It has shown a steady and rapid increase in them since 2003 (with the exception of a slight pullback in 2009).
FMX DIVIDEND HISTORY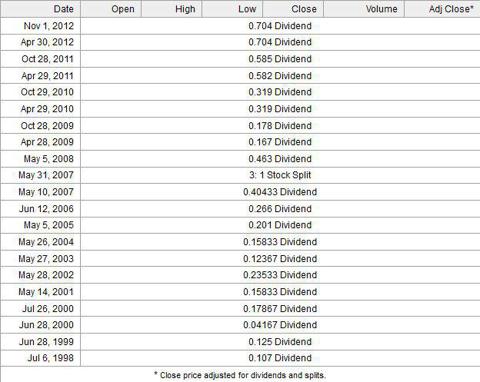 (source: yahoo.com)
In a side by side comparison of dividend growth, KO comes out on the bottom of the three companies.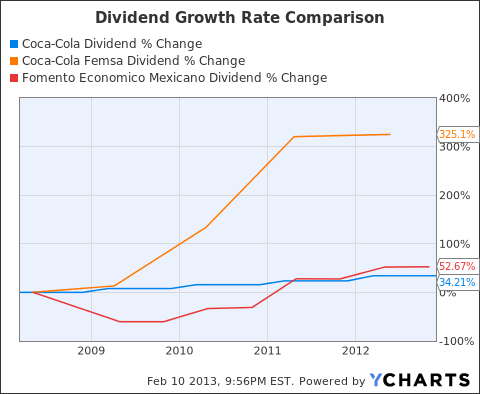 KO Dividend data by YCharts
For total return (stock appreciation plus non-reinvested dividends), KOF has led the pack for the past 5 years with about a 280% gain for investors.
KOF Total Return Performance for Past 5 Years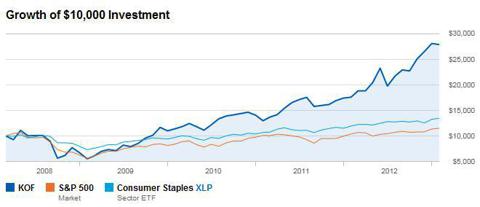 Following behind KOF in total return performance at a close second place is FMX. This company logged a 260% gain for 5 year holders.
FMX Total Return Performance for Past 5 Years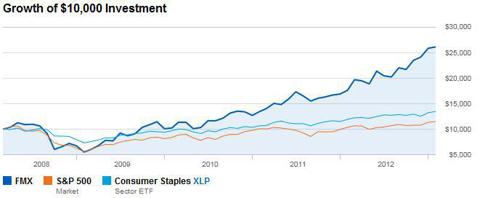 (source: schwab.com)
Finally, showing up in third place with a respectable, but lagging, total return performance is KO. The most familiar and widely held of these 3 stocks, KO delivered a 125% five year total return.
KO Total Return Performance for Past 5 Years
(click to enlarge)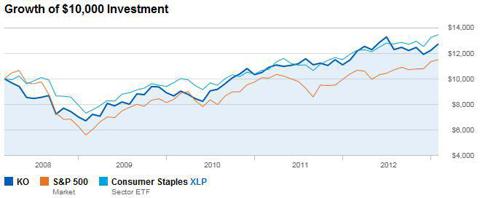 KO has in fact failed to out-perform its sector index ETF (NYSEARCA:XLP). Investors in KO would be advised to consider moving into one or more of FMX, KOF and even the Consumer Staples Sector Index fund rather then remain in the popular but underperforming KO.
Enjoy your Coke but drink up yield and profits from these KO alternatives.
I am not a licensed securities dealer or advisor. The views here are solely my own and should not be considered or used for investment advice. As always, individuals should determine the suitability for their own situation and perform their own due diligence before making any investment.
Good luck and good investing.
Disclosure: I have no positions in any stocks mentioned, but may initiate a long position in KOF, FMX over the next 72 hours. I wrote this article myself, and it expresses my own opinions. I am not receiving compensation for it (other than from Seeking Alpha). I have no business relationship with any company whose stock is mentioned in this article.