American Eagle Outfitters (NYSE:AEO) is an apparel retailer based in Pittsburgh, that caters to teenagers and young adults with its clothing. The company has been slowly increasing its international presence in markets such as Mexico in the past few years. With growth in revenue on the horizon, American Eagle seems like it's still a relatively cheap stock for investors looking for a dividend payer with solid fundamentals. With a closer look, however, it's clear that there are better places to put your money.
Unlike the major department retailers like J.C. Penney (NYSE:JCP) and Macy's (NYSE:M), American Eagle has absolutely no debt, which is great. On the other hand, it paid out 177% of earnings in the last 12 months in dividends. With such a high payout ratio, it's impossible for it to increase dividends consistently. It also puts strain on the expansion since the company is not retaining any of the cash and management obviously does not want to create debt to expand. Without further expansion, the recent increase in revenue is unlikely to continue, especially since online sales cannot keep up with those of the major department stores and online retailers.
Earnings quarter over quarter were up 38% for AEO compared with the industry average of 19%. This 12% surprise on expectations could have been due to a stellar holiday season, however year-over-year earnings are up only 8% compared with the industry average of 39%. Revenue growth is in line with the industry, which means margins at American Eagle are shrinking. With shrinking margins and competition from Abercrombie and Fitch (NYSE:ANF), Aeropostale, and Hollister, American Eagle stock looks like it's overvalued at its current price.
The chart shows a consolidation in stock price at the $20.35 level so a breakout in either direction could be a hint to a larger move in that direction. The MACD also shows consolidation while the RSI and the Ultimate Oscillator are both exactly in the middle, showing no trend in either direction. It's likely that AEO will move one way or the other with any catalyst (such as the next earnings report or change in guidance).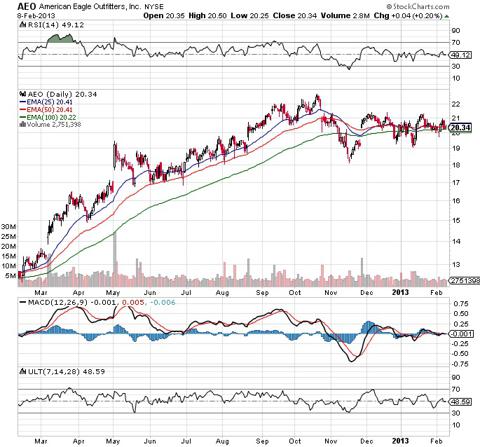 American Eagle is trading at 18 times earnings currently, which also happens to be the highest earnings multiple it has traded at in the past five years. It's likely that this could provide major resistance and help sellers win the battle causing a breakout to the downside. Dividend investors should look to a cheaper stock with a more stable dividend like Macy's. American Eagle's dividend payments have been sporadic and inconsistent with payout ratios above 100% in two of the last nine years.
While I have a bearish stance on AEO, it's important to note that of the 20 analysts that cover this stock, 10 rate it a strong buy, one rates it a moderate buy, and nine rate it a hold. It's important to do your homework and determine whether this investment is right for you or not. Consider your personal appetite for risk and research options strategies for more control over the risk/reward tradeoff.
Disclosure: I have no positions in any stocks mentioned, and no plans to initiate any positions within the next 72 hours. I wrote this article myself, and it expresses my own opinions. I am not receiving compensation for it (other than from Seeking Alpha). I have no business relationship with any company whose stock is mentioned in this article.
Additional disclosure: I have no positions in any stocks mentioned, and no plans to initiate any stock positions within the next 72 hours. I may initiate an options strategy on AEO with a bearish outlook, however.