Brunswick Corp. (NYSE:BC) was incorporated in 1907 and has been in business since the 1840s. The company manufactures:
bowling alley equipment
billiard tables (and assorted games)
boats
fitness equipment
Since last August, the company's stock has soared from the mid $20s to $36 a share. Brunswick's stock recovered from $2.71 in November 2008, a price it had not seen since the summer of 1982.
While Brunswick Corp. stock offers a very small dividend, its senior unsecured bonds yield over 6%. Notice one of the bonds is listed as call protected.
| | | | |
| --- | --- | --- | --- |
| | credit rating | price | yield |
| Brunswick Corp Nt 7.125% 2027, Make Whole Call (cusip: 117043AG4) | B2/BB- | 104.96 | 6.58% |
| Brunswick Corp Deb 7.375% 2023 (cusip: 117043AE9) call protected | B2/BB- | 107.74 | 6.35% |
Brunswick Corp. struggled during the economic downturn, however, it stayed afloat. Moody's upgraded the company's credit rating in April 2012 and gave a stable outlook. Though the credit rating was boosted, LGD (loss given default) on the unsecured notes remained at the lowest rating of 6; the secured notes remained LGD 2:
Probability of Default Rating to Ba3 from B1;

$575 million senior unsecured notes due 2013-2027 ($355 million outstanding) to B2 (LGD 6, 92%) from B3 (LGD 6, 90%);

$350 million senior secured notes due 2016 ($288 million outstanding) to Ba1 (LGD 2, 23%) from Ba2 (LGD 2, 27%);

The following rating was affirmed:

Speculative grade liquidity rating at SGL-1
While the nearer-term Brunswick bonds loss range dropped from 27% to 23%, the unsecured notes' loss range inched up from 90% to 92%. So, according to Moody's, there is very little chance investors would recoup their investment if Brunswick defaulted.
According to the Altman Z-Score, Brunswick is in the safe zone in terms of bankruptcy risk, though valuation allowances may make the score appear artificially high. In this case, there is a large drop in the Z-Score that corresponds to a steep decline in net income; instead of a large increase in net income, and Z-Score, due to a valuation allowance: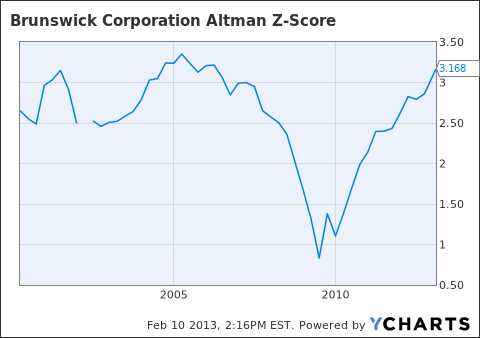 BC Altman Z-Score data by YCharts
The 2009 annual report is prefaced by this statement from CEO Dustan McCoy:
The Company reported a net loss of $586 million, or $6.63 per diluted share. Our results reflect the actions that were necessary to maintain prudent levels of liquidity, resize our businesses and ultimately position the Company to prosper when market conditions stabilize and inevitably improve.
Though this period of time was difficult, clearly Brunswick maneuvered through it successfully.
Brunswick's 10-Q filed last November states:
The Company recognized an income tax provision for the nine months ended September 29, 2012 of $31.0 million, which included a net tax charge of $0.5 million associated with the reassessment of tax reserves and unfavorable valuation allowance adjustments primarily related to stock-based compensation, partially offset by the benefit of the release of valuation allowances for entities that were no longer in a cumulative three-year loss position...

...the Company continues to be in a cumulative loss position over the last three years for book purposes and therefore the realization of certain deferred tax assets remains uncertain. As a result, the Company continues to adjust its valuation allowances related to these jurisdictions as deferred tax assets increase or decrease, resulting in effectively no recorded tax benefit for those jurisdictions with operating losses, or no tax expense for those jurisdictions with operating income and loss carryforwards...

In spite of challenging economic conditions, the Company is planning for sales and earnings growth in the fourth quarter of this year when compared with 2011. The Company expects to see continued improvement in the domestic marine market, particularly in aluminum boats and outboard engines, and steady fundamentals in its U.S. fitness and bowling businesses, which the Company expects to be offset with continued challenges for the global fiberglass sterndrive boat product categories and weak European market demand.
Now let's check out net income, revenue and EBITDA: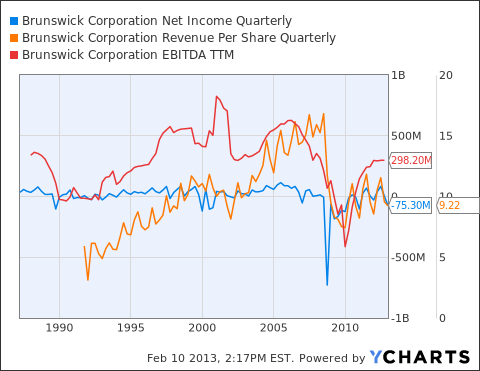 BC Net Income Quarterly data by YCharts
According to this chart, Brunswick's net income is consistently abysmal. Revenue declined significantly, as did net income and EBITDA, during the economic downturn. Total long-term debt stands at $571M, with one significant hurdle being the repayment of its outstanding $288M in 2016 bonds.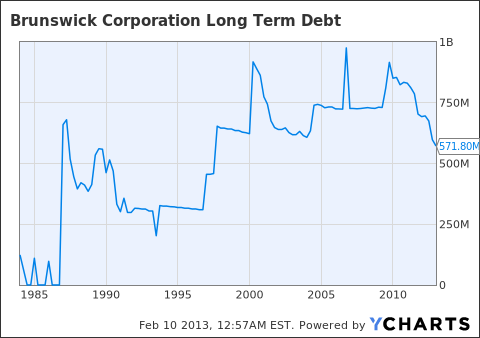 BC Long Term Debt data by YCharts
Now, let's take a look at the many facets of Brunswick Corp.'s business.
Brunswick Bowling
Brunswick has modernized and supplied some impressive-looking facilities across the world. The company sells bowling balls, lanes, pinsetters, shoes, furniture and the Vector Plus network system to keep score. Brunswick Bowling specializes in both commercial and residential in-home bowling alleys.
Here are some facilities Brunswick recently developed: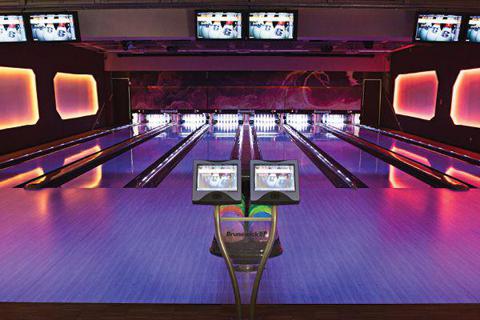 The Kartpalast Funpark in Bergkirchen, Germany includes 6 lanes, indoor Go-Karts and mini golf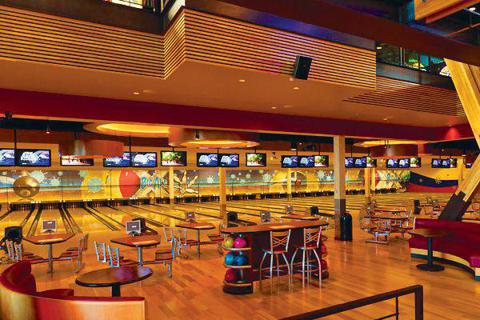 Big Al's opened in Meridian, Idaho in 2012; the center has 42 lanes, laser tag, Go-Karts, batting cages, and mini golf.
The family-owned Big Al's Meridian -- a sports bar and grill, bowling center and arcade -- opened (Aug. 2012,) providing 200 local jobs and an investment of about $9.8 million in the Meridian area.

After a year of construction on the 66,000-square-foot building, Big Al's is one of the first businesses to open at The Village.
These facilities look impressive. Of course, Brunswick does not operate or own them, however, it actively promotes development, citing the potential to bring in over $100,000 per lane annually (presuming the facility is in a condusive location.)
In addition to offering development to third parties, the Brunswick Zone bowling centers, established in 1999, can be found in over one dozen states and Canada.
Billiards
...when President Eisenhower established Camp David, it was furnished with not one, but four Brunswick tables. Every President since Eisenhower... has used those tables.
Brunswick has made billiard tables since the mid-1800s, including the Monarch table pictured below. Notice the four intricately carved lions that support the table. Today, Brunswick offers tables priced from $1,850 to more than $40,000.

Today, Brunswick also manufactures pool, foosball, table tennis, shuffle board and air hockey tables.
The Exposition Novelty table was first introduced in 1878; the new special edition Exposition Novelty table currently sells for $41,199:
Brunswick Billiards has chosen to revive the Exposition Novelty in a limited edition of 25 tables to celebrate and honor its 165th anniversary.
To put this in perspective, all 25 tables are valued around $1M; Brunswick's top executives pull in more than $8M a year.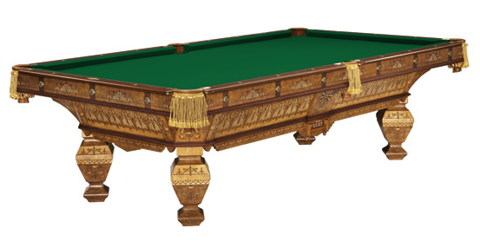 The company's 2012 Q4 report stated:
The Bowling & Billiards segment is comprised of Brunswick retail bowling centers, bowling equipment and products, and billiards tables and accessories. Segment sales in the fourth quarter of 2012 totaled $85.3 million, up 5 percent compared with $80.9 million in the prior year's fourth quarter.
Boats/Engines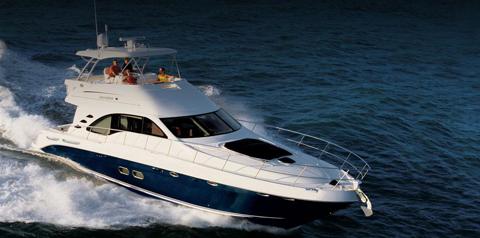 Sea Ray Sedan Bridge 580 Base Price Approx. $2M
Brunswick Boat Group owns two dozen brands of boat manufacturers, ranging from Sea Ray yachts, to Lowe and Lund fishing boats, to Brunswick Commercial & Government Products' rescue and tactical boats.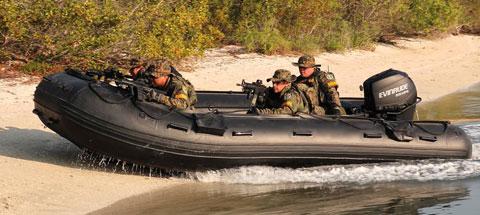 IMPACT Rigid Hull Inflatable Boat
Brunswick's diversification is impressive, however, the company's debt is still rated very low. The company's most recent 8-K states:
On December 31, 2012, the Board of Directors of Brunswick Corporation... authorized the Company to exit its Hatteras and CABO boat businesses. As a result, these businesses, which were previously reported in the Boat segment, will be reported as discontinued operations beginning with the fourth quarter of 2012.
Fitness
Brunswick acquired Life Fitness and Hammer Strength in 1997. The companies supply hotels, gyms and residences.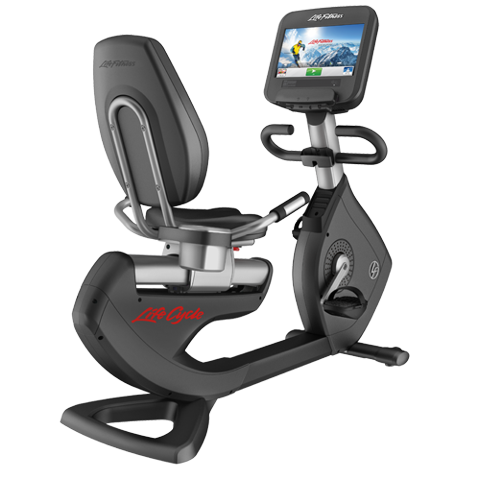 The November 2012 10-Q warned:
A decrease in the Fitness segment's sales to international and hospitality customers and lower revenues across all businesses in the Bowling & Billiards segment also reduced sales for the third quarter 2012.
Investors must be familiar with a companies' products; quality exercise equipment or game tables can last for many years. A bowling alley or entertainment center could thrive without modernization for 12 years; though recent Brunswick Zone closures have been accompanied by openings of newer, larger Brunswick Zone XL locations.
Permanent Leisure Products Less Profitable...?
Brunswick Corp. is diversified, however, the company's income statement leaves a lot to be desired. Its leisure products could last decades without needing to be replaced; so a lot depends on the state of the economy and consumer sentiment.
Many consumers do not have $8,000 to spend on a pool table or $780,000 to spare for a 2012 Sea Ray 410 Sundancer yacht. Though some Brunswick boats are affordable, like the $11,200 Lund 1625 Fury fishing boat.
Here is a comparison to candy, soda and tobacco -- companies known to pull in big profits. Hershey (NYSE:HSY), Coca-Cola (NYSE:KO) and Reynolds (NYSE:RAI) come to mind: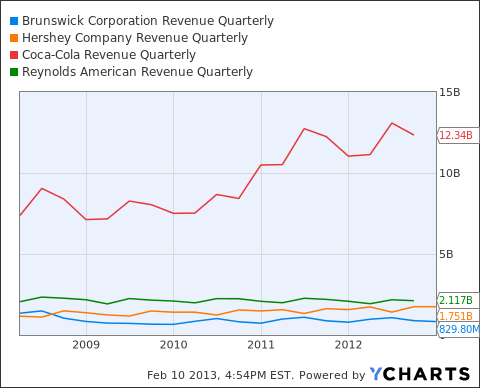 BC Revenue Quarterly data by YCharts
Now, let's look at EBITDA: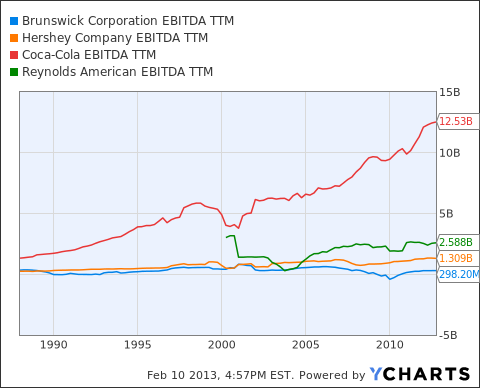 BC EBITDA TTM data by YCharts
This certainly provides a bigger picture, let's remove Coca-Cola: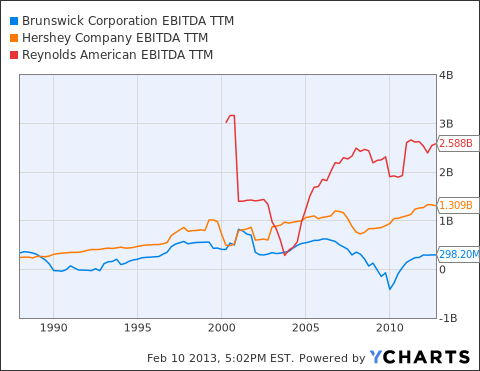 BC EBITDA TTM data by YCharts
Brunswick's products do not need to be constantly replaced -- unlike soda, candy and tobacco, products that are consumed, then replenished. These are important considerations for investors, and may be a good reason to blend an investment in Brunswick with a stock like Coca-Cola or Berkshire (NYSE:BRK.B) (owner of See's Candies and Wrigley.)
Here is an example that uses the 2023 Brunswick bonds, in addition to 2022 Berkshire Corp. bonds, a high yield income fund (like the New America High Income Fund (NYSE:HYB) or the BlackRock Corporate High Yield Fund V (NYSE:HYV)) and Coca-Cola stock.
| | | | | |
| --- | --- | --- | --- | --- |
| portfolio size | 7.375% Brunswick 2023 | 3.4% Berkshire 2022 (cusip: 084670BF4) price: $105.12 yield: 2.75% call protected, min. denomination: 2,000 | Coca-Cola stock / High Yield Income Fund | total / % |
| $50,000 | $1,095 | $2,135 | $200 / $250 | $3,680 / 7.3% |
| $100,000 | $2,190 | $3,205 | $275 / $350 | $6,020 / 6% |
| $1,000,000 | $4,380 | $5,340 | $400 / $500 | $10,620 / 1% |
| $5,000,000 | $8,760 | $8,540 | $800 / $800 | $18,900 / 0.37% |
These allocations are meant to be conservative, and to balance yield with quality.
Currently, the 2023 Brunswick bond's B2 rating is in the middle of Moody's junk range. There is really no such thing as a safe junk bond; like any highly speculative investment, it could falter in less than a perfect storm. Therefore it's important to have a mechanism in place to be able to generate sufficient funds to compensate for such an investment in junk bonds.
If you have any thoughts on Brunswick Corp. or this example, please leave a comment below.
Disclosure: I am long HYB, HYV, KO, BRK.B. I wrote this article myself, and it expresses my own opinions. I am not receiving compensation for it (other than from Seeking Alpha). I have no business relationship with any company whose stock is mentioned in this article.
Additional disclosure: I am long Berkshire Corp. bonds and I am considering Brunswick 2023 senior unsecured junk bonds. This article is not a recommendation to buy or sell. Please consult a financial adviser to determine a proper allocation, if any, to meet your financial objectives