The credit card business appears to be enjoying a revival as net charge offs hit new lows and employment solidifies.
Over the past 18 months, bank loan growth has been led by commercial and industrial loans. Now, consumer trends are improving, which will help Discover Financial (NYSE:DFS).
Broadly, bank balance sheets have improved, thanks to Fed-inspired cheap funding costs. Discover has also leveraged cheap money to boost profits, with the company expected to earn $4.50 per share in 2014; up significantly from the $0.15 it earned in 2009.
Industry-wide, card delinquencies more than 30 days overdue at the 100 largest banks fell to 2.8% in Q3'12, the lowest on record back to at least 1991.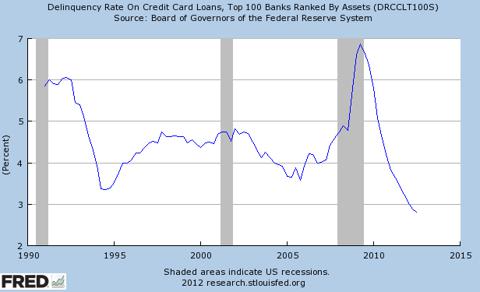 The drop in delinquency has significantly reduced charge-offs, which fell to 3.82% at the biggest banks in Q3.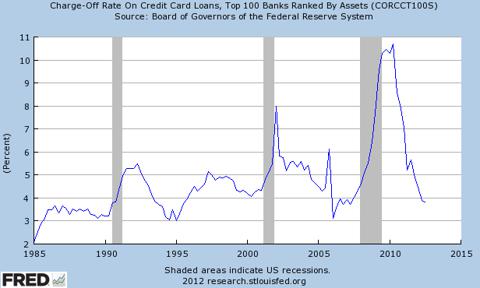 Discover is outpacing those rates, with net charge-offs of just 2.29%, down 0.95% from the prior year. This marked the lowest charge off rate in Discover's history. 90-day delinquencies also fell in the past year, dropping to 0.83% from 1.14% a year ago.
Improving consumer balance sheets helped Discover's organic card receivables improve 6% to a 5 year high in the calendar Q3, which is the company's FYQ4.
But Discover isn't just generating gains from credit cards.
It's also putting cheap funding to work with a push into traditional banking, offering student loans, personal loans and as of last summer, mortgage loans.
Those offerings helped the company's direct banking segment earn $827 million pre-tax in FY12, up from $776 in FY11. The segment's net income climbed 11%.
As housing markets recover and additional investments in banking products -- including checking -- come to market, Discover should see results become even more material.
The company has also taken a shareholder friendly approach to returning money to shareholders. In FYQ4, it gave back $451 million through dividends and buybacks.
Strong credit card and trend and early success in banking products have helped Discover generate market leading metrics among its peers, too. Discover has posted higher margins, return on assets and return on equity than American Express (NYSE:AXP) and Capital One (NYSE:COF).
Source: E.B. Capital Markets, LLC

The demand for Discover's products and services is likely to continue this year, given revolving credit usage appears to have stabilized near $850 billion and bank-owned revolving credit has ticked higher.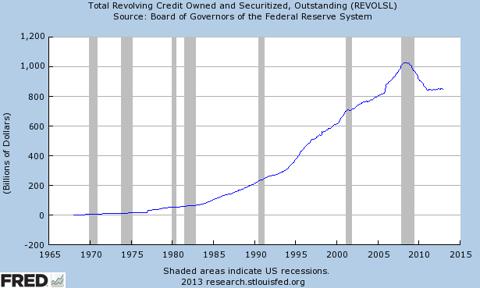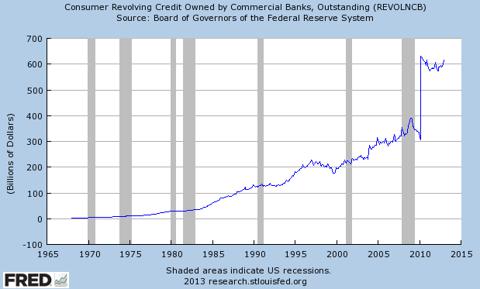 All of this activity helped FYQ4 earnings per share climb 13%, outpacing 7% revenue growth. The results supported analysts increasing their FY14 estimates over the past 90 days to $4.50, from $4.37. That gives shares a forward P/E of just 8.8x, which is at the low end of its 5 year historical range.
Finally, shareholders may take additional comfort in knowing shares have been strong performers into springtime. According to data from the Seasonal Investor, investors have made money in the 3 months starting February and ending April in each of the past 5 years -- including during the recession years.
Source: Seasonal Investor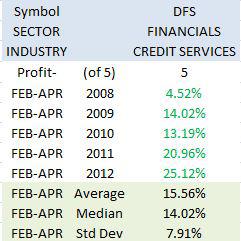 Disclosure: I have no positions in any stocks mentioned, but may initiate a long position in DFS over the next 72 hours. I wrote this article myself, and it expresses my own opinions. I am not receiving compensation for it (other than from Seeking Alpha). I have no business relationship with any company whose stock is mentioned in this article.