Apple (AAPL) has fallen nine percent in the past month and investors are scratching their heads. Apple started 2012 with significant appreciation but has been in a tailspin since hitting $705. Optimism surrounding the company has vanished and the media is now extremely critical of Apple. Now more than ever it is important to monitor developments for the company and its competitors. Below I will layout the reason why I continue to recommend Apple and, as a supplement, present complementary option strategies.

(Source: Yahoo! Finance)
Is Apple back on track? Apple has outperformed the S&P 500 by approximately six percent the past two weeks and the stock price is slowly climbing back towards the $500 level. As I mentioned in late January, I believe Apple has a challenging 2013 ahead and investors need to reset their expectations. For this reason, selling out-of-the-money covered calls is a great approach as your probability of missing significant appreciation is minimized. Since Apple reported first quarter earnings that generally failed to meet the market's expectations (I know this is a loaded statement), I now view Apple through a very narrow lens. Specifically I am looking for one of the three catalysts to move Apple materially higher:
Apple increases its share repurchase plan significantly
Apple increases its dividend payment significantly
Apple announces a breakthrough new product
This was a very strange week for Apple as the company was sued and the lawsuit drove the stock higher. Hedge Fund manager David Einhorn sued Apple regarding its cash policies. The actual lawsuit relates to "bundling" on a proxy vote but Einhorn's message is clear: Apple needs to return cash to shareholders. To put this in context, this is the first time since 2005 that a shareholder has formally waged a campaign against an Apple management proposal. I am a big believer in David Einhorn as he utilizes a deep fundamental analysis that is similar to my own. I recently covered his top five holdings at Greenlight Capital, LLC and as of September 30, 2012, Apple represented 12.1% of his long portfolio. Apple's poor performance in the fourth quarter was a likely catalyst behind the lawsuit as Greenlight Capital investors earned "only" 7.9% in 2012 versus an average of 19.4% historical annual return for the fund.
Apple was uncharacteristically transparent in responding to Mr. Einhorn's lawsuit the very same day: "Apple's management team and Board of Directors have been in active discussions about returning additional cash to shareholders. As part of our review, we will thoroughly evaluate Greenlight Capital's current proposal to issue some form of preferred stock. We welcome Greenlight's views and the views of all of our shareholders." This is not a radically different statement from that echoed by Tim Cook during earnings calls but the lawsuit should light a large fire under Apple to take action.
I now believe that we will see Apple increase its cash return to investors substantially this year, whether it be through a dividend increase that brings the yield closer to three percent or share repurchases. I prefer share repurchases for two main reasons. First, they send an immediate signal to the market that management finds the share price attractively low and aligns shareholder interests with management. Secondly, the repurchase reduces future cash dividend payments over-time by reducing the share count. Additionally, share repurchases are not required so Apple has the flexibility to reduce or increase the plan as it sees fit. In contrast, issuing perpetual preferred stock with a high dividend payment is effectively permanent and, in my opinion, is not in the best interest of long-term shareholder value. The simple fact that Apple is discussing the cash policy so frequently and publicly means that this is a priority. Tim Cook and other senior Apple executives cannot be too happy with the stock continually being bashed for being "uncool" or hoarding cash contrary to the will of investors.
On the breakthrough product front, the Wall Street Journal reported yesterday that Apple is working on a smart watch, or "iWatch". These rumors have existed for quite some time and many people have even adapted their earlier generation iPod Nano into watches using a simple wrist strap. The current iPod Nano retails for $149 with a larger screen so I do not believe it would be a stretch for the iWatch to retail between $99 and $129 as it would not require all of the traditional components. This would fit well between the iPod Shuffle and iPod Nano price points and would draw substantial appeal from iPhone users. Even if the product is not a smash hit, Apple is all about building the ecosystem and building its barriers to entry. For example, if you have an iWatch, you are less likely to defect to the latest Samsung phone running Google's (GOOG) Android software. Apple sold over 80M iPhones last fiscal year so even if ten percent of iPhone users buy an iWatch, that is an additional $800M in sales on the low end. Apple had $156B in sales last fiscal year so this would be firmly in Apple's hobby category but perhaps I am understating demand. Either way, there is no real downside to releasing a new product category for the company as it strengthens the overall competitive position.
Aside from the oft rumored iTV, Apple clearly has brand new products in the pipeline and it is only a matter of time before they are market-ready. Next week I hope to cover one of those potential products in detail and shed some light onto a positive catalyst for the stock so stay tuned. Even if a product launch is far off, it is never too early to see positive leakage into the stock price with Apple.
Below I present three possible scenarios and the potential returns for the Apple options:
Apple Down 5%
Apple Unchanged
Apple Closing at 50 Day Simple Moving Average (NYSE:SMA)
These scenarios are forecasts and there is no guarantee that they will come to fruition. For more information on the fundamentals of covered calls, consult Investopedia. I utilize conservative covered calls to simultaneously generate income and reduce your effective cost basis. For details on my methodology please consult the first article in the series as well as my Instablog.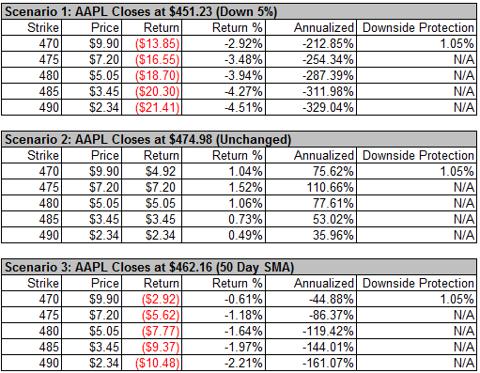 Additionally, if you would like even more information, I have prepared a sensitivity analysis for absolute return and percent returns, respectively. After studying the information above, these two charts make it easy to pick a strike price based on where you believe Apple will close at the end of the week. Estimate where you believe Apple will close and select the strike price with the highest return.

With this information, executing a buy-write on AAPL February 16 $490s is the preferred risk-return strategy as an opening Apple transaction. The option has a potential return of $2.34 (time value) and should provide coverage against a slight drop. This strategy is excellent for long-term Apple investors who want to generate income while still staying long the stock. This strategy is more conservative than I typically present as I want to minimize the probability of having your stock called away. If Apple stays flat you just earned a .5% weekly "dividend" for doing nothing - not too bad.
An alternative approach is to sell out-of-the-money $460 puts and collect the premium without having to purchase the stock outright. The $460s are currently trading around $2.16 and appear to offer the best risk-reward profile for the week. Note that if the stock declines to the strike price, you are obligated to buy the stock (or closeout the position). You should always consider the risks (particularly with naked calls or puts) raised in this article in light of your personal circumstances (including financial and taxation issues) in consultation with your professional financial adviser.
Disclosure: I am long AAPL, GOOG. I wrote this article myself, and it expresses my own opinions. I am not receiving compensation for it (other than from Seeking Alpha). I have no business relationship with any company whose stock is mentioned in this article.
Additional disclosure: Disclosure: Author is long AAPL, GOOG. Short Feb 22 AAPL $480sPlease refer to profile page for disclaimers.