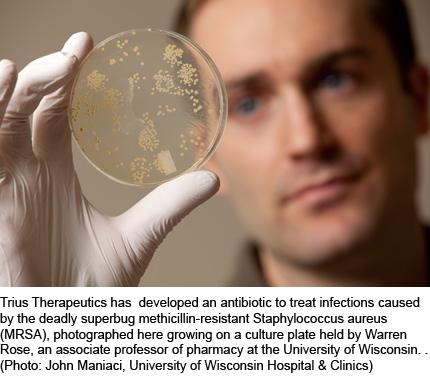 The share price of Trius Therapeutics (TSRX) has rebounded almost fully from its 10 percent dip in the New Year that was triggered by its public offering of 7 million shares; however, uncertainty about the company's lead investigational drug is a lingering February hangover.
The San Diego-based biotech grossed $34 million in the public offering; and mutual funds, institutional investors, insiders, and other large players purchased newly minted shares of Trius for $4.75 a share, which they can now flip for a combined profit of roughly $3.5 million. But small investors face a dilemma: should they dump their diluted shares, double down, or do nothing?
Trius is a biotech darling, but it also is a company that has not received U.S. Food and Drug Administration (FDA) approval for its lead drug tedizolid, a highly potent antibiotic developed to treat infections caused by methicillin-resistant Staphylococcus aureus (MRSA). And if tedizolid is indeed approved by the FDA, it will face competition from cheaper, better-known generics. Tough obstacles? Maybe not.
Tedizolid's target: deadly MRSA
Tedizolid's target is a highly resilient bacterium that causes a wide variety of often-deadly infections in skin, blood, bone, lungs, the heart, urinary tract, and other tissues. MRSA is found in hospital wards and nurseries, nursing homes, dialysis centers, athletic locker rooms, prisons, tattoo parlors, and preschools.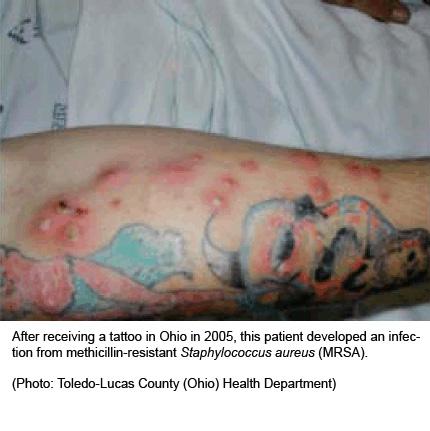 MRSA outbreaks have even been traced to outpatient pain clinic employees who used single-use vials for more than one patient. Up to 25 percent of meat and poultry in U.S. grocery stores is tainted with multi-antibiotic-resistant S. aureus, including MRSA. It's ubiquitous.
With the world's population in almost inescapable contact with MRSA, the need for safer, more effective antibiotics to treat infections is enormous. For investors trying to decide whether to buy or sell Trius, there are three practical issues to consider:
What is the toxicity profile of Trius' lead drug tedizolid? Name-brand and generic antibiotics currently used to treat MRSA have toxic side effects, especially with long-term usage. If tedizolid is significantly safer, which early trials show is the case, it could have a major advantage over other antibiotics.
Assuming that the FDA approves tedizolid, possibly by 2015, how effectively will it be able to compete against its main competitor linezolid (Zyvox), a chemically similar drug made by Pfizer (NYSE:PFE)? Linezolid's current annual sales are $1.2 billion, but those sales have stagnated due to safety concerns and are expected to plummet when linezolid goes off-patent in 2015. Will generic forms of linezolid drag down sales of tedizolid, too?
Answers emerging
The answers are already emerging. The results of the first of two Phase III clinical trials have been submitted to a scientific journal and will be published soon. The second, larger Phase III trial is in progress. Tedizolid has been given a priority designation that puts its evaluation on a fast track, and doctors who treat MRSA infections say they like tedizolid's safety profile and are eager to use it instead of linezolid.
Meanwhile, the national and global need for safe, new and effective antibiotics to treat MRSA infections is growing even as large pharmaceutical companies cut back or dither on antibiotic research and development.
Phase III surprises
According to Trius, tedizolid's first Phase III clinical trial results easily met FDA-required endpoints of eliminating fevers and stopping the spread of acute bacterial skin and skin structure infections caused by MRSA and other gram-positive bacteria. (Staphylococci, Streptococci, Enterococci and other bacterial groups are called gram-positive because they are stained dark blue with a Gram stain, while gram-negative bacteria retain only a pink counterstain.)
"The results have been accepted by a major journal and will be published shortly," said Craig Thompson, chief commercial officer at Trius.
The two Phase III trials are head-to-head comparisons of tedizolid and linezolid. Thompson said Trius scientists had expected tedizolid to have milder side effects than linezolid, but they were surprised by tedizolid's sharply lower toxicity. "All of our surprises in the Phase III trial were good," Thompson said.
One of the tougher endpoints of the second Phase III trial is this: a greater than 20 percent reduction in the size of MRSA skin lesions. The trial compares a six-day, once-a-day course of tedizolid versus a 10-day, twice-a-day course of linezolid. Thompson said tedizolid has already met the tougher endpoint in 76 percent of cases in the first Phase III trial.
Tedizolid's six key advantages
Thompson listed six key advantages of Trius' tedizolid over Pfizer's linezolid:
Tedizolid has significantly lower gastrointestinal side effects and less toxicity toward platelets than linezolid. This feature gives tedizolid a big advantage in the treatment of patients with complicated illnesses, especially those with cancer or diseases in which the disease itself or treatments lower patients' platelet counts or cause other adverse side effects.
Tedizolid's lower toxicity profile makes it a much better choice than linezolid to treat recurrent and long-term infections such as skin ulcers suffered by the elderly, people with diabetes or impaired immune systems, or people with infections involving joint implants.
On a per-microgram basis, tedizolid is at least four times more potent in vitro than linezolid against MRSA and pathogenic strains of Streptococci and Enterococci.
Tedizolid's standard treatment is once a day for six days (six doses), versus twice a day for 10 days (20 doses) for linezolid. Both are available as a pill or as an intravenous (IV) injection.
Resistance by MRSA strains to tedizolid develops 16 times more slowly than with linezolid.
Tedizolid is effective against linezolid-resistant MRSA strains.
"That's very promising if peer-reviewed studies show that the toxicity profile is superior to linezolid, and I hope tedizolid does come out," Dr. Michael David, a leading national expert on MRSA infections and assistant professor of medicine, pediatrics, and health studies at the University of Chicago, said in a telephone interview. He said Pfizer's linezolid is already well known to lower patients' platelet counts. "That's a real problem with cancer patients," he said.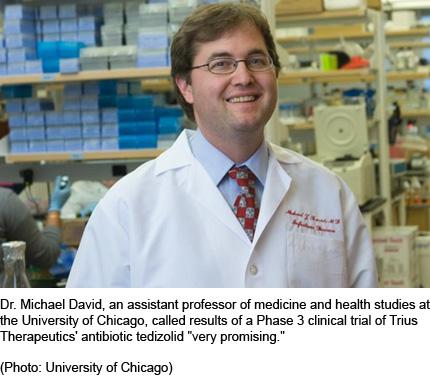 MRSA strains are a moving target for antibiotic developers. MRSA easily acquires antibiotic-resistance genes from other bacterial groups or it can evolve unique resistance capabilities on its own. But the slow rate at which MRSA strains acquire resistance to tedizolid is heartening to Trius.
"The bottom line on antibiotic resistance is that it is the ecological equivalent of Newton's third law - for every pressure we place on microbes, there will be an equal and opposite reaction: this is where Newton meets Darwin," Michael Gilmore, a professor at Harvard Medical School and an associate at the Broad Institute in Cambridge, Mass., said in an email.
MRSA is responsible for more than 18,000 U.S. deaths per year, which is more than the nation's annual deaths from HIV/AIDS, murders, emphysema and Parkinson's disease combined.
"I don't know much about tedizolid, but we welcome any addition to the armamentarium - the better to manage the whole range of MRSA," said Dr. Daniel J. Diekma, director of infectious diseases and professor of pathology and internal medicine at the Carver College of Medicine at the University of Iowa. "There are a few alternative antibiotics, but there are high rates of drug failure or drug intolerance. MRSA is still our biggest scourge in the hospital in terms of infections."
Antibiotics and toxicity
Vancomycin has been doctors' antibiotic of choice against MRSA for several decades. However, vancomycin-resistant Staphylococcus aureus (VRSA) strains are proliferating, a scary development for infectious disease clinicians. There are few other antibiotics to fall back on.
For example, in a Michigan hospital a 48-year-old patient with diabetes and chronic foot ulcers was given vancomycin and ceftriaxone, an antibiotic made by Roche (OTCQX:RHHBY), for seven months to treat a bone infection caused by MRSA. However, the infection lingered.
A report on the 2007 case in Emerging Infectious Diseases said a microbiology lab discovered the reason the infection didn't clear up with vancomycin: the patient was infected with a VRSA strain. Doctors immediately switched to linezolid and meropenem, an antibiotic marketed by AstraZeneca (NYSE:AZN), and the patient's infection cleared up after 15 more weeks in the hospital.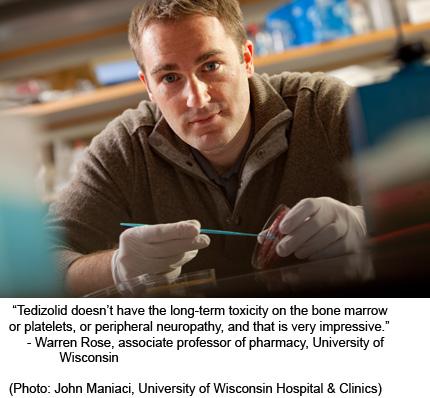 "We use a fair amount of linezolid in the hospital," said Warren Rose, an associate professor of pharmacy at the University of Wisconsin. "But toxicity has prevented a lot of use of linezolid: we can't give it for six weeks because toxicity is such a big risk factor."
Rose said tedizolid's safety profile is just as important as its greater potency against MRSA strains. "Tedizolid doesn't have the long-term toxicity on the bone marrow or platelets, or peripheral neuropathy, and that is very impressive."
Tedizolid's market
A retrospective study of 699 patients with blood infections due to MRSA and who were admitted to a New York City hospital between 2002 and 2007 found that 31.5 percent of the patients died.
Researchers with the U.S. National Institutes of Health and Resources for the Future, a nonprofit and nonpartisan organization that conducts independent research, estimated that from 1999 through 2005, MRSA-related hospitalizations in the U.S. more than doubled, from 127,036 to 278,203. The scientists said MRSA should be "a national priority for disease control," however, the federal Centers for Disease Control and Prevention (CDC) does not have enough money in its budget to establish a comprehensive surveillance program for MRSA.
The University of Chicago's David and his colleagues combined the results of dozens of studies in the hopes of estimating the overall rate of MRSA infections in the U.S., but their meta-analysis published in PLoS ONE in 2013 came up short. "We had aimed to come up with such a number," David said in an email, "and we realized after a year of thought and analysis that we could not."
However, a study published in Archives of Internal Medicine in 2008 by researchers at UC San Francisco documented a 65 percent increase in skin and soft tissue infections (SSTIs) in an eight-year period in the U.S.: total visits for SSTIs to hospitals, outpatient clinics and doctors' offices increased from 8.6 million in 1997 to 14.2 million in 2005. The report, which was based on analyses of two nationwide surveys, found that almost all of the increase was due to skin infections with a buildup of puss in those infections in the form of abscesses. While abscesses are common features of MRSA infections, not all the 14.2 million visits for SSTIs included a lab culture to confirm MRSA.
Once approved, tedizolid can be prescribed as an oral medication to treat SSTIs diagnosed in outpatient clinics, doctors' offices and other settings.
Experts agree that skin infections involving MRSA account for about one-third of all MRSA infections. Such infections will be the primary indication to prescribe tedizolid. In addition, Thompson said Trius is planning clinical trials of tedizolid to treat hospital-acquired pneumonia, and other types of MRSA infection.
Tedizolid's price
Trius hasn't named a retail price for tedizolid to treat skin and skin-structure infections. Of course, doctors could decide to use tedizolid off-label for other types of MRSA infections.
Linezolid sells for roughly $100 a dose in the form of a pill, and slightly more for an IV injection. The standard 10-day course of two linezolid pills a day costs about $2,000. If tedizolid were priced at, say $300 a pill, a six-day course of treatment would cost $1,800.
Since tedizolid also can be taken as a pill, doctors can send MRSA-infected patients home with it instead of keeping them in the hospital to receive IV injections. Sending patients home would save health insurers at least $2,000 a day on basic hospital costs, and patients themselves would be spared from paying hospital co-pays of as much as 20 percent or more.
On the contrary, vancomycin is given only in IV form in the hospital, often in combination with other antibiotics.
The current $1.2 billion annual revenue from Pfizer's linezolid represents about 600,000 standard 10-day (two doses per day) treatments at $100 per dose. Given tedizolid's greater potency and reduced toxicity, its potential market could easily total one million treatments per year.
The big unknown is the market effect of a generic form of linezolid. While it would sell for a deep discount, its dangerous side effects are well known, and doctors say they would likely prescribe tedizolid over a generic form of linezolid.
Tedizolid, priced at $300 per dose ($1,800 per six-day course of treatment) would total $1.8 billion in annual revenue. In a more negative scenario, if tedizolid were sold for $150 per dose and its market were only 500,000 treatment regimens per year, the drug would generate annual revenue of $450 million per year.
If potential annual gross sales of tedizolid are between $450 million and $1.8 billion; if gross earnings are half of gross sales; and if the price/earnings ratio of Trius stock goes to 10, the stock would reach $50-$200 a share, respectively. (That's assuming that there will be no additional public offerings or stock splits, and that an antibiotic that Trius is developing for gram-negative bacteria fails in clinical trials.)
GAIN Act aid
Trius is benefiting from incentives included in the Generating Antibiotic Incentives Now (GAIN) Act. Congress passed the law in 2011 in response to the world's shrinking pipeline of new antibiotics. The GAIN Act promotes the development of products to treat, prevent, detect, and diagnose antibiotic-resistant infections. The law extends the time an approved drug is free from competition and clarifies the regulatory pathway for new antibiotics.
In January 2013, given tedizolid a priority designation, will enable Trius to benefit from GAIN Act incentives, including priority review and eligibility for fast-track status. While Trius had expected the FDA's designation, Thompson said the company has been pleasantly surprised that the FDA "has been a great partner to work with."
Big pharma's antibiotic retreat
Trius is bucking the pharmaceutical trend on antibiotics. More than 20 large pharmaceutical companies had antibiotic discovery programs in 1980, but only six remain: Astellas, AstraZeneca , Cubist Pharmaceuticals (CBST), GlaxoSmithKline (NYSE:GSK), Merck (NYSE:MRK), and Novartis AG (NYSE:NVS).
"Where Lederle, Pharmacia, Parke-Davis, Upjohn, Wyeth and Pfizer once all had antibiotic discovery teams, these are all now part of Pfizer, which recently announced the closure of its antibacterial research in the USA," David Livermore, a distinguished microbiology researcher, antibiotic consultant, and investor in AstraZeneca, Merck, Pfizer, and Glaxo, wrote in a June 2011 commentary in Journal of Antimicrobial Chemotherapy.
Pfizer announced that it is relocating its U.S. antibacterial research units to Shanghai, "though the scale and timescale remain unclear," wrote Livermore, a member of the British Society for Antimicrobial Chemotherapy. Since 2008, Merck and Novartis have disrupted antibiotic-research teams by shifting the locations of research units, and AstraZeneca eliminated a large antibiotic-research lab. "It is hard to see how such disruptions encourage the retention of scientific expertise," Livermore wrote in his caustic commentary.
Other commentators have suggested that Cubist Pharmaceuticals might want to purchase Trius, but Bayer AG (BAYN.DE) is another possible suitor, given its close working relationship with the San Diego company.
Small pharma opportunity
While big pharma has pulled back on antibiotic research and development, small companies such as Trius and Forest Laboratories (NYSE:FRX) are developing antibiotics discovered by others. Trius, whose senior management team includes eight people experienced in anti-infective drug development, is in preclinical development of a second antibiotic designed to treat gram-negative infections. Trius also is evaluating marine natural products for their activity against gram-positive and gram-negative infections.
MRSA emergence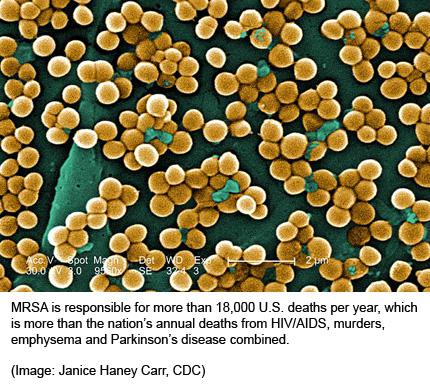 For decades, hospital laboratories were accustomed to identifying MRSA infections in patients on medical and surgical floors. MRSA thrives amid liberal use of antibiotics, antiseptics and cleaners. Indeed, the strains may flourish in hospitals because their antibiotic resistance gives them an edge over antibiotic-susceptible bacteria in such antiseptic environments.
Hand-washing, surface disinfectants, hydrogen peroxide gas and other infection-control practices, when rigorously followed, can slow the spread of MRSA in hospitals. The strain can also colonize hospitals' privacy curtains and gowns and lab coats worn by nurses, doctors and other caregivers. Rooms that are sterilized with harsh chemical gases quickly become recolonized by the bacterium after the air clears. Infectious disease experts say MRSA simply can't be eliminated from hospitals.
But something strange began to occur outside of hospitals in about 2001. Suddenly, hospital microbiology labs began confirming MRSA in patients arriving at emergency rooms (ERs).
Anecdotal reports in the medical literature confirmed the disturbing spread of MRSA to hundreds of non-hospital settings. The very young and very old are most vulnerable, but even healthy individuals in their 20s were stricken.
For example, a healthy 29-year-old Korean woman almost died from an MRSA infection after she had her ears pierced. Her ear lobes quickly became tender; she developed a fever and a nasty facial rash. Her symptoms worsened by the hour and she was admitted to a hospital. The infection spread to her heart where it ruptured her mitral valve. Surgeons removed the valve and replaced it with a prosthetic valve. The patient received IV vancomycin in combination with other antibiotics in the hospital for eight weeks until she recovered and was discharged.
Superbug breaks out
Starting in 2001, MRSA also began to infect infants in nurseries and toddlers in child daycare centers. Next were nursing homes, kindergartens, jails, dialysis centers, military training centers, athletic facilities, and a wide variety of other community settings.
Experts still don't know what caused the MRSA epidemic. However, the University of Chicago's Dr. David described one theory that may help to explain its sudden spread through non-hospital settings, although the theory doesn't explain all the available data.
An important clue was that MRSA was often found in healthy persons' noses. "We know that Staph aureus doesn't like to live in our noses with Streptococcus pneumoniae," David said. "But vaccines against Strep pneumoniae were introduced in the U.S. in 2000, and that is about the time community-associated MRSA infections started to take off."
David explained that while the vaccines reduced the incidence of pneumonia, they also eliminated certain types of S. pneumoniae from the nose: with the Strep bacterium gone, MRSA moved in. "The vaccine may have opened up an ecological niche for MRSA," he said.
The vaccine is now given to people aged 2 to 65. In a study of 3,806 residents and new admissions to 26 nursing homes in Orange County, Calif., between 2008 and 2011, nearly 22 percent were nasal carriers of MRSA. The study, published in Antimicrobial Agents and Chemotherapy, reported that most of the MRSA strains were resistant to clindamycin (55 percent), erythromycin (90 percent), and levofloxacin (98 percent). About 1 percent of the MRSA strains were resistant to linezolid.
Nursing home staff can temporarily eliminate MRSA from the noses of patients by swabbing their nasal passages with an ointment containing the antibiotic mupriocin. But MRSA often recolonizes those patients' noses. One follow-up study showed that 12 percent of the MRSA strains isolated in nursing home patients had become mupriocin-resistant.
Trius' marketing efficiency
Now, with $80-$90 million in cash on hand, the debt-free, notoriously thrifty Trius has more than enough money to complete the FDA-approval process and market tedizolid in the U.S., Canada, and Europe. Trius has an agreement with Bayer that gives the German pharmaceutical giant the development and commercialization rights to tedizolid in China, Japan, and most other countries in Asia, Africa, Latin America, and the Middle East, excluding North and South Korea.
Bayer paid Trius $25 million up front and agreed to support 25 percent of the future development costs required for global approval of tedizolid to treat acute bacterial skin and skin structure infections and pneumonia. In addition, Trius is eligible to receive up to $69 million in milestones and double-digit royalties on net sales in territories being developed by Bayer.
Trius is preparing to market tedizolid primarily to hospitals in the U.S., Canada, and the European Union. The limited number of prospective clients simplifies the marketing, conserving cash, as usual.
Trius even maintains a $150,000 certificate of deposit as collateral for a low-interest corporate credit card. CEO Jeffrey Stein can use the cash rewards to take his eight senior antibiotic developers to the IDWeek 2013 conference in San Francisco to update physicians, scientists, and other healthcare professionals on tedizolid's most recent clinical trial results.
Should Trius investors dump or double down? I recommend doubling down as long as Trius is selling below $20 a share.
Disclosure: I am long TSRX. I wrote this article myself, and it expresses my own opinions. I am not receiving compensation for it. I have no business relationship with any company whose stock is mentioned in this article.