Lockheed Martin's (NYSE:LMT) stock has declined 8.9% since January 24, after reporting mixed fourth quarter and full year 2012 results. In my opinion, the current weakness is a great opportunity for a long-term investment in this bellwether company.
In this article, I will give the corresponding fundamental parameters for this great company, and the reasons I think that now it is a good time to buy this stock. Nonetheless, these data and my opinion should only serve as a basis for further research. All the data for this article were taken from Yahoo Finance on February 12, before the market open.
Lockheed Martin Corporation, is a security and aerospace company that engages in the research, design, development, manufacture, integration, and sustainment of advanced technology systems and products in the areas of defense, space, intelligence, homeland security, information technology, and cyber security in the United States and internationally.
The two tables below present some important valuation metrics and dividend information.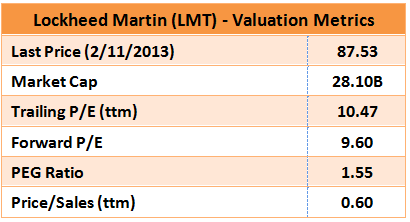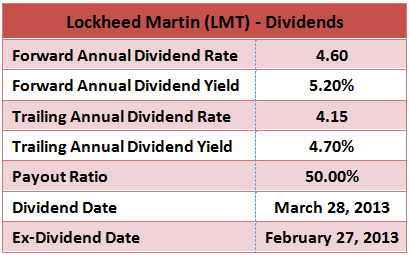 On January 24, Lockheed Martin reported its results for the fourth quarter and full year of 2012, which missed EPS expectations by $0.09 and beat expectations on revenues. Lockheed said that it earned $569 million, or $1.73 per share, down from $683 million, or $2.09 per share, in the fourth quarter of last year. Revenue fell to $12.1 billion from $12.21 billion. Analysts, on average, had expected a profit of $1.82 per share on $11.17 billion in revenue. Lockheed said that revenue fell at its information systems and space systems units, but increased slightly at its aeronautics, missiles and fire control, and mission systems and training businesses.
The company said that for the full year 2012, it earned $2.75 billion, or $8.36 per share, compared to $2.66 billion, or $7.81 per share, in 2011. Lockheed said that revenue increased to $47.18 billion from $46.5 billion.
For 2013, Lockheed projected a profit of between $8.80 and $9.10 per share, on sales of $44.5 billion to $46 billion. The average estimate of 22 analysts surveyed by Bloomberg was a profit of $8.28 a share on sales of $45.3 billion.
In the report, Marillyn Hewson, Chief Executive Officer and President, said:
Our dedicated team, broad portfolio, focus on program execution and proactive cost reduction efforts resulted in record performance and backlog in 2012. While we still face the uncertainty of sequestration, we remain focused on delivering innovative solutions, meeting our commitments to customers and returning value to our shareholders.
Lockheed Martin daily chart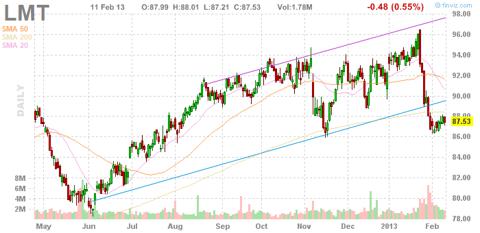 Chart: finviz.com
Lockheed Martin long-term price chart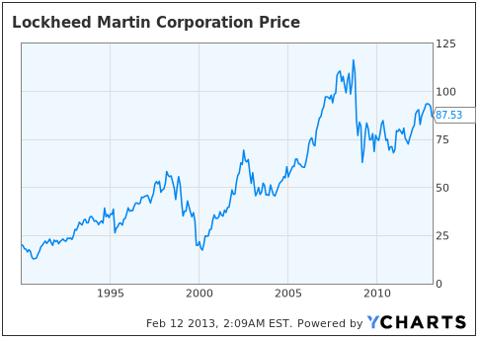 Lockheed Martin long-term price-to-sales ratio chart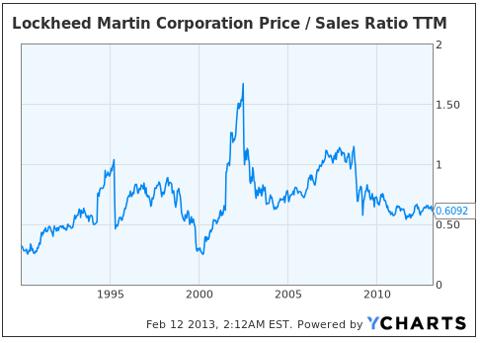 Lockheed Martin has a long history of steadily increasing dividend payment. The table and the charts below present the dividend rates, the dividend yields and the dividend rate of growth for the past five years, 10 years and 20 years.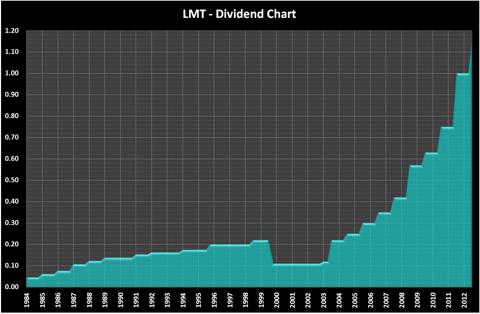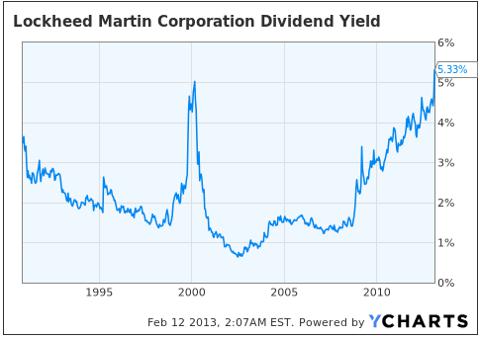 The table below presents the total return and the compound annual growth rate (OTCPK:CAGR) of holding the LMT stock for the last five years, 10 years and 20 years. The returns without dividends (capital gains) and with dividends are shown separately, in order to emphasize the importance of the dividend yield.

Holding the LMT stock during the last five years has given a minimal average annual return of 0.1%, without the dividends the average annual return would be a loss of 4.1%. Holding the LMT stock during the last 10 years has given a nice average annual return of 9.4%, and during the last 20 years a quite high average annual return of 10.7%.
Summary
A good time to start a long-term investment in a blue chip company, which has a long history of steadily increasing dividend payment, is when due to temporary weakness its dividend yield is historically high. This is the case of Lockheed Martin right now, where the forward annual dividend yield is at 5.20%, much higher than the five year average dividend yield at 4.10%. Furthermore, the compelling valuation metrics; trailing P/E of 10.47, forward P/E of 9.60 and price-to-sales ratio of 0.60, are all factors that make LMT stock a great buy right now.
Disclosure: I have no positions in any stocks mentioned, but may initiate a long position in LMT over the next 72 hours. I wrote this article myself, and it expresses my own opinions. I am not receiving compensation for it (other than from Seeking Alpha). I have no business relationship with any company whose stock is mentioned in this article.