In the phone world, "smarter" means better. As people become more and more connected and dependent on social media, having a "dumb" phone almost doesn't seem like an option anymore. Last quarter Nokia (NYSE:NOK) Inc. shipped ~80 million "dumb" phones, equating to more than 60% of their total phone sales. If you think that doesn't sound sustainable, that's because it isn't: smartphone penetration in the US hit over 50% during the middle of 2012 (Nielsen), and the age of the "dumb" phone is coming to an end. Worldwide, however, only ~25% of people have a smartphone, leaving opportunity for massive capitalization. Nokia understands these trends, and has begun to offer phones for this generation. Their latest devices are set to enter the middle/lower tiers of the smartphone market.
Although Nokia has been turning a healthy profit from dumbphone sales, consumer preferences are shifting. Nokia made the decision to switch over to Windows mobile OS instead of using its own homegrown operating system back in 2011. For better or for worse, it has chosen to stay with Windows. Left struggling in a market with Apple (NASDAQ:AAPL) and Google (NASDAQ:GOOG), Nokia must now innovate to survive. In 2012 Nokia only managed to sell half as many smartphones as it did in 2011. This is a frightening statistic, and explains why the board has chosen to withhold their dividend. The next step seems clear: sell more smartphones. What Nokia was doing, however, was trying to sell smartphones to the most picky of smartphone customers: the people who want their hands on the nicest possible gadgets at the time. The people buying iPhones and the high-end Androids. That part of the market is a zero-sum game, and Nokia just can't afford to play anymore.
Nokia is now expanding into the cheaper smartphone market. The corporation realizes that people are finishing up with their dumbphones; this was evidenced by Nokia's very own dumbphone sales figures. Nokia sold 340 million dumbphones in 2011, and sold only 301 million dumbphones in 2012. Nokia also sold less smartphones, but the decline in each of the revenue segments can be attributed to different reasons. The primary reason for Nokia selling less dumbphones isn't due to competition; it is simply lack of demand. While people hunger for smartphones, however, not everyone can afford top of the line gadgets, especially in the international market. This is why Android, with its infinite array of differently priced phones, has become so dominant. Nokia wants to challenge Google in this segment of the market: they want to sell you better cheaper smartphones.
Nokia is still the world's 2nd largest phone manufacturer (Gartner), indicative of their strong presence abroad. This leaves them well positioned to compete for the lower-end smartphone market, and they are doing just that. Nokia has recently released the Lumia 620, which sells for about $240. Its cheap price also means carriers will be more favorable towards offering rebates in order for customers to sign contracts. News has also been leaked about the Lumia 520 and the Lumia 720, both middle/lower end smartphones. The move by Nokia makes sense: they know they can't win at the top, so they will generate profit from those who can't afford the most expensive devices. Nokia's decision comes at a crucial time: the global market for smartphones is forecast to explode.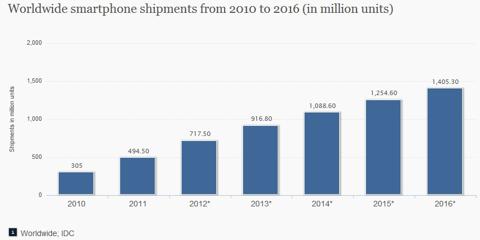 Source: IDC Analytics
Nokia isn't trying to take over the US smartphone market. That war has been fought, and won. Nokia is trying to sell cheap smartphones worldwide, and announced that it would be releasing phones from its Lumia series in China, India, the United Kingdom, and Brazil, as well as others. It is in countries like these where consumers still want to play with a fancy device but can't shell out the $400+ for a premium phone. IDC Analytics projects that smartphone share will rise rapidly in international markets: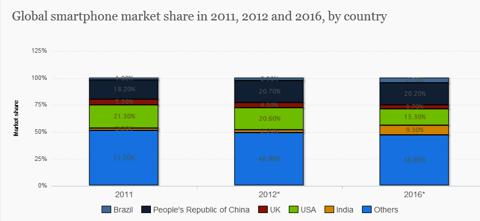 Since countries like China and India also have massive populations, the percentages mean that hundreds of millions of people will be trying to get their hands on a smartphone, and Nokia will be there to provide. Nielsen states that the Windows OS already has a firm grip in India, taking about 8% of the market share. Compare this to Apple's 1% in that region, and you can see how things are going to play out.
Nokia Inc. has fallen on hard times because of a rapidly shifting US market where it is no longer a serious competitor. Smartphones aren't just for Yankees, however, and the company is well positioned to capitalize on explosive growth the world over. While they may not start generating massive profits immediately, expect them to have a breakout quarter within the next year. The stock will appreciate accordingly; going long Nokia seems like a good bet.
Disclosure: I am long NOK. I wrote this article myself, and it expresses my own opinions. I am not receiving compensation for it (other than from Seeking Alpha). I have no business relationship with any company whose stock is mentioned in this article.