We recognize that some names are becoming overpriced within the oil and natural gas sector, and we have exited positions accordingly, all of which we have updated readers on and explained in detail. The price action in Gulfport (NASDAQ:GPOR) yesterday is understandable, but we feel that those setting up short positions in the shares based on the fact that the company just bought some more of the best acreage in the Utica at what we believe to be below market prices will only lead to the bears getting burned once again. If it was a secondary in order to pay for drilling, sure the stock would need to be punished. However this was essentially the company buying a larger percentage of a JV they already had set up in order to get more exposure to proven ground. There is more on this in the following paragraph, but the bottom line is that investors need to recognize where value is being created and where it is being destroyed - and our opinion is that this was value being created.
Commodity prices this morning are as follows:
Gold: $1644.80/ounce down by $4.30/ounce
Silver: $30.81/ounce down by $0.10/ounce
Oil: $96.88/barrel down by $0.15/barrel
RBOB Gas: $3.0285/gallon up by $0.0073/gallon
Natural Gas: $3.278/MMbtu down by $0.001/MMbtu
Gold and precious metals have had a rough few days lately, but it is not all bad as we are near support. Looking at the action thus far in 2013, the chart looks like this: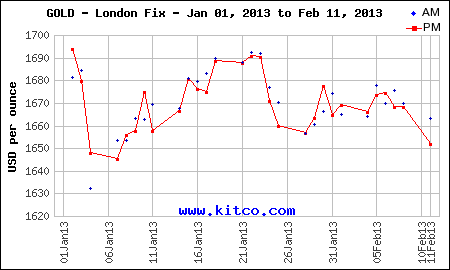 Chart courtesy of Kitco.com.
Which looks pretty bad except when put into perspective with the price action of the yellow metal in 2012, where the US$1650/ounce level has consistently served as support, one just has to hope that we do not fall below that level and it were to suddenly become resistance.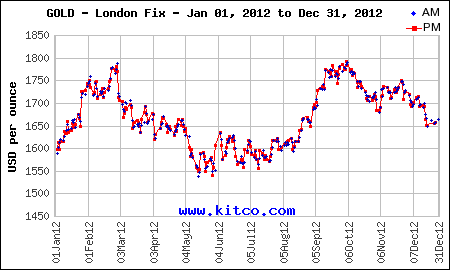 Chart courtesy of Kitco.com.
Oil & Natural Gas
Gulfport Energy came out yesterday and announced that they would be purchasing another approximately 22,000 net acres from an affiliate of Wexford Capital (a large shareholder) for $10,000/acre and to fund the acquisition that they would be selling 7.75 million shares and granting the underwriters 1,162,500 shares to cover over allotments. The $220 million deal should close by the end of February, and will move Gulfport's working interest to 93.8% in the acreage. This deal is separate from the one announced in December where the company purchased approximately 37,000 acres at the same price per acre and from the same entities. The company stated that production is now expected to be between 21,370-22,192 BOE/D with the addition of these acres in the Utica.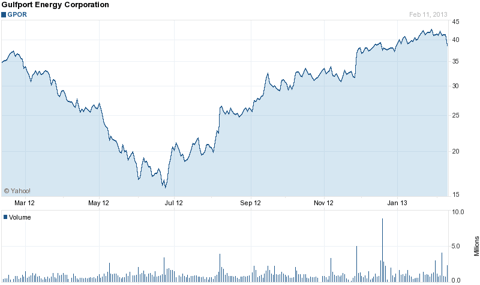 Chart courtesy of Yahoo Finance.
Many are getting upset or disappointed with management. We find this preposterous, and would direct them to focus on exactly what management is doing. Recycling and reusing should be strictly used to keep paper, aluminum and plastics from making their way to the dump, not applying industry phraseology to company specific situations where it does not apply. The company is adding acreage and will have to spend more on CapEx, but they are adding proven, de-risked acreage which they are intimately familiar with. The company chose the sweet spot of the play and hit the nail on the head and doing this deal is actually better for shares than the alternative, which for those not paying attention would have been Wexford Capital keeping the acreage and selling their Gulfport shares. I would much rather expand the balance sheet on both sides rather than have a flood of shares hit the market and depress shares. Regardless of our view, yesterday the market did not like it and shares finished down $2.61 (6.32%) to close at $38.68/share. There is support at $38/share and if that level does not hold then the next support is in the $32-34/share range.
Petrobras (NYSE:PBR) hit another 52-week low after a report surfaced over the weekend in Brazil where it was reported in one of the country's largest newspapers that the company's CEO told Brazil's Finance Minister, Guido Mantegu, that debt was rising faster than expected due to the country's low prices and that this was having a negative effect on the company's balance sheet. The company is predicting that their debt level will hit 3.5x EBITDA by Q4 of 2013. It is important that Brazil allow the company to receive higher prices for their products and what they import in order to fund their huge capital expenditures that are scheduled over the next few years. This could very well be one of the more interesting situations in the sector this year and based on the size of the reserves it could have long-term and far reaching consequences.
Yesterday was one of those strange days for shareholders of GMX Resources (GMXR) where the company's shares fell $1.19 (17.00%) to close at $5.81/share and hit a new all-time low. After the close however it was a different story as the company issued a release detailing their plans for the Bakken moving forward and updated investors on the progress made thus far. We like to see companies increase their results as they drill and learn from previous attempts and that appears to be the case here. The company is damaged and no doubt a risky bet, but the move into the Bakken should prove to be the decision which saved the company from certain failure. It may be a bit too early to say that definitively at this point, but we feel that the company is out of the dark and should be able to find their way through this transition period.
Oil Services
We generally find it funny when an analyst who has been incorrect about a stock moves further to the extreme and the market reacts by buying into it. Yesterday Heckmann (HEK) saw shares fall $0.45 (10.34%) to close at $3.90/share after an analyst at Wedbush downgraded the company from 'Neutral' to 'Underperform'. That would be fine, however the analyst already had a price target of $3/share on the company and lowered it to $2.50/share. Confused? Yes, we are too! How one can be neutral on a stock they see dropping by over 25% is beyond us and then to be so disingenuous to move your rating to underperform and your price target down further while continuing to be taken seriously is beyond us. But hey, more power to the guy. Our only hope is that investors recognize this and act accordingly.
Solar
When it comes to energy readers have to be well aware of our disdain for solar power. The technology continues to improve, but so too does the competition and with the moving targets solar continues to lag the other sources. The energy is not as clean as others claim it to be and like wind when the technology is implemented it does take a toll on the environment by harming wildlife and creating visual pollution. Regardless of the above investors continue to want to speculate in the industry and one of their favorite names seems to be SunPower (NASDAQ:SPWR) which they pushed higher by $1.51 (19.04%) to $9.44/share during Monday's session. The volume was strong at 7.04 million shares but the intra-day high was just off of a 52-week high. For those bullish here they would want to see that high taken out in order to move higher, but if it is not taken out and this blip up turns out to be just that it would make that high even more of a resistance level moving forward.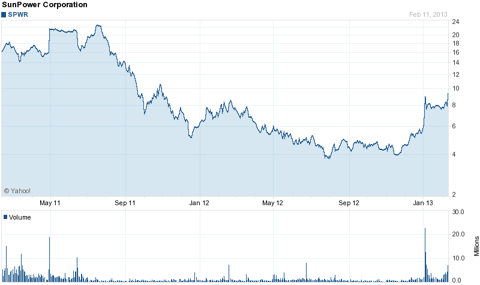 Chart courtesy of Yahoo Finance.
Disclosure: I am long GPOR. I wrote this article myself, and it expresses my own opinions. I am not receiving compensation for it (other than from Seeking Alpha). I have no business relationship with any company whose stock is mentioned in this article.